Follow @anoopmannur
What are the changes there in backup and recovery options in SCCM ConfigMgr CB 1606? Nothing much changed in terms of backup apart from taking backup of CD.Latest folder. CD.LATEST folder is also getting backed up as part of SCCM CB full backup. Why do we need CD.LATEST as part of SCCM CB full backup? It's because, this is source file when you want to recover a SCCM CB site server ! Why can't we use the baseline version which can be downloaded from MSDN/Volume Licensing sites? Those binaries can't be used because that is not the same version of SCCM CB which is installed in your primary server/CAS. The baseline version of SCCM CB production is 1511 and if you upgraded/updated the site to SCCM CB 1606 using Updates and Servicing then you can't use 1511 version source files to recover the primary site. When do you want to Run SCCM CB Setup from CD.LATEST Folder? Only when you are trying recover a site !! In the following video, I try to explain the process of the back and restore. Also, when to select which option during the recovery process.
Video Tutorial – How to take SCCM CB backup and What are the Recovery Options
There is always a question whether to use SCCM full backup or just use SQL backup to restore the functionality of SCCM sites. So my answer to that question would be "it depends". SCCM CB supports both the scenarios mentioned above however in some of the scenarios you may need full SCCM CB backup to complete the restore. The SCCM restore and recovery comes with loads of permutations and combinations as I explained in the below table and the above video. I hope, you will get some clarity about those scenarios after watching the video.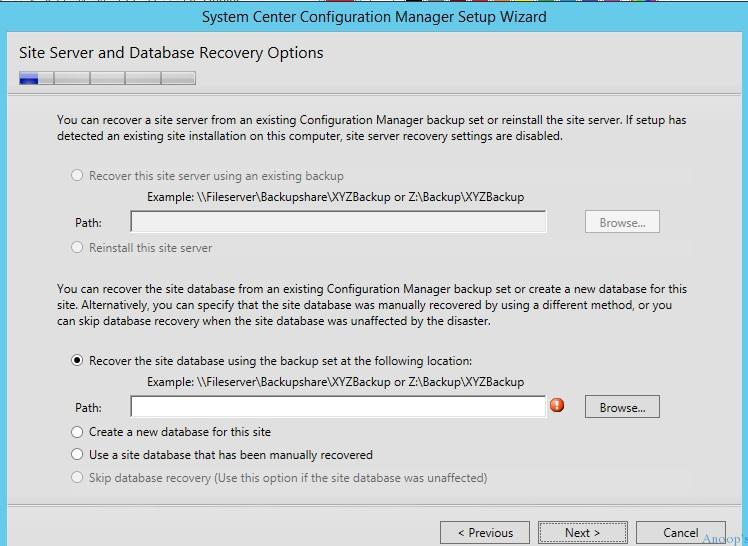 Table 1 : SCCM CB Site Server and Site Database Recovery options

Installation
      Site Server 
                              Site Database
Setup only part of recovery
Recover Site Server
Reinstall the site server
Recover DB using CM backup
Create a new DB
Manually Recovered DB
Skip DB Recovery
CAS
Install setup from CD.LATEST Folder
Only when you've SCCM Full Backup
Reconfigure the settings
Only when you've SCCM Full Backup
Only When you've a hierarchy
Use SQL Backup or any other backup. Changes made retrieved from Primary
Only valid when the site DB is on a different computer
Stand-Alone Primary
Install setup from CD.LATEST Folder
Only when you've SCCM Full Backup
Reconfigure the settings
Only when you've SCCM Full Backup
Not Applicable
Use SQL Backup or any other backup. Lose site changes after the last backup
Only valid when the site DB is on a different computer
Child Primary
Install setup from CD.LATEST Folder
Only when you've SCCM Full Backup
Reconfigure the settings
Only when you've SCCM Full Backup
Only When you've a hierarchy
Use SQL Backup or any other backup. Changes made retrieved from CAS
Only valid when the site DB is on a different computer
Secondary
Use CM Console to recover Secondary Site
No recovery
No recovery
No recovery
No recovery
No recovery
No recovery
Reference :- here