Follow @anoopmannur
Simple and straight forward post 🙂 Isn't it ? How to add users in to Intune console and how to provide permissions to users in Intune console? We don't have to do this when Intune Silverlight console is migrated to Azure portal?? Before you try to provide service administrator access (Only limited roles available in Intune Silverlight console Full Access, Read-Only access or Helpdesk – Group Node access) to users in Intune, you should make sure the administrator or server administrator user is already available in Intune administrator console. How do we ensure that? Simple add users to Intune console 😉 Can this be done from Intune console ? The answer is NO? 😉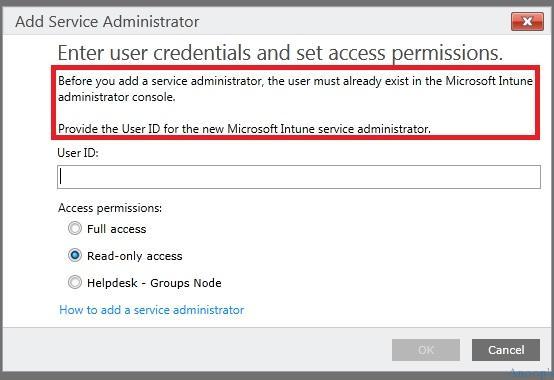 So in my Intune console, I've only 2 users as you can see in the below screen capture. There is no way directly adding users to Intune console from Azure Active Directory. The way to add users to Intune console is to add Intune or EMS license to those users from Office admin portal (here). Earlier there was site called "http://account.manage.microsoft.com/" to manage Intune accounts but now it's depreciated and if you try that site you will get redirected to the office admin portal.


ACTION :-
Go to Office Admin portal "https://portal.office.com/AdminPortal/Home#/" and navigate through Billing -> Subscriptions  and click on "Assign to Users" as you can see in the following screen capture.
Once you click on Assign Users, new windows will get open and over there you can select the users which are available in your Azure Active Directory or create a new account in Azure active directory. Once you select the user, you want to add to Intune console, then click on "more" drop down menu option and select "edit product licenses". This will get you to the following screen capture page. In this page you can add Intune/EMS licenses to that user.
Result :-
Once you completed the activity as mentioned above then the newly licensed user "Intune Admin" should get automatically added to Intune administrator console (I had seen this behavior in one of the other tenant). But in this tenant, the newly added tenant didn't get added automatically. Rather I manually added the email id into the Intune service administrator. So I assume that the newly licensed user should automatically get added to Intune console. If not getting added (automatically) then we can manually add that users into Intune service admin once you added the license to that user. I will check for more clarification and update the post however it's very clearly mentioned in Intune console that Listed Users have enrolled devices, were manually added or are linked to devices. Now you can see 3 users in Intune Admin console and the new user is not enrolled any devices.