ConfigMgr SCCM 2012 SP1 Upgrade Known Issues. If you're looking for SCCM ConfigMgr 2012 R2 Know Issues, please refer to the following link SCCM ConfigMgr 2012 R2 Known Issues.
SCCM 2012 Service Pack 1 was released and available for download at Microsoft Volume Licensing (MSVL) site.
Unfortunately, loads of people are reporting issues in the forums and through blogs. Microsoft has identified some problems with SP1.
ConfigMgr SCCM 2012 SP1 Upgrade Known Issues
I thought of listing down the issues which I've noticed via some TechNet and blog posts. Also, some issues that I've experienced.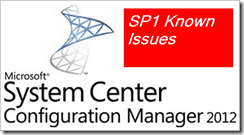 1. ConfigMgr 2012 SP1 prerequisite checker will end up with loads of warnings if your primary server is having remote site Systems (MP, DP and SUP) in the different Domain without trust. Warnings will be related BITs, IIS and Server service. You may safely ignore those warnings. These warnings could be because of the account which runs prerequisite checker don't have proper access on Remote Site System/s.
2. When you upgrade to ConfigMgr SP1, the built-in collections are overwritten in the site database. If you have customized a built-in collection, create a copy of that collection before you upgrade. More details kb/2739984/.
3. SUP/WSUS ports are getting changed to default ports. More Details here.
4. Client Agent Setting – update policy interval is not changing from 3 minutes to 60 minutes. More Details here.

5. It's recommended to first uninstall the WAIK (Windows Automated Installation Kit) and then Install Windows Assessment and Deployment Kit (ADK) for Windows 8 before installing ConfigMgr 2012 SP1. More details about how to Upgrade SP1 in kb/2801416.
6. Client push fails with Authenticode Signature error. More details here. KB article /kb/2801987
7. SUP won't work after upgrade. To avoid this, we need to ensure that CAS, Primary and Remote SUP site systems with WSUS patches KB 2720211 and KB 2734608.
8. Client installation error with MicrosoftPolicyPlatformSetup.msi here.
9. Disable Antivirus before upgrade to ConfigMgr 2012 SP1. More details here.
10. Any existing Antimalware Policy (under Assets and Compliance > Endpoint Protection > Antimalware Policies) can't be modified. More details here.
11. Make sure your SQL version in Secondary Server meets the supported configuration. More Details here.
12. Some other miscellaneous issues related DP and security share related issues. More details here.
13. Boot Images are NOT getting updated after ConfigMgr 2012 SP1 upgrade. More details here.
14. Remote PXE (in DP role) doesn't workuntil we disable the pxe 'point' and enable it again.
15. Already available List of KB articles or hotfixes for SCCM 2012 SP1. More Details here.
16. SMS Replication Configuration Monitor is reported in critical status. The replication link status is getting degraded and back to active within a minute. Loads of people are reporting this issue. See Technet forum article here.
17. Use Custom Web Site or Port Option is Grayed out on CAS Properties After CM12 SP1 Upgrade. More Details here.
18. CM 2012 SP1 Linux Client Error on Software Inventory. More details here.
Another Know issues listed down in ConfigMgr 2012 SP1 Technet release note.
ConfigMgr SCCM 2012 SP1 Upgrade Known Issues?
1. A Migrated Configuration Manager 2007 Configuration Baseline Fails to Evaluate on Client Computers.
2. Software Update-Based Client Installation Fails Failed to publish sms client to WSUS, error = 0x80131622.
3. Virtual Application Fails to Install with Event ID 1008 in the Windows Applications and Services Logs.
4. Error Microsoft.Reporting.WinForms.ReportServerException when you run the Roaming User Profiles Health Report.
ConfigMgr SCCM 2012 SP1 Upgrade Known Issues?
Free SCCM Training Part 1 | 17 Hours Of Latest Technical Content | ConfigMgr Lab HTMD Blog (anoopcnair.com)