ConfigMgr 2012 SP1 Beta (released) here is Full Installer. To test ConfigMgr SP1 Beta, we don't need to install SCCM/ConfigMgr RTM and upgrade it.
I've tested "direct install" of ConfigMgr 2012 SP1 beta and it's successful.
If you don't have ConfigMgr 2012 RTM environment, you can just download and install ConfigMgr SP1 beta directly. No need to install RTM (first) and upgrade RTM with SP1 Beta.
Hope, you're aware of the fact that "BETA" release is not for production environments and it's not supported or you won't be able do a direct upgrade from "BETA" to "SP1 RTM".
Out of curiosity, checked the size of RTM and SP2 Beta Folders.
ConfigMgr_SCEP_2012_SP1_Beta_ENU_7782 = 541MB ConfigMgr_SCEP_2012_RTM_INTL_7711 = 1.55GB
Why is this different in size?
The main difference is because of WAIK folder in RTM source. However, Windows 8 ADK is not part of SP1 Beta Source. We've to install Windows 8 ADK before running SP1 Beta Setup.

Following are some of the installation steps for you

(proof of concept).
1. Check out "available setup Options"
Setup has NOT detected an existing installation of site server, site system, or Configuration Manager Console on this computer.
Selected "Stand-Alone Primary Server" option.

2. Provided Site and Installation Settings details.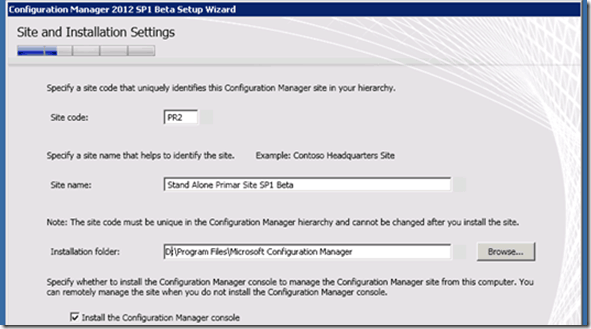 3. Checked out the Setting Summary.
You have selected to install this site as a stand-alone primary site. You can expand this site into a hierarchy at a later time by installing Central Administration Site.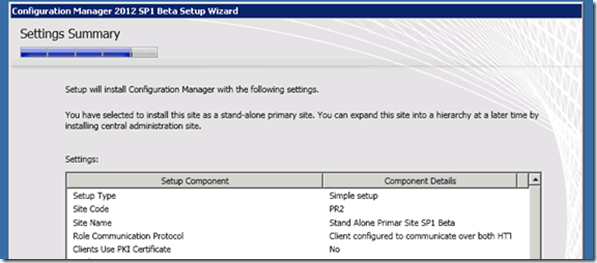 4. Core Setup has Completed
You can close the wizard now. For a list of tasks to help you to configure your site.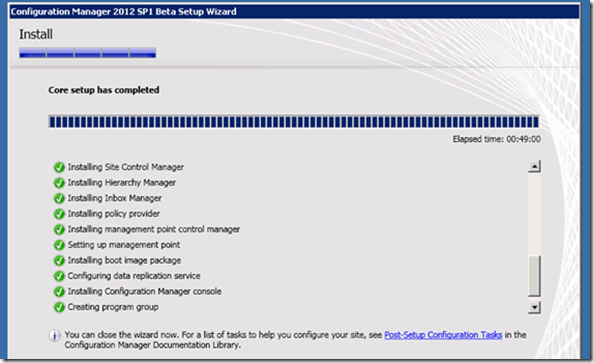 5. Launch ConfigMgr 2012 SP1 Beta Console.