Good News for those who still running SCCM 2007 shop and CM 2012 migration plans are not ready Microsoft has extended the End Of Support Dates for you !! Now it's changed to 07-08-2014 !! I'm NOT sure this will get changed again or not. I think this is a good chance because a lot of us will get enough time to study and analyze CM 2012 and then migrate. Maybe, we can expect SCCM / ConfigMgr 2007 SP3?
Extended support for SCCM 2007 is till 07-09-2019
Read the following details online –http://support.microsoft.com/lifecycle/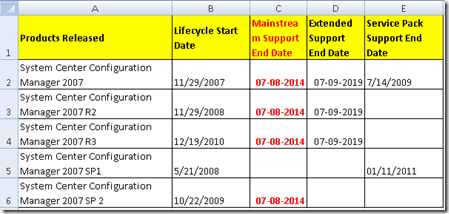 Earlier Microsoft announced that ConfigMgr / SCCM 2007 R3 main stream support will end by January 8, 2013.