Who all are responsible for 
Operating System migrations in your organization? When you've
 loads of branch or agency offices with very slow WAN links then it's increases the complexity. If we want to use native SCCM to perform OS migrations, then we've to create PXE servers in each network subnet otherwise the networking team sets DHCP scope options and reconfigures routers. Is that a feasible solution? How much time it will take your network team to change router configurations?  Months? Apart from PXE server challenge, copying gigs of data like boot images and user data over WAN are some of the other challenges. We can also have offline media and use USB drives to capture user data etc.  More administration is required for these kind of solutions.   Peer to Peer PXE is the innovative technology used with SCCM ConfigMgr extension product called Adaptiva Onesite. With Peer to Peer PXE, we can eliminate the need of having PXE server in each network segment also re-configuring routers or DHCP scopes. Much better isn't it ? So
how does this Peer to Peer PXE work
?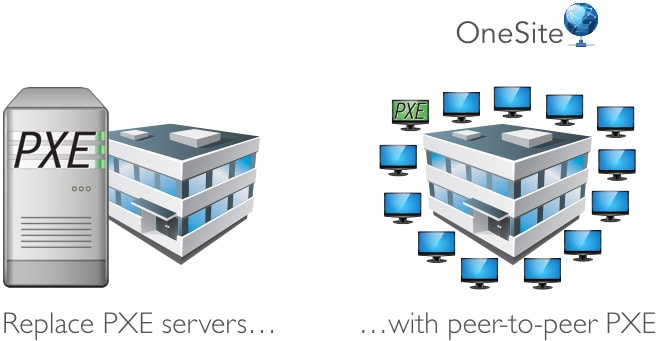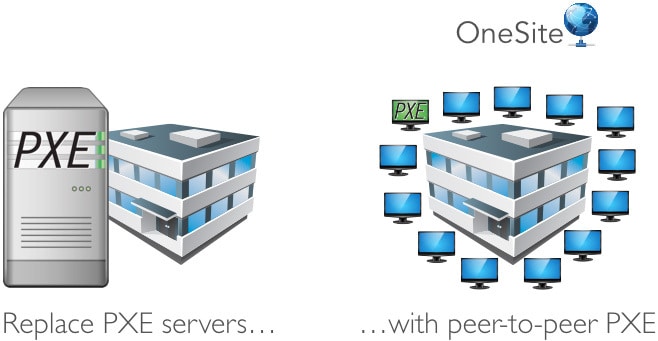 Adaptiva OneSite helps us to enable PXE on every network segment without PXE servers in each location and without router permissions or DHCP configuration changes. Any of Windows client OS (Windows Server OS not required) can become a PXE server. Onesite will elect one machine per segment as PXE server. Another advantage is that administrators can control which machines are candidates for PXE server, including and excluding collections as desired.
More details about peer to peer PXE here.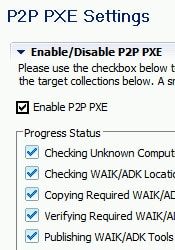 Don't worry it won't impact the elected machines performance
, for example when 3 systems are being migrated at the same time, each one gets its OS image file from a different computer on the subnet. Onesite's load-balancing ensures that no single system is overloaded during OSD.   
Pre-staging the content
is another advantage of using Onesite, we can pre-stage the content of a task sequence well in advance to the branch offices or remote segments.   
Another advantage of Adaptiva Onesite is the option to create Virtual SMP. I've done a blog post about Adaptiva Onesite Virtual State Migration Point
 (Virtual SMP)
 this resolves most of our concerns/worries about user state data during OS
 migrations with SCCM ConfigMgr
.    All the above features help SCCM ConfigMgr along with Adaptiva Onesite to deliver "really" rapid OSD and migrate thousands of machines in rapid speed.
More details about Rapid OSD here
.