I know the environments with SCCM 2007 servers managing more than 10k clients. SCCM 2007 will reach its end of EXTENDED support on July 9th, 2019. SCCM 2007 End of Support is announced for 9th July 2019.
Related Post  – End of Support Dates for SCCM CB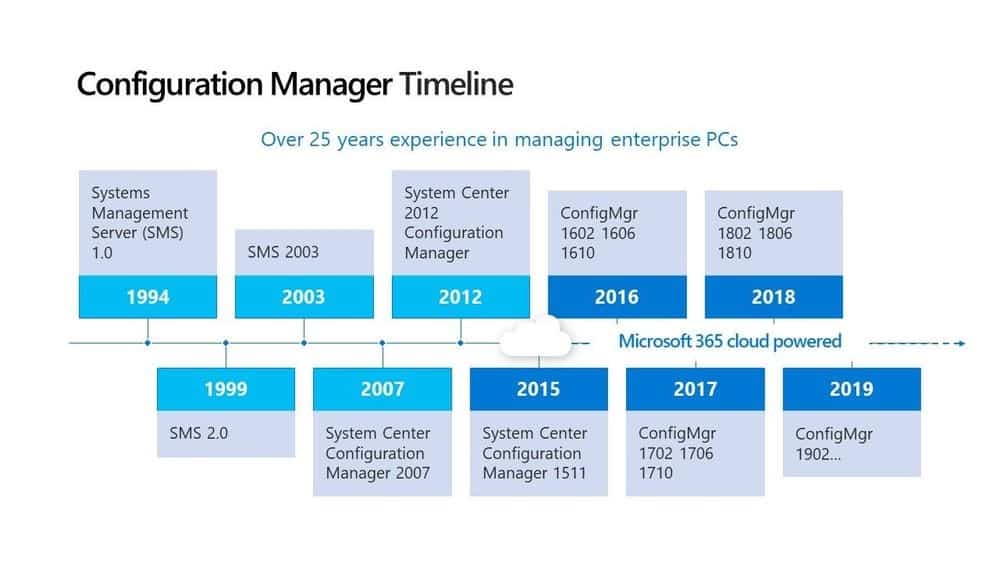 Introduction
There is no option to have a custom, or extended support options will be provided to any of the existing SCCM 2007 customers. By 9th July 2019, SCCM 2007 will have been supported for twelve (12) years.
Kudos to Microsoft SCCM team to provide 12 years of support for a device management product. The latest version of SCCM is CB (current branch) which is already being used by more than 62,000 organizations to manage more than 100 million devices. Microsoft highly recommended customers to start the migration to SCCM CB (current branch) as soon as possible.

In-place upgrade from SCCM 2007 to CB?
In-place upgrade from SCCM 2007 to CB is NOT supported and I tried this recently (SCCM 2007 End of Support) with no fun. You need to create different infrastructure with latest SCCM version 1902.
The SCCM 1902 is a baseline version, you can download SCCM 1902 ISO from VLSC or Eval center.
SCCM 2007 Side by Side Migration
You can create migration jobs in SCCM 1902 or SCCM 1810 versions and try to migrate from SCCM 2007. More details about the options of migrating SCCM 2007 environment to SCCM CB here.
SCCM 2007 only supports either Windows Server 2008 or 2008 R2. And the SCCM 2007 supports SQL server 2008 or 2008 R2. SCCM upgrade process can take more than six (6) months depending on the size and complexity of your environment.

Risks of keeping SCCM 2007? After SCCM 2007 End of Support
SCCM 2007 is already out of mainstream support. By the end of 9th July 2019, Microsoft will stop providing any patches and security fixes for SCCM 2007 solution. There are some risks involved in keeping the SCCM 2007 servers in your environment. I can offer more risk details offline if needed. After 9th July 2019, Microsoft will NOT provide any of the following support for SCCM 2007.
Paid support
Security update support
Access to Microsoft KB
Online help
Free incident support
Warranty claims
Design changes and feature requests
SCCM 2007 customers tend to also be users of Windows 7 and Office 2010 which both reach their end of support in 2020.
Resources: