Let's see "How to Recover SCCM CB Primary Server Using SQL Database Backup". Sometimes you need to restore the SQL back on the new virtual server or hardware, I have included that also in the below post
So the important point over here is "SCCM CB full backup" is not required for restoring your SCCM CB primary server. Rather, you can restore or recover the primary site server from SQL backup and CD.Latest folder backup (along with package source folders, WSUS folders/DBs etc…).
Prerequisites:
Remove existing SCCM servers from domain ensuring you know local admin account details
Shutdown existing SCCM servers
Rename existing SCCM servers in Vcenter or HyperV to .old
Rename new SCCM server in Vcenter/HyperV to existing SCCM server names
Delete existing SCCM servers from AD
Take new SCCM/ConfigMgr servers off domain and reboot ensuring you have local admin account details
Log onto new SCCM/ConfigMgr servers using local admin account
Change IPs of new SCCM servers to reflect old SCCM server IP details
Change new SCCM servers names to existing SCCM server name and reboot
Log on to new SCCM servers as the local admin account
Add new SCCM servers to domain and reboot
Verify OU, System Management Access, and AD membership information of new SCCM/ConfigMgr servers. Reboot if you have made any changes above
Storage migrate any back end storage in VMware/HyperV to ensure that vmdk files and vmx/VHDX files are named correctly
I've another 3 posts and videos related to SCCM Current Branch backup and recovery options. You can refer to those posts from here.
The installation of the SCCM CB standalone primary server should be done from CD.Latest folder (p.s – this is because we are doing recovery of the server). I used the native SQL backup option to from SQL management studio to backup the SQL DB.
And once the recovered server OS is up and running with all the prerequisites(ADK, WSUS, SQL), I restored the SQL DB using management studio from SQL full backup file. All these processes are explained in the below video tutorial.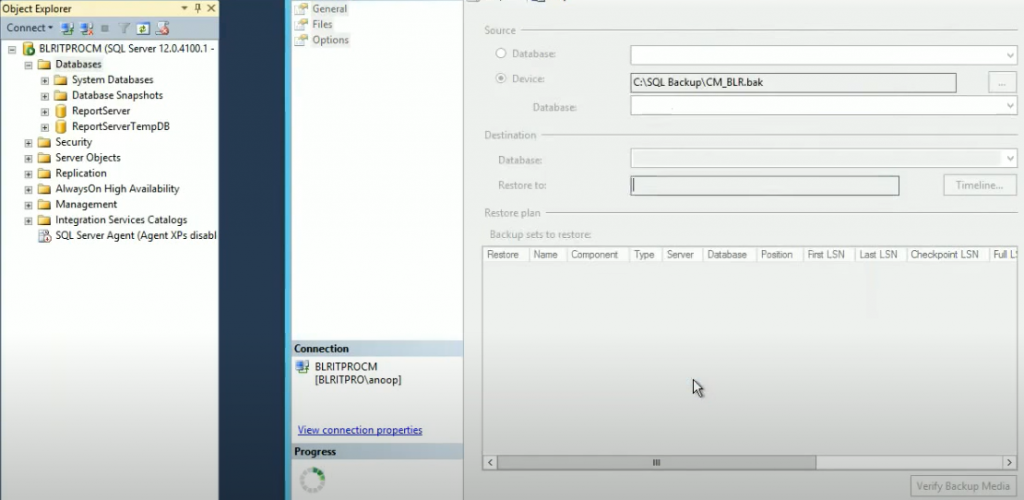 Also, make note of "post recovery" process apart from removal and addition of Intune subscriptions. You need to make sure that all the accounts which are configured in SCCM ConfigMgr CB console should be removed and added back.
If there is any hotfix installed on the SCCM CB server then we need to install the same hotfix after the completion of the recovery Wizard.
Following are the prerequisites which we need to follow during the recovery process SCCM CB primary server:- Hostname Should be same :
Drive Letters should be the same :
Installation Path should be same:
Should have same patch level:
Better to have the same IP: All the prerequisite apps should be installed: SQL Databased is already restored (manually):
Recover SCCM CB Primary Server Using SQL Database Backup
Here is the end to end recovery experience video. (1) How to Recover or restore SCCM CB Primary server using SQL Database Backup – YouTube.
Resources