Windows Intune new version enhancements are published by Microsoft on 12/16/2012. However, I didn't find the new version enhancements in the console when I signed up for a new trail version today.  Probably, it may take some more time to get these features for trail version users or this new version is only available for FULL version customers?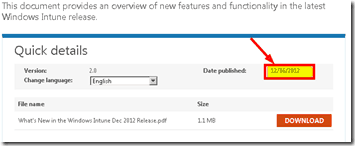 InTune Enhancements Follows :-
1. Unified Enterprise Management Solution with Microsoft ConfigMgr 2012 with SP1.
2. More flexible user licensing options.
a) Windows InTune.
b) Windows InTune with Windows Software Assurance.
c) Windows Intune Add-on For Configuration Manager.
3. Extended Client Support. Now windows 8 is supported through new version of InTune.
4. Direct Mobile device Management for Windows RT, Windows Phone, Surface and IOS devices (iPad and iPad2, iPhones and iPod Touch).
5. Option to Customize the Company Portal Application.
5. Support for Distributing Windows 8 and Windows Phone Applications.
6. Improved Dynamic Group Configuration Wizard Updates.
7. Enhanced Endpoint Protection Policy.
More details on Windows Intune  PDF guides
InTune Product Guide (PDF) Oct 2011

Intune Product Guide (PDF) June 2012