Another enhancement with ConfigMgr SCCM 2012 SP1 Beta. "Client Notification" Function in CM 2012 SP1 can be used to "Download Computer Policy" As Soon As Possible without using any third party right click tools. Obviously, you won't get this option for "User Collections".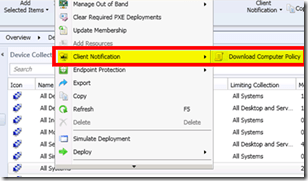 "Client notification to start some client operations from the Configuration Manager console, which include downloading computer policy and initiating a malware scan to be performed as soon as possible, instead of during the normal client policy polling interval." via TechNet Article.
When you click on "Download Computer Policy" it also provides a notification windows which intern checks the availability of "ONLINE" Clients. I'm not sure, what is the process behind this check (inactive clients are treated as not online or it's just a ping test?). Probably, I'll explain that in some other future post.
"0 out of the 27 clients in the collection are online and will be notified to update computer policy as soon as possible. Click OK to continue"

Update 13-Oct-2012 ! Product team has an excellent blog post on the similar topic and this was one day after I published this post! What a timing !! #sccm #configmgr 2012 sp1 Client Notification, client policy download, etc https://blogs.technet.com/b/configmgrteam/archive/2012/09/27/fast-channel-for-system-management.aspx