In this post I'm going to cover 5 questions raised to me and answers that I found. All these are related to the database replication between SCCM 2012 primary server SQL DB and Secondary server SQL DB.
List of all Replication Groups and Article Names (Tables) Involved SCCM 2012 SQL DB Replication here.
1. Have you ever noticed SCCM 2012 Database Replication Link Schedule  or Throttling option is Grayed out in the console?
Yes Database SQL based replication between SCCM 2012 Secondary and Primary site can't be controlled !!
2. Why the SQL Database replication between SCCM 2012 secondary server and Primary server throttling option is not there ?
Honestly, I don't know. But what I can think is there are very less data replicated between primary DB and secondary site DB hence no need to throttle it. I know, still some of us are able to traces GBs of data replicated from SCCM Primary SQL server to secondary server.
More details about this  replication data :- Only subset of Global Data (that is called Global Proxy  data) is replicated to SCCM 2012 secondary server SQL DB. Moreover, this SQL (Database) replication is ONE way replication. The Global Proxy replication data is replicated from SCCM 2012 primary SQL server to secondary server SQL database.
3. Which are the replication Groups come under Replication Pattern called Global Proxy (secondary server data?)? 
In the SCCM 2012 SQL DB, I can see two Replication Patterns names under Global Proxy.
SQL query :- Select * from vReplicationData where ReplicationPattern = 'Global_proxy'
ID         ReplicationPattern                       ReplicationGroup 
21           global_proxy                                       Secondary_Site_Replication_Configuration 
22           global_proxy                                       Secondary Site Data
4. What is ArticleName in SCCM 2012 DB?
Article Names are nothing but Tables which contains actual policy data.
The Replication Groups (mentioned above) are further divided into Article Name based on ReplicationID. To find what exactly is replicated from SCCM 2012 Primary SQL DB to Secondary server SQL DB.  We've 104 Article Names which are replicated to SCCM 2o12 secondary server SQL DB. More detailed list in the following table.
It seems Replication IDs are different in each environment so use SQL query mentioned in Question 3 to find out replication group IDs Secondary_Site_Replication_Configuration  and Secondary Site Data.
Select * from vArticleData where ReplicationID = '21' or ReplicationID = '22'
For example, you can see a ArticleName = ClientKeyDataCertExtend and when you check the table then you can see the table in the same name ClientKeyDataCertExtend. So it seems to me that all article names are referenced back to table name.


5. How much SQL data will get transferred or replicated from SCCM 2012 Primary server DB to secondary server SQL DB?
Update : We can use exec spDiagGetSpaceUsed size of reach replication groups with table details. Umair Khan helped me to get this information.
We may need to check all the tables which are part of Global_proxy Replication pattern (list of tables is below). I'm not able to find the easy way to do this calculation for all the tables involved. Manual method is to open up the table properties then Storage and check Index Space.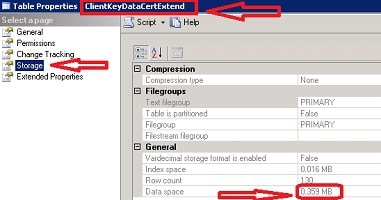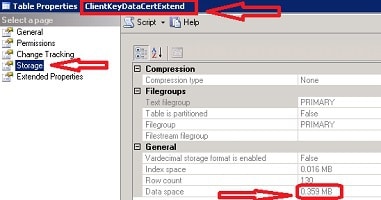 List of Article Names or Tables which are under the category of Global_Proxy replication pattern 
These are the tables which are replicated from SCCM 2012 Primary server SQL DB to secondary server DB.
| | |
| --- | --- |
| ArticleName | ReplicationID |
| ActiveDirectoryForestPublishingStatus | 22 |
| ActiveDirectoryForests | 22 |
| ActiveDirectoryForestTrusts | 22 |
| AlertVariable_G0 | 22 |
| AlertVariable_G1 | 22 |
| AlertVariable_S | 22 |
| AlertVariableXml_G | 22 |
| ArticleData | 21 |
| AutoClientUpgradeConfigs | 22 |
| AutoClientUpgradeSettings | 22 |
| BGB_Server | 22 |
| BootImgPkg_References | 22 |
| BoundaryEx | 22 |
| BoundaryGroup | 22 |
| BoundaryGroupMembers | 22 |
| BoundaryGroupSiteSystem | 22 |
| CI_ConfigurationItemContents | 22 |
| CI_ConfigurationItems | 22 |
| CI_ContentFiles | 22 |
| CI_ContentPackages | 22 |
| CI_Contents | 22 |
| CI_Types | 22 |
| CI_UpdateSources | 22 |
| CIContentPackage | 22 |
| ClientDeploymentSettings | 22 |
| ClientKeyData_GP | 22 |
| ClientKeyDataCertExtend | 22 |
| ClientPushMachine_G | 22 |
| CM_SiteConfiguration | 22 |
| ContentDPMap | 22 |
| CP_System_Resource_N_ARR | 22 |
| DeviceDiscoveryTranslation | 22 |
| DeviceMPSettings | 22 |
| DistributionStatus | 22 |
| DPUpgradeStatus | 22 |
| DrsSendHistorySummary | 22 |
| InventoryAction | 22 |
| InventoryClass | 22 |
| InventoryClassProperty | 22 |
| MIG_AppVPackageMapping | 22 |
| PackageContentInfoHash | 22 |
| PkgAccess | 22 |
| PkgProgramOS | 22 |
| PkgPrograms_G | 22 |
| PkgServers_G | 22 |
| PkgStatus_G | 22 |
| PkgStatusHist | 22 |
| PortalInfo | 22 |
| ProceduresToForward | 21 |
| PullDPResponse | 22 |
| RcmSqlControl | 22 |
| RcmSqlControlProperty | 22 |
| RcmSqlControlType | 22 |
| ReplicationData | 21 |
| SC_Address | 22 |
| SC_Address_Property | 22 |
| SC_Address_PropertyList | 22 |
| SC_AddressType | 22 |
| SC_ClientCfg_Property | 22 |
| SC_ClientCfg_PropertyList | 22 |
| SC_ClientComponent | 22 |
| SC_ClientComponent_Property | 22 |
| SC_ClientComponent_PropertyList | 22 |
| SC_ClientConfiguration | 22 |
| SC_Component | 22 |
| SC_Component_Property | 22 |
| SC_Component_PropertyList | 22 |
| SC_Configuration | 22 |
| SC_Configuration_Property | 22 |
| SC_Configuration_PropertyList | 22 |
| SC_GlobalProperty | 22 |
| SC_GlobalProperty_Property | 22 |
| SC_GlobalPropertyList | 22 |
| SC_GlobalPropertyList_PropertyList | 22 |
| SC_MISCItem | 22 |
| SC_MISCItemType | 22 |
| SC_PublicKeys | 22 |
| SC_RoleType | 22 |
| SC_SiteDefinition | 22 |
| SC_SiteDefinition_Property | 22 |
| SC_SiteDefinition_PropertyList | 22 |
| SC_SysResUse | 22 |
| SC_SysResUse_Property | 22 |
| SC_SysResUse_PropertyList | 22 |
| SC_UserAccount | 22 |
| SC_UserAccount_Property | 22 |
| SC_UserAccount_PropertyList | 22 |
| SCCMAutoUpdates | 21 |
| SCCMAutoUpdateStatus | 22 |
| ServerData | 21 |
| SiteExchangeKeys | 22 |
| SitesInfo | 22 |
| SMSContentHash | 22 |
| SMSPackageHash | 22 |
| SMSPackages_G | 22 |
| Summarizer_SiteSystem | 22 |
| TS_AppReferences | 22 |
| TS_References | 22 |
| TS_TaskSequence | 22 |
| UnknownSystem_DISC | 22 |
| Update_SyncStatus | 22 |
| UpgradeVersionMap | 21 |
| WebServiceInfo | 22 |
| WSUSServerLocations | 22 |