In the post, see the overview of Intune Design Decisions Free Training Videos. The HTMD community dedicated significant effort to creating various cost-free educational resources to assist administrators with managing their devices.
These 13 Episodes of Free Intune Design Decisions Training Videos were meticulously crafted to provide a comprehensive training experience for individuals tasked with device management duties.
This also covers many hours-long training videos and Free Intune Design Decisions Training Videos. We also provide Free SCCM Training as well. We have also prepared the Top 50 Latest SCCM Interview Questions and Answers and Top 50 Latest Intune Interview Questions And Answers.
These 13 Intune Design Decisions Training Videos include UEM, Microsoft Intune, and Intune Architecture. It also covers Intune Design Decisions, Intune-supported Device Platforms, Different Intune Supported Enrollment Methods, etc.

1. What is UEM?
The UEM is a Unified Endpoint Management Tool. Unified Endpoint Management is a tool that provides agent and agentless management of computers and mobile devices through a single console.
Microsoft (Microsoft Intune), VMware (Workspace One), Ivanti, Manage Engine, Matrix 42, and IBM are the main Vendors or market leaders who provide UEM tools for Enterprise customers. Microsoft Unified Endpoint Management is a grouping of tools that offers end-to-end device management solutions to the organization.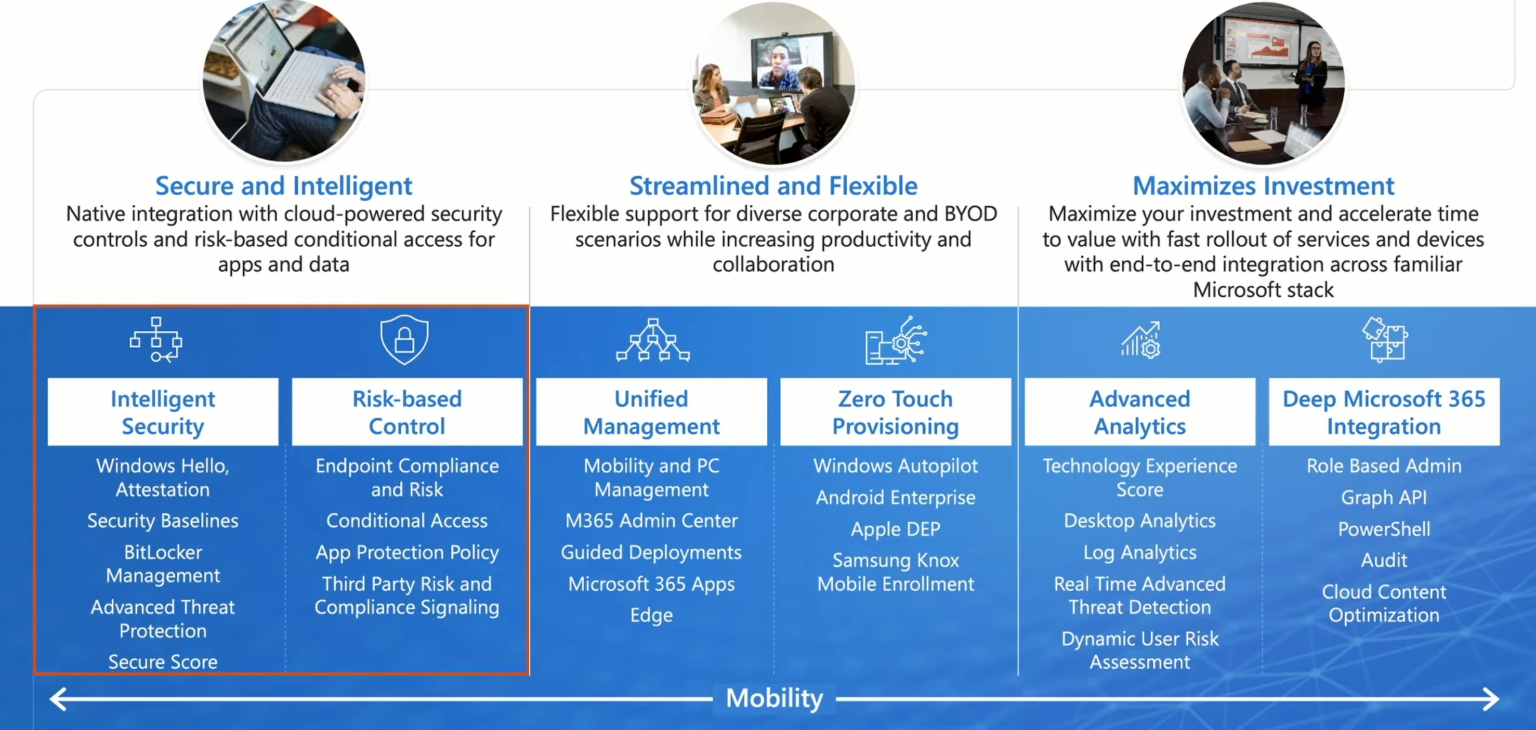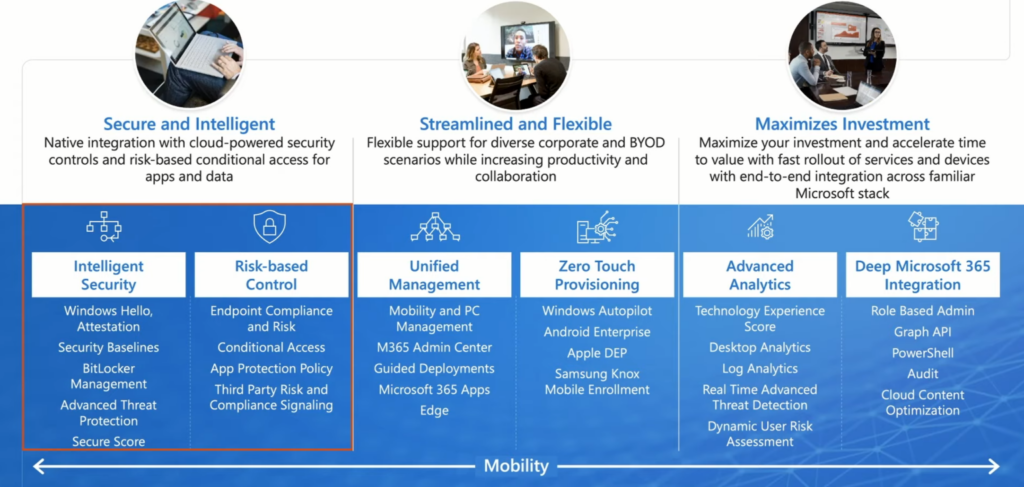 In this video, we will look into the overview of what is UEM (unified endpoint management ), What are, who those vendors are, who provides UEM tools, and what is all about this UEM.
2. What is Microsoft Intune?
End-Users, the Microsoft Intune Company Portal app helps users search, browse and install apps made available by their company. Microsoft Intune is a cloud-based endpoint management solution; it manages user access and simplifies app and device management.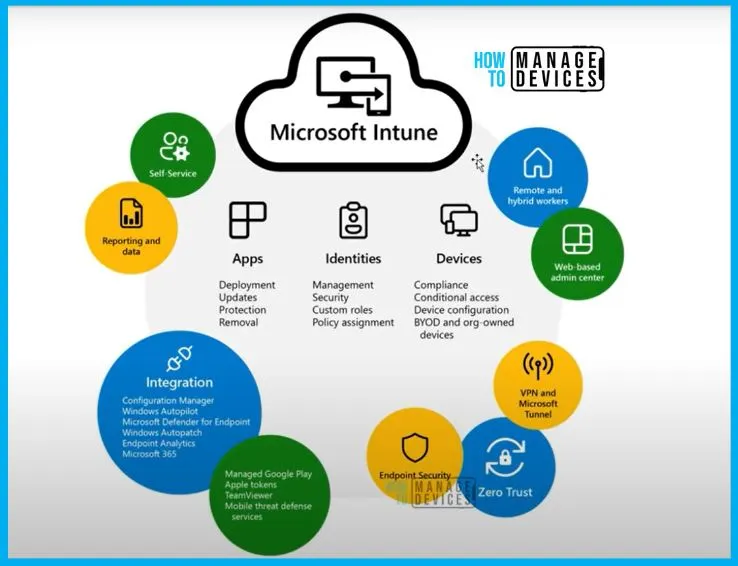 In this below video, we will look into the overview of Microsoft Intune, the cloud solution from Microsoft. There are 4 perspectives that we cover in this video.
3. What is Intune Architecture?
Microsoft Intune Architecture is a cloud-based, mobile device management software that helps you to manage and build your modern workplace. Intune Architecture enables you to Protect corporate data and Manage and configure apps leveraged within your organization.
There are 3 types of Microsoft Intune Architecture: Microsoft Intune Internal Architecture, Microsoft Intune SaaS Architecture, and Integration Architecture. Intune services are based on 6 pillars Availability, Performance, Security, Reliability, Scale, and Agility.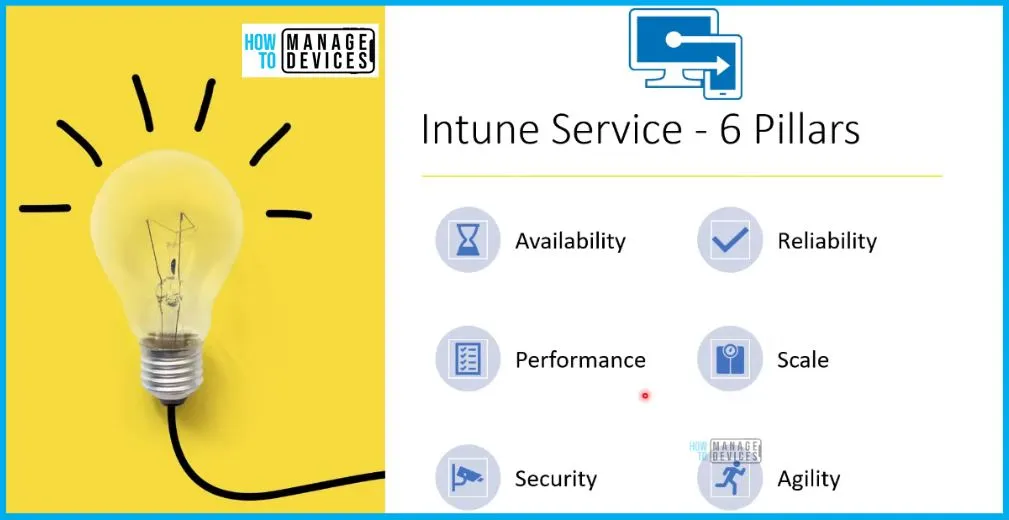 In the below Intune Architecture video, you will get an overview of Microsoft Intune ASU architecture and redesign story. This Video cover What Intune Architecture is and Microsoft's Internal Redesign Story.
4. Intune Design Decisions or Intune Architecture Decisions
There are 3 pillars for Intune Architecture Decisions: Existing Investments, Device Management, and Integration. Intune Architecture Considerations or Intune Design Considerations are important because they are based on the 6 pillars Futuristic, Alligned with Org Priorities, Connectivity, Migration, Secured, and Agile.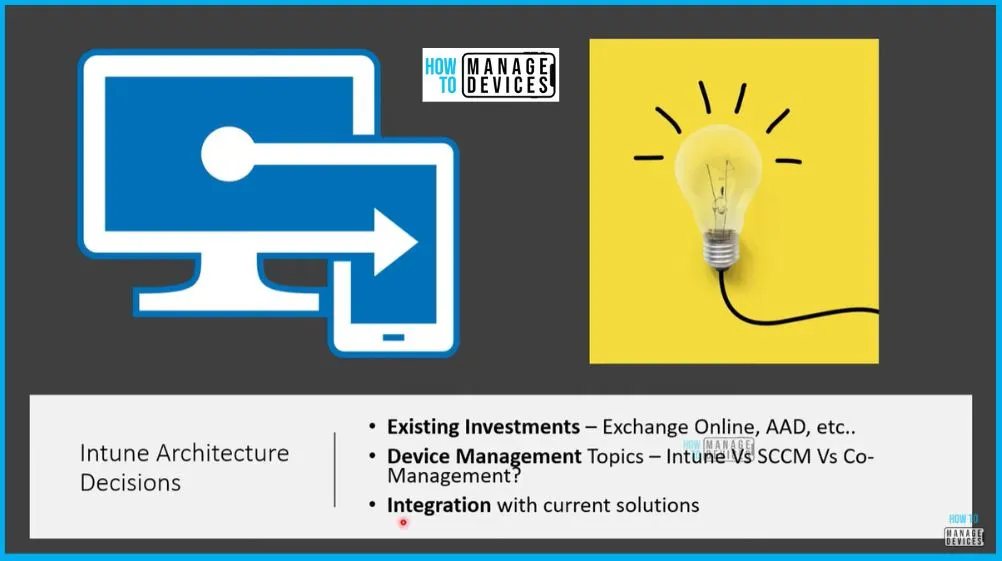 The video below helps you create Intune Design documents and a checklist of questions you want to ask stakeholders or clients. The video covers the details, such as What are Intune Design Decisions and why Intune Standalone Architecture.
5. Intune Supported Device Platforms
There are different types of devices and other kinds of software or operating system to manage the actions of all these devices. Some devices and platforms are Windows client OS, iPad, Android, iOS, macOS, Server OS, etc.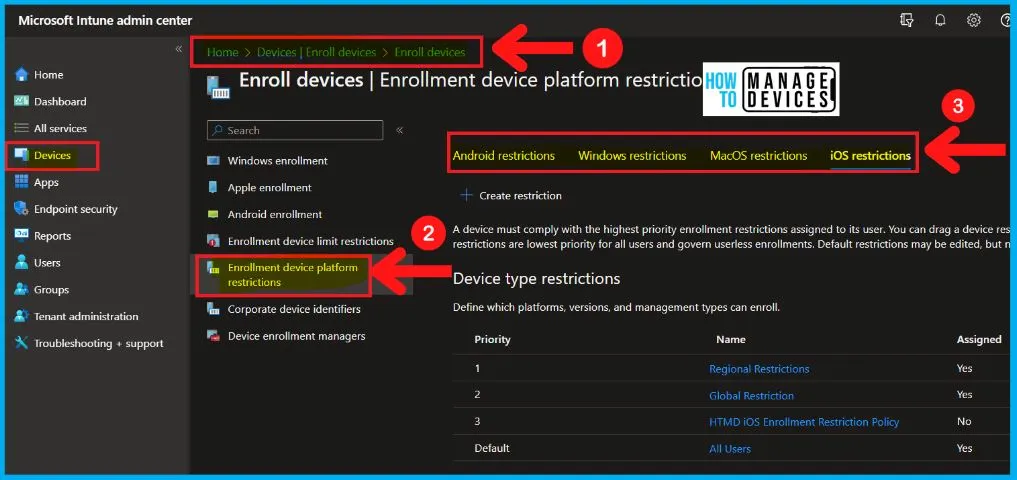 The video tutorial below shows the Intune Supported Device Platforms and whether we could create any custom baseline to restrict Intune support for your organization for a limited set of devices.
6. Intune Supported Enrollment Methods
Let's analyze the options for device enrollment in Intune for different device platforms such as Windows, iOS, MacOS, Linux, ChromeOS, etc. Enrollment is getting the devices into Intune management Personal Vs.—corporate Devices.
The most popular Intune enrollment option is Autopilot because many cooperate devices are Windows devices. Most are moving into modern management with Autopilot enrollment and Azure AD join scenarios.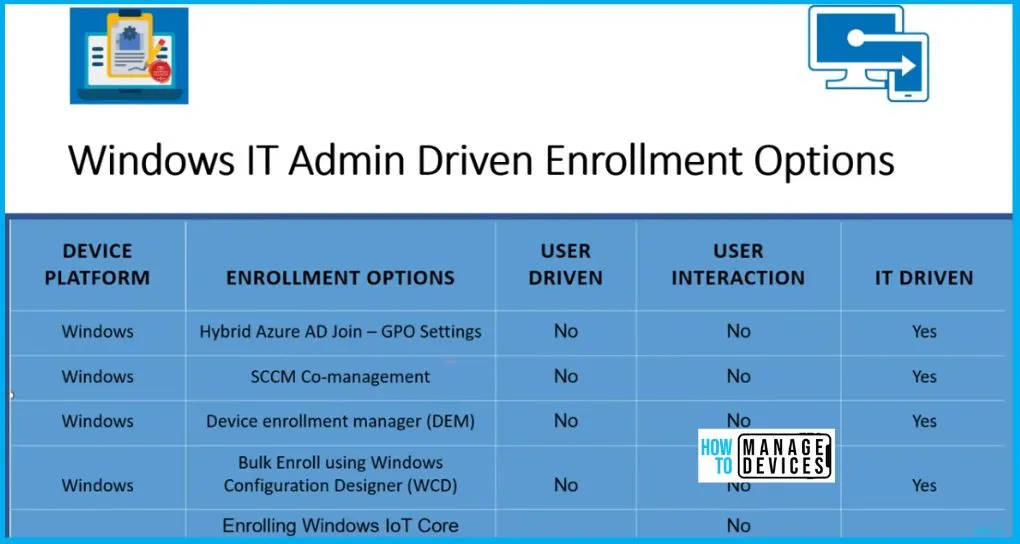 There are many Intune Enrollment options such as Autopilot, Zero Touch, Company portal, Hybrid Azure AD/Azure AD join, ABM, Co-management, etc. This video will teach you about Intune Supported Enrollment Methods in Windows, iOS, iPadOS, Android, MacOS, Linux, and ChromeOS device platforms.
7. Intune Integration Scenarios
Different Intune Integration Scenarios exist, such as Out of Box integrations, 1st party Integrations, and 3rd party Integrations. The Intune Integration Scenarios are important to understand when making Intune design decisions.
Some Intune Integration options are Azure Active Directory, App Stores, Tenant Attach, Log Analytics, ABM/ASM/Google Enterprise, Autopilots, etc. Tenant Attach is a different Intune Integration option between the configuration manager and Intune.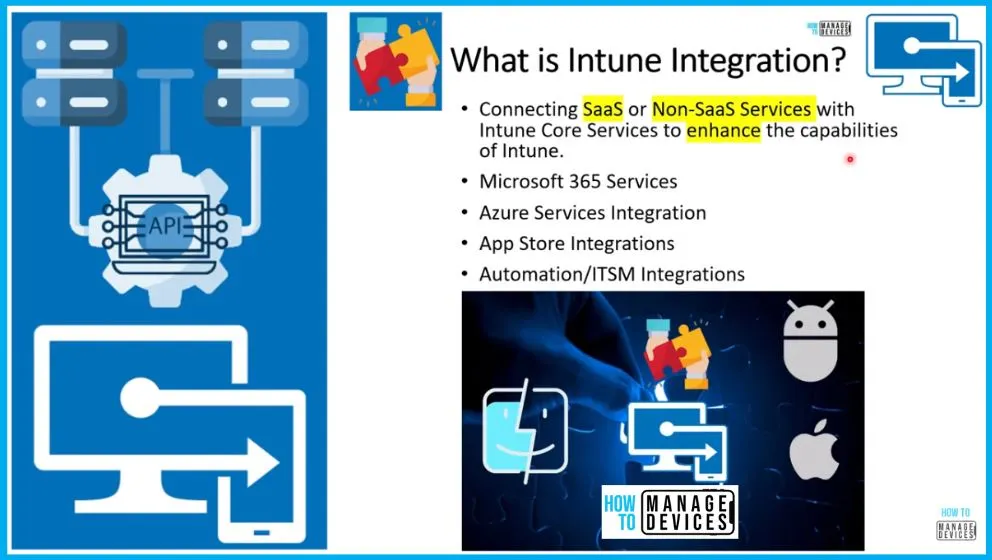 In this video, let's look into Intune Integrations Scenarios and 1st 2nd 3rd party integration Experiences. This is part of Intune design decisions video series.
8. Intune Security Policy Configuration Options
Intune Security Policies help you to secure managed devices; you need to apply security policies to the devices. Organizations follow various security standards – the CIS benchmark is the most common std used.
Let's check the options to configure security policies in Intune and which is best for you; this can be decided based on the Device platforms you are supporting and the security standards you want to implement.
There are various options in Intune security policy configuration. The Intune Security Policy Creation Options such as Migrate GPO settings, Custom Policy, Endpoint security policies, Settings Catalog, Device Restriction Policy, Security Baselines, etc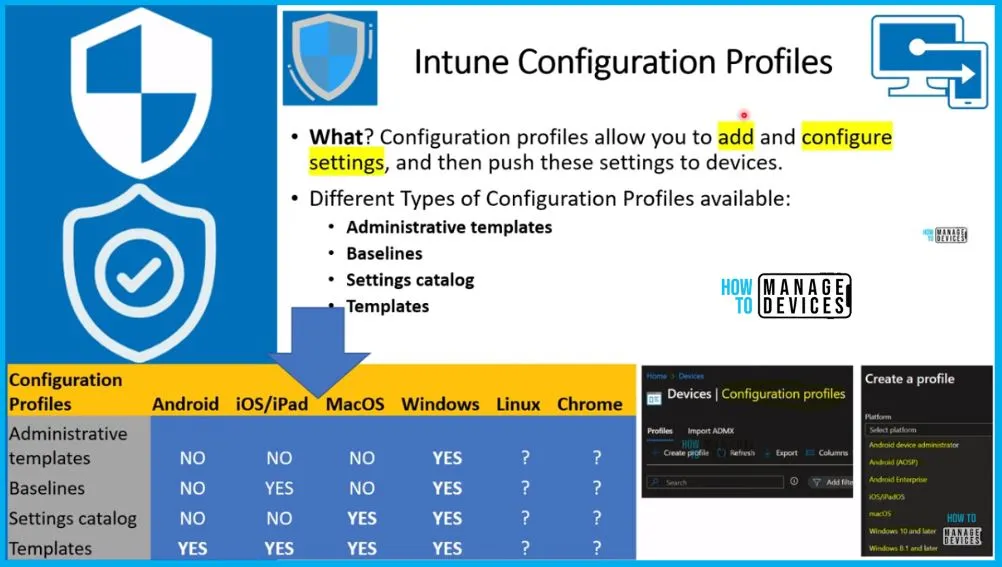 The video below shows the Intune Security Policy Configuration Options and covers the Intune Security Policy Configuration Options as part of the Intune Design Decisions.
9. Supported Intune Application Types and Deployment Methods
Let's check the Intune Application Deployment methods such as Web link, LOB Application, and Apps store applications and the limitations for each application, so this will help you make designed decisions.
5 Application Types are supported in Microsoft Intune, such as Store Apps, LOB Apps, Microsoft Apps, macOS Apps, Android Enterprise System Apps, and Windows App.

You will get the Supported Intune Application types details in the video below. This video also explains about Limitations of each app type and Important Considerations while making Intune Design Decisions.
10. Intune Patch Management Methods for Windows iOS iPadOS macOS
Before making any Intune Design Decisions, you need to understand what options are available for Intune Patching, what features you need to check, and what are the changes in the Technology.
Intune patching is the process that helps IT admins to keep Windows, iOS/iPad, and macOS devices updated with the latest patches released by Operating Systems, Core Components, Drivers, etc.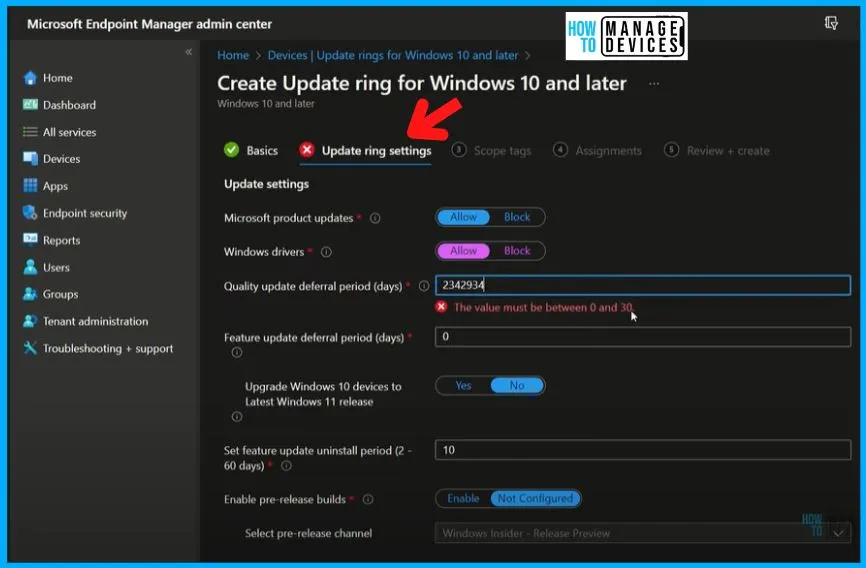 This Intune patch Management method for Windows video shows the patching options using Intune, What Intune Patching is, the Windows Update for Business Deployment services, Windows Update, Windows Autopatch, and Windows Driver Updates using Intune, etc.
11. Intune RBAC Strategic Options | Role Based Access Controls | Scope Groups | Intune Objects | Roles
Intune RBAC (Role-Based Access Controls) is the workflow that helps organizations segregate the roles and responsibilities of different support teams by providing them with limited access to specific resources.
Intune RBAC Strategic options are one of the important Design Decisions. The Intune RBAC options include Role Based Access Controls, Custom Admin Roles, Scope Groups Vs. Scope Tags.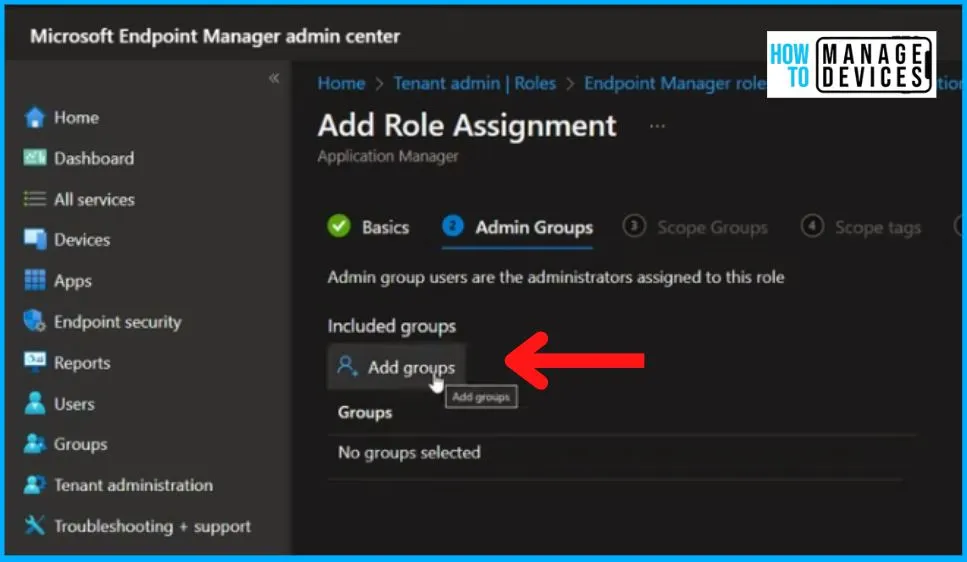 This video will explain Intune RBAC Strategic options | Role-Based Access Controls | Scope Groups | Intune Objects | Roles. Intune RBAC Roles are there to grant a set of permissions to help Intune admins to perform specific activities as part of their job role.
12. Intune Reporting Strategic Options | Types of Reports | Custom Reports | Workbooks
Intune Reports helps IT admins effectively monitor and analyze different workloads in Intune. You can use Intune reporting to monitor your organization's endpoint compliance, health, and trends.
The most popular reports are Operational reports, which are used by admins several times a day. These types of essays are there mainly for Status reporting.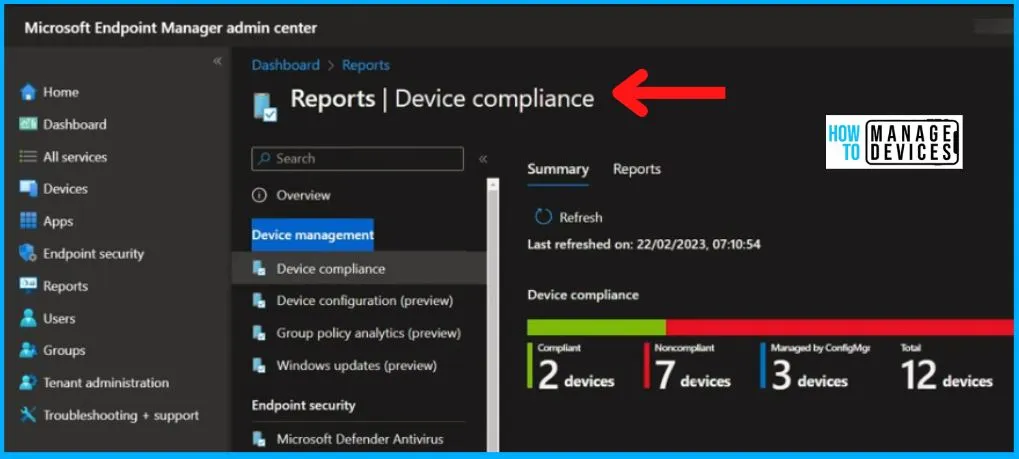 The video below helps you get more details on Intune Reporting Strategic Options | Types of Reports | Custom Reports | Workbooks | Permissions.
13. Intune Windows 11 CIS Benchmarks Security Policy Settings Design Decisions
The CIS (Center for Internet Security) a nonprofit whose mission is to 'identify, develop, validate, promote, and sustain best practice solutions for cyber defense.' Many organizations use the CIS benchmark as their security baseline.
You can download CIS benchmark for different Microsoft products, and it's free! Download the document for guidance in establishing a secure configuration poster for Microsoft Intune with Windows devices.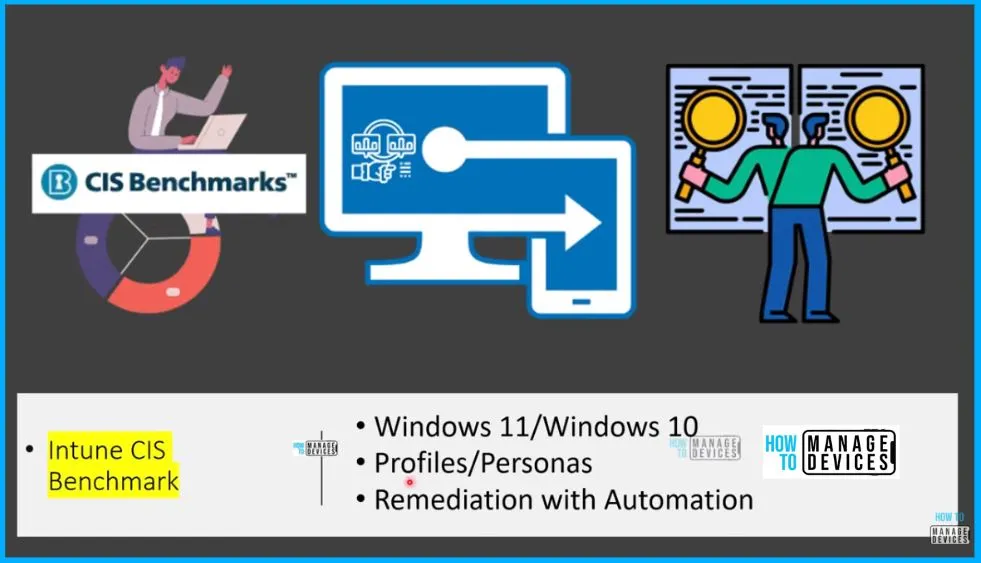 This video will teach you about Intune Windows 11 CIS Benchmarks and Security Policy Settings Design Decisions. CIS benchmark profiles are recommendations for securing a technology or a supporting platform.
Author
About Author – Vidya is a computer enthusiast. She is here to share quick tips and tricks with Windows 11 or Windows 10 users. She loves writing on Windows 11 and related technologies. She is also keen to find solutions and write about day-to-day tech problems.