Azure Certification options are bit confusing for most IT Pros. It seems many IT Pros are confused with many Azure certifications options. They don't which is best certification option for them. Let's check what are the options for Azure certifications from the Webinar.
Register – Save your free webinar seat Azure Exams and Certifications Explained
Related Post – Download 30 Azure eBooks from Microsoft – https://www.anoopcnair.com/download-30-azure-ebooks-from-microsoft/
List of Azure Exams
The following are the list of Azure exams available in Microsoft https://www.microsoft.com/en-us/learning/azure-exams.aspx
AZ-103 – Microsoft Azure Administrator
BETA AZ-120 – Planning and Administering Microsoft Azure for SAP Workloads -(released November 4, 2019)
AZ-203 – Developing Solutions for Microsoft Azure
BETA AZ-220 – Microsoft Azure IoT Developer – (released January 9, 2020)
AZ-300 – Microsoft Azure Architect Technologies
AZ-301 – Microsoft Azure Architect Design
AZ-400 – Microsoft Azure DevOps Solutions
AZ-500 – Microsoft Azure Security Technologies
AZ-900 – Microsoft Azure Fundamentals
70-487 – Developing Microsoft Azure and Web Services
70-537 – Configuring and Operating a Hybrid Cloud with Microsoft Azure Stack Hub
Webinar to Prepare for Azure Exams & Certification
The webinar features a full analysis of the Microsoft Azure certifications landscape in 2020, giving you the knowledge to properly prepare for a future working with cloud-based workloads.
Seasoned veterans Microsoft MVP Andy Syrewicze and Microsoft cloud expert Michael Bender will be hosting the event which includes Azure certifications tracks, training and examination costs, learning materials, resources and labs for self-study, how to gain access to FREE Azure resources, and more.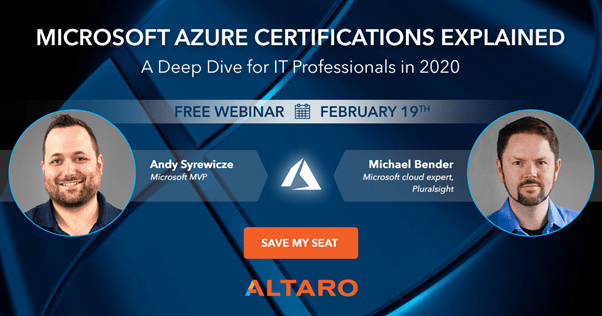 Register – Azure Certification
The webinar will be held on Wednesday February 19, at 3pm CET/6am PST/9am EST and at again 7pm CET/10am PST/1pm EST.
Register Save your free webinar seat
Resources