Let's find the list of deployments targeted to a collection in SCCM (a.k.a ConfigMgr). This is one of the easiest ways to find out the deployments targeted to an SCCM device or user collection. The deployment details help to troubleshoot and fix SCCM issues.
You can also use SQL query or Powershell to find the deployments associated with collections. However, getting these details directly from the Configuration Manager console might help service desk support and easily identify the issues.
You can use the deployments tab from static and dynamic collections. I have explained how to create a static and dynamic collection in the previous posts. Microsoft also introduced Verify SCCM Collection Query Preview Tool | Best Tool to Analyse Collection Query to help admins.
Feature Types Supported
You can get application deployment details from user collections and device collections. Apart from application deployment details, you can get the details about other feature types mentioned below:

Application
Software Update
Configuration Policy
Software Update
Task Sequence

Find Deployments targeted to a Collection
Let's check how to find deployment targeted to a collection from the admin console assets and compliance node.
Launch ConfigMgr admin console.
Navigate to Assets and Compliance -> Device collections.

You can use User Collections as well.

Click on the Device/User collection that you want to findout the details of deployments.


There are three tabs available (in Details Pane) for each device collection in the SCCM console. Details Pane is the bottom portion of the results pane, and this displays additional details about the object selected in the list view.
Summary – This shows the collection properties. Details like –

Collection Name
Update Time
Member Count
etc…

Deployment – This is the tab where you get all the details about the deplyments associated with this collection.

Software Name (Feature type name)
Feature Type
Deployment Start Time
Purpose (available or required apps?)
Compliance %
Deadline

Custom Client Settings – This tab helps you you to understand custom client settings policies deployment to this particular collection.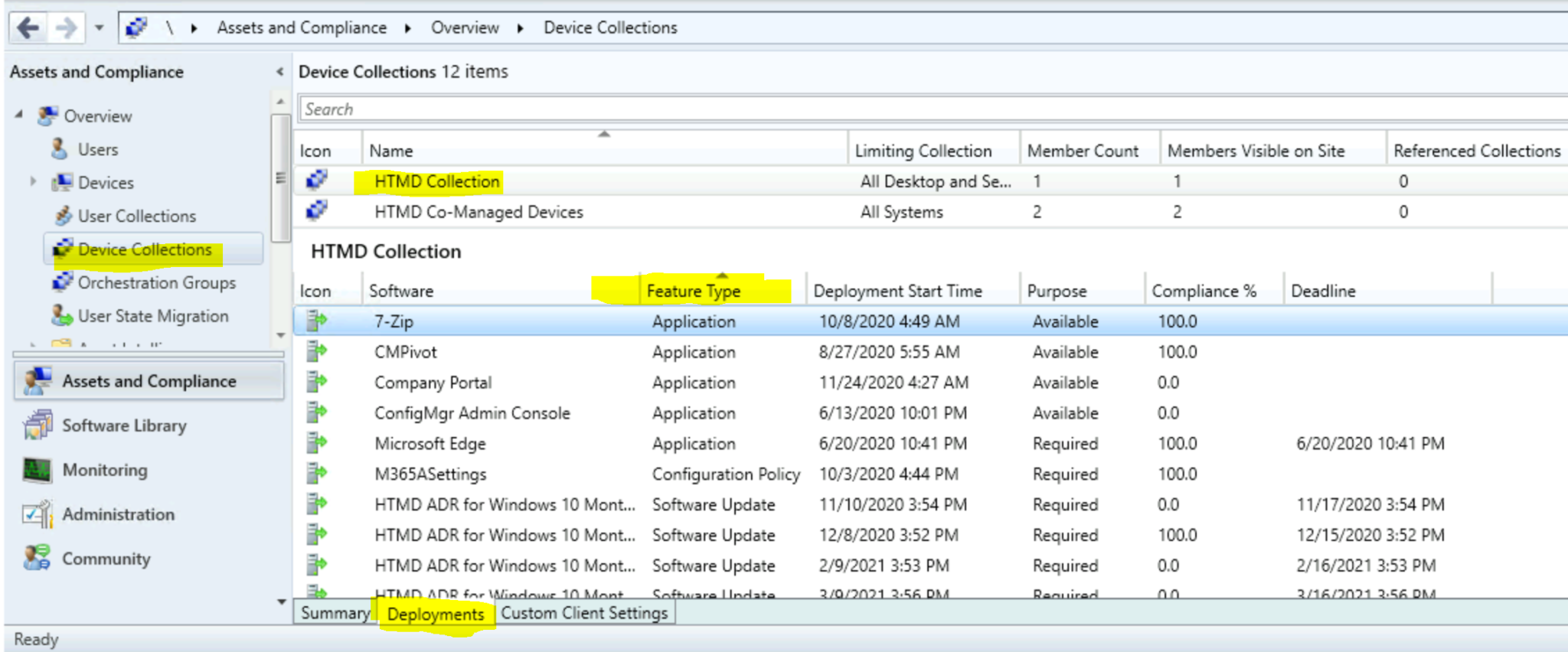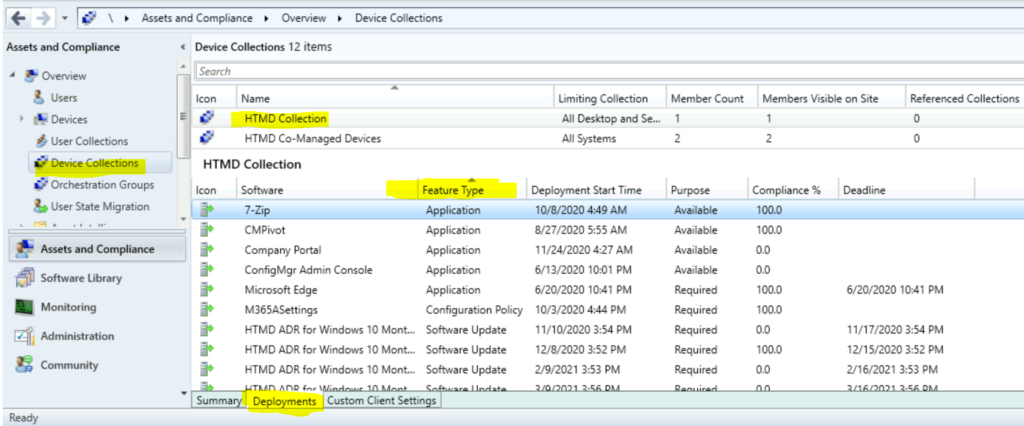 Resources