Learn how to Enable ConfigMgr Asset Intelligence Hardware Inventory. The ConfigMgr Asset intelligence (AI) adds hardware inventory classes to collect more detailed information from Configuration Manager clients. This data includes the hardware and software titles used in your workplace environment.
You can add custom information to the asset intelligence catalog. Use asset intelligence to help aggregate your enterprise software license usage when you have the correct configuration. You can refer to asset intelligence default reports to get more details about hardware, license management, and software.
There are other useful hardware-related reports outside ConfigMgr asset intelligence reports. Also, you can learn How to Launch ConfigMgr Reports from the previous post here. More than 60 reports are present as part of asset intelligence information available as out-of-box reports in SCCM.
NOTE! – The asset intelligence feature is getting deprecated by Microsoft. So this feature won't be available after the 2022 Nov release of SCCM.

SCCM Asset Intelligence
The Asset Intelligence node in the Assets and Compliance workspace is the home page for asset intelligence in ConfigMgr. As you can see in the below screen capture, you can enable the Asset Intelligence component from the AI node in the console using edit inventory classes.
You can inventory and manage software license usage throughout your enterprise by using the Asset Intelligence catalog*. SCCM Asset intelligence adds hardware inventory classes to improve the breadth of information that SCCM collects.
Asset Intelligence catalog and sync point are already deprecated and won't be supported after the Nov 2021 release of SCCM.
Navigate – \Assets and Compliance\Overview\Asset Intelligence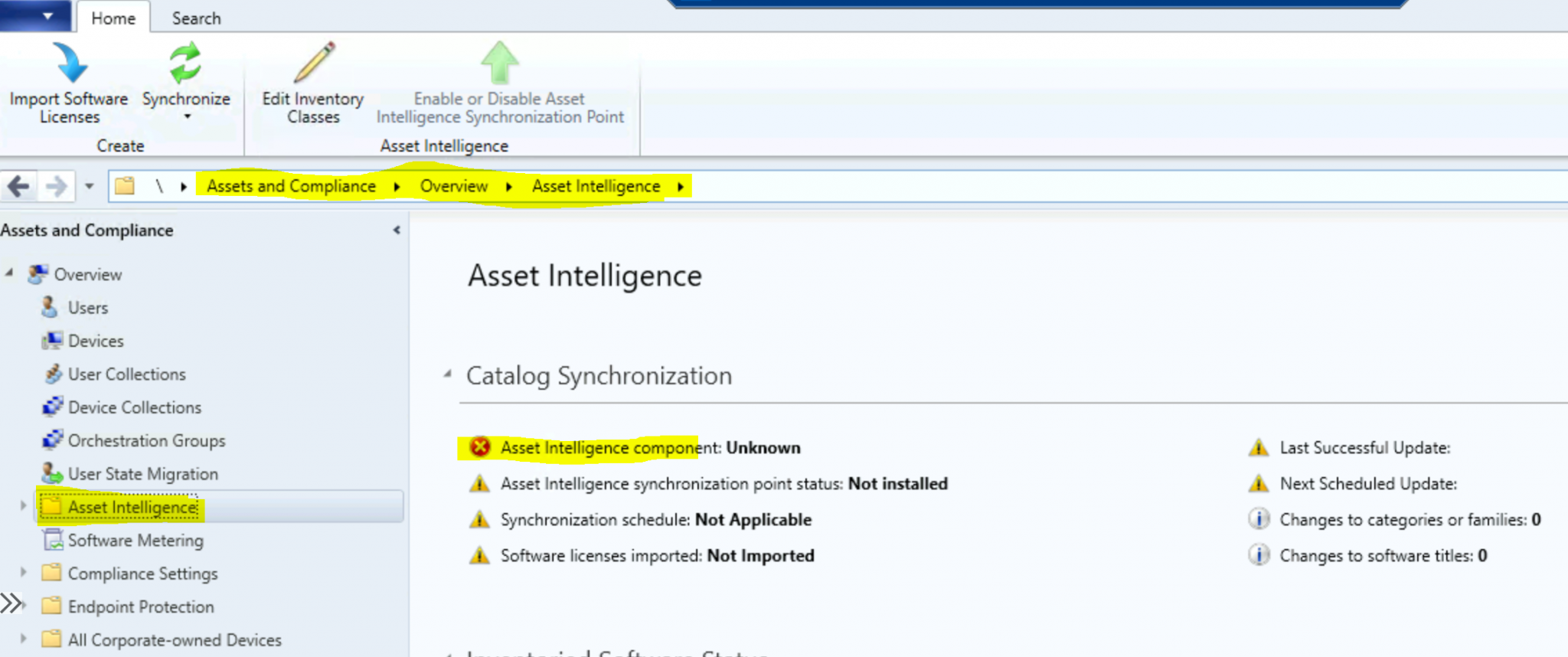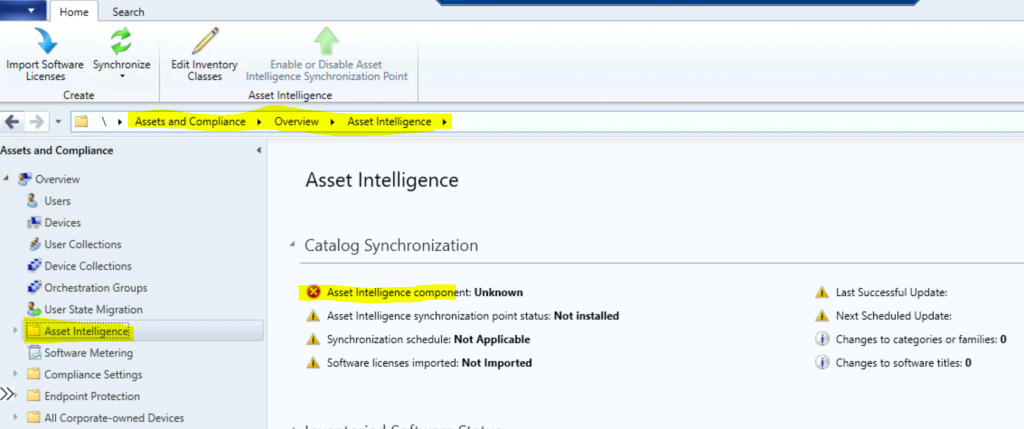 Edit the inventory classes button from the ribbon menu to enable the additional hardware inventory classes.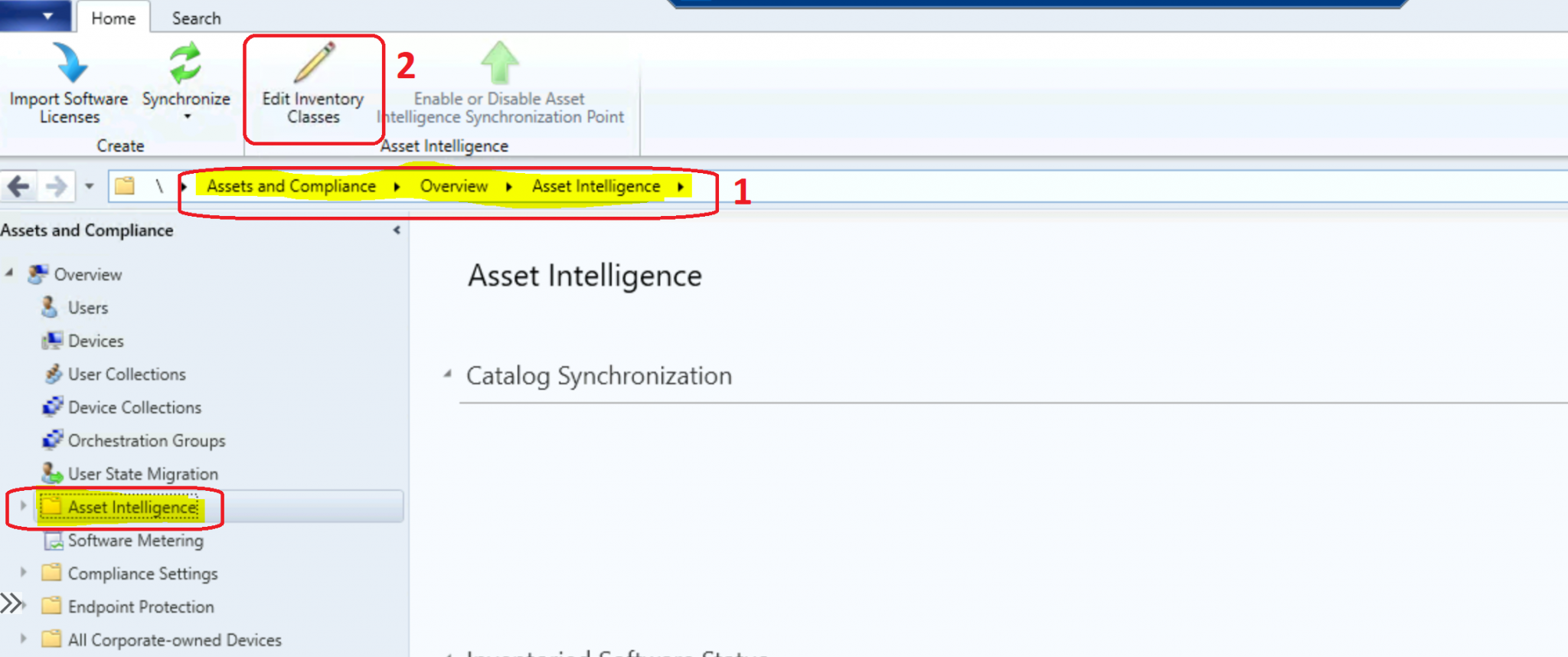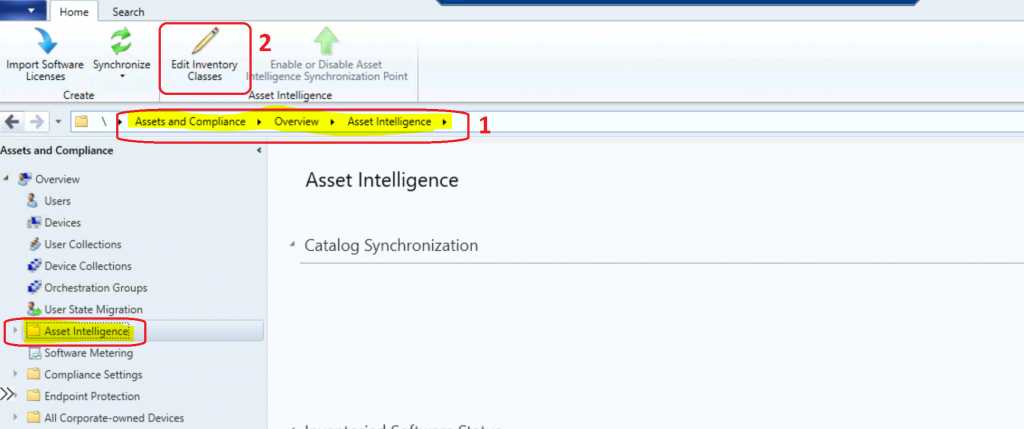 To enable asset intelligence reporting, select to enable all or at least one reporting class from the available Asset Intelligence reporting classes. These settings will be enabled in default client agent settings and apply to all clients in the hierarchy.
To change the asset intelligence classes enabled for different collections enable these classes in custom device client settings instead of the default client agent settings.
Enable the following additional inventory classes from Edit inventory classes. I have selected all the following details.
SMS_InstalledSoftware
SMS_SystemConsoleUsage
SMS_AutoStartSoftware
SMS_BrowserHelperObject
SMS_SoftwareTag
Win32_USBDevice
SMS_InstalledExecutable
SMS_SoftwareShortcut
SoftwareLicensingService
SoftwareLicensingProduct
Click OK to enable additional inventory classes.
NOTE! – When you enable Asset Intelligence reporting classes the CPU usage on the Configuration Manager client computer will increase during a hardware inventory cycle.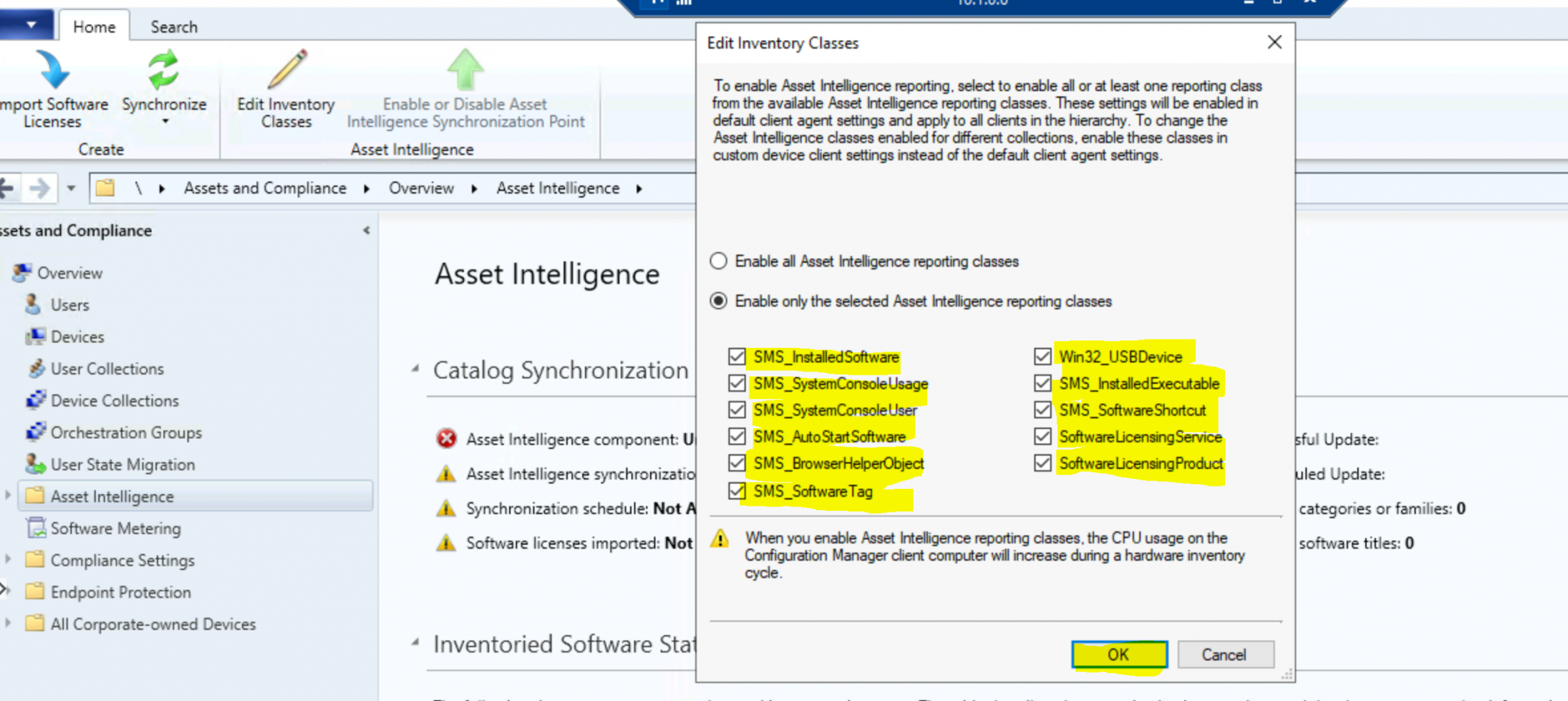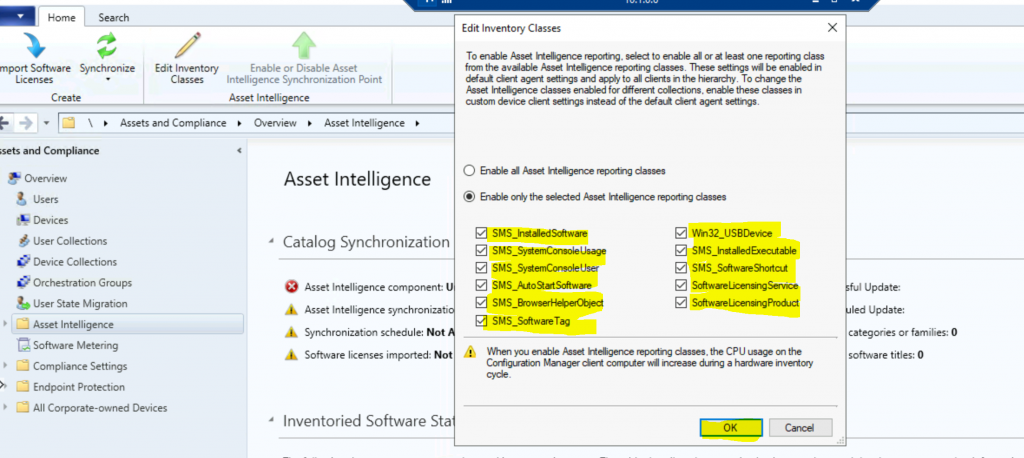 To ensure that only necessary reporting classes have been enabled, verify the selected settings before continuing. Enabling Asset Intelligence reporting classes will increase computer resource usage during Configuration Manager client hardware inventory.
Are you sure you want to enable selected reporting classes?
Click on Yes to continue.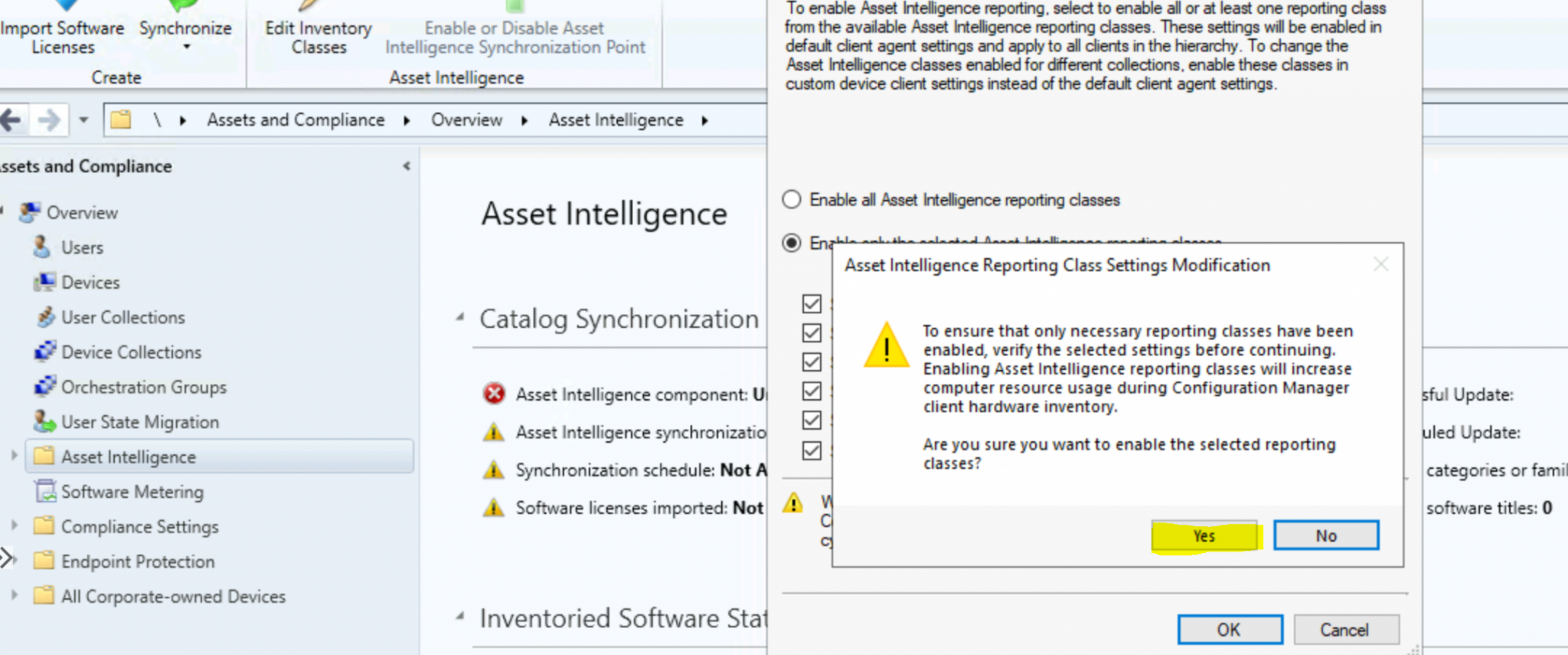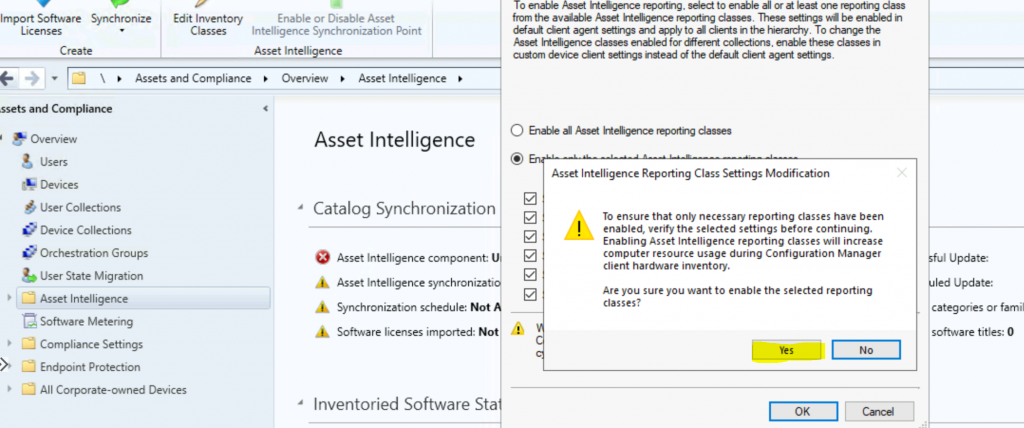 Results Enable SCCM Asset Intelligence Hardware Inventory
Let's check the status of the Asset Intelligence component enabled.


Inventoried Software
The hardware inventory agent collects the inventoried software information from ConfigMgr clients based on the software titles stored in the asset intelligence catalog.
\Assets and Compliance\Overview\Asset Intelligence\Inventoried Software


Asset Intelligence Product Lifecycle
Let's check the product lifecycle dashboard of many products that can be found in the asset intelligence section. By default, Windows 10 and Configuration Manager lifecycles details are shown in the dashboard.
\Assets and Compliance\Overview\Asset Intelligence\Product Lifecycle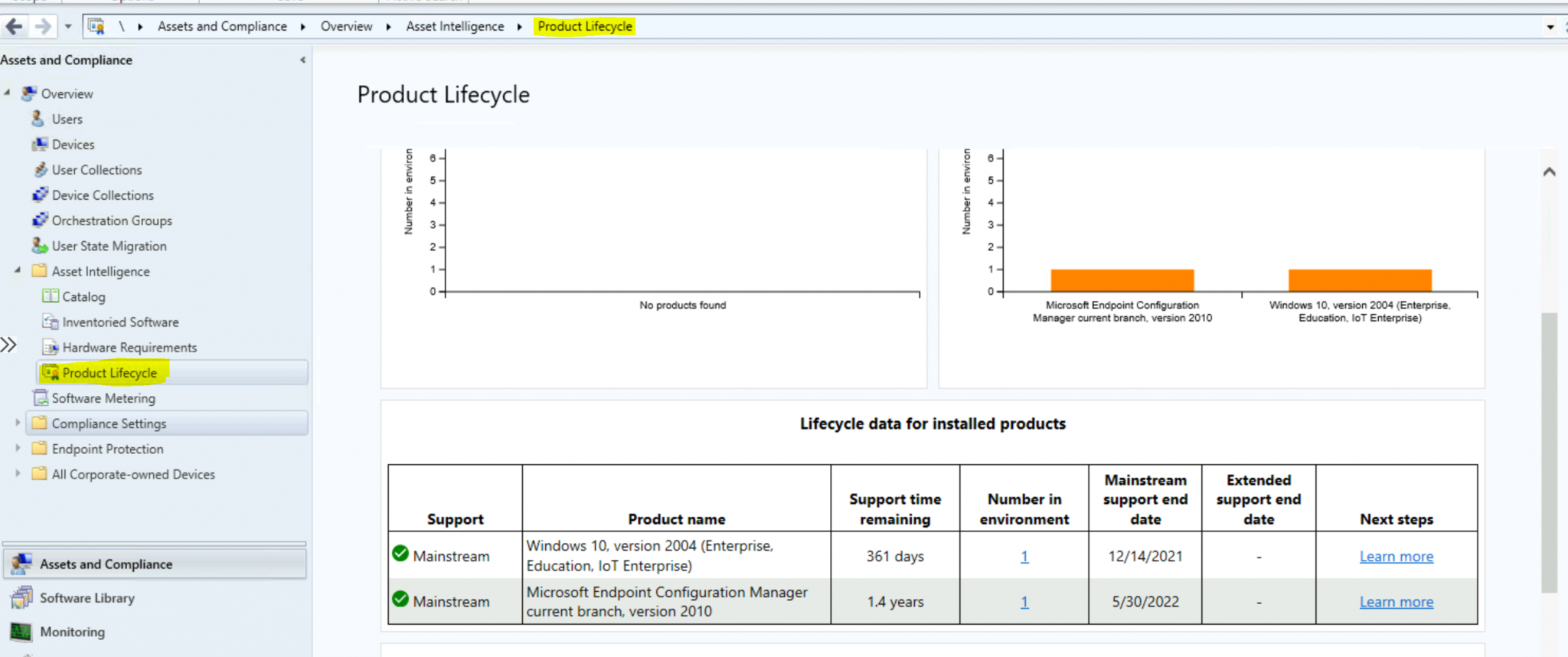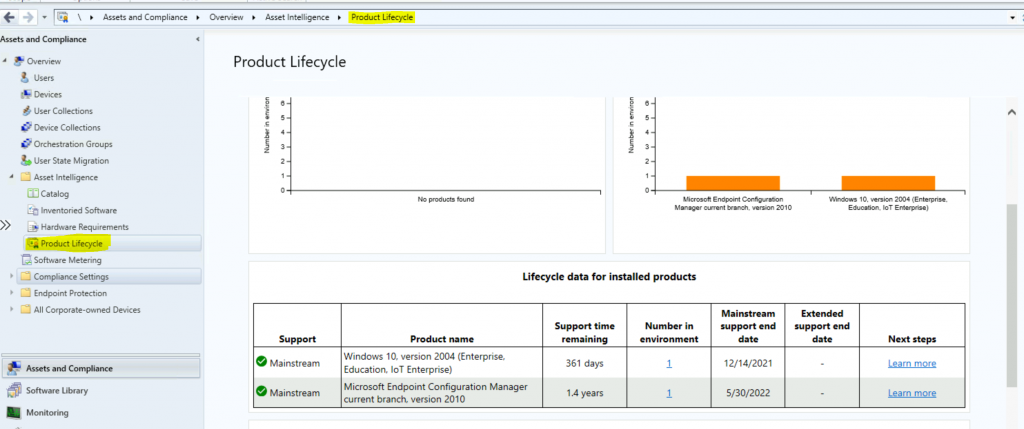 Hardware Requirements
Let's check the Hardware Requirements for 176 applications (out of box experience) from the asset intelligence section. You can use this hardware requirement to verify that computers meet the hardware requirements for software titles before they're targeted for software deployments.
\Assets and Compliance\Overview\Asset Intelligence\Hardware Requirements


Asset Intelligence Catalog
The catalog contains the categorization and identification information for over 300,000 software titles and versions. AI software categories are used to widely categorize inventoried software titles and as high-level groupings of more specific software families.
\Assets and Compliance\Overview\Asset Intelligence\Catalog


Resources
Author
Anoop C Nair is Microsoft MVP! He is a Device Management Admin with more than 20 years of experience (calculation done in 2021) in IT. He is Blogger, Speaker, and Local User Group HTMD Community leader. His main focus is on Device Management technologies like SCCM 2012, Current Branch, and Intune. He writes about ConfigMgr, Windows 11, Windows 10, Azure AD, Microsoft Intune, Windows 365, AVD, etc.