Monitoring of client operations initiated from SCCM Console was always a challenge. In SCCM / ConfigMgr 2012, we can watch the status of client operations initiated from CM 2012 console through Monitoring workspace. In the earlier post, I talked about the option which will help us to initiate "Download Computer Policy" As Soon As Possible through CM 2012 console. How to monitor the status of this action?

Yes, in CM 2012, we can monitor the progress of client actions initiated through Monitoring Workspace –> "Client Operations" Node (\Monitoring\Overview\Client Operations).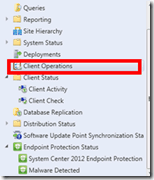 On the right hand side, we can see lots of details "Operation Name – Download Computer Policy, Date Created, Status – Active, Expired – Yes: No, Collection details, Success, Failed, Offline, Unknown etc."

In case, if we want to "delete" or "cancel" the actions which are already initiated. There are options.
1. Right click on the Operation Name, in this case "Download Computer Policy" and click on Cancel.
2. Select the required one from operation list and using the ribbon option, we can Cancel or Delete it.