Exciting News! MAM for Microsoft Edge on Windows. Introducing an exciting advancement in browsing technology: MAM capability is now ready to explore in the public preview version of Microsoft Edge for Business on Windows. This cutting-edge feature brings new functionality and convenience to your browsing experience.
Building upon Microsoft's success in providing MAM for iOS and Android devices, Microsoft is thrilled to announce that MAM is now extending its reach to Microsoft Edge for Business on Windows. MAM for Edge on Windows includes 4 main components: Microsoft Edge, Conditional access policies, App protection policies, and Windows Defender.
With the latest update to Microsoft Edge for Business on Windows, users can now enjoy the remarkable convenience of seamless sign-in. And you're ready to dive into a world of effortless browsing. Say goodbye to complicated authentication processes and embrace a streamlined, hassle-free experience. There is no need to download or install agents. Edge is already available on Windows; you can apply all the security policies.
Microsoft's continuous commitment to delivering remarkable additions to the security and productivity features of Microsoft Intune. The first is the Mobile Application Management (MAM) release for Microsoft Edge for Business on Windows. A week after this remarkable release, Intune will empower you to manage Windows drivers and firmware updates effortlessly, ensuring your devices are always updated with the latest enhancements. This update helps you to provide a more secure, productive and optimized digital landscape for your organization.

What is MAM?
MAM is a Mobile Application Management; It manages the applications stored within the devices. Mobile application management describes the software; it provides IT administrators with a more granular way to control and secure corporate data, which is important in any mobile strategy, particularly in bring-your-own-device (BYOD) programs.
What are the AI Advancements in Microsoft Edge Browser?
By providing the immense power of AI, Microsoft is empowering you with tools and capabilities that will keep you at the cutting edge of technology. MS Edge continues to be your copilot for the web—the first to integrate AI-powered search and the only one with Bing built-in. The AI Advancements include the following.
1. To change the nature of web browsing using Powerful AI advancements
2. AI provides a new look and feel to Edge browsing
3. It helps to provide a new dedicated work experience
4. MS Edge Workspaces will be moving out of the preview
5. Provide a new, dedicated, and simplified management experience for Microsoft Edge 6. within the Microsoft 365 admin center
6. Helps to access corporate resources from anywhere with the help of MS Edge on mobile
7. Increase the reach and usability of your progressive web apps (PWAs) with the sidebar in Edge
8. Provide new DevTools innovations with the help of Focus Mode and JSON Viewer
9. V8 improvements help you to enhance JavaScript tracing and Enhanced Security Mode
MAM for Microsoft Edge on Windows
Let's discuss Mobile Application Management (MAM) for Windows machines. Jordan Gross, a product manager from the Identity and Network Access Organisation, briefly demonstrates how MAM for Microsoft Edge for Business on Windows works.

MAM for Microsoft Edge on Windows is a collaboration between the Intune Defender and Edge Teams identity.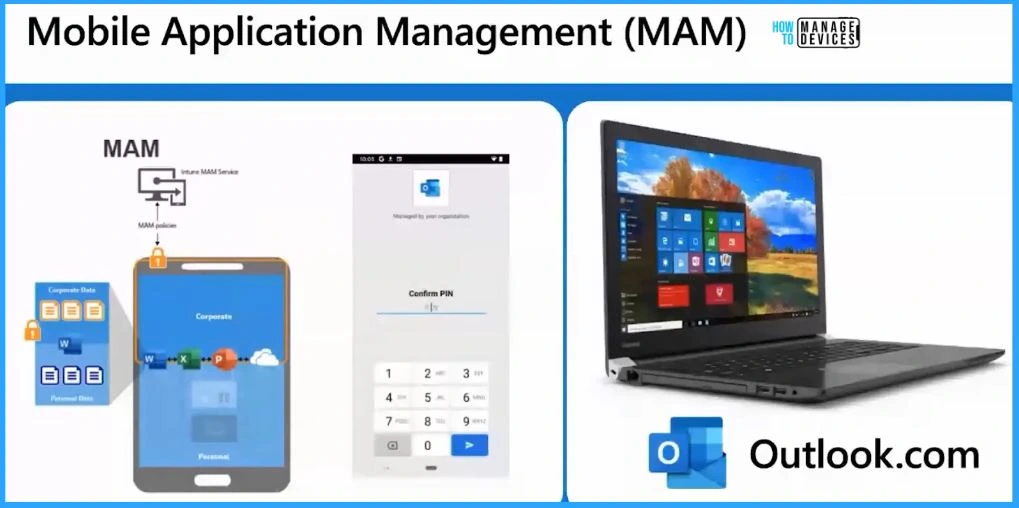 Let's see how the Windows MAM policy admin setup works. You can easily set up your browser in a few simple steps. Click the Get Started button in the below window, or if you are already a Chrome user Signin to your account.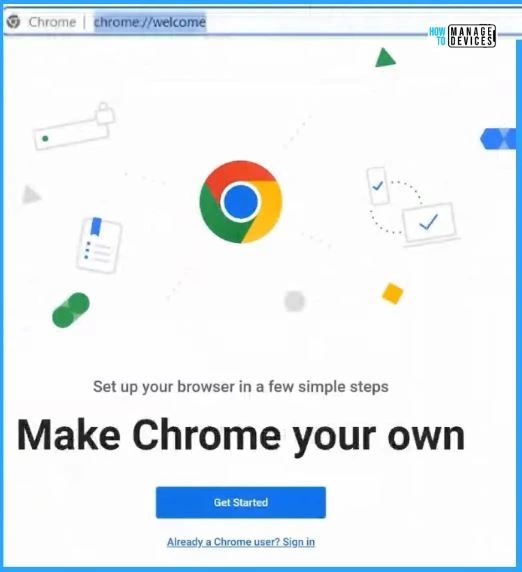 On your personal Windows device, you want to check whether Chrome responded to your email when you tried. Log in to Outlook using your account and password. Here in the below Outlook window, enter your password.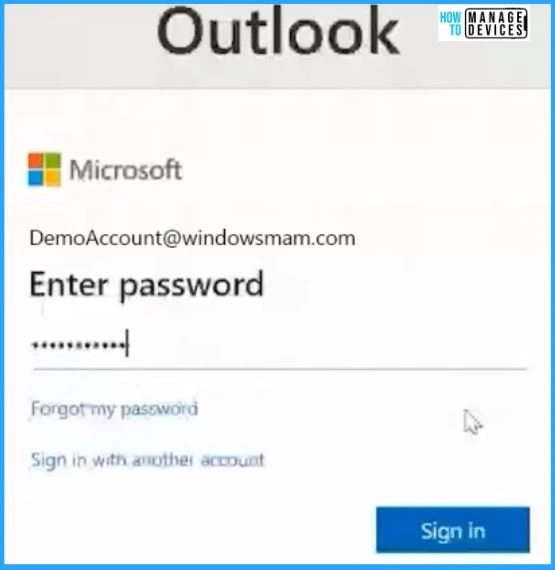 The below window shows that the sign-into Chrome policy blocked you and guided you to Edge. The block message is "you can't get there from here." You must use Microsoft Edge to access this resource. Sign out and sign in with a different account.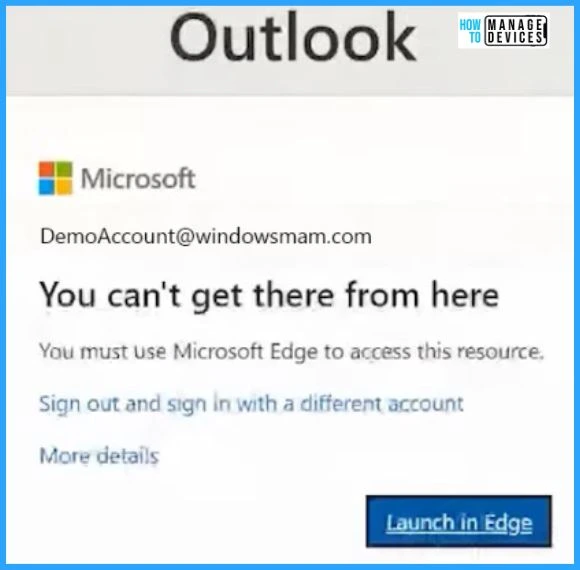 After you add your work account, you can enroll in MAM. Windows will remember your account and automatically sign into your apps and websites on this device. This will reduce the number of times you are asked to log in.
The 2nd screenshot shows that you are all set. We have added your account successfully. You now have access to your organization's apps and services.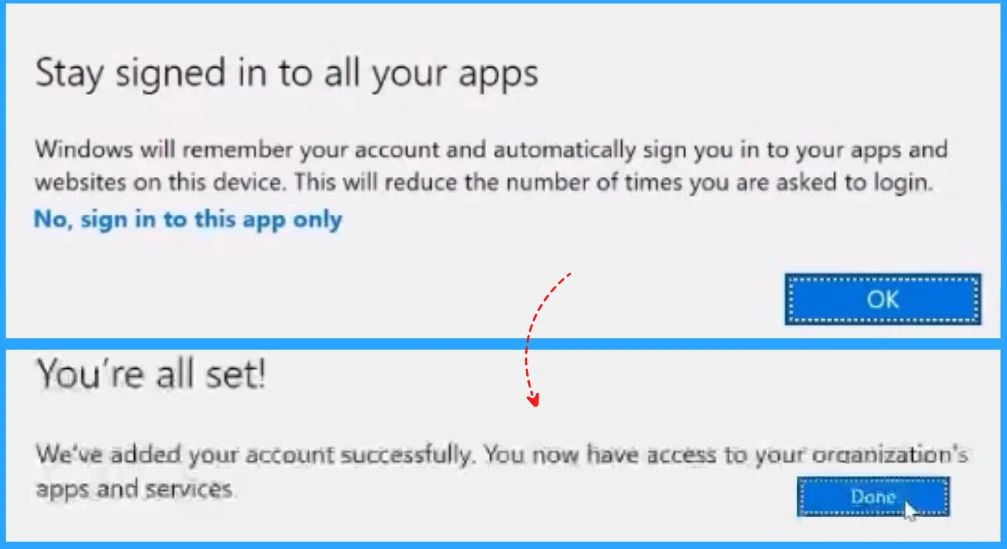 Let's set up your profile to access org resources. This setup does not let your organization use any personal info on your device. It helps your organization protect organizational data accessed with this profile.
With the help of MAM for Edge on Windows, you can now protect sensitive data from unauthorized access without requiring full device enrollment on personal Windows devices.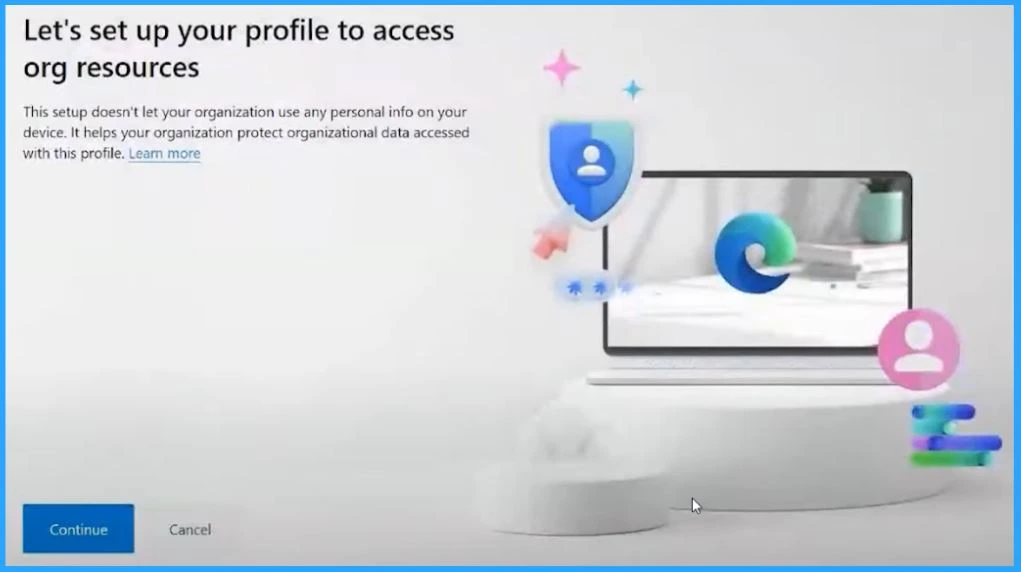 The below window shows that you are successfully logged in and can see the emails. It is impossible to copy and paste the data because it is in protection blocks. This protection block is not affecting personal data.
MAM allows admins to enforce app-level protection, such as requiring an app pin for accessing Outlook and preventing copy and paste within the app itself.
Now Microsoft is applying MAM to Windows devices so employees can access their organization's data from their home PC.
Microsoft is starting with the Edge browser so users can access resources like Outlook.com.

The window below helps you to show the protection message that "Your organization prevents you from copying content from this website. To protect the sensitive information on this website, your organization prevents you from copying its contents.
With the help of MAM for Edge on Windows, you can prevent copying sensitive data.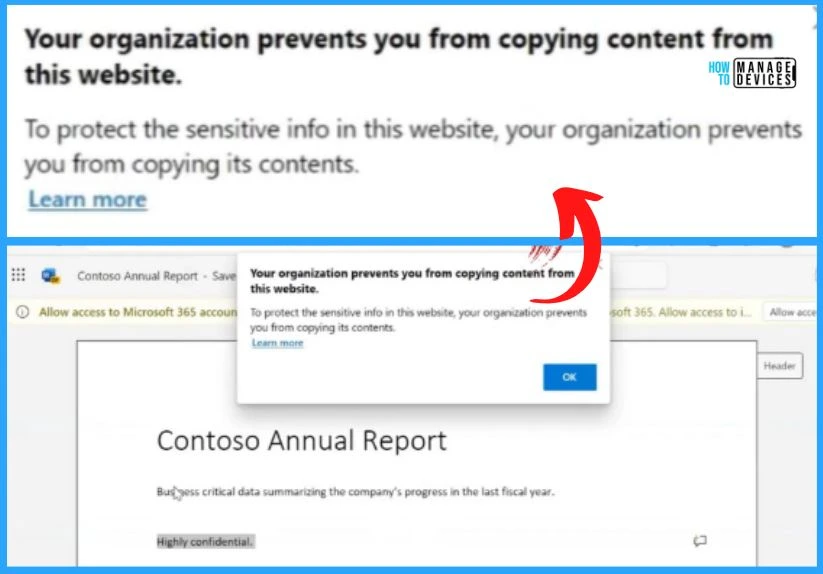 Here you can take the security actions. Let's see what's happening with your device's security and health and take any necessary actions. You can easily create or set up OneDrive for file recovery options in case of a ransomware attack, for Account protection, sign in with Microsoft for enhanced security, and other benefits.
In the user account control, you must confirm that you want to allow this app to change your device. If you need to allow this app to make changes, click Yes.
Security and Health of your Device
Virus and threat protection
Account Protection
MAM for Microsoft Edge on Windows – Table 1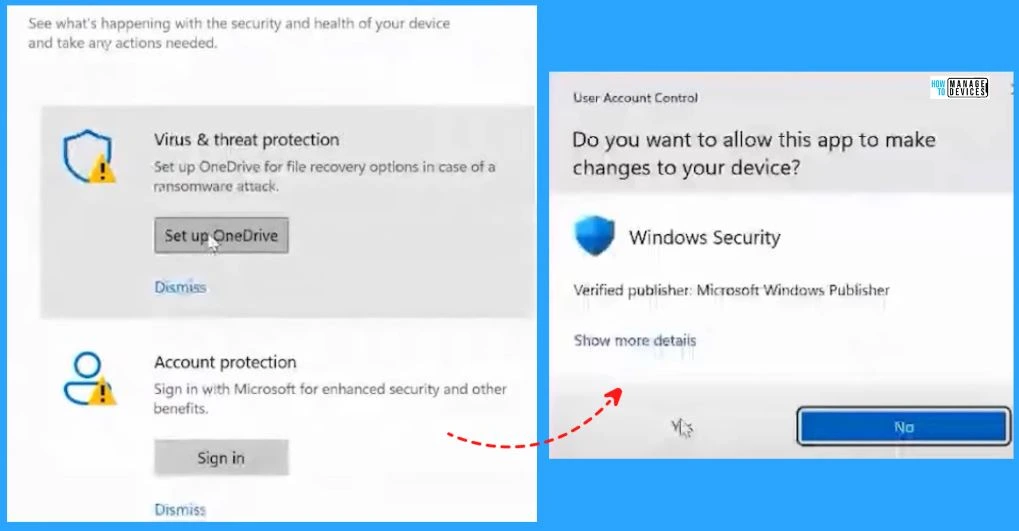 Virus and Threat Protection Settings
Virus & threat protection in Windows Security helps you scan for potential threats on your device. The Virus and threat protection settings include 2 categories Real-time protection and Cloud delivered protection.
| Virus and Treat Protection Settings | Description |
| --- | --- |
| Real-time Protection | Locates and stops malware from installing or running on your device. You can turn off this setting for a short time before it turns back on automatically. |
| Cloud-Delivered Protection | Provides increased and faster protection with access to the latest protection data in the Cloud. Works best with Automatic sample submission turned on. |
MAM for Microsoft Edge on Windows – Table 2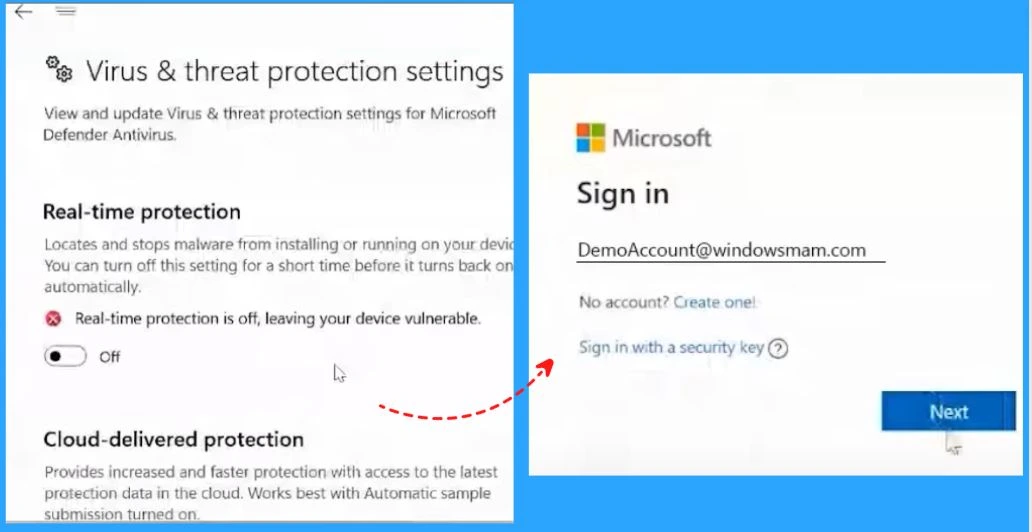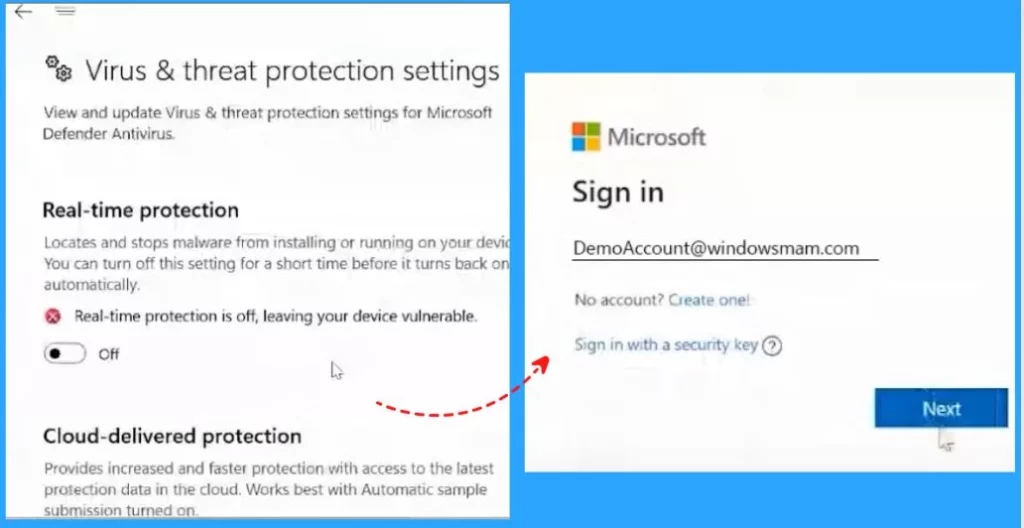 Microsoft Defender scans your device before granting access to valuable resources. However, in rare instances, you may encounter a temporary block when attempting to access Outlook. This proactive measure ensures the utmost protection for your email and sensitive information.
Once the scanning process is complete, you can resume accessing Outlook, confident that your device and data have been thoroughly safeguarded.
The new feature extends the benefits of app layer management to the Windows platform through Microsoft Edge for Business.
Note! – You can easily apply policies that block access if anti-virus protection is disabled

What's new in Microsoft Intune: 2306 (June) edition – Microsoft Community Hub
Author
About Author – Vidya is a computer enthusiast. She is here to share quick tips and tricks with Windows 11 or Windows 10 users. She loves writing on Windows 11 and related technologies. She is also keen to find solutions and write about day-to-day tech problems.