This post brief you about SCCM 2307 Technical Preview new features. It's important to note that this is the second Technical Preview version that has been released since the release-cadence changes for Microsoft Configuration Manager and the announcement of the SCCM 2303 Production Version.
The technical preview branch of Configuration Manager is not designed or supported for use in a production environment, as it is intended solely for use in lab environments and is licensed accordingly.
Technical Previews are pre-release builds that are made available early. While features from previous versions of the technical preview may remain in later versions, a technical preview installation does not offer the option to upgrade to a current branch installation, nor does it receive updates from the current branch release.
Microsoft plans to release updates for SCCM current branch a few times per year. SCCM CB production release has changed 2 versions per year in March (xx03) and September (xx09). SCCM Technical Preview version cadence will also change from 12 releases to 4 versions per year.

Configuration Manager 2309 production release is planned for October 2023. With this release, Microsoft bringing in new features and additional enhancements to the existing feature set. SCCM 2305 Technical Preview had new enhancements, and 2307 TP also have additional capabilities specific to the Windows 11 reporting and edition upgrade.
Download SCCM Technical Preview Baseline Version
When you install a new technical preview site, use the latest baseline version 2305. After installing a baseline version, use in-console updates to bring your installation up to date with the most recent SCCM Technical preview version.
There will be four TP releases per year. Two will be released before each production current branch release, and one of the Technical Preview releases will be a baseline release. Technical Preview Baseline is 180 days evaluation.
Update 2307 for Technical Preview Branch is available in the Configuration Manager Technical Preview console. For new installations, the 2305 baseline version of the Microsoft Configuration Manager Technical Preview Branch is available on Eval center.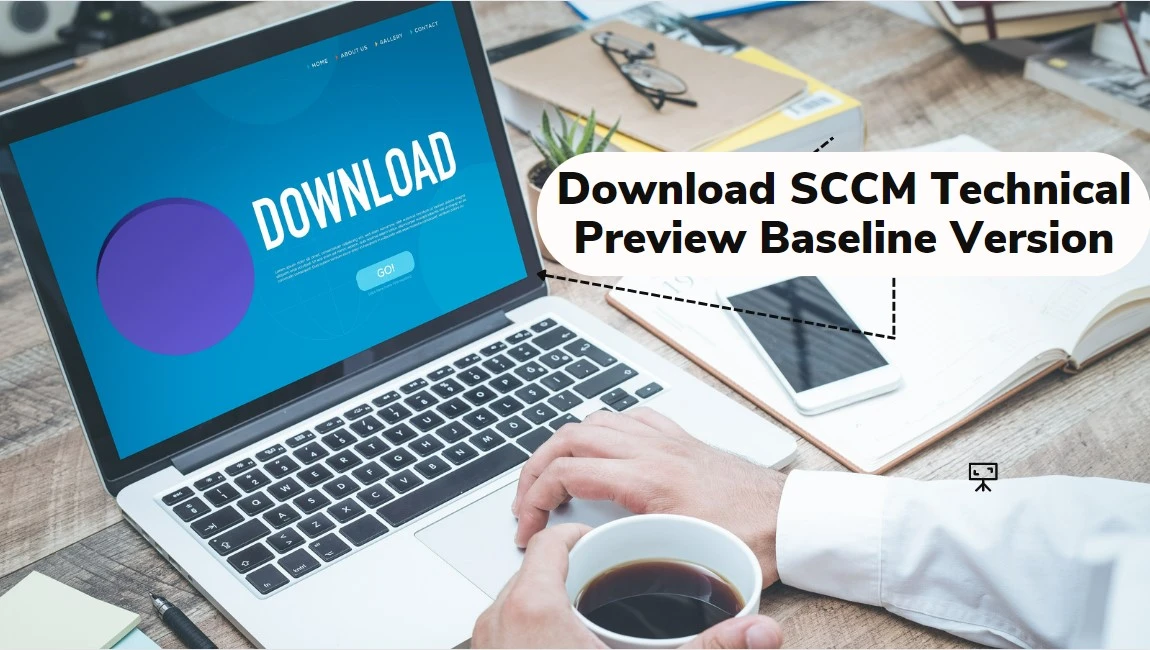 Here's how you can build SCCM Technical Preview LAB by following the guide, How to Build Configuration Manager Technical Preview LAB | SCCM.
You can also read, Past releases in the What's New to get more information about what new features SCCM Technical preview updates were released.
Table 1 – SCCM 2307 Technical Preview New Features
New Features in SCCM 2307 Technical Preview Version
Let's check the new features to try out in SCCM 2307 technical preview version. Starting with Microsoft Configuration Manager version 2307, You will experience the addition of new features and improvements.
Windows 11 Edition Upgrade using Configuration Manager policy settings
Windows 11 Upgrade Readiness Dashboard
Option to Schedule Scripts Runtime
External Service Notification Run Details from Azure Logic Application
Update Orchestrator Service (USO) for Windows 11 22H2 or later with Windows Native Reboot Experience
Maintenance window creation using PS cmdlet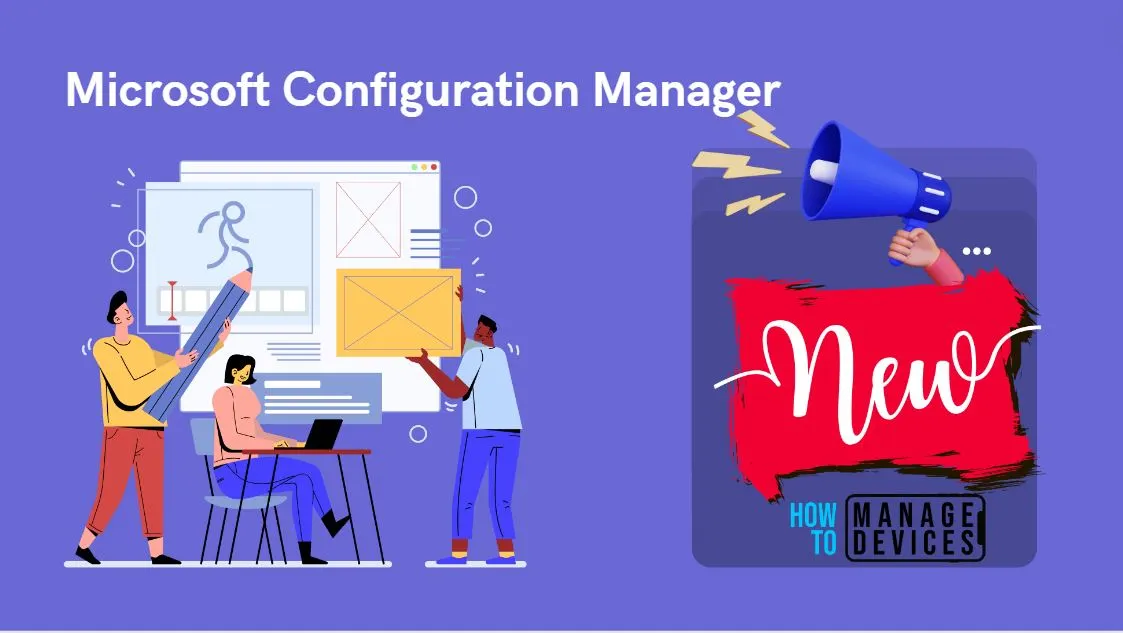 Windows 11 Edition Upgrade using SCCM Policy Settings
You can upgrade an existing Windows 10 or Windows 11 operating system edition to a supported upgrade, for example, (Windows 10/11 Pro to Enterprise) with SCCM policy. These features will be available starting from technical preview 2307 and are configurable by the administrator.
The added Edition Upgrade Policy in SCCM 2307 Technical preview lets you automatically upgrade Windows 10 devices to a different edition. When you deploy the profile, Configuration Manager automatically upgrades the devices. You can specify the type of edition upgrade that you want to create.
Edition Upgrade for devices managed with the Configuration Manager client
Edition Upgrade for devices managed without the Configuration Manager client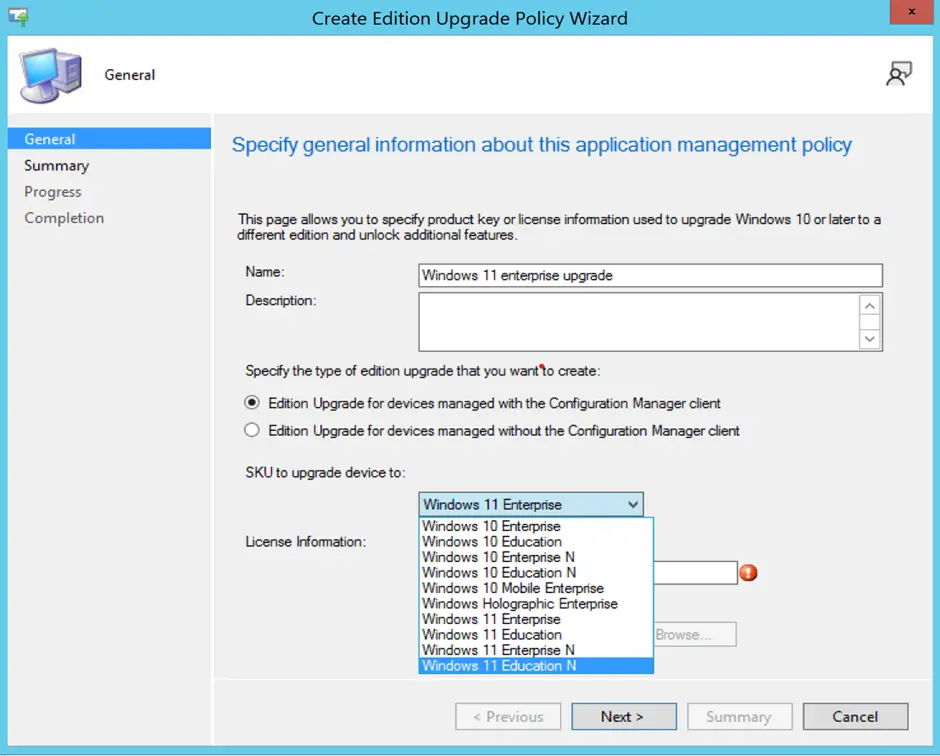 Windows 11 Upgrade Readiness Dashboard
The biggest challenge is ensuring application and driver compatibility on an ongoing basis. This is key for organizations to decide and adopt new Windows 11 versions when they are released. The Windows Device information, Upgrade Experience indicators, Feature Update version and the minimum hardware and software requirements needed to support Windows 11 Showcases are here in the dashboard.
The "Windows 11 Upgrade Readiness" Dashboard provides a count by installed Feature update version and a view of all Windows devices inside the organization. Administrators can create a collection of Windows 11 ready for upgrading devices and roll out feature updates to them.
The PowerShell script, shared by Microsoft, helps enterprises to assess the hardware compatibility of their Windows 10 devices with Windows 11 upgrades. You can use SCCM to deploy Windows 11 Hardware Readiness Script. You can use the Run Script option from SCCM to get the live output of the Windows 11 hardware readiness script.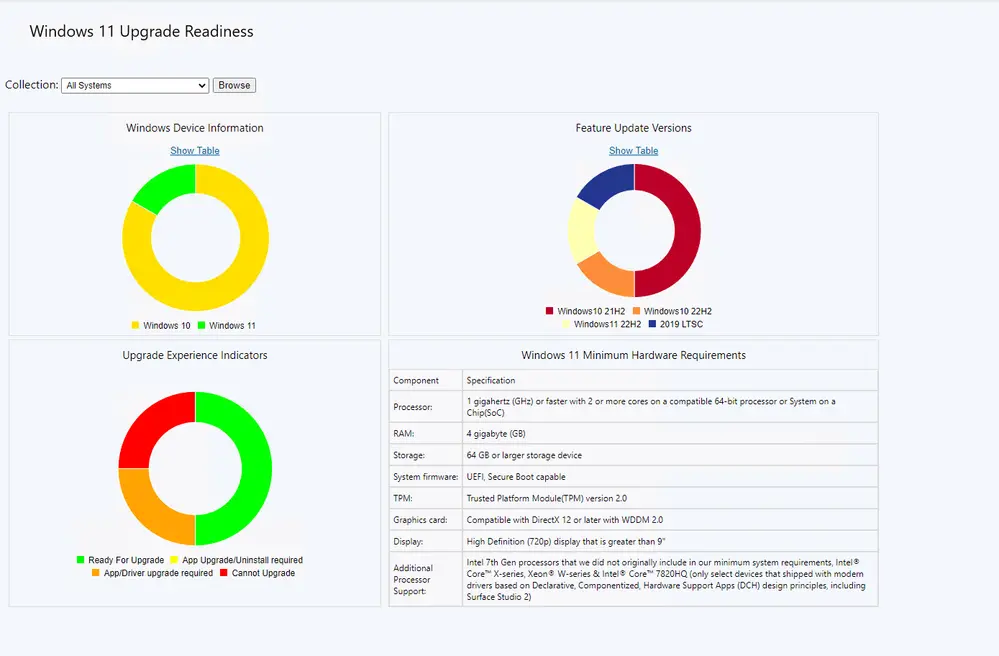 Schedule SCCM Run Script Runtime Options
Microsoft Configuration Manager (SCCM) has the ability to run script, The script can run either to a specific device or a specific collection. The script deployment option from the collection makes it easier to automate the task. 
Starting with SCCM Technical Preview 2307 Release, The Run Script wizard now offers a scheduling option that enables administrators to schedule the future execution time of the scripts. It provides a convenient way to automate the running of scripts on managed devices according to specified schedules.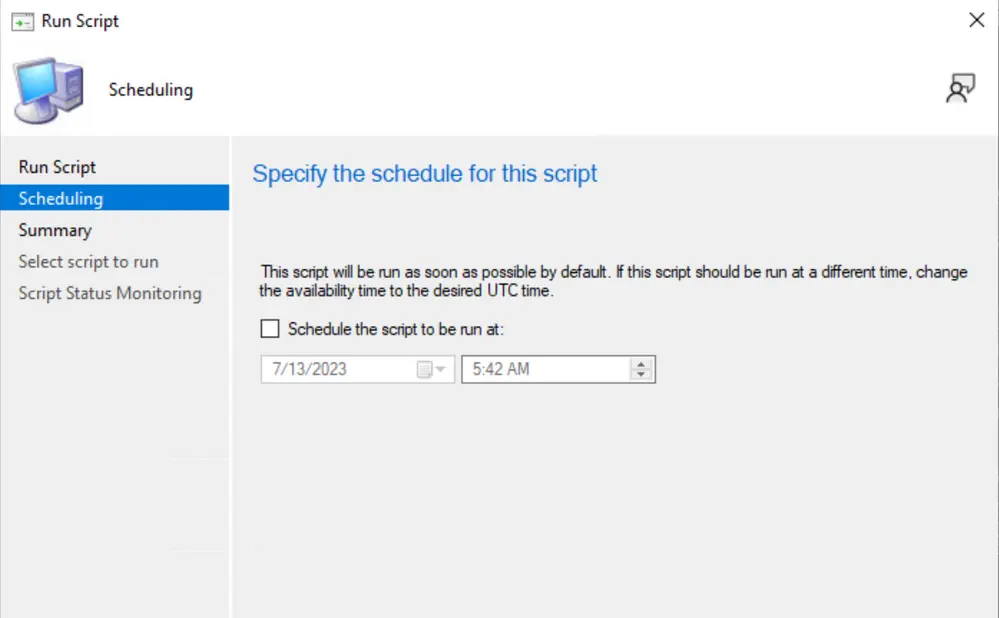 Update Orchestrator Service (USO) for Windows 11 22H2 or later with Windows Native Reboot Experience
Starting with SCCM Technical Preview 2307 Release, When installing software updates from Configuration Manager, You can now choose to use the native Windows Update restart experience.
To use this feature, client devices must be running Windows version 22H2 or later. From the Computer Restart client device settings, ensure that Windows is selected as the restart experience. Branding information will be included in the Windows restart notification for updates that require a restart.
Let's understand how to customize Restart Notification to specify company branding. The following steps help you to customize the organization's branding.
In the ConfigMgr Console, Navigate to \Administration\Overview\Client Settings.
Select the Client settings that you want to customize. Right-click on the Client Settings policy and select properties.
Select the Computer Restart tab, and modify the following properties

Select the restart experience to be shown to end users – Windows
Specify a deadline, the time (in days) from when a device is pending reboot untill the device is forced to restart – 2
Specify organization name – HTMD Community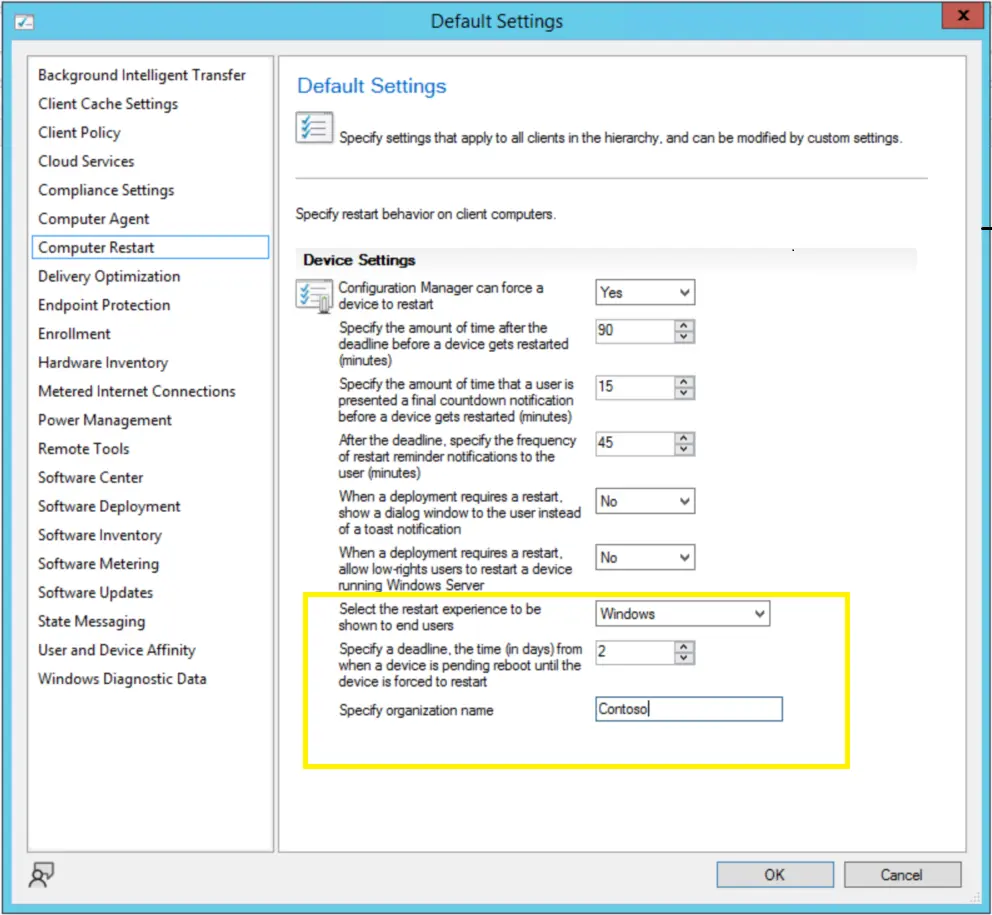 External Service Notification Run Details from Azure Logic Application
Starting with SCCM 2307 Technical preview, This integration enables the monitoring and management of Azure Logic App notifications directly within the Configuration Manager console, providing a centralized location for tracking critical events, taking appropriate actions and maintaining a high level of operational efficiency.
Author
About Author – Jitesh, Microsoft MVP, has over six years of working experience in the IT Industry. He writes and shares his experiences related to Microsoft device management technologies and IT Infrastructure management. His primary focus is Windows 10/11 Deployment solution with Configuration Manager, Microsoft Deployment Toolkit (MDT), and Microsoft Intune.