In this post, I'm going to share the SQL query to fetch IE version details from SCCM/ConfigMgr DB. Microsoft released new version of browser called Microsoft Edge as part of Windows 10 and they announced that Internet Explorer 11 would be the only supported version of IE going forward. To fecth the information of IE versions from SCCM/ConfigMgr, we need to enable Software Inventory. However, SCCM software inventory is not very popular among MVPs and even I don't recommend enabling SCCM Software Inventory for inventorying all the exe file versions rather I would enable selective inventory on selective folders as you can see in the following screen capture. In case, you want to take the inventory of Microsoft Edge then you can collect the information of "MicrosoftEdge.exe" file from the following location "%windir%\SystemApps\Microsoft.MicrosoftEdge_8wekyb3d8bbwe\"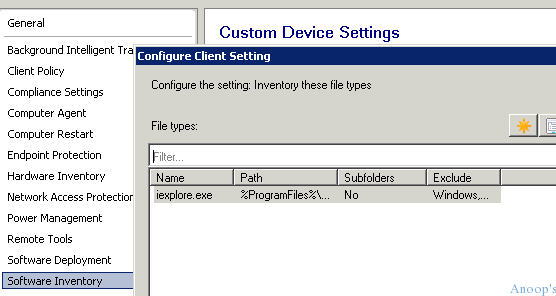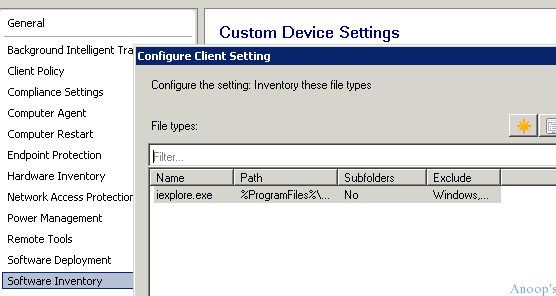 In the following SQL query, I used SQL Inner Join and Left Join along with CASE (SQL CASE is a very unique conditional statement providing if/then/else logic for any ordinary SQL command, such as SELECT or UPDATE).


The following SQL query fetches Internet explorer version details of the workstations from SCCM/ConfigMgr DB. In addition, this SQL query for IE explorer provides SCCM site code, Location Details and Operating System details of the workstations.
SELECT DISTINCT 




dbo.v_R_System.Netbios_Name0,




ARP.FileName,




ARP.FileVersion, 




CASE




WHEN ARP.FileVersion LIKE '4.%' THEN 'IE 4'




WHEN ARP.FileVersion LIKE '5.%' THEN 'IE 5'




WHEN ARP.FileVersion LIKE '6.%' THEN 'IE 6'




WHEN ARP.FileVersion LIKE '7.%' THEN 'IE 7'




WHEN ARP.FileVersion LIKE '8.%' THEN 'IE 8'




WHEN ARP.FileVersion LIKE '9.%' THEN 'IE 9'




When ARP.FileVersion LIKE '10.%' Then 'IE 10'




When ARP.FileVersion LIKE '11.%' Then 'IE 11'




ELSE '??' END AS 'Internet Explorer Ver',




dbo.v_FullCollectionMembership.SiteCode,




CASE




WHEN dbo.v_FullCollectionMembership.SiteCode LIKE 'B%' THEN 'India'




WHEN dbo.v_FullCollectionMembership.SiteCode LIKE 'A%' THEN 'India'




WHEN dbo.v_FullCollectionMembership.SiteCode LIKE 'C%' THEN 'Japan'




WHEN dbo.v_FullCollectionMembership.SiteCode LIKE 'D%' THEN 'HongKong'




WHEN dbo.v_FullCollectionMembership.SiteCode LIKE 'E%' THEN 'HongKong'




WHEN dbo.v_FullCollectionMembership.SiteCode LIKE 'F%' THEN 'US'




WHEN dbo.v_FullCollectionMembership.SiteCode LIKE 'G%' THEN 'US'




WHEN dbo.v_FullCollectionMembership.SiteCode LIKE 'H%' THEN 'Belgium'




WHEN dbo.v_FullCollectionMembership.SiteCode LIKE 'I%' THEN 'Germany'




WHEN dbo.v_FullCollectionMembership.SiteCode LIKE 'J%' THEN 'France'




WHEN dbo.v_FullCollectionMembership.SiteCode LIKE 'K%' THEN 'Italy'




WHEN dbo.v_FullCollectionMembership.SiteCode LIKE 'L%' THEN 'PORTUGAL'




WHEN dbo.v_FullCollectionMembership.SiteCode LIKE 'M%' THEN 'SPAIN'




WHEN dbo.v_FullCollectionMembership.SiteCode LIKE 'N%' THEN 'UK'




WHEN dbo.v_FullCollectionMembership.SiteCode LIKE 'O%' THEN 'UK'




ELSE 'Unidentified' END AS 'Country',




v_GS_OPERATING_SYSTEM.Caption0


FROM dbo.v_R_System 


 INNER JOIN 

dbo.v_GS_SoftwareFile AS ARP ON dbo.v_R_System.ResourceID = ARP.ResourceID 
 INNER JOIN 

dbo.v_FullCollectionMembership 

ON dbo.v_R_System.ResourceID = dbo.v_FullCollectionMembership.ResourceID 
 LEFT JOIN 

dbo.v_GS_WORKSTATION_STATUS 

AS HWSCAN ON dbo.v_R_System.ResourceID = HWSCAN.ResourceID


 Inner Join v_GS_OPERATING_SYSTEM ON v_GS_OPERATING_SYSTEM.Resourceid=v_R_System.Resourceid


WHERE (ARP.FileName = 'iexplore.exe') AND (ARP.FilePath LIKE '%:\prog%internet%') 




 and (sitecode != 'NULL') and (v_GS_OPERATING_SYSTEM.Caption0 != '%server%')




GROUP BY ARP.FileName, ARP.FileVersion, 




dbo.v_FullCollectionMembership.SiteCode, dbo.v_R_System.Netbios_Name0,ARP.FilePath,v_GS_OPERATING_SYSTEM.Caption0