Let's check SCCM force reboot options after patching. Reboot options are available in client settings policies: Manier times, then reboot options after patching works by the maintenance window.
You can set the maintenance window configurations from SCCM collection properties. You can use maintenance windows to define to avoid accidental force reboots and installation of applications during business-critical hours.
Windows 10 and Windows 11 reboot notifications(toast notification) are improved much. You can see the notification settings from System > Notifications & actions. However, when you use SCCM/Configuration Manager, the notifications should be configured through client settings.
SCCM Force Reboot Options after patching?
Let's check the default client settings to control force reboot and notification delivered to Window 10/ Windows 11 devices. All these notification and force reboot behaviors must be configured/managed through client settings.

Launch Configuration Manager Console.
Navigate to \Administration\Overview\Client Settings.
Select the default client settings and go to properties.


Now, let's check configurations available for setting up the SCCM force reboot after patching. You also need to check the following section called Software Updates client settings configurations. You can specify settings that apply to all clients in the hierarchy and can be modified by custom settings. You can specify restart behavior on client computers.
From the Computer Restart tab, you can configure the following settings. The following are the recommended/ default values. Most of these notifications and configurations are very matured if you compare the same with WUfB settings in Intune.
| Client Settings for PC Restart | Value |
| --- | --- |
| Configuration Manager can force a device to restart  | Yes |
| Specify the amount of time after the deadline before a device gets restarted (minutes)  | 90 |
| Specify the amount of time that a user is presented a final countdown notification before a device gets restarted (minutes)  | 15 |
| After the deadline, specify the frequency of restart reminder notifications to the user (minutes)  | 240 |
| When a deployment requires a restart, show a diag window to the user instead of a toast notification.  | No |
| When a deployment requires a restart, allow the low rights user to restart a Windows server device.  | No |
Force Restart options – Policies – Default ones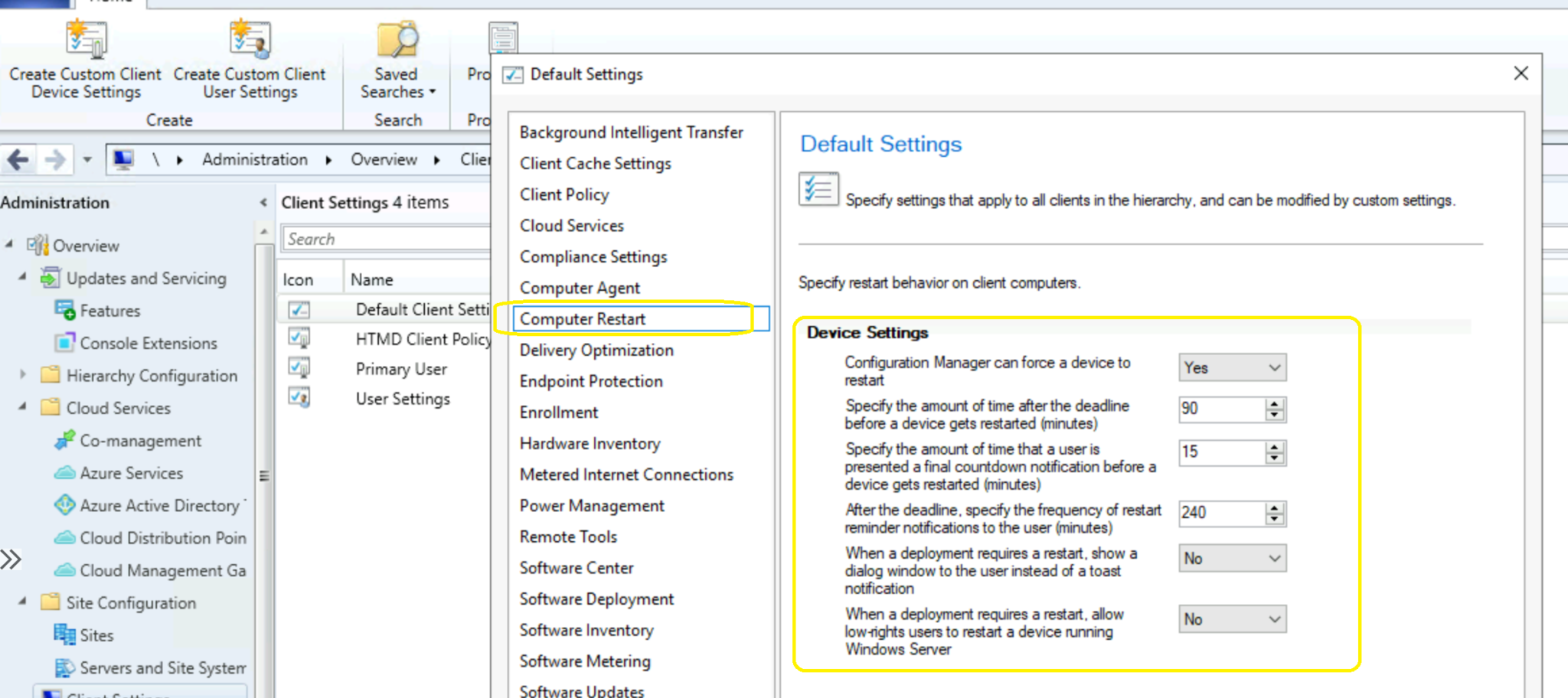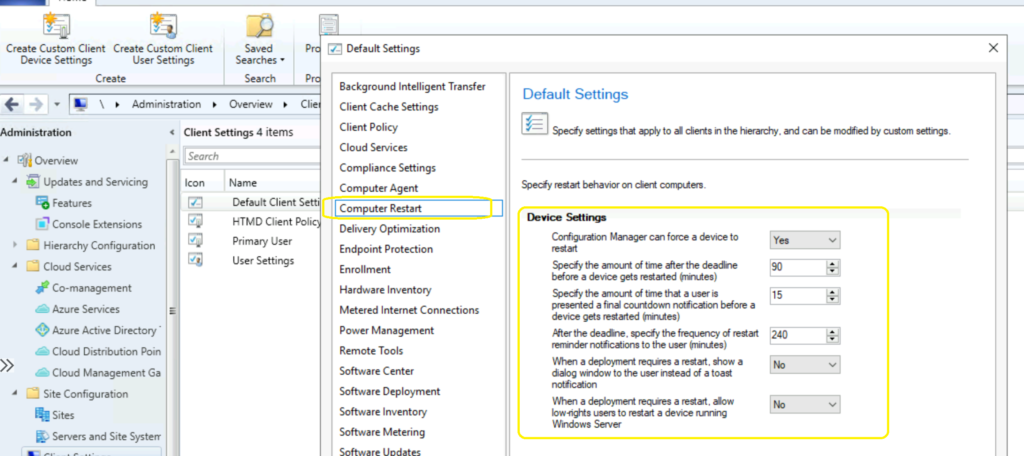 Patching Notification & Force Reboot Configs
Now, let's check patching(software update) notifications & force reboot configurations from the client settings tab called Software Updates. You can learn how to create & deploy a new software update patch package using SCCM. Let's learn more details from the below section.
Navigate to Client Settings -> Software Updates tab.
The following are the default values of software update policies.
NOTE! These policies will not help configure and manage force reboot settings directly; however, these settings help provide a consistent user experience.

| Software Updates Deadline Settings | Default Values |
| --- | --- |
| Period of time for which all pending deployments deadline is reached, install all other software update deployments with the deadline coming within a specified period of time.  | Yes |
| Period of time for which all pending deployment with deadline in this time will also be installed  | 1 Hour |
| Enable installation of software updates in "All deployments" maintenance windows when the "Software Update" maintenance window is available  | No |
Patching Related Policies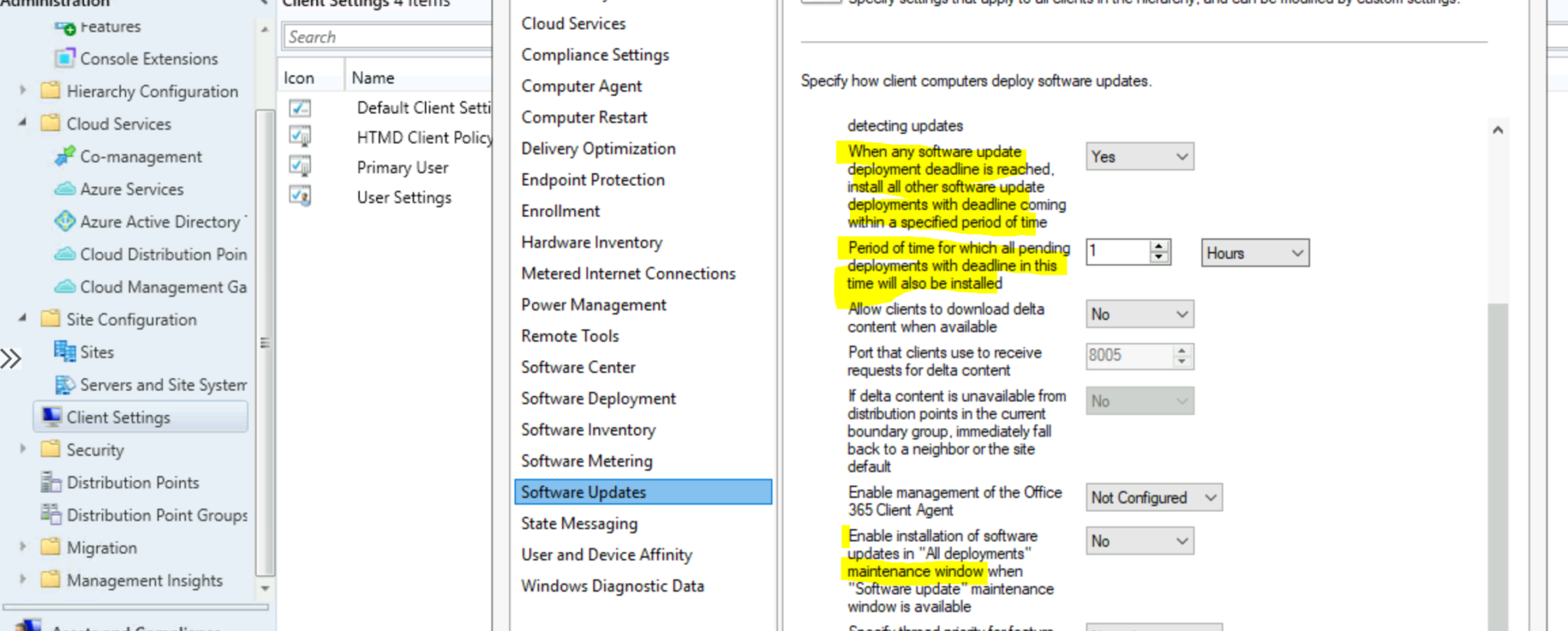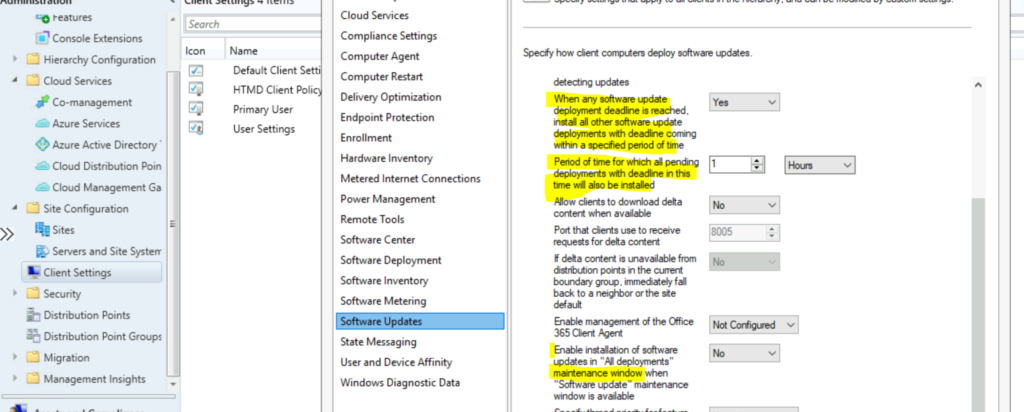 Resources