TechEd India 2013 List of Sessions Useful for SCCM. List of sessions I'm planning to attend in TechEd India 2013 (Bangalore March 18 and 19). I thought of putting this list together so that it would be helpful for System Center fellow attendees. This will also help to prioritize and plan sessions.
One thing missing from Teched India 2013 scheduler is SESSION LEVEL details (200 or 300 etc.).  I was expecting Windows Intune-related sessions in this Teched.
TechEd India 2013 List of Sessions Useful for SCCM
I'm not sure they will cover Intune integration topic in SCCM 2012 session. I can see is Day 2 is almost filled with System Center topics (SCOM, SCVMM, SCCM /ConfigMgr, SCORCH, and SCOM / OpsMgr).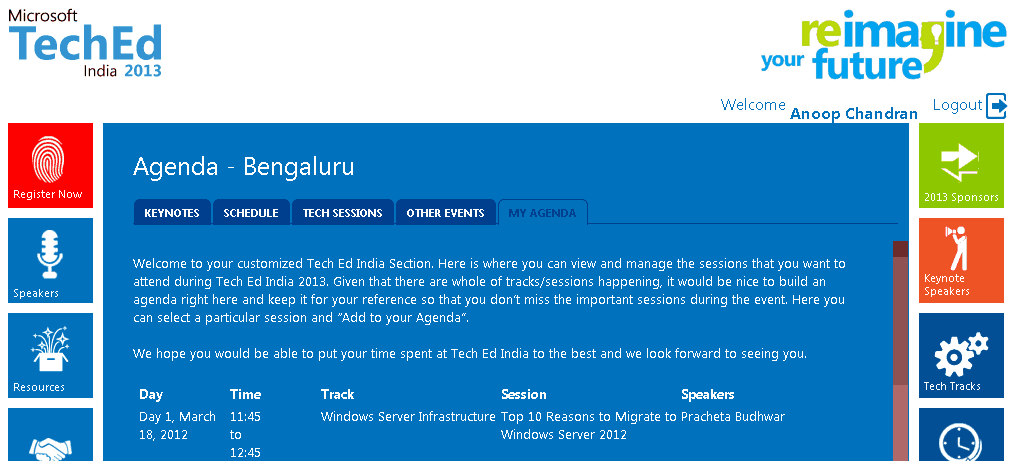 You can create your own agenda once you've Login and Password (you'll receive a login id and password once you register for the Teched). Log in to the following site https://india.msteched.com/ and create your own agenda for TechEd India 2013.  You can download the pdf file containing the list of sessions I'm planning to attend from here.

Day 1
1) 11:45 to 12:45 – Top 10 Reasons to Migrate to Windows Server 2012 by Pracheta Budhwar
2) 1:45 to 2:45 – Getting Familiar with Next Generation of Active Directory Domain Services (AD DS) by Aviraj Ajgekar
or

2) 1:45 to 2:45 – SQL Server 2012 – High Availability Redefined by Balmukund Lakhani
3) 2:45 to 3:45 – SQL Server Performance Troubleshooting: Ancient Problems and Modern Solutions by Pinal Dave
4) 4:00 to 5:00 – Must-know SQL Server Backup Trivia by Balmukund Lakhani
5) 5:00 to 6:00 – Path-breaking Storage options in Windows Server 2012 by Gaurav Anand
Day 1 Bangalore: 6:15 – 7:00 – Stump the speaker Ask smart questions??
Day 2
6) 11:45 – 12:45 – Building Private Cloud using Windows Server 2012 & System Center 2012 SP1 by MS Anand
7) 1:45 – 2:45 – Insight to your datacenter with System Center 2012 Operations Manager (SCOM/OpsMgr) by Gaurav Anand
8) 2:45 – 3:45 – System Center Orchestrator (SCORCH) 2012 – An Enterprise automation framework by Rohit Gulati
9) 4:00 – 5:00 – System Center 2012 Configuration Manager (SCCM 2012) – how to get best out of it by Arvind Chandramohan and AnandKumar Nair
10) 5:00 – 6:00 – Manage your hybrid cloud infrastructure using System Center 2012 SP1 by Aviraj Ajgekar
Resources
Free SCCM Training Part 1 | 17 Hours Of Latest Technical Content | ConfigMgr Lab HTMD Blog (anoopcnair.com)
How To Disable SCCM Application Deployment | ConfigMgr | MEMCM – HTMD Blog #2 (howtomanagedevices.com)
Author
Anoop is Microsoft MVP! He is a Solution Architect in enterprise client management with more than 20 years of experience (calculation done in 2021) in IT. He is a blogger, Speaker, and Local User Group HTMD Community leader. His main focus is on Device Management technologies like SCCM 2012, Current Branch, and Intune. E writes about ConfigMgr, Windows 11, Windows 10, Azure AD, Microsoft Intune, Windows 365, AVD, etc…