Veeam Agent for Windows (Endpoint Backup) is the first FREE enterprise class Endpoint backup and disaster recovery solution for Windows 10. We can take backup of Windows 10 machines using this free software from Veeam. Veeam Endpoint Backup is a free data protection and disaster recovery solution for physical/Virtual machines. This post will give you an overview of Windows 10 Backup and Disaster Recovery Software from Veeam.
Veeam Endpoint Backup can be used to protect different types of computers and devices: desktops, laptops, and tablets. Veeam Endpoint Backup offers a variety of features to protect your data – we can Create a Veeam Recovery Media, FULL system backup, Volume level and File Level backup. Following are the 3 posts which will cover the Windows endpoint backup solution from Veeam.
In case, your Windows 10 got crashed then, Veeam Endpoint backup provides options to boot the device from Veeam Endpoint backup recovery media, perform a bare metal restore  and restore necessary data from backups to its original location or a new location.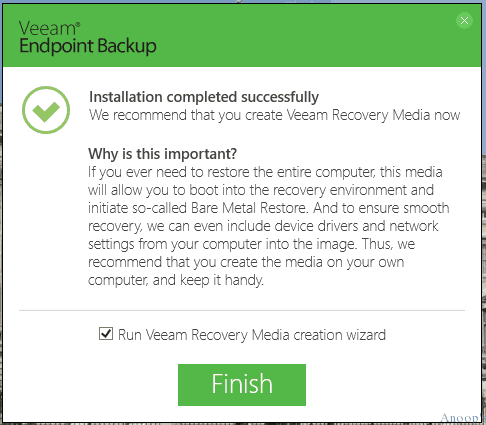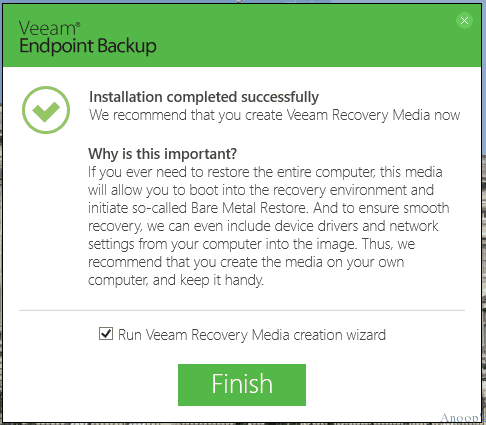 Installation of Veeam Endpoint solution on Windows 10 machine took only 15 minutes. The installation wizard automatically installs the following pre requisites automatically 1. Microsoft SQL Server System CLR Types  2.Microsoft SQL Server 2012 Management Objects  3. Microsoft SQL Server 2012 (LocalDB) and 4. Microsoft .NET Framework 4.0. Veeam Endpoint backup can be installed in unattended mode as well. Silent command is <path_to_exe> /silent.
Veeam Endpoint Backup on Windows 10 :-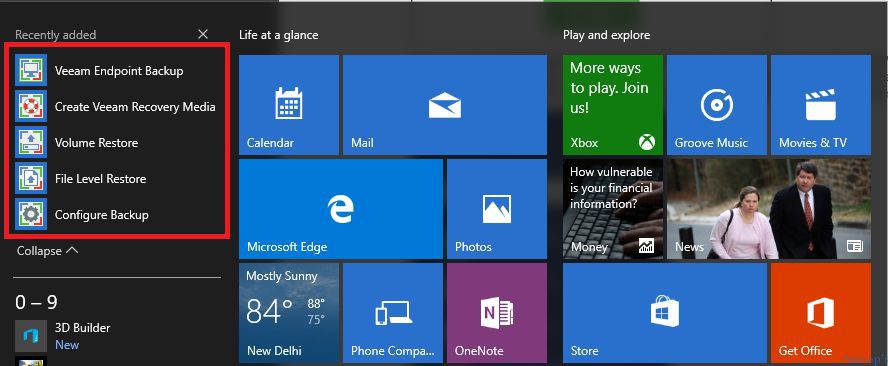 Create Recovery Media :- While creating discovery media for Windows 10 machine with Veeam endpoint backup has following tasks – Mounting Recovery Environment image, Copying Veeam Recovery Environment files, Adding .NET Framework, Adding Wireless networking support files, Adding System Drivers, Copying boot files, Unmounting recovery image, Preparing USB disk, Copying data to USB disk.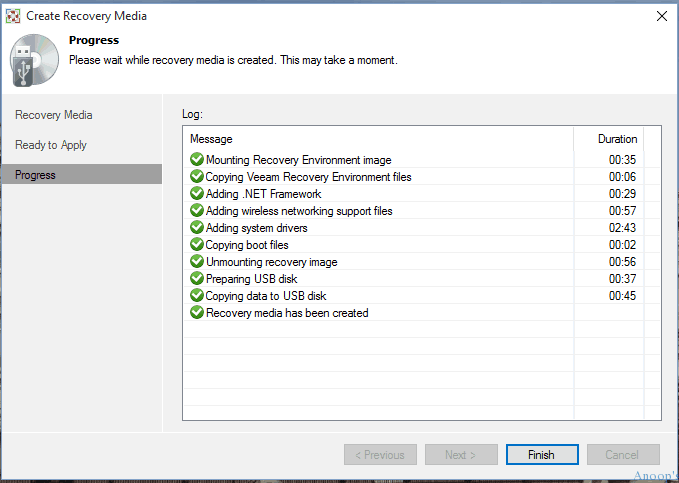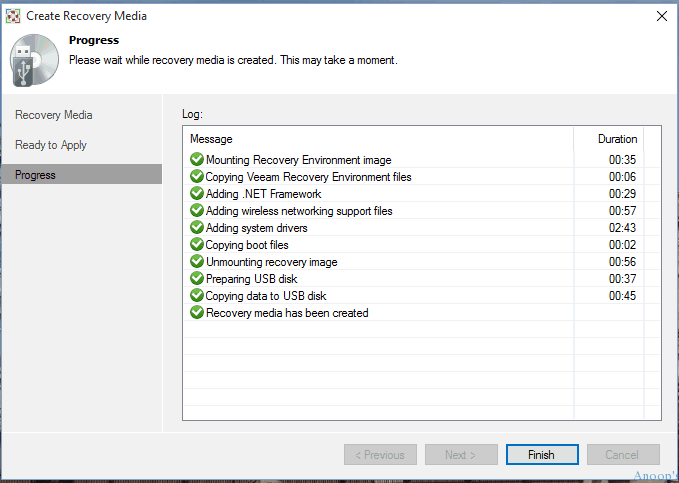 Veeam Endpoint Backup has 3 backup modes 1. Full System (Entire computer) Backup 2. Volume level backup 3. File level backup.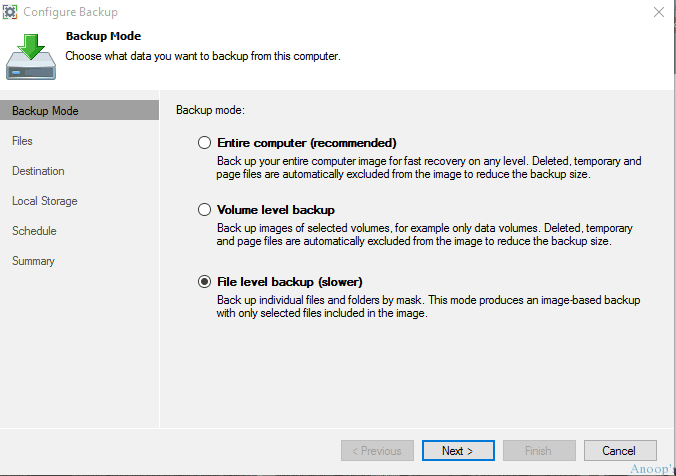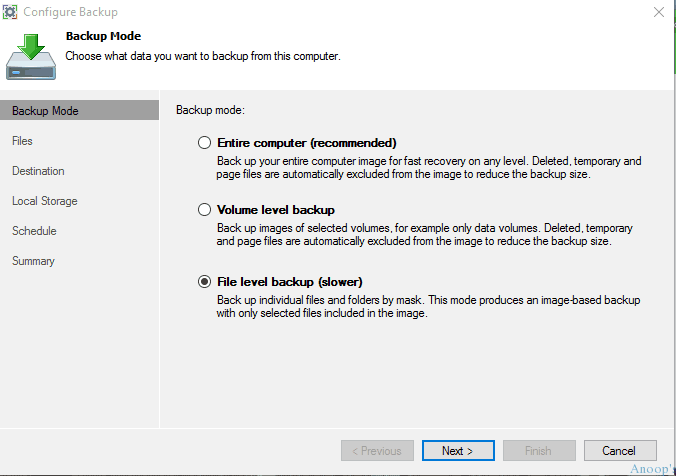 Veeam Endpoint Backup restoration point details :- The following are the options to recover Windows 10 using Veeam Endpoint Backup 1. Restoring from Veeam Recovery Media 2. Using Veeam Endpoint Backup and Microsoft Windows Tools 3. Using Microsoft Windows Recovery Environment 4. Restoring Volumes 5. Restoring Files and Folders.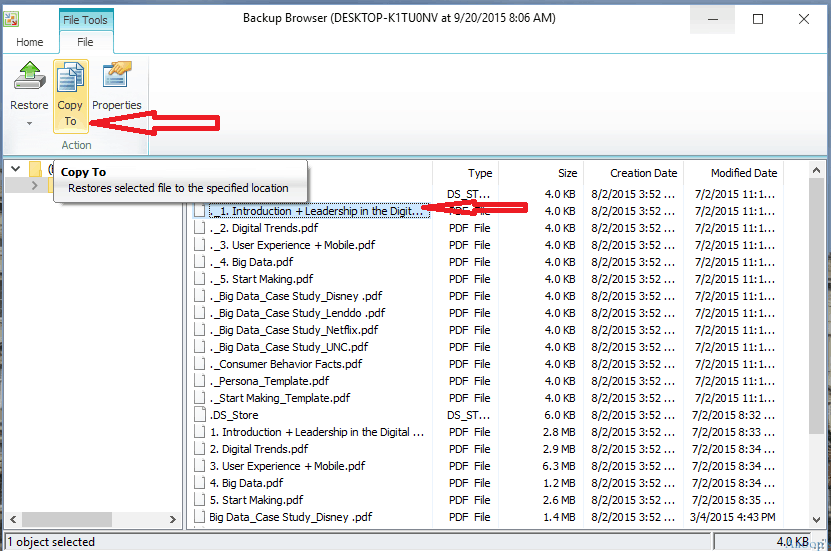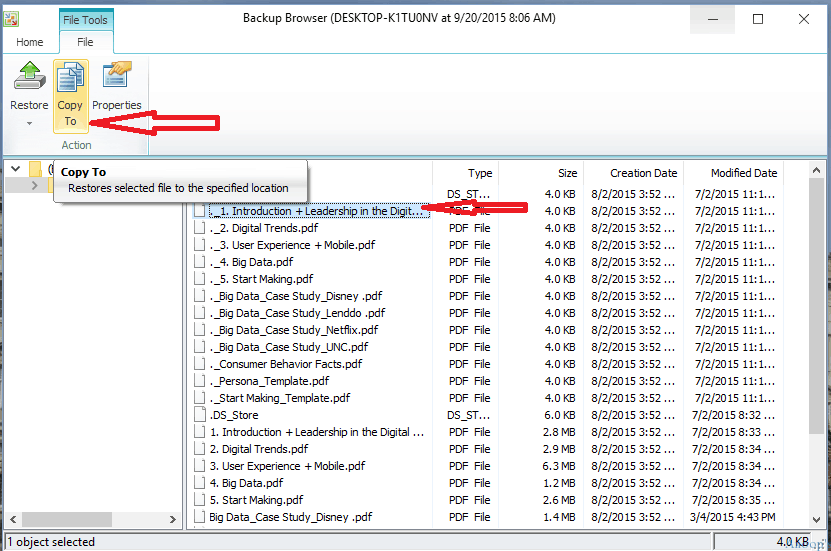 More documentation and User guide – here.