Traditionally System admins are IT Pros who manage the on-prem server infra. Within Azure|Cloud world, most server admins are moved to cloud service management.
In this post, you get an option to download an eBook called "The SysAdmin Guide to Azure Infrastructure as a Service."
Learn Azure IaaS
The free eBook helps to start learning Azure IaaS technologies from the basics. This free eBook is written by veteran IT consultant & Microsoft Certified trainer Paul Schnakenberg.
He covers all aspects of setting up and maintaining a high-performing Azure IaaS environment.

key terms of Azure IaaS
Basic Features of Azure IaaS
Migration Technics
Every day maintenance
Best practices
Advanced features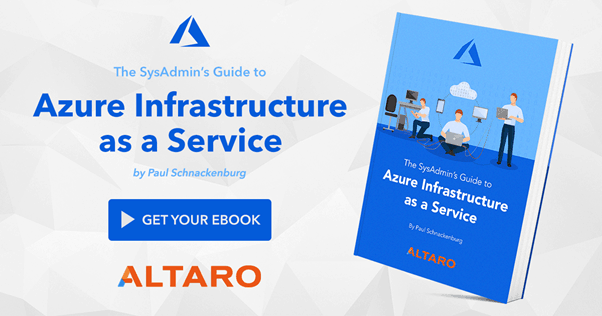 Download eBook Azure Infrastructure as a Service
Don't you have an Azure subscription to test all your learning? If so, the eBook explains how to set up a free 30-day trial alongside $200 worth of Azure resources to use and 12 months of additional free resources! 
You can download the free eBook from Altaro from the following link, and it's free.
Download – https://www.altaro.com/ebook/Azure-IaaS.php
30 Free Azure eBooks
The additional learning opportunity is here > "Download 30 Azure eBooks from Microsoft.". All these thirty ebooks are from Microsoft. Some of them are really old ones, but you can still learn the basics.

Resources