Azure SQL DB outage on West Europe Data Center? It seems this is not a good day for Azure Data Centers across the world. Microsoft 365 services were down. Now it's SQL and other Azure services.
Yesterday, there were cooling system issues in Google and Oracle Data Centers in the UK. This caused larger outages to the cloud services on 20th July 2022. Those cooling issues were specifically for UK data centers.
There are many reports on Twitter and later confirmed by Microsoft that there is an issue with Azure SQL DB or other services. We don't think this issue in the Azure EU region is something to do with storage connection issues with Microsoft 365 services.
Microsoft has updated the Azure Status page to acknowledge this Azure SQL DB issue officially. It was first confirmed by Azure support's Twitter account. More details are below. Some of the reports on Twitter confirm that the SQL DBs are back online.


Azure Status on SQL DB Outage
Impact Statement: Starting at 03:47 UTC on 21 Jul 2022, customers using SQL Database in West Europe may experience issues accessing services.
Let's check the Microsoft Azure status page to get updated status on the issue – > Azure status.
New connections to databases in this region may result in an error or timeout. Existing connections remain available to accept new requests, however, if those connections are terminated and then re-established, they may fail.
Workaround: Customers are advised to fail over to other regions, if possible.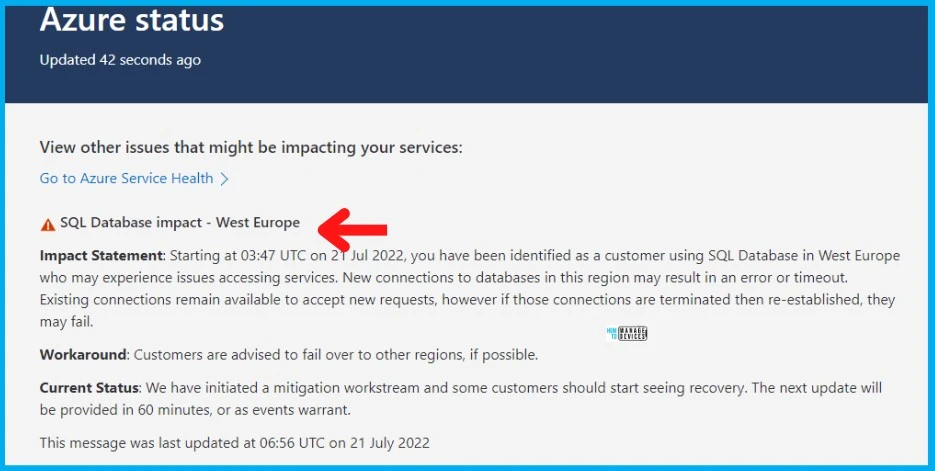 Azure status page Issue
On Twitter people are raising concerns about Azure Status reports etc. Microsoft already rectified it but they might need to have further explanations on this point.
Some of the customers see the services are back online. Others are reporting MASSIVE issues over here as well. Web apps offline, databases can't be reached, can't view web apps in Azure portal "failed to load", meanwhile the Azure status page gladly reports everything is OK.


Author
HTMD Admin Account to provide news and latest updates on the known issue from Microsoft world. We cover Windows, Intune, Azure, AVD, and Windows 365 news.