Let's discuss about what are the easiest options to customize End User Experience using Patch Connect Plus Templates for Intune and SCCM. You can use modern UI based templates to customize end-user experience.
As IT admins, the onus of ensuring a hassle-free end-user experience while maintaining a secure network falls on us. As correctly quoted by Voltaire, "With great power comes great responsibility." However, striking the right chord between power and responsibility in a network with hundreds, if not thousands, of endpoints requires more than just intuition.
While most modern tools today simplify the job of admins by enabling a hassle-free patch deployment for their users, the battle to eliminate repetitive manual tasks continues. However, to enhance the end-user experience while maintaining a secure network via regularized patch management, ManageEngine Patch Connect Plus comes with customizable template-based patch deployment policies for Microsoft Configuration Manager (previously SCCM) and Intune users.
About ManageEngine Patch Connect Plus
ManageEngine Patch Connect Plus enriches the third-party patching capabilities of Microsoft Configuration Manager and Intune. Available as an add-on to Microsoft Configuration Manager and Intune, users can deploy patches for over 600 third-party applications right from a central console.
In addition, the solution lets admins acquire granular controls over the management of the client system with 28 different client troubleshooting and administrative tools in Microsoft Configuration Manager.
Flexible deployment templates: Reform your patch deployment experience 
Here's a look at the various deployment settings that can be configured in Patch Connect Plus to create a flexible deployment template based on the user and the organization's requirements:
Skipping deployment or forcing it via user notifications | Customize End User Experience
Many times, installing patches on endpoints becomes a hassle for users, especially when they are held up with business-critical tasks. Requesting them to close the applications or, worse, force closing the applications to install updates, can cause severe productivity drops.
However, it is of paramount importance to patch certain applications urgently, in case zero-days or critical vulnerabilities are reported in them.
To streamline the entire process, admins can leverage the following deployment options:

Force quitting the Applications for Deployment
In case any applications need to be patched urgently (e.g. critical vulnerabilities have been found in them), the admin can force close the applications (by selecting Force quit) on the required client systems. Once this option is chosen, the end users will receive a notification prompting them to save their work before the deployment is initiated after a specified time.
Allowing users to postpone the Deployment
Furthermore, admins can also choose to extend control to end users by allowing them to postpone deployment at their convenience. You can use this template to Customize End User Experience.
This option presents the admins with further granular controls over deployment settings. They can configure the number of attempts to patch the systems, i.e., the number of times users can postpone the deployment before it is finally forced on their systems.
This added flexibility enables users to schedule deployments at their convenience while prioritizing their productivity. You can check out the Deployment Settings options for end-user experience if the application is in use or opened on end-users device.
If the application is in use: Force Quit or Skip Deployment

Allow users to postpone the deployment – Yes or No

Number of attempts – 5 Attempts
Notification Timeout – 5 Minutes

Force close and update if the user doesn't respond to the notification in 10 minutes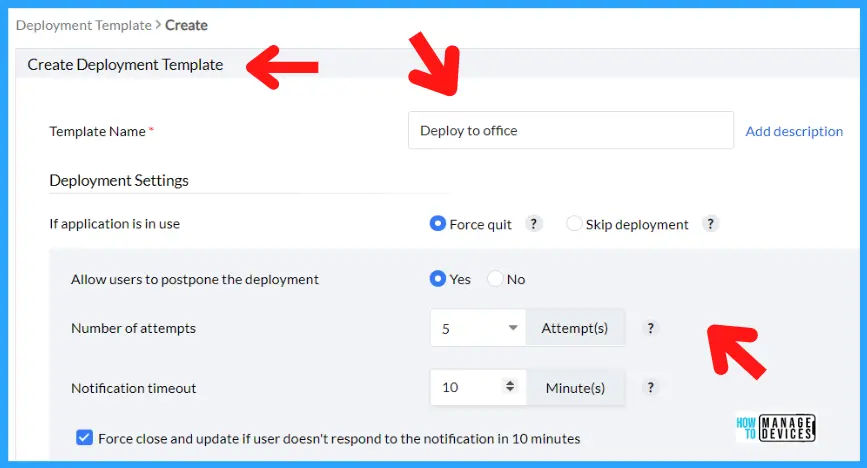 Skipping the deployment when the application is in use | Customize End User Experience
To enhance the user experience further, admins can also skip patch deployments to prevent delays in business-critical tasks. In case an application needs to be patched but is in use, the admin can configure the deployment to be skipped automatically without notifying the user based on the severity of the patches.
The patch will be deployed in the next deployment cycle, which has been configured in the Microsoft Configuration Manager or Intune console.
Additional Deployment Templates
Right from the Patch Connect Plus console, admins can configure a plethora of customized deployment settings to streamline the process and make it more efficient. These processes include:
Uninstalling existing updates before deploying the new ones.
Configuring the application icon from being displayed in the start menu after successful patch deployment.
Preventing applications from creating shortcut icons in the taskbar.
Allowing or blocking the creation of an application shortcut on the desktop after the successful deployment.
Disabling automatic updates.
NOTE! – Changes in the deployment template will be reflected in the client machines only when the corresponding update is deployed.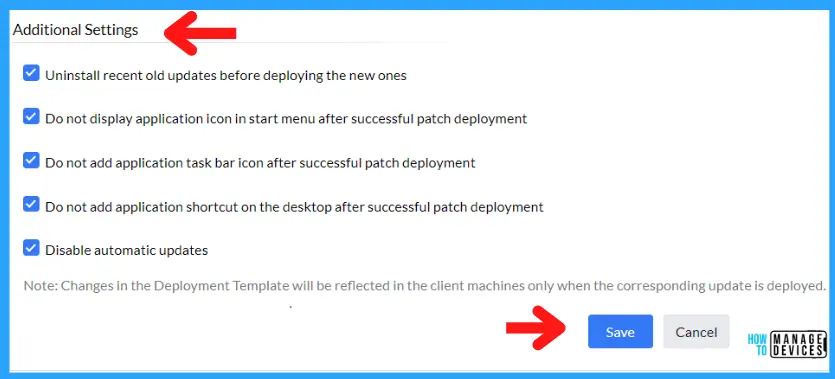 Leveraging these flexible deployment capabilities to ensure a smooth patching experience can be done in just a few steps. Download Patch Connect Plus and get in action with a 30-day, free trial.
Author
HTMD Admin Account to provide news and latest updates on the known issue from Microsoft world. We cover Windows, Intune, Azure, AVD, and Windows 365 news.