How to Deploy Applications Software with Microsoft Intune. In my previous post HERE, I've explained about installing Intune client on a device.
Once Intune client is installed, we can deploy applications through Intune. Also, you can assign a particular device to a user. This option is called "LINK" a device to a user. In SCCM 2012, the same feature is called User Affinity.
How to Deploy Applications Software with Microsoft Intune

How to LINK or Assign a Device to a User?
Once the client is installed and inventoried by Intune, we can link that device to a user who is already part of Intune DB. A computer can't be linked or assigned to more than one user.

To Link, a different user to the computer, select the new user from the list of available users. If another user is already linked to this computer, the new user will replace the other user because a computer can be linked to only one user in Windows Intune.


How to Add a Device to an existing Device Group?

When a device group is already created in Intune then to add a new member to that group, you can just right-click on the group and edit. This will give you the option to add new devices to the existing group. Once the device is added to the group, you can target software to that group. Unfortunately, this version of Intune doesn't have the option to target individual devices.
Now, How to Target or Deploy software to a device Group or User Group?
1. Go to "Software" Node in Intune Admin Console then click on "Manage Software" –> Select the application which you want to deploy and click on "Manage Deployment…."

2. In the Manage software wizard, "Select Groups" window, you need to add the respective device group and click the "Next" button.
3. Deployment Action window, you need to select the deployment option. If you've selected Device group then you'll get the following options "Required Install", "Do not Install" and "Uninstall". An interesting point is that the "Available Install" option is not enabled for Device groups. The Required Install option is just like a mandatory option in SCCM.

Also, you've six options available for the deadline. Those are None, As soon as possible, One week, Two weeks, One month and Custom. In the custom option, you can schedule the deployment for a particular time.


4. When you select User group instead of Device group than in the "Deployment Action" window you'll get only two options like "Available Install" and "Do Not Install". No options like "Uninstall" and "Required Install" are NOT available for User Group, these options are available only when you select Device Group.
In Deadline, you've only one option and that is custom. So you can schedule a timeline after that time the software is available for assigned users in "Intune Company Portal". Intune company portal is just like "Application Catalog" in SCCM 2012.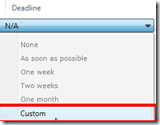 5.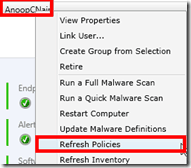 Once the Device group is targeted to software then you can speed up the process by refreshing the policy of Intune client. This can be done by right-clicking on the device and selecting "Refresh Policy". Here comes the question about Agent Policies in Intune. Yes, there are client agent policies settings similar to SCCM client settings in Intune as well. I'll cover this in some other post.
6. When you target software to "device group" then the software will automatically get installed as per the "Deadline" option selected. Note that the software package will get downloaded from the cloud Intune server. So the download and installation may take time depending upon your internet connectivity.
7. When you target software to "User Group" then the software will be available for that user in Intune Company Portal. You can launch the company portal site from Intune Client Applet or GUI.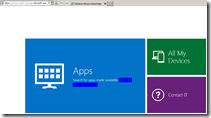 Click on "Apps", you'll get the list of available applications for you. When you click on Acrobat reader, you'll get an option for installing the software. If you click install, the same download process will follow as described in Step 6.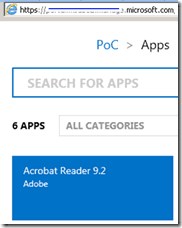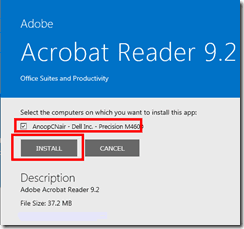 Author
Anoop is Microsoft MVP! He is a Solution Architect in enterprise client management with more than 20 years of experience (calculation done in 2021) in IT. He is a blogger, Speaker, and Local User Group HTMD Community leader. His main focus is on Device Management technologies like SCCM 2012, Current Branch, and Intune. E writes about ConfigMgr, Windows 11, Windows 10, Azure AD, Microsoft Intune, Windows 365, AVD, etc…