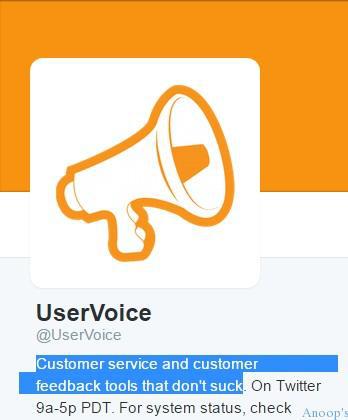 Windows 10 users voice portal is a huge hit or success. After this success (probably), Microsoft is planning to move all the products feedback system in to Users Voice. User Voice is very successful application which is used by loads of organizations.This is the self explanation of User Voice "Customer service and customer feedback tools that don't _uck". Recently Microsoft announced, Intune Feedback and  SCCM/ConfigMgr Feedback user voice portals. I'm liking the new feedback system from UserVoice.


The Intune and SCCM User Voice feedback systems do not require you to login with Microsoft account. You can login with Google or Facebook id/account. That is great !! With one login you can cast maximum of 10 votes. I can see people already started filling up the feature addition and removal requests. Users already reported 46 ideas and 2 issues for Intune build. Is there a feature we don't have that you'd like to see us Intune or SCCM /ConfigMgr build?


The User Voice feedback system for SCCM / ConfigMgr looks bit different than Intune User Voice feedback system with the kind of wording that Microsoft put in there. "What features would you like to see? All of the feedback that you share in these forums will be monitored and reviewed by the Microsoft engineering teams responsible for building System Center Configuration Manager, though we can't promise to reply to all posts."  Take a look at the declaimer in that forum !! Microsoft Connect portal will be going away now ?