This post brief you about the New Intune Settings for iOS iPadOS Web Clip App Deployment. Intune offers end-users a streamlined and branded experience for accessing web content with the deployment of Web Clip Apps.
Starting with Intune July Update 2307, New Settings Available for iOS/iPadOS Web Clip App Type. Web clips allow you to add quick-access icons to the home screen of an iPad or iPhone or the dock on a Mac that links directly to specified web pages.
Web Clip Apps provide a bridge between web content and native apps, allowing users to create app-like shortcuts to their favourite websites directly on device home screen. Instead of launching a browser, typing in URLs, and navigating through bookmarks, users can tap an icon on your home screen for instant access to the desired website.
Intune creates a shortcut to the web app on the user's device. For iOS/iPadOS devices, a shortcut to the web app is added to the home screen. One of the significant advantages of iOS and iPadOS Web Clip Apps is the efficiency you can bring to accessing specific web content.

Intune offers a diverse range of supported application types, catering to various platforms and requirements. It includes the applications such as Store apps, Microsoft apps, Android enterprise system apps, LOB apps, macOS apps, and Windows apps, You can check more about what are Intune supported apps.
Add iOS iPadOS Web Clip App in Intune
Before you can manage and assign an app for your users, add the app to Intune. To add an app to Intune as a shortcut to an app on the web, do the following: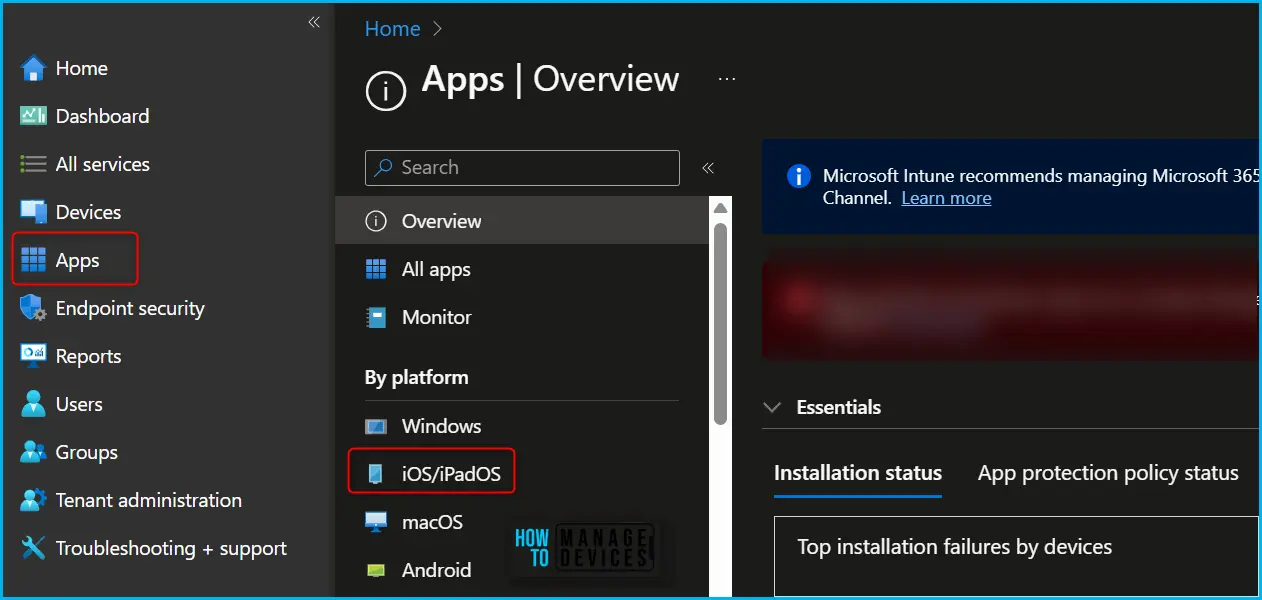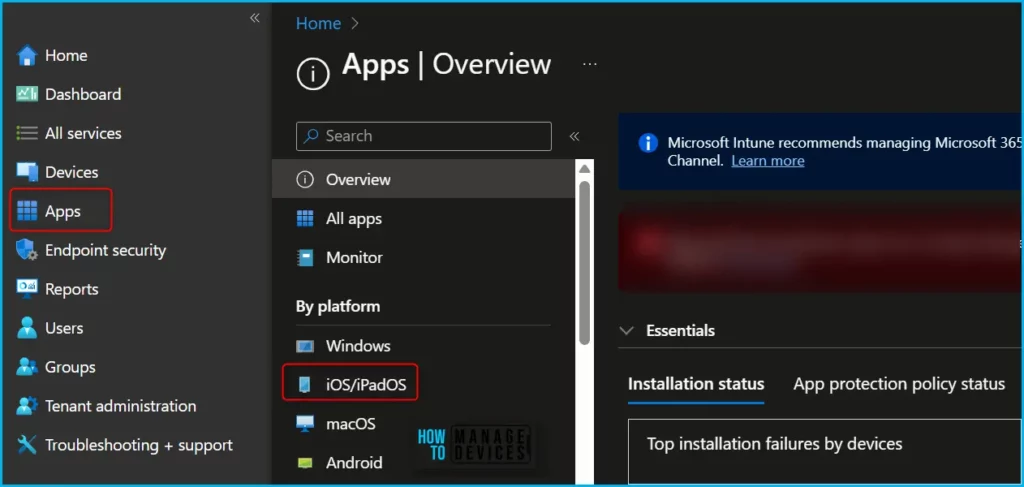 In the Select app type pane, under the Web Application, select iOS/iPadOS web Clip and click Select. To add an iOS/iPadOS web clip, copy and paste a website URL into App information. For iOS/iPadOS devices, a shortcut to the web clip is added to the Home screen.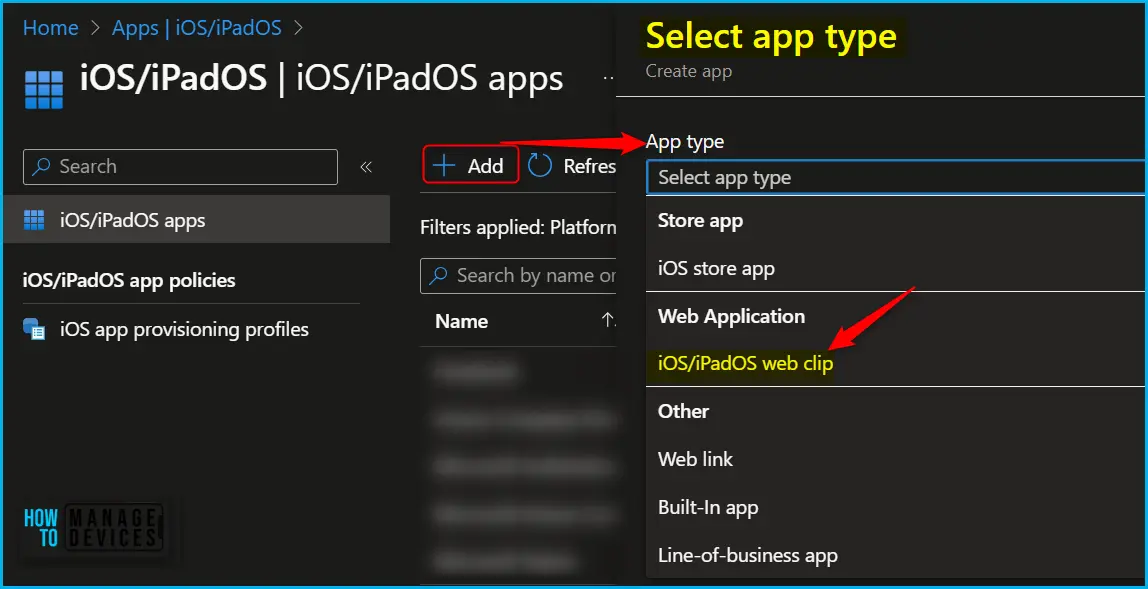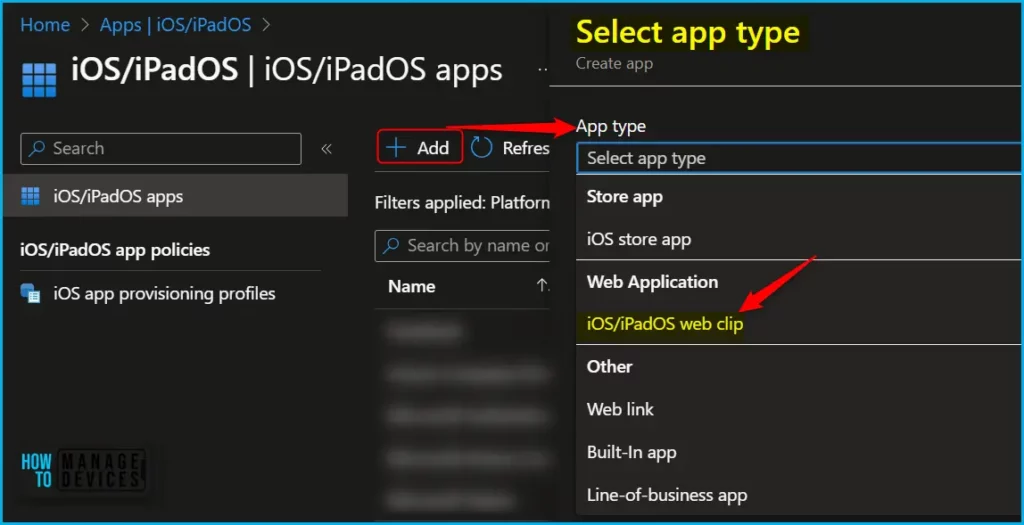 On the App information page, add the name of the app as it is to be displayed in the company portal and a description of the app. For Example, I added HTMD Community.

You also have several additional pieces of information to add for the Web clip, The Publisher, and App URL of the website that hosts the app must need to be entered. You will be noticing the below addition to the web clip app for an enhanced user experience.
Full screen: If configured to Yes, launches the web clip as a full-screen web app without a browser. Additionally, there's no URL or search bar, and no bookmarks.
Ignore manifest scope: If configured to Yes, a full screen web clip can navigate to an external website without showing Safari UI. Otherwise, Safari UI appears when navigating away from the web clip's URL. This setting has no effect when the Full screen is set to No. Available in iOS 14 and later.
Precomposed: If configured to Yes, prevents Apple's application launcher (SpringBoard) from adding "shine" to the icon.
Target application bundle identifier: Enter the application bundle identifier that specifies the application that opens the URL. Available in iOS 14 and later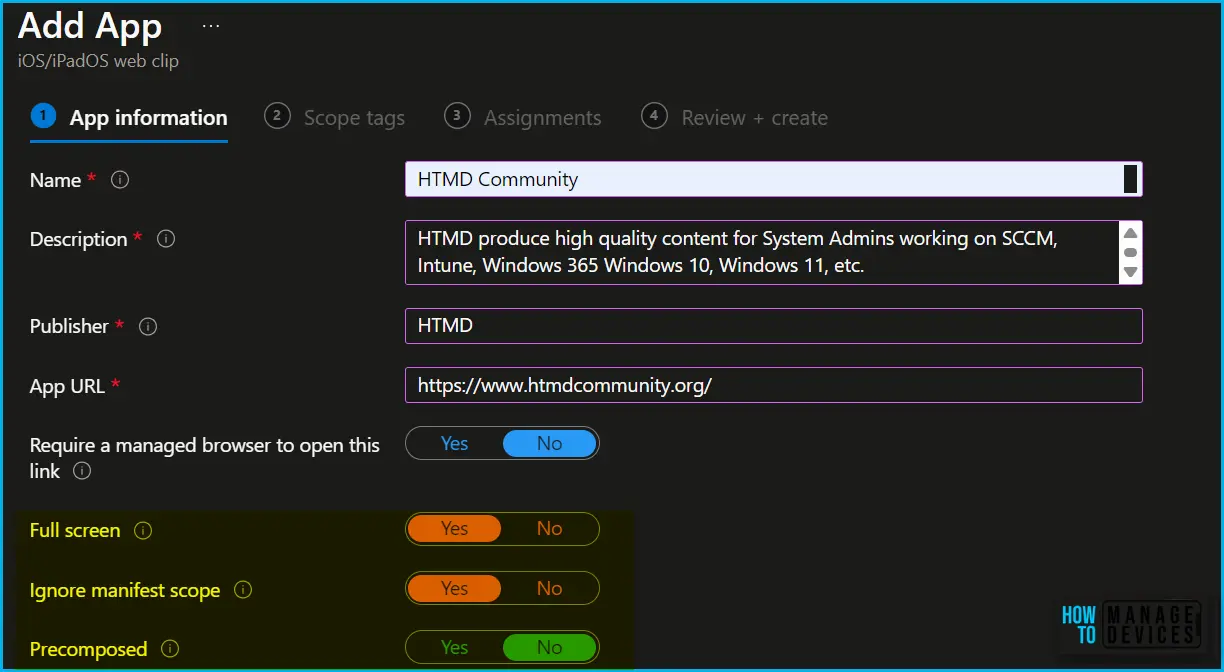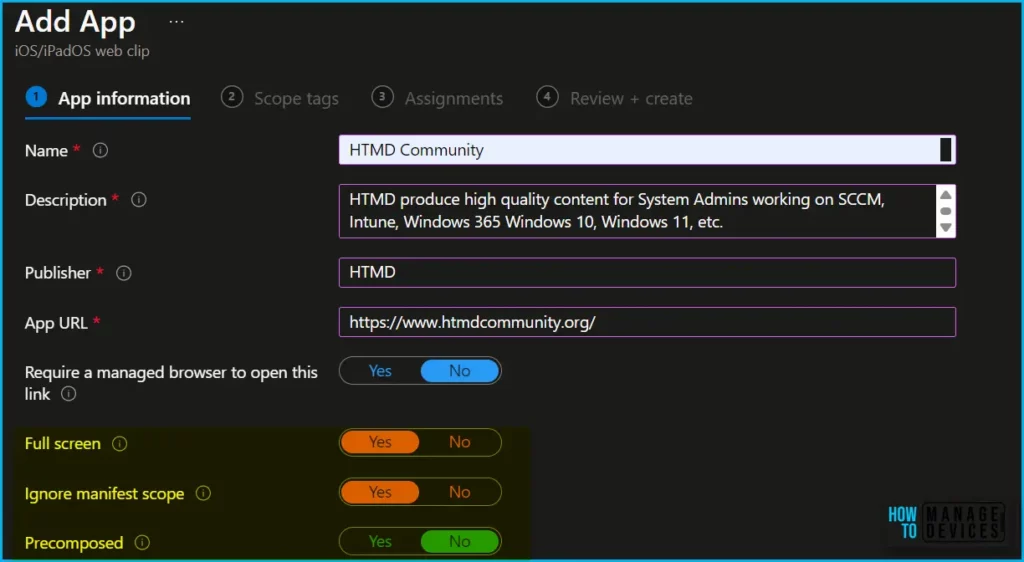 Clicking on Next display the Scope tags page. Click Select scope tags to add scope tags for the app optionally. In the scope tag section, you shall get an option to Configure scope tags for this web clip application type.
Under Assignments, In Included groups, click Add groups and then choose Select groups to include one or more groups to which you want to deploy. Click Next to continue.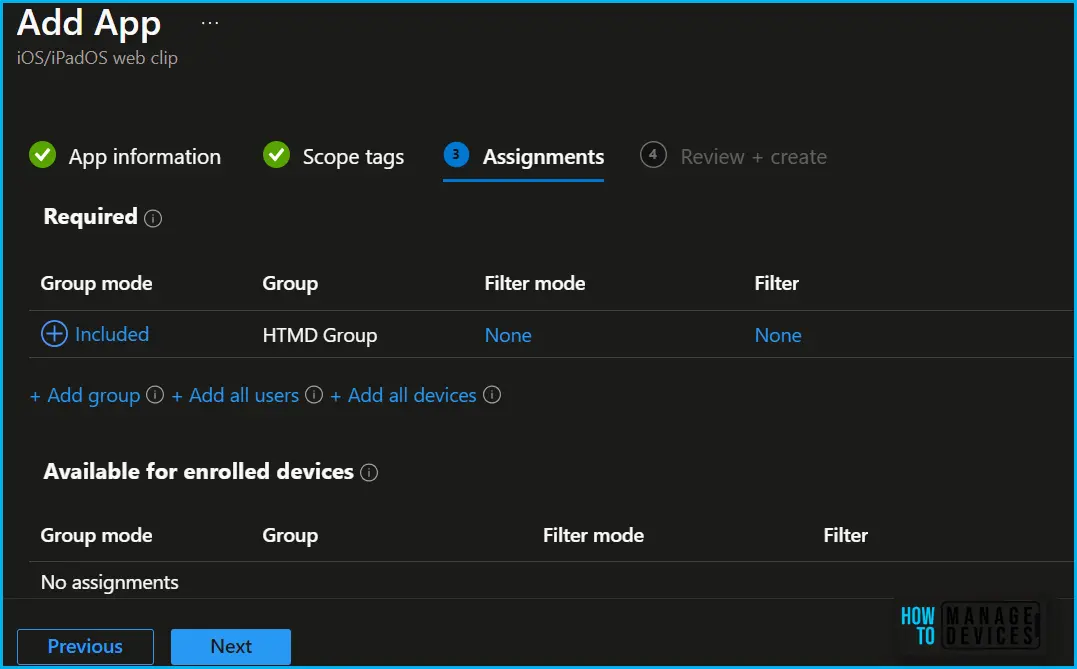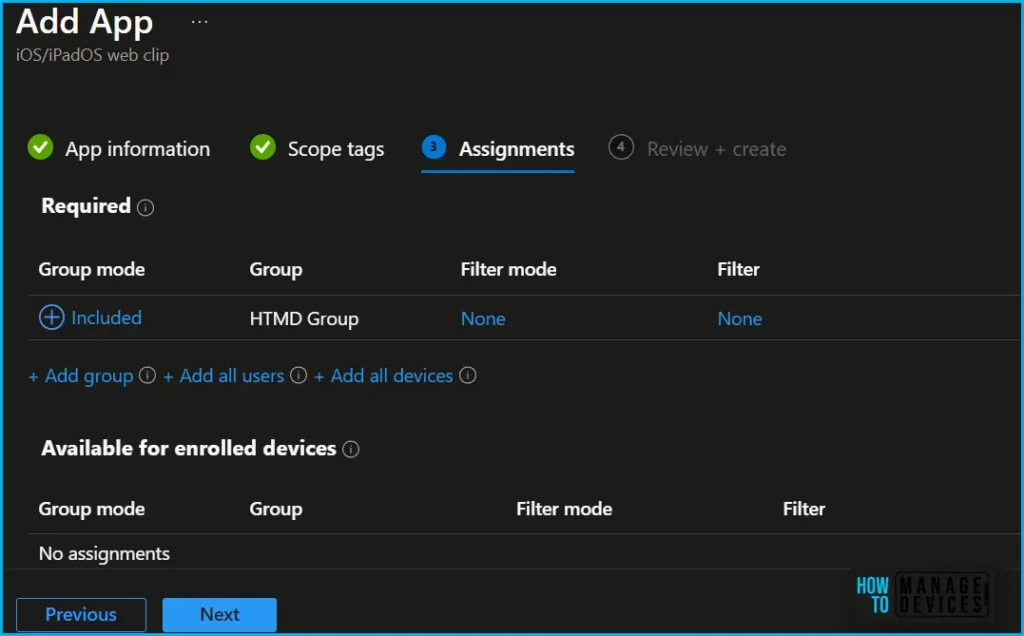 You will see the details you provided during the Web Clip creation process. Review your settings and select Create to add the app to Intune.
A notification will appear automatically if you see it in the top right-hand corner. You can easily see that the Application "HTMD Community" created successfully. Also, if you check the iOS/iPadOS Apps list, the App is visible there.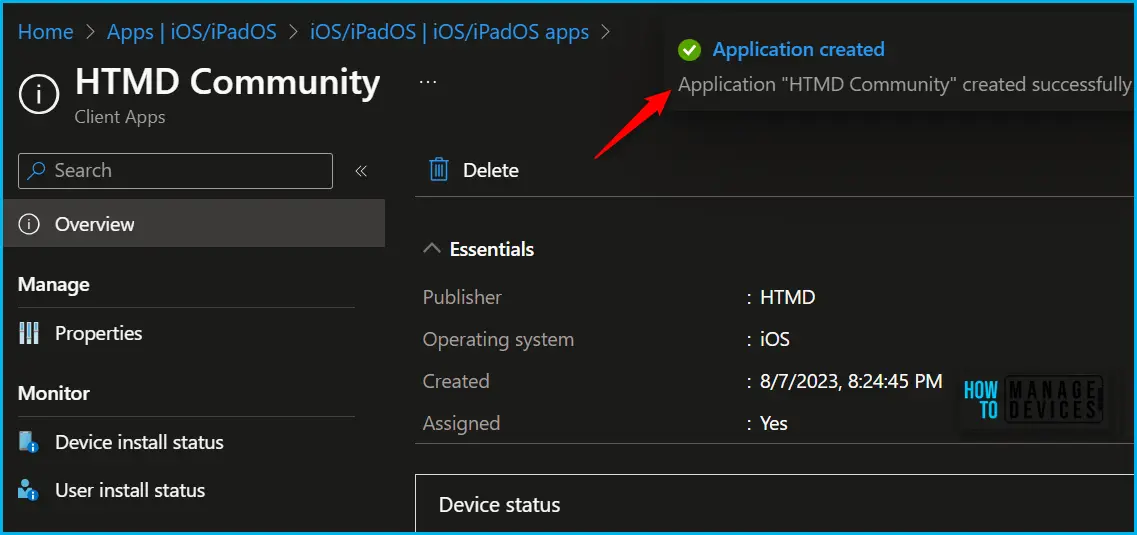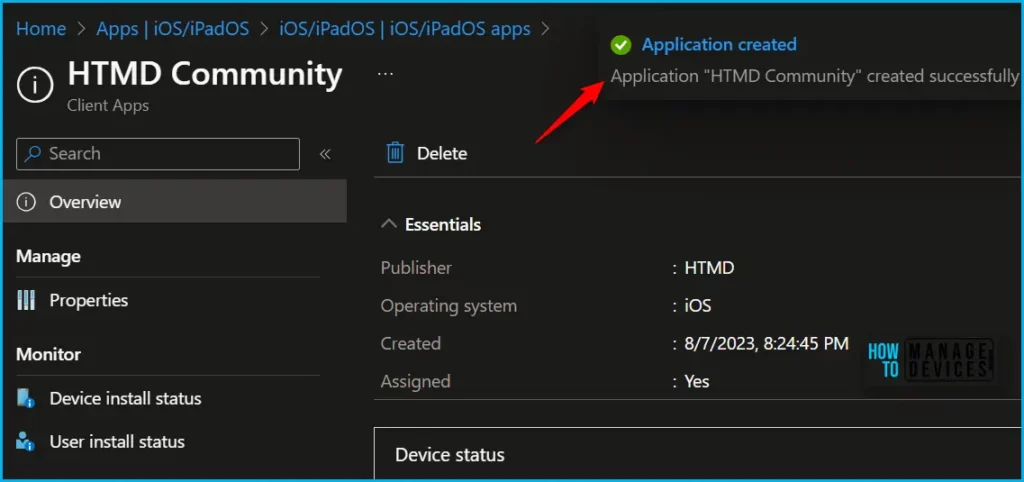 End-users can launch web apps directly from the Windows Company Portal app by selecting the web app and then choosing the option Open in browser. The published web URL is opened directly in the web browser.
Author
About Author – Jitesh, Microsoft MVP, has over six years of working experience in the IT Industry. He writes and shares his experiences related to Microsoft device management technologies and IT Infrastructure management. His primary focus is Windows 10/11 Deployment solution with Configuration Manager, Microsoft Deployment Toolkit (MDT), and Microsoft Intune.