Is Windows Autopilot an Alternate for OSD? Let's discuss the Modern Windows Provisioning Over Traditional Methods. Modern Windows provisioning methods offer a range of advantages over traditional approaches.
Modern methods, like Windows Autopilot, simplify the deployment process, enhance user experience, and provide better scalability and efficiency compared to the more manual and time-consuming traditional methods.
We have two informative articles; one is a step-by-step admin guide focusing on the Windows Autopilot provisioning process for Windows 10 and 11 devices, while the other article provides insights on how to make well-informed decisions regarding Windows Autopilot profile types within the context of Intune architecture.
Windows Autopilot is a collection of technologies that helps you set up and manage Windows 10 and 11 computers. It takes care of the initial steps, so you don't have to do complicated stuff when you get your computer.

What is Windows Autopilot?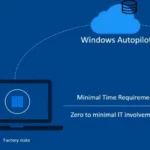 Windows Autopilot is a modern deployment solution from Microsoft that helps you simplify setting up and configuring new Windows devices. It is designed to provide a user-friendly and automated experience for deploying Windows 10 and Windows 11.
Latest Windows Autopilot Training – Modern Windows Provisioning Over Traditional Methods
In this comprehensive video, Joy, a Microsoft MVP, guides you through the entire details of Windows Autopilot scenarios. Joy covers crucial aspects such as background processes, addressing real-world issues, implementing effective fixes, and sharing valuable tips and tricks.
This training helps you with practical knowledge to deploy and manage Windows devices using Autopilot. Don't miss out on this invaluable resource for mastering modern Windows provisioning.
Windows Autopilot
With Windows Model management, we can procure a device from the OEM Vendor in a complete factory state. It comes with a supported pre-installed Windows OEM image in it. We can quickly transition that device to a business-ready state right out of the box in a minimum viable time with zero to minimal involvement and zero to minimal on-premises infrastructure requirements.

The service enabling us to achieve this is the Windows autopilot service, a complete Cloud native device deployment service from Microsoft.


Windows Autopilot Simplifying Device Deployment
In this post, you will get all the information related to Windows Autopilot. We will cover everything from understanding what Windows Autopilot is to comparing it with the traditional way of setting up Windows—additionally, the advantages of using Windows Autopilot for device deployment.

Traditional Windows Provisioning
In traditional Windows provisioning, the process begins with creating and maintaining a 'golden image.' This image is then distributed through an OSD infrastructure to newly procured devices. Despite these devices already having an OEM-installed image, they undergo reimaging to integrate with the local Active Directory and be managed by Config Manager.
Subsequently, they are onboarded to antivirus or EDR solutions. This extensive process demands significant IT involvement and effort at every step, making it a high-touch and resource-intensive approach.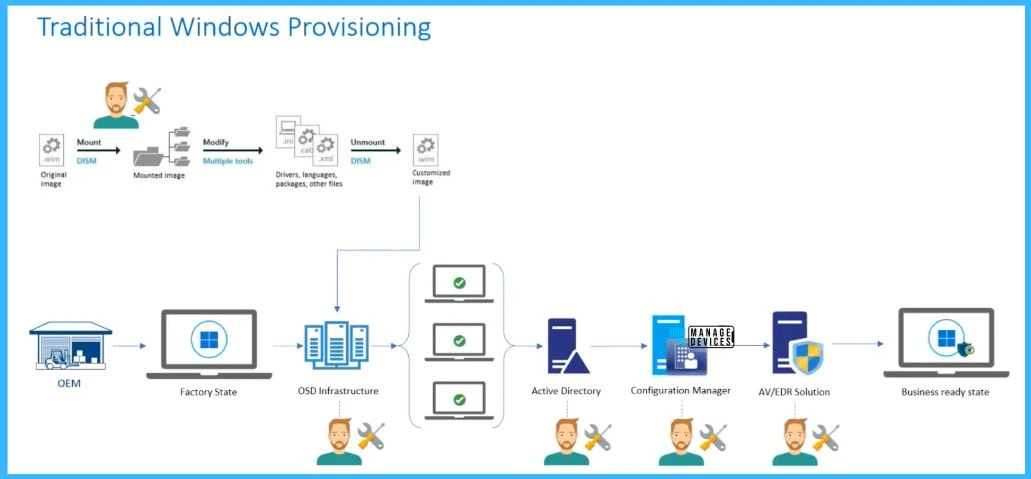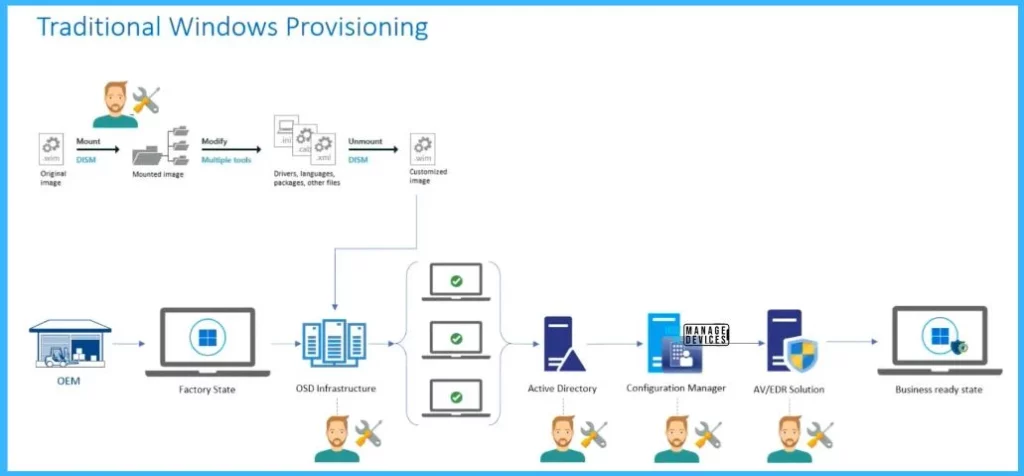 The Traditional Windows provisioning process takes more time. It requires more money because of the infrastructure and operational costs involved, and obviously, it requires more effort from IT.


Modern Windows Provisioning
Microsoft provides a user-centric process in modern Windows provisioning, shifting away from heavy IT involvement—an organization with M365 tenant partners with an OEM vendor for Autopilot devices. The OEM vendor can register these devices directly with the Windows Autopilot service. For existing devices, the organization's IT team can manually register them. The devices arrive factory-fresh.
The organization's IT admins set up Autopilot profiles and policies in the tenant. When end users receive a device, they unbox and power it on. The device connects to the service, receives its profiles and policies, and swiftly becomes business-ready. This process eliminates the need for reimaging and reduces high-touch activities.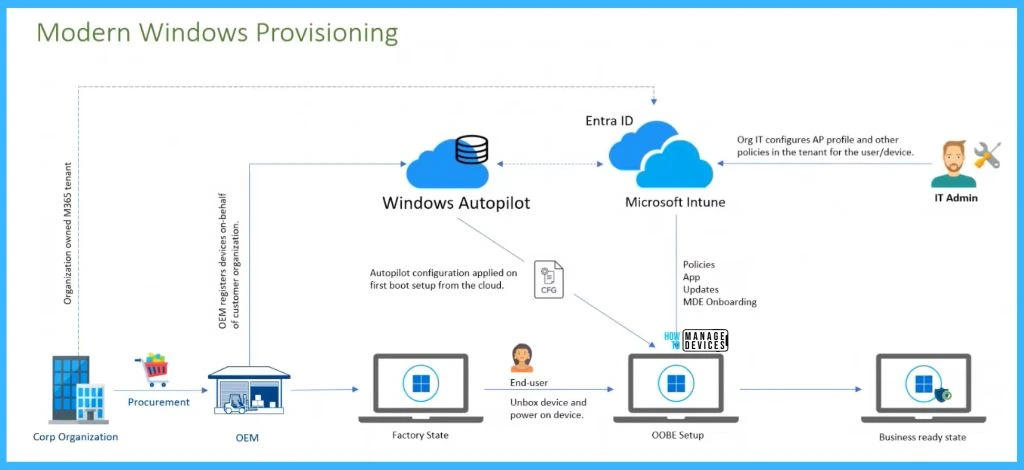 Modern Windows provisioning represents a significant departure from the traditional approach. Modern Windows provisioning requires less time, money, operational cost, and effort from the IT.


Modern Windows Provisioning is not a Single Technology – It is a Solution
Modern Windows provisioning is a highly efficient approach, saving time, money, and operational costs and reducing the workload for IT professionals. It is important to note that this method involves a combination of technologies rather than a single solution.
Windows Autopilot collaborates with Azure AD device registration services and a compatible unified endpoint management system, such as Microsoft Intune. These services enable auto-enrollment and MDM setup after device registration, providing necessary configurations.
Additionally, a supported version of the Windows operating system is essential. This ecosystem and ESP configuration on the client side helps to achieve seamless modern Windows provisioning.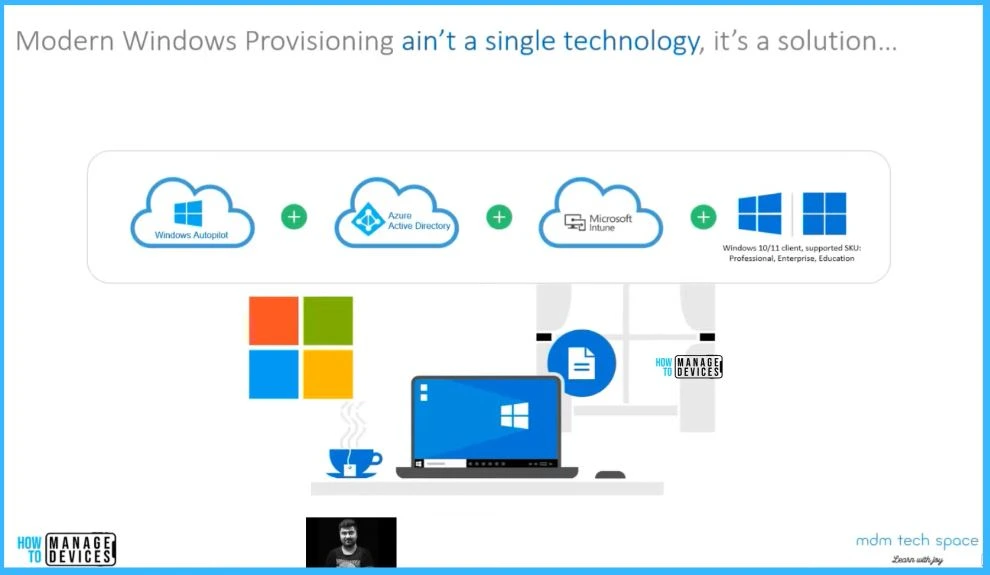 Windows Autopilot Device Lifecycle
The Windows Autopilot Device Lifecycle simplifies the journey of a device, starting from procurement to deployment, ensuring it reaches a business-ready state. It remains under management until potential issues arise, necessitating a break-fix event.
Afterwards, the device can be swiftly repurposed or reprovisioned for business use. As the device approaches its operational life, it can be retired from service. This process simplifies the entire Windows device lifecycle, benefiting both IT and end users, from initial setup to eventual retirement.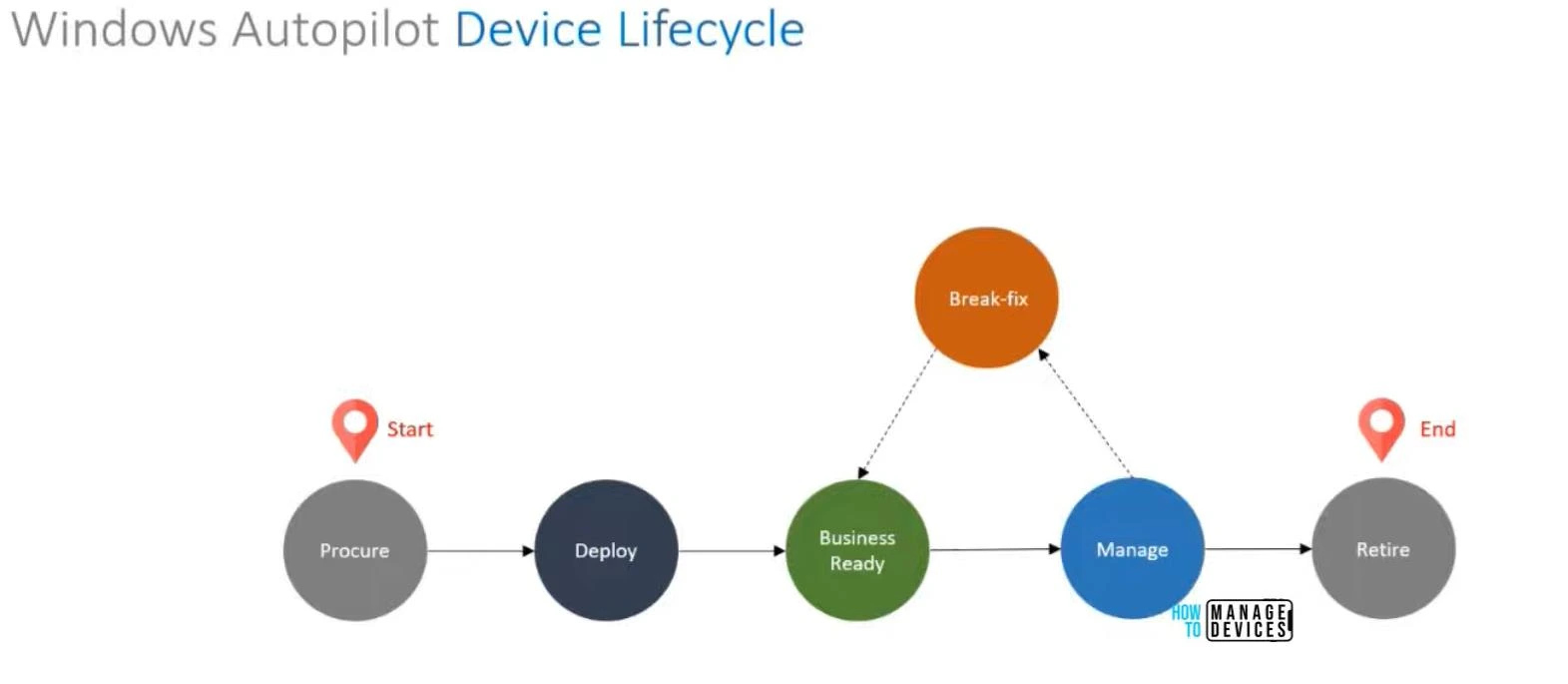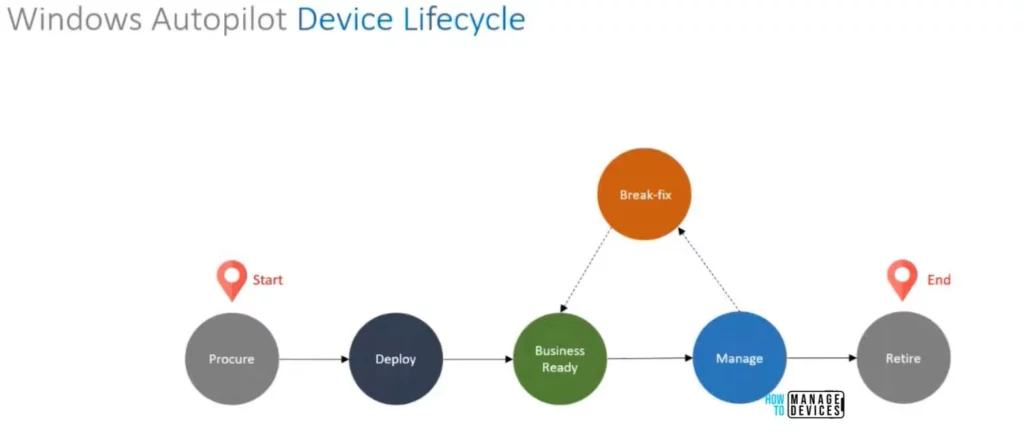 Benefits of Windows Autopilot
Windows Autopilot is a method for modern Windows 10 and 11 device management. The screenshot below shows the benefits and modes to suit different use cases.
No image management
Great consumer experience
Provision from anywhere. Users need an internet connection
Simple process for both user and IT
Integration with device supply chain
Different Modes to Suit Different Use Cases
Supports both Cloud-only Azure AD join or Hybrid Azure AD join
Supports userless provisioning for KIOSK or shared PC configuration
Supports pre-provisioning of devices to reduce setup time
Is Windows Autopilot an Alternate for OSD? – Table 1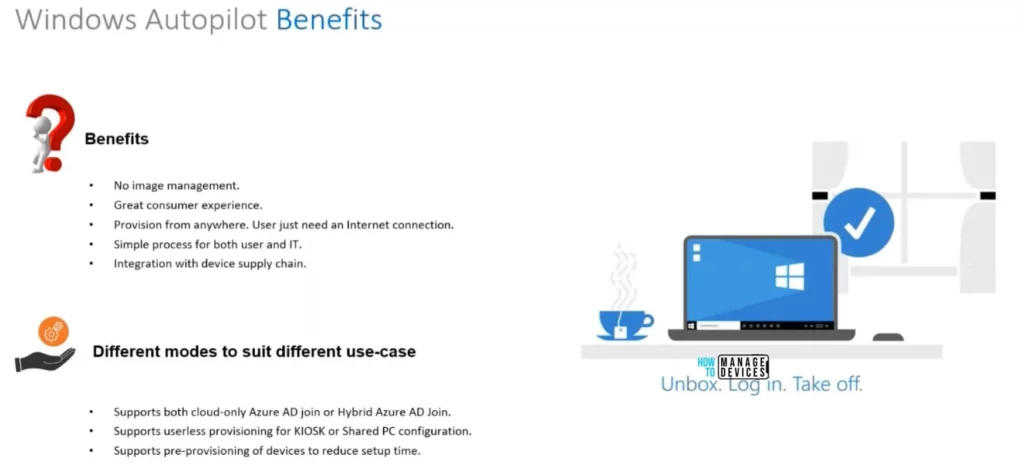 Is Windows Autopilot an Alternate for OSD?
Modern Windows provisioning, including Windows Autopilot, is more efficient than traditional OSD methods. However, it is important to clarify that Windows Autopilot is not a replacement for OSD. Instead, Autopilot serves a different purpose.
It doesn't deploy the operating system to devices but offers a user-friendly setup process using the pre-installed OEM Windows image. If you need to deploy OS images to devices that don't have OEM Windows images, you would still require OSD or an appropriate deployment solution for that specific scenario.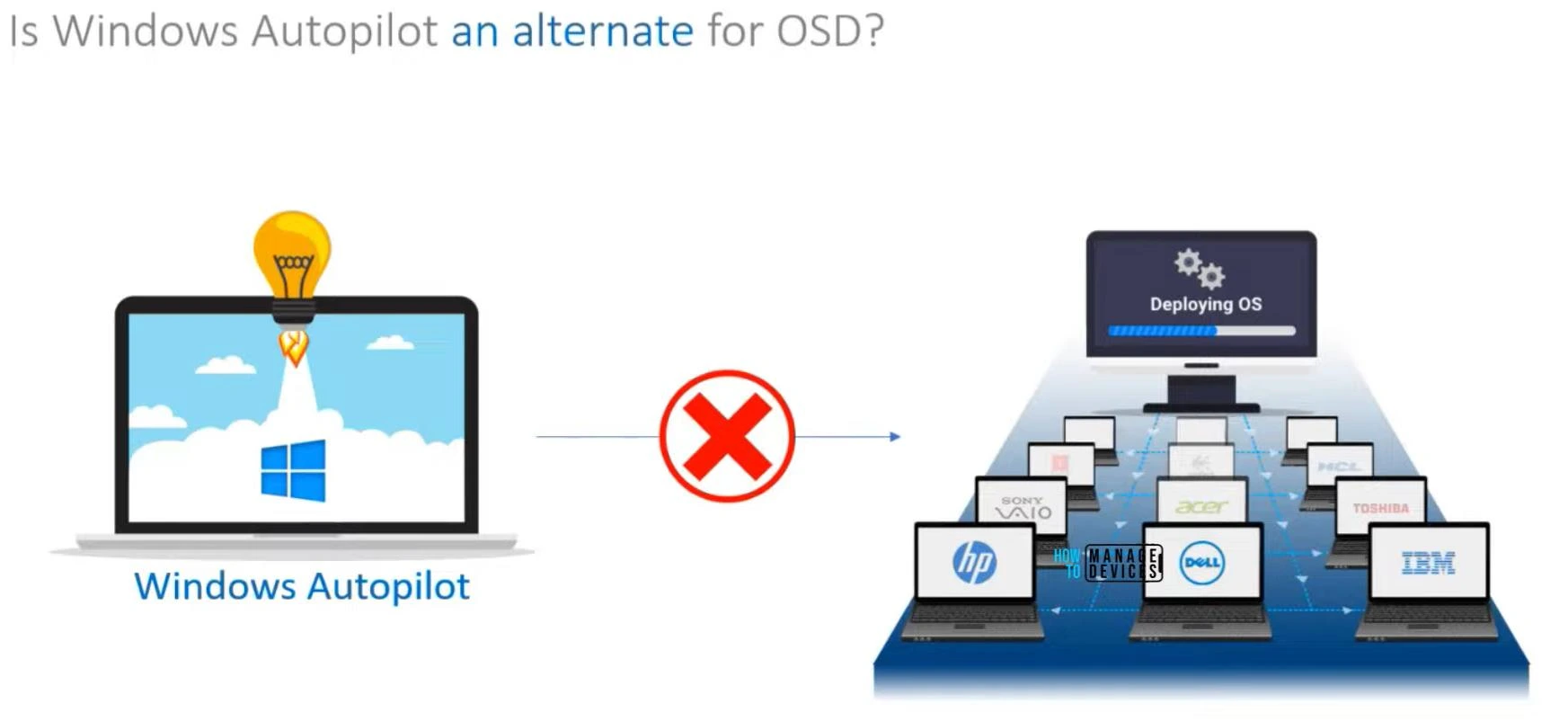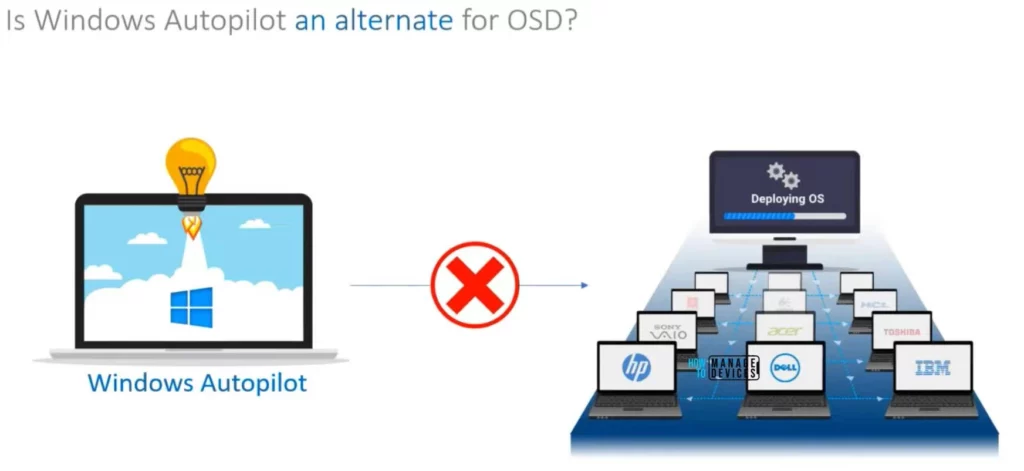 Author
About the Author – Vidya is a computer enthusiast. She is here to share quick tips and tricks with Windows 11 or Windows 10 users. She loves writing on Windows 11 and related technologies. She is also keen to find solutions and write about day-to-day tech problems.