Hi, Let's delve into exciting topics: Microsoft Designer. Microsoft Designer is a design tool developed by Microsoft. Microsoft Designer and Canva are similar tools that help to make marketing templates with the help of AI.
It offers a range of features and functionalities to assist designers in creating visually stunning and user-friendly interfaces. Microsoft Designer empowers designers to bring their creative visions to life. With the help of Microsoft Designer, you can effortlessly create stunning designs and share them instantly on your favorite social media platforms.
The Microsoft Designer application is a PWA application similar to Clipchamp. We have a video about Clipchamp; you should watch that video then you can understand the similarities and differences between Designer and Clipchamp.
Microsoft Designer is a new AI-powered design app that helps you make professional quality designs, social media posts, invitations, digital postcards, graphics, and more. You can easily create stunning designs in a flash with Microsoft Designer. No design skills are needed, And if you have design skills, MS Designer help you flex them.

What is Microsoft Designer?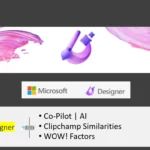 Recently, Microsoft introduced a new design tool called Designer, which has quickly gained attention. This all-in-one solution seamlessly integrates features like Copilot, revolutionizing the design experience. With its intuitive interface and impressive capabilities, the Designer offers a familiar and intuitive feel like that of Clipchamp. While also introducing a host of unique and remarkable features.
1. It helps to create stunning designs in a flash with Microsoft Designer.
2. This product is here to help people without any design skills to have stunning designs.
3. Experienced Designers also make their designs with co-pilot and AI power.
What are the Key Features of Microsoft Designer Tool?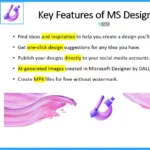 The key features are the text input; it can make the design for you for your social media posts or advertising campaigns, etc. The following are the key features of the Microsoft Designer Tool.
1. Find ideas and inspiration to help you create a design you love.
2. Get one-click design suggestions for any idea you have.
3. Publish your designs directly to your social media accounts.
4. AI-generated images created in Microsoft Designer by DALL·E 2.
5. Create MP4 files for free without a watermark.

What is Designer Co-pilot?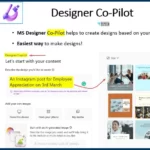 MS Designer Co-Pilot helps to create designs based on your text description. Designer Co-pilot is the easiest way to make designs.
What are Microsoft Designer's "Inspire Me" Options?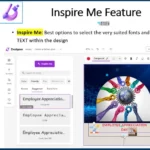 The Microsoft Designer Inspire Me options help you select the best fonts and colors for your TEXT within the design. This functionality is your creative guide, helping you choose the most suitable typography and color schemes that align seamlessly with your vision.
Upload Pics or Images from Mobile to MS Designer on Windows 11?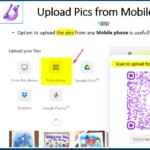 Yes, It is possible to Upload Pics or Images from Mobile to MS Designer on Windows 11. Uploading pics from mobile is a very useful and interesting feature in Microsoft Designer. You can upload images directly from your phone. You need to scan the QR code and send the files. The images will appear on your designer page.
What are Designer AI-Generated Images?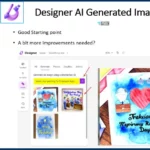 It is a good starting point. We need this integration into the nice design, and you can easily try to create watercolor paintings. The window helps you show the watercolor image regarding employee appreciation.
Video – Microsoft Designer Full Review
This video provides a comprehensive overview of Microsoft Designer, offering viewers an in-depth look at this innovative application's details and features. Moreover, within the video, you'll discover an exciting opportunity: 3 exclusive invites to access Microsoft Designer!
As one of the first 3 individuals to express your interest, you'll secure an exclusive invitation from the HTMD side, granting you access to the wonderful world of Microsoft Designer. Don't miss out on this incredible opportunity.
Microsoft Designer
To access the features of Microsoft Designer, a Microsoft account is required. You will need to sign in with your Microsoft account. Microsoft Designer's only available for Mac and PC, but Microsoft will be working on a mobile version soon.
Select the "From this device" option from the below window to add images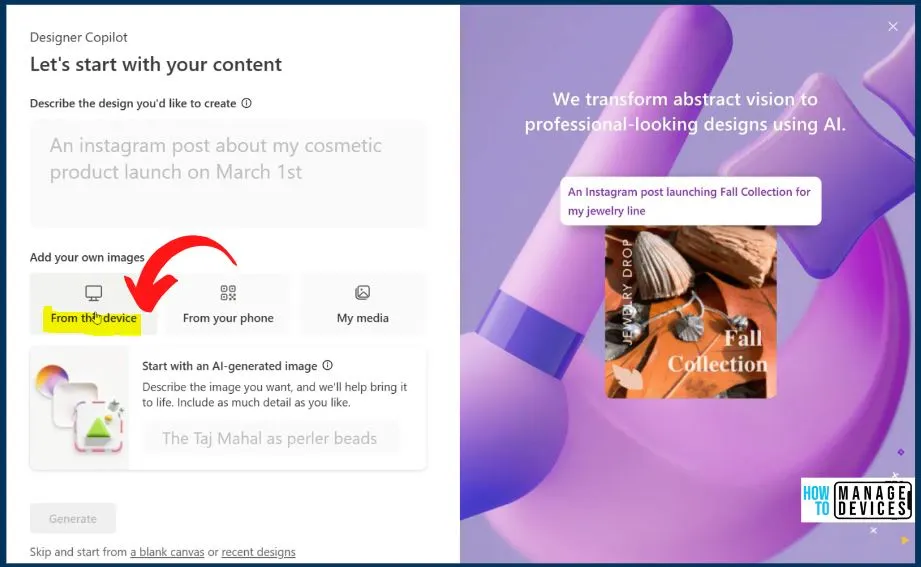 Selecting the "From this device" option opens up a new world of possibilities within Microsoft Designer. With a simple click, your file explorer springs to life, granting you seamless access to your computer's vast library of images.
Select an image from the "Select from your media" window
Designer Copilot
Let's start with an AI-generated image. Please describe the image you want; the Designer will help bring it to life, including as many details as you like. Describe the design you did like to create. In the Designer's Copilot window, give the text related to your design and also Add your images and click Generate button from the below screen.
With the help of the description and image, MS Designers easily create a design for you.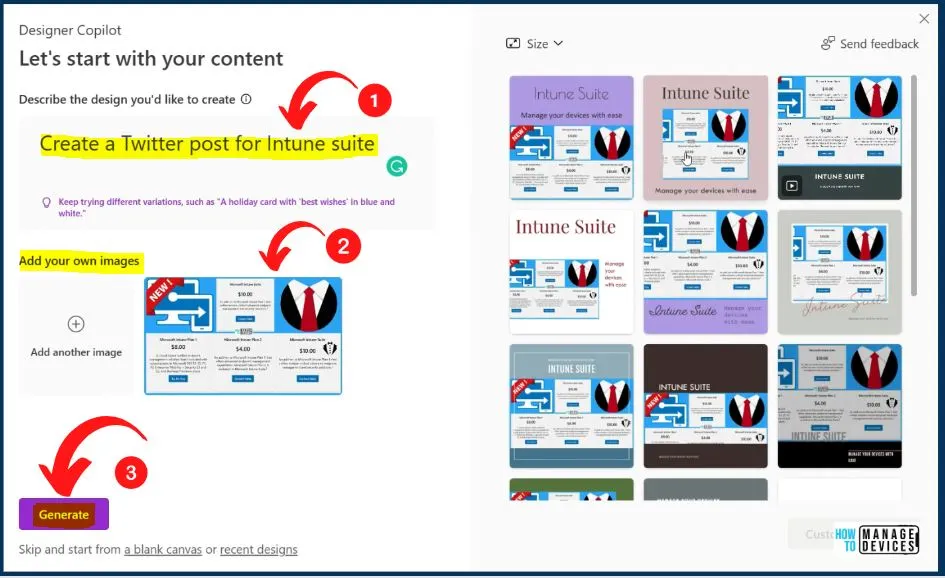 Customize Design Option
If you want to customize your design, you can easily do that in the below window. The Copilot in MS Designer provides a set of different options. The customized design window also shows a menu on the left side of the Designer window and includes the options such as Templates, My Media, Visuals, Text, and Styles.
| Designer Menu Options | Used to |
| --- | --- |
| Templates | It helps to add different Templates |
| My Media | It helps to upload images |
| Visuals | It helps to upload Visuals |
| Text | It helps to Add Text |
| Styles | It helps to add different styles |
Microsoft Designer Full Review – Table 1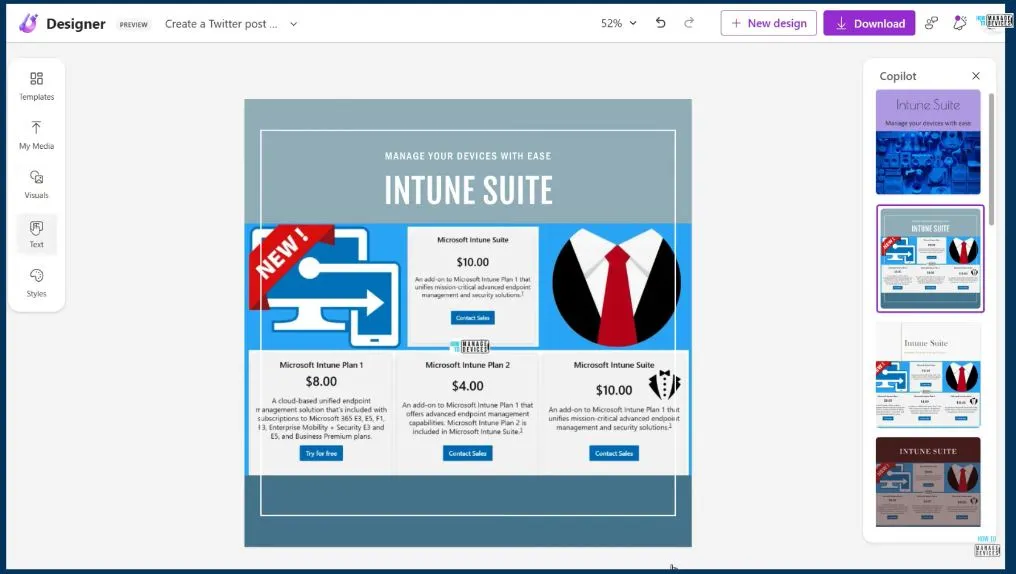 MS Designer Inspire Me Option
The "Inspire Me" option in Microsoft Designer is a powerful feature that sparks creativity and assists you in selecting the most suitable design elements. With a single click, this innovative tool opens up a world of inspiration, guiding you toward captivating fonts, eye-catching color palettes, and visually stunning layouts.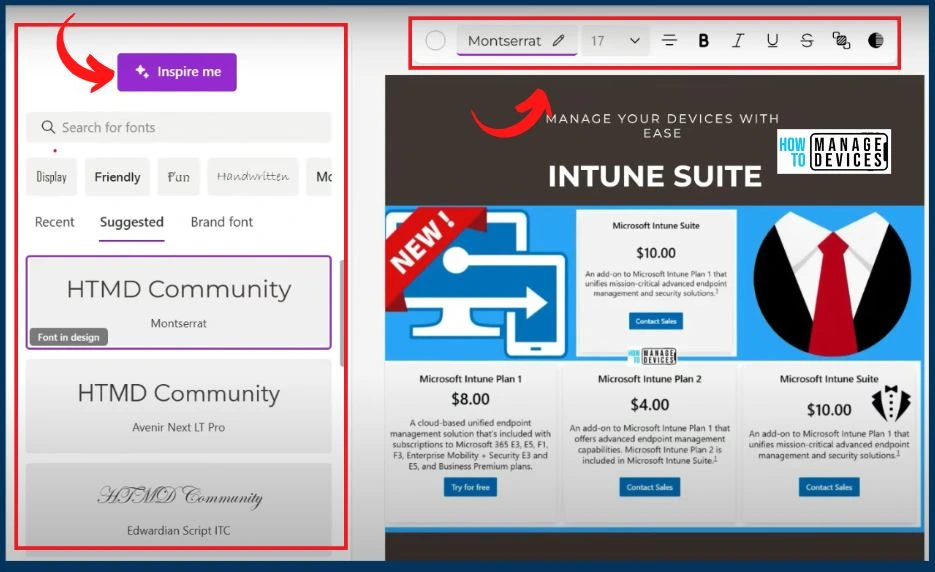 Templates and My Media Menu in MS Designer
In Microsoft Designer, you will see the powerful features of the "Templates" and "My Media" menus, which provide convenient access to a wide range of design assets and your personal media library. The "Templates" menu shows pre-designed layouts and designs that are a starting point for your creative projects.
The templates menu offers a diverse collection of professionally crafted designs. The "My Media" menu helps you personalize your designs with your images and media files. Accessing this menu lets you easily import and manage your media library within Designer.
It lets you directly integrate your personal photos, logos, graphics, and other visual assets into your designs.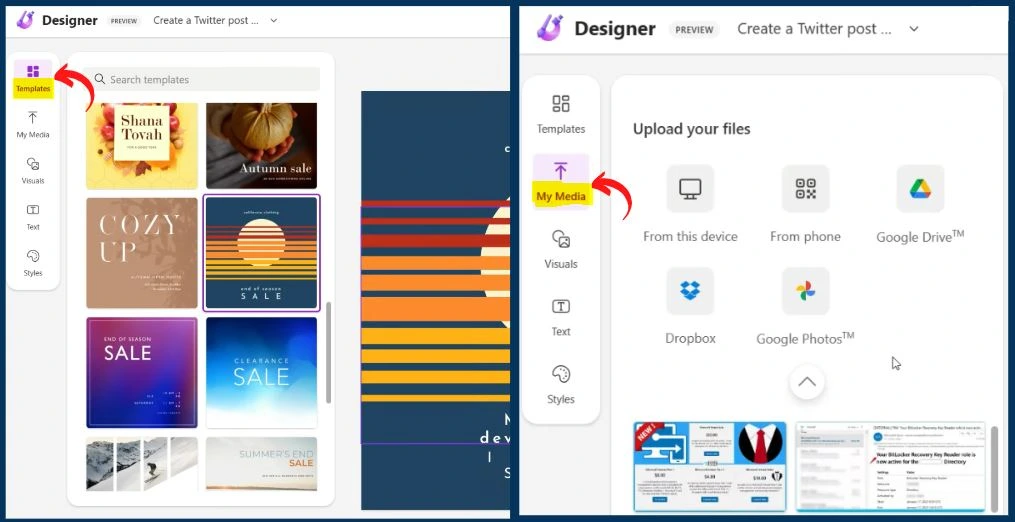 Visuals and Styles in MS Designer
Microsoft Designer provides various styling options to customize the appearance of your design elements. The Visuals options help you to show the options such as All, General, Photos, Graphics, and Videos. Styles help you to create your brand kit. Choose fonts, colors, and design styles that best represent your brand.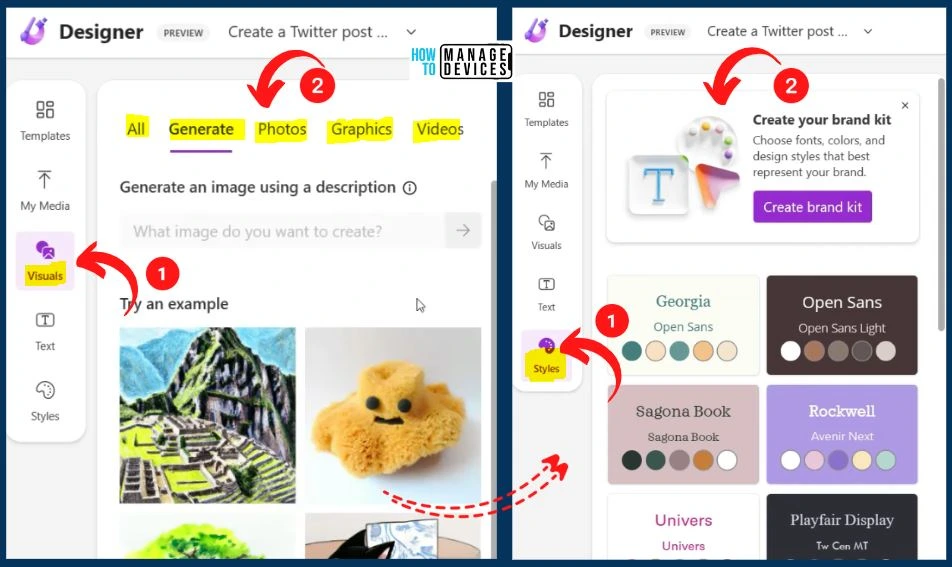 Create a Twitter Post Option in the Designer
Microsoft Designer introduces the exciting "Create a Twitter Post" option, enabling you to design effortlessly eye-catching visuals tailored to your Twitter feed. The Create a Twitter Post shows the options such as Start a new design, My Designs, and Rename.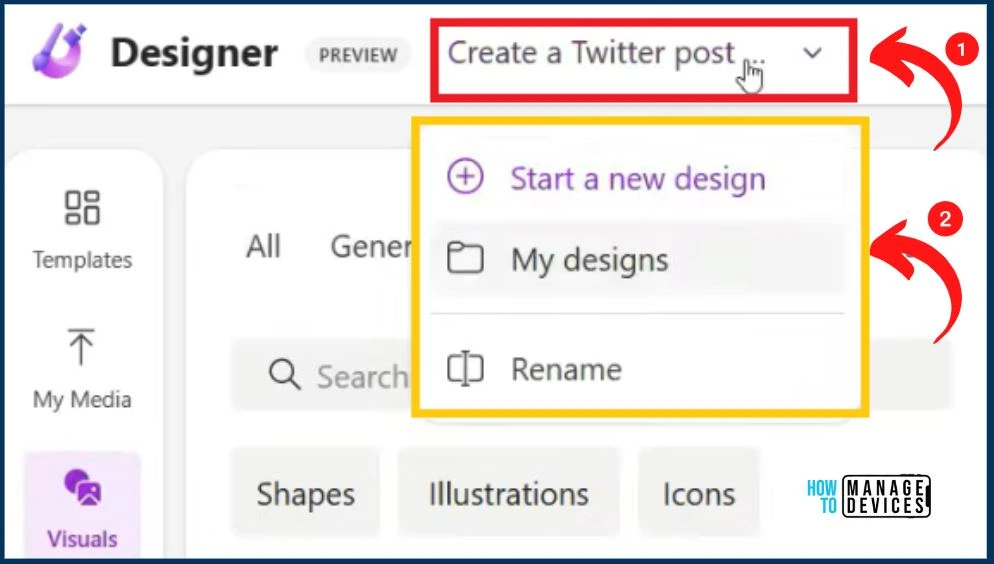 Download Button in MS Designer
Microsoft Designer shows the "Download" button that allows you to save your designs to your local device effortlessly. This feature ensures you can easily access and share your creations outside the Designer application, allowing you to utilize them in various contexts.
You can easily post your design.
Easily download your design with different file types MP4, PNG, JPEG, etc.
Making the background transparent helps you create a transparent background that can enhance your designs' visual impact and versatility.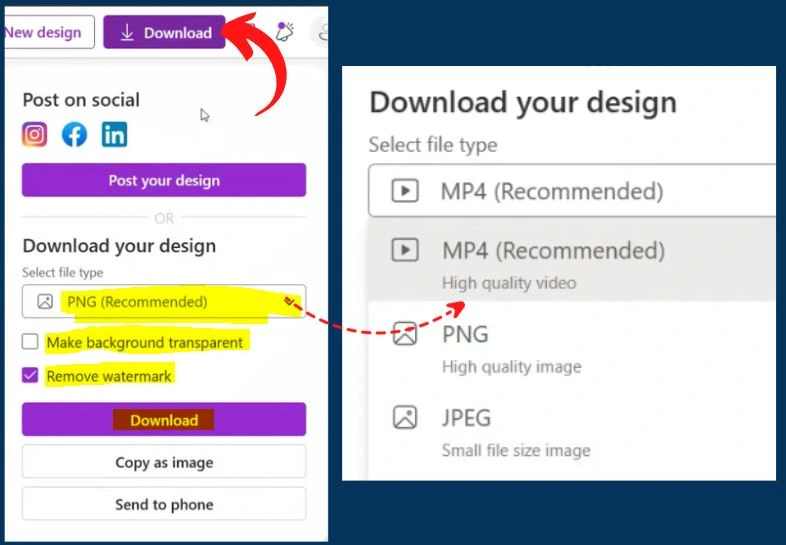 Make Background Transparent
You can easily make the background transparent in Microsoft Designer. The below 1st window helps you to show the Disabled Make background transparent, and the 2nd window helps you to show the Enabled Make background transparent.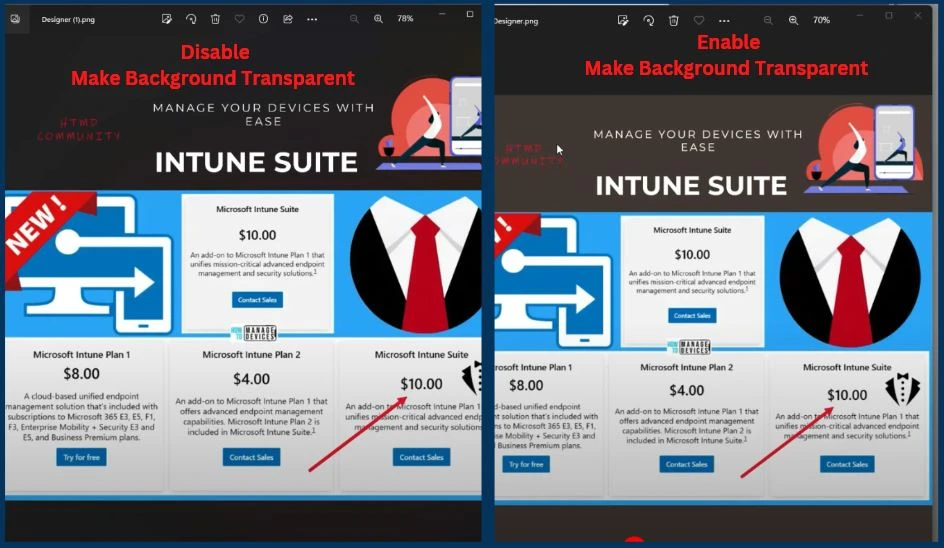 Send Feedback, What's New, and Profile
The "Send Feedback" section helps you to provide valuable input and suggestions directly to the Microsoft Designer team. The "What's New" section informs you about the latest updates and enhancements in Microsoft Designer. The "Profile" section is your personal space within Microsoft Designer.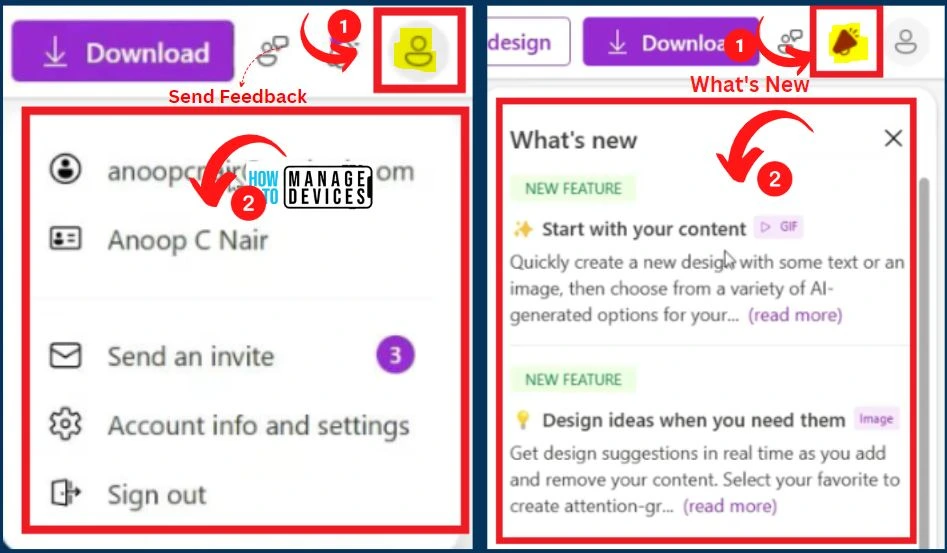 Author
About Author – Vidya is a computer enthusiast. She is here to share quick tips and tricks with Windows 11 or Windows 10 users. She loves writing on Windows 11 and related technologies. She is also keen to find solutions and write about day-to-day tech problems.