Let's compare Microsoft Intune Vs. Jamf macOS Device Management Enhancements. What are the different macOS device management options with Jamf and Microsoft Intune? Andy Cerat & Neil Johnson had a great session in Ignite 2019, and they discussed the following topics.
Microsoft Intune is adding a lot more features to its stack. However, Jamf macOS Device Management has been there for many years, and the product is more mature than the Microsoft Intune product.
I hope, Parallels will also come up with a SaaS solution with that you can manage macOS devices without any on-prem infrastructure. They have a pretty good macOS management solution with tight integration with SCCM.
More Details – SCCM Mac Management – How To Take A Decision In 10 Minutes

Introduction Intune Vs Jamf
Following are the key messages from Microsoft about macOS device management.
Microsoft is committed to macOS.
Microsoft Endpoint Manager (MEM) Intune is ready for Mac in the Enterprise
Still investing in Jamf partnership for macOS device management
NOTE! – Microsoft is rolling out a change to choose Jamf targeting by user groups. Today it's always-on options with Jamf. The new targeting change will help split it by BYOD and CYOD options.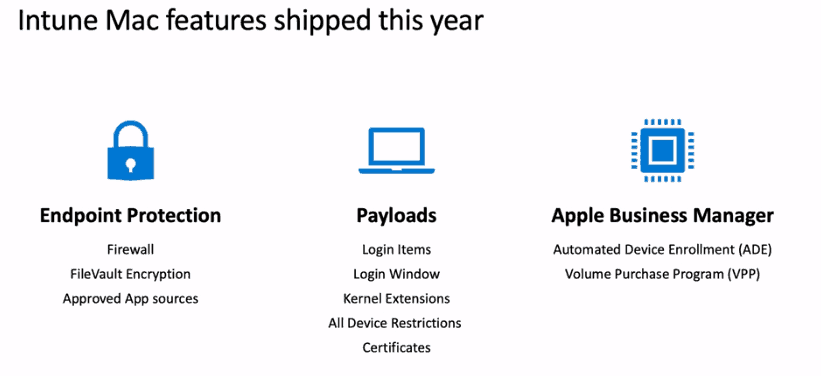 Intune Vs Jamf macOS Management
I have seen many questions related to Intune Vs. Jamf macOS device management options. Which type of management should you go with, Jamf or Intune?
Microsoft announced that Intune is fully ready to manage macOS devices. But, still, give some room for Jamf partnership, as you can see in the below slide. Are you confused?

I feel Intune will be ready to support all macOS device management scenarios shortly. But, there could be some special scenarios where we would need Jamf to have complex application deployment, etc.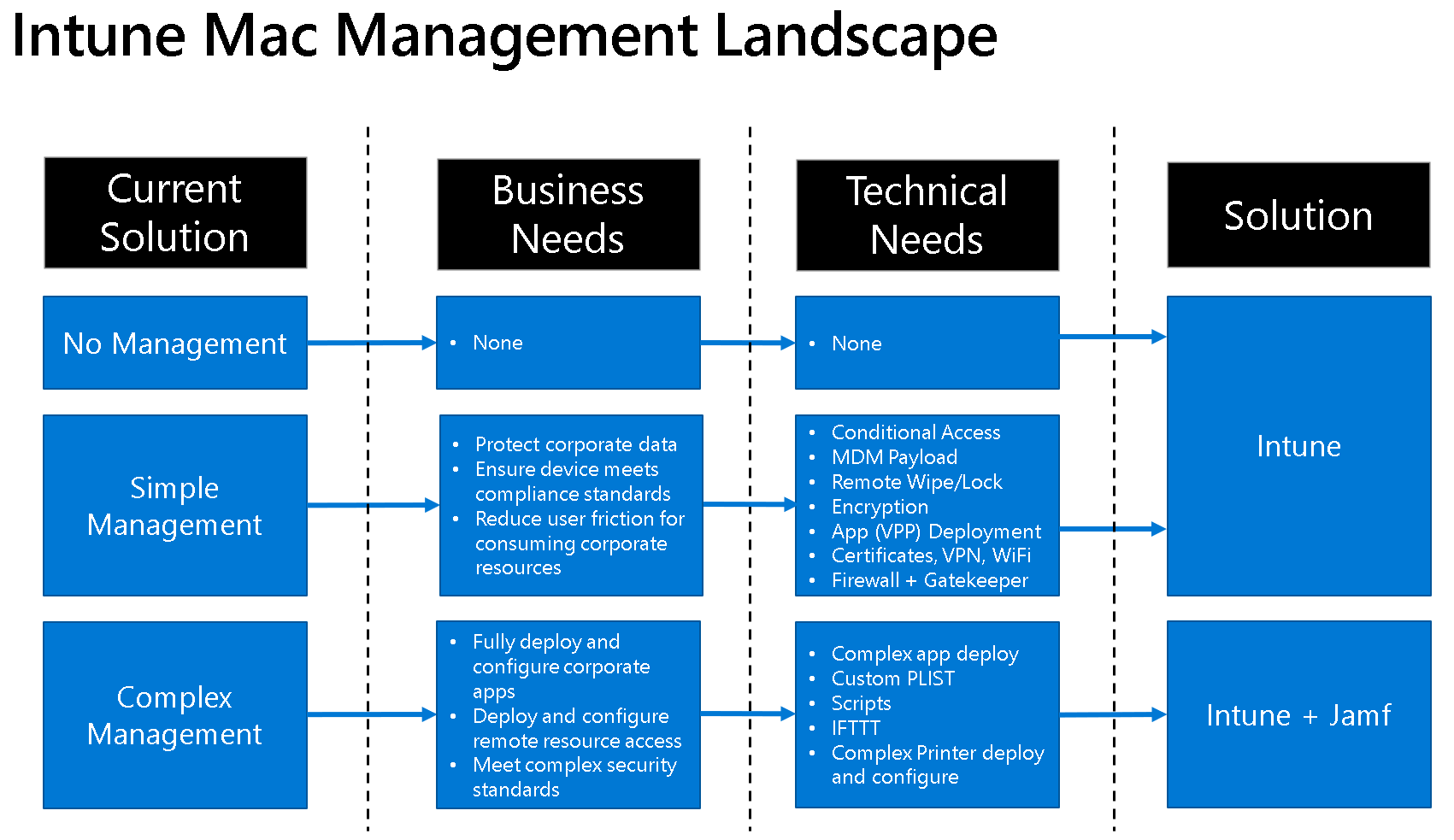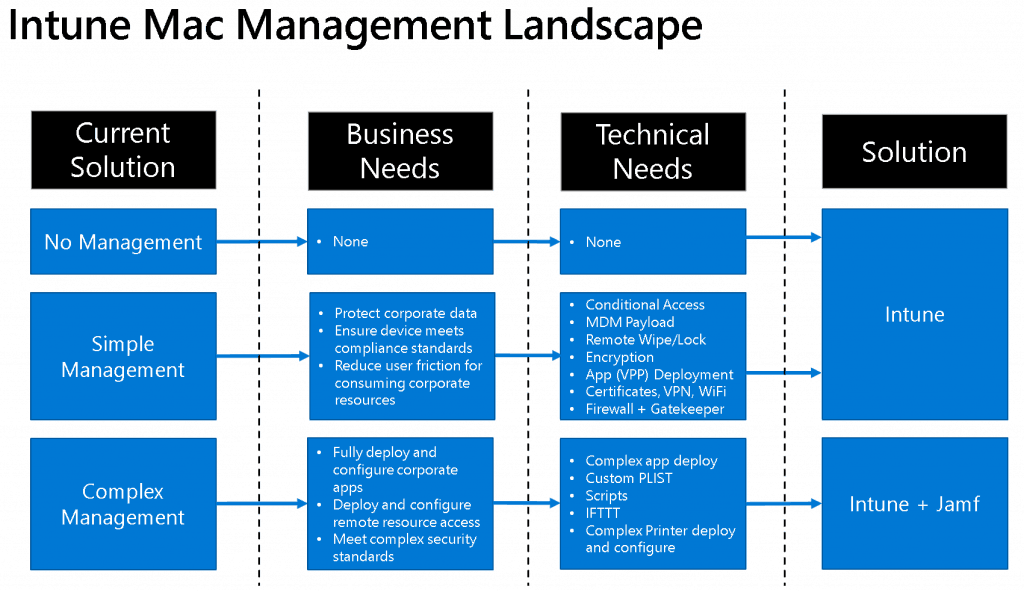 Intune Vs. Jamf Device Management for Mac Devices
macOS Device Management solutions Intune Vs Jamf. macOS device management is not implemented in many organizations as per my experience. This makes many Mac devices vulnerable to cyber attacks.
The main three players in the industry for Mac device management are Parallels, Jamf, and Microsoft. I don't think Parallel is very much into the development of their solution to manage macOS devices. Parallel's Mac management solution works very well with Microsoft's on-prem device management solution called SCCM.
Microsoft's Unified Endpoint Management solution called Intune is capable to perform Mac Device management. Microsoft is adding a lot of enhancements to their own solution called Microsoft Endpoint Manager Intune for Mac device management.
Jamf is also a cloud-based solution that is exclusive for managing different varieties of apple devices such as macOS, iPhone, and iPadOS devices.  All these devices including Apple TV can be managed from Jamf single pane of glass console.
Microsoft started Mac management with very basic features but with every monthly release, Microsoft is enhancing its capabilities to manage macOS management.
Intune macOS Simple Management
Following are the features Microsoft considers simple management features for macOS device management.
Conditional Access
MDM Payload
Remote Wipe/Lock
Encryption
App (VPP) Deployment
Certificates, VPN, and WiFi
Firewall + Gatekeeper ( FileVault, Key Recovery, and Firewall)
Scripts (Coming soon, Q1 2020)
Custom PLIST (Coming soon – Dec 2019)
Microsoft Edge Deployment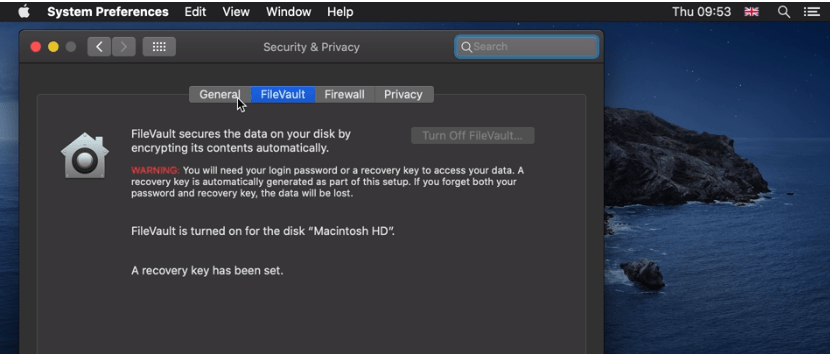 Jamf macOS Complex Management
Following are the features Microsoft considers complex macOS device management features that should be handled via Jamf.
Complex Mac application deployment scenarios
Custom PLIST
macOS Scripts deployment scenarios
IFTTT
Complex Printer deploy and configure
Ignite Session
macOS device management with Microsoft Intune
Latest Policies Added to Intune MacOS support
Let's check Intune settings catalog MacOS support policies introduced in April 2022.
The Settings Catalog has new macOS settings you can configure (Devices > Configuration profiles > Create profile > macOS for platform >Settings catalog (preview) for profile type):
Accounts > Mobile Accounts:
Ask For Secure Token Auth Bypass
Create At Login
Expiry Delete Disused Seconds
Warn On Create
Warn On Create Allow Never
App Management > Autonomous Single App Mode:
Bundle Identifier
Team Identifier
App Management > NS Extension Management:
Allowed Extensions
Denied Extension Points
Denied Extensions
App Store:
Disable Software Update Notifications
Restrict Store Software Update Only
restrict-store-disable-app-adoption
Authentication > Directory Service:
AD Allow Multi-Domain Auth
AD Allow Multi-Domain Auth Flag
AD Create Mobile Account At Login
AD Create Mobile Account At Login Flag
AD Default User Shell
AD Default User Shell Flag
AD Domain Admin Group List
AD Domain Admin Group List Flag
AD Force Home Local
AD Force Home Local Flag
AD Map GGID Attribute
AD Map GGID Attribute Flag
AD Map GID Attribute
AD Map GID Attribute Flag
AD Map UID Attribute
AD Map UID Attribute Flag
AD Mount Style
AD Namespace
AD Namespace Flag
AD Organizational Unit
AD Packet Encrypt
AD Packet Encrypt Flag
AD Packet Sign
AD Packet Sign Flag
AD Preferred DC Server
AD Preferred DC Server Flag
AD Restrict DDNS
AD Restrict DDNS Flag
AD Trust Change Pass Interval Days
AD Trust Change Pass Interval Days Flag
AD Use Windows UNC Path
AD Use Windows UNC Path Flag
AD Warn User Before Creating MA Flag
Client ID
Description
Password
User Name
Authentication > Identification:
Login > Login Window Login Items:
Disable Login Items Suppression
Media Management Disc Burning:
Parental Controls > Parental Controls Application Restrictions:
Parental Controls > Parental Controls Content Filter:
Allowlist Enabled
Filter Allowlist
Filter Blocklist
Site Allowlist
Address
Page Title
Use Content Filter
Parental Controls > Parental Controls Dictionary:
Parental Controls > Parental Controls Game Center:
GK Feature Account Modification Allowed
System Configuration > File Provider:
Allow Managed File Providers To Request Attribution
System Configuration > Screensaver:
Ask For Password
Ask For Password Delay
Login Window Idle Time
Login Window Module Path
User Experience > Finder:
Prohibit Burn
Prohibit Connect To
Prohibit Eject
Prohibit Go To Folder
Show External Hard Drives On Desktop
Show Hard Drives On Desktop
Show Mounted Servers On Desktop
Show Removable Media On Desktop
Warn On Empty Trash
User Experience > Managed Menu Extras:
AirPort
Battery
Bluetooth
Clock
CPU
Delay Seconds
Displays
Eject
Fax
HomeSync
iChat
Ink
IrDA
Max Wait Seconds
Picard
PPP
PPPoE
Remote Desktop
Script Menu
Spaces
Sync
Text Input
TimeMachine
Universal Access
User
Volume
VPN
WWAN
User Experience > Notifications:
Alert Type
Badges Enabled
Critical Alert Enabled
Notifications Enabled
Show In Lock Screen
Show In Notification Center
Sounds Enabled
User Experience > Time Machine:
Auto Backup
Backup All Volumes
Backup Size MB
Backup Skip System
Base Paths
Mobile Backups
Skip Paths
Xsan:
Xsan > Xsan Preferences:
Deny DLC
Deny Mount
Only Mount
Prefer DLC
Use DLC
The following settings are also in Settings Catalog. Previously, they were only available in Templates:
App Management > Associated Domains:
Networking > Content Caching:
Allow Cache Delete
Allow Personal Caching
Allow Shared Caching
Auto Activation
Auto Enable Tethered Caching
Cache Limit
Data Path
Deny Tethered Caching
Display Alerts
Keep Awake
Listen to Ranges
Listen Ranges Only
Listen With Peers And Parents
Local Subnets Only
Log Client Identity
Parent Selection Policy
Parents
Peer Filter Ranges
Peer Listen Ranges
Peer Local Subnets Only
Port
Public Range
Restrictions:
Allow Activity Continuation
Allow Adding Game Center Friends
Allow AirDrop
Allow Auto Unlock
Allow Camera
Allow Cloud Address Book
Allow Cloud Bookmarks
Allow Cloud Calendar
Allow Cloud Desktop And Documents
Allow Cloud Document Sync
Allow Cloud Keychain Sync
Allow Cloud Mail
Allow Cloud Notes
Allow Cloud Photo Library
Allow Cloud Private Relay
Allow Cloud Reminders
Allow Content Caching
Allow Diagnostic Submission
Allow Dictation
Allow Erase Content And Settings
Allow Fingerprint For Unlock
Allow Game Center
Allow iTunes File Sharing
Allow Multiplayer Gaming
Allow Music Service
Allow Passcode Modification
Allow Password AutoFill
Allow Password Proximity Requests
Allow Password Sharing
Allow Remote Screen Observation
Allow Screen Shot
Allow Spotlight Internet Results
Allow Wallpaper Modification
Enforced Fingerprint Timeout
Enforced Software Update Delay
Implemented Software Update Major OS Deferred Install Delay
Implemented Software Update Minor OS Deferred Install Delay
Implemented Software Update Non-OS Deferred Install Delay
Force Classroom Automatically Join Classes
Force Classroom Request Permission To Leave Classes
Force Classroom Unprompted App And Device Lock
Force Delayed App Software Updates
Force Delayed Major Software Updates
Force Delayed Software Updates
Safari Allow Autofill
Resource
Author
Anoop C Nair is Microsoft MVP! He is a Device Management Admin with more than 20 years of experience (calculation done in 2021) in IT. He is Blogger, Speaker, and Local User Group HTMD Community leader. His main focus is on Device Management technologies like SCCM 2012, Current Branch, and Intune. He writes about ConfigMgr, Windows 11, Windows 10, Azure AD, Microsoft Intune, Windows 365, AVD, etc.