I have been recognized as a Microsoft MVP Most Valuable Professional – Windows and Devices for IT 2023 (aka Windows 365) and Enterprise Mobility. This is my second Microsoft MVP Award, and I am deeply humbled and honored.
I extend my heartfelt congratulations to all the amazing individuals who have been awarded MVP today. I am truly honored to have my MVP Award renewed, and it holds a special significance for me as it includes the "Enterprise Mobility" category, along with Windows 365 (aka Windows Devices for IT).
Last year, I got my first Microsoft MVP Award 2022-2023. This achievement would not have been possible without the incredible energy and support I have received from the remarkable community, fellow MVPs, and community leaders. Thank you all for being a part of this journey.
I am grateful to have the privilege of being a part of the HTMD Community and for the tremendous assistance and motivation of Mr. Anoop C Nair and all my MVP Colleagues, helping to grow together in the journey.

Especially I would like to thank you, Christiaan, Gaby, Megan, and Deepak Rajendran, MVP Community Programme Manager, for their guidance to the community at various levels and encouragement.
I am incredibly fortunate to have mentors from around the world who have always been there to support and motivate me. Listing every individual contributor who has played a significant role in my journey would be a challenging task.
I am grateful for the guidance and assistance provided by each of them, and their collective impact on my growth and success is immeasurable. I appreciate the ongoing support and encouragement from these mentors, and I am truly indebted to them for their invaluable contributions.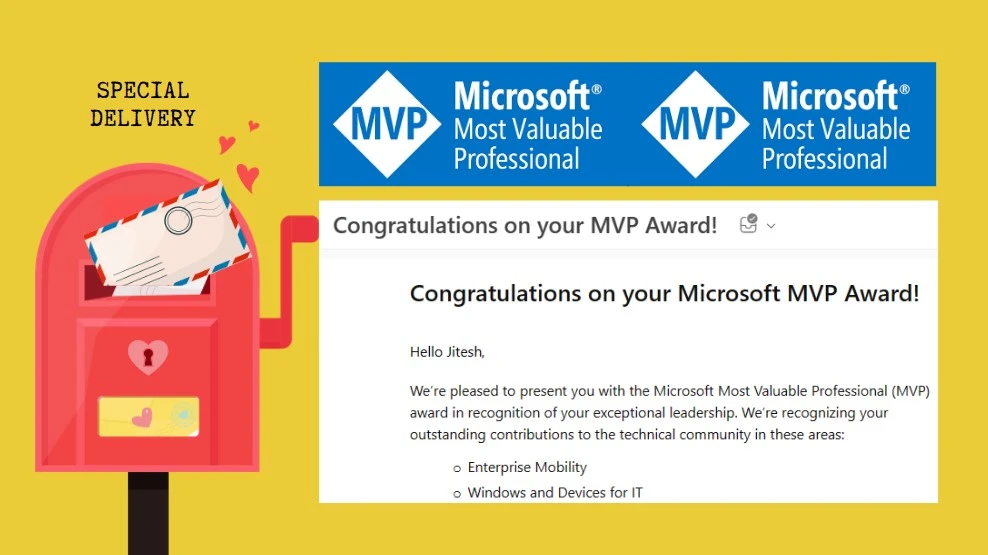 I am eagerly anticipating an exciting year ahead in 2023 as Microsoft continues to introduce the latest enhancements and innovations. There are several key areas to keep a close watch on, including Windows 365 Cloud PC, Microsoft Intune, Windows 11, and Security.

I am excited about the immense learning opportunities that lie ahead and the chance to contribute to the community in these evolving domains. It promises to be a rewarding journey filled with growth, exploration, and making valuable contributions to the ever-evolving Microsoft ecosystem.
Microsoft MVP Program Insights
I receive most of the time questions through direct messages: "What does it take to become a Microsoft MVP?" For those interested in understanding the MVP Award Technology Structure in detail, I recommend reading the provided post details of the new Award Categories and Contribution Areas, focused on Developer and IT Pro products and services, Microsoft MVP program.
Additionally, To get to know how to become a Microsoft MVP and has provided valuable information on community contributions. You can also watch Anoop & Harjit's show Namate Techies to get pro tips from industry experts.
Becoming a Microsoft MVP (Most Valuable Professional) is a recognition awarded by Microsoft to individuals who demonstrate exceptional expertise, contributions, and impact within the Microsoft technology community.
While the exact criteria and selection process are determined by Microsoft and subject to change, here are some general steps to increase your chances of becoming an MVP:
To be honest, I do not think targeting the MVP and working in that direction would help you much without having the interest and dedication toward the community which all MVPs do. Here I am just sharing the important points.
Maintaining quality work and a consistent and active presence in the community is crucial to increase your chances of being recognized.
Stay updated with the latest product developments, features, and best practices. Active involvement in helping others demonstrates a commitment to community growth.
Actively participate in Microsoft technology communities, such as forums, user groups, and conferences. Share your knowledge by answering questions, writing technical blog posts, creating video tutorials, and delivering presentations.
You know how important its to enhance your Technical Knowledge.