Let's discuss MMS Miami Beach Edition 2023 technical conference. You might have heard a lot of conversations about the Microsoft MVP Summit and the MMS conference, which is happening in April and May months. You can register for the MMS Miami edition 2023 technical conference at https://htmd.in/MMSRegister. Anoop shared a video on a similar topic MMS Conference Vs. MVP Summit on Apr 18, 2023.
In this post, I am going to explain Technical conferences; what are the technical conferences available for system management or device management admins? Are those conferences have a free online recording available, or can all the IT Pros attend these technical conferences?
Most of the technical conferences like ignite and other big conferences will have a lot of exciting news. The keynote will be very high level with many exciting announcements about their products or more important announcements from the vendors, so those will be part of the keynotes. Then it will be followed by highly technical content in the breakout sessions. So that is the general theme of technical conferences, and you can learn many things.
MMS Miami Beach Edition 2023 is the second edition of MMS in 2023. MMS offers in-depth technical sessions on systems management and automation. This conference brings together world-class presenters from around the globe to share their insights and best practices. The first edition of MMS 2023 is happening in 1st week of May.

What is MMS Conference?
MMS Conference is a premium conference focusing on Device management, IT Professionals, Real-World Issues, and Solutions.
What is a Microsoft MVP?
MVP (Most Valuable Professional) is an annual award by Microsoft to acknowledge and honor outstanding industry leaders who have made significant contributions and demonstrated excellence in a particular Microsoft product or technology.
When is the MMS Miami Conference Scheduled?
The Welcome Reception starts at 5 pm on 29th October 2023, and sessions begin at 8 am on 30th October and end at 6: 30 pm on 1st November.
What is MMS?
What is so Special about MMS Conference?
It is special because it is a smaller conference focusing mostly on real-life technical discussions and issues. You would be able to interact with each of the speakers and talk to them separately.
Do we have Free Intune Training Resources from HTMD Community?
What is the MMS Miami Beach 2023 Edition Registration Link?
MMS Miami Beach Edition 2023
MMS Miami Beach Edition 2023 is the second edition of MMS in 2023. The MMS Miami Beach 2023 Edition is highly anticipated for IT professionals, system administrators, and technology enthusiasts.
This three-day conference will occur at the luxurious Loews Miami Beach Hotel in Miami Beach, Florida. With an expected attendance of 350 speakers and attendees, this event promises to be an excellent networking opportunity to gain new technical skills and exchange ideas with industry experts.
This will be the second edition of the MMS conference in 2023, building on the success of the previous edition.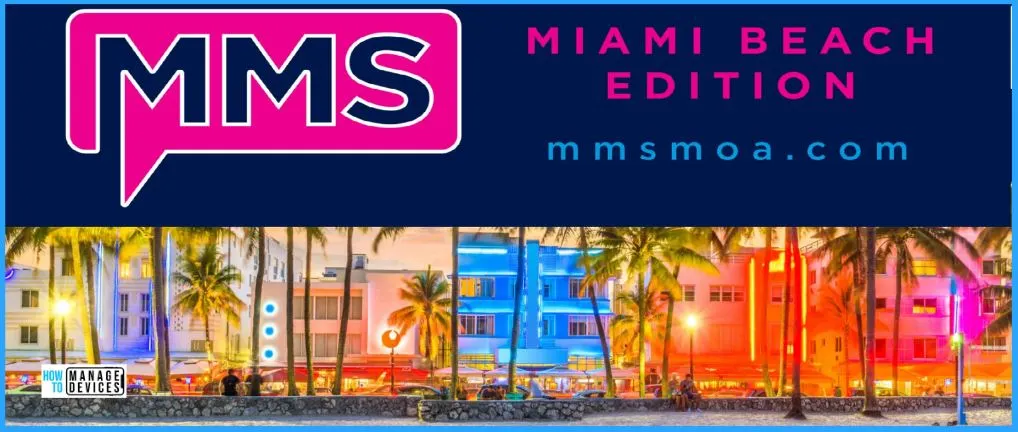 MMS Registration
The MMS website provides detailed information about the MMS Conference, including the date, location, agenda, and registration details. It also offers a platform for networking and engagement with other attendees and provides access to various interactive features, such as live polls and Q&A sessions.
You can easily Register MMS through the https://htmd.in/MMSRegister link.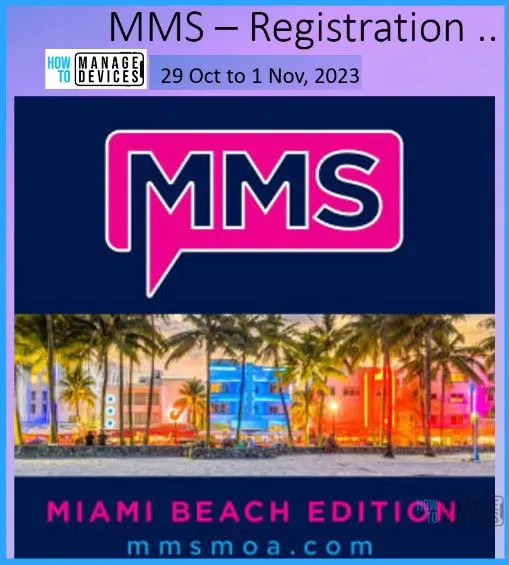 Microsoft MVP Summit
The Microsoft MVP Summit is a highly exclusive conference that takes place once a year and is open only to Microsoft MVP Awardees. The summit provides a platform for recognized Microsoft community contributors to connect with Microsoft executives and engineers, learn about upcoming technologies, and provide feedback on Microsoft products.
Since much of the content presented at the MVP Summit is under a Non-Disclosure Agreement (NDA), it is not generally shared with the broader public.
As such, summit attendees gain access to unique insights, technical knowledge, and early product previews unavailable to others.
It is important to note that being an MVP is not the same as holding a Microsoft certification.
MVP status is awarded to individuals who have significantly contributed to the Microsoft community through their expertise, advocacy, and community engagement.
The MVP Summit is an opportunity for recognized community contributors to gather, share knowledge, and engage with Microsoft meaningfully.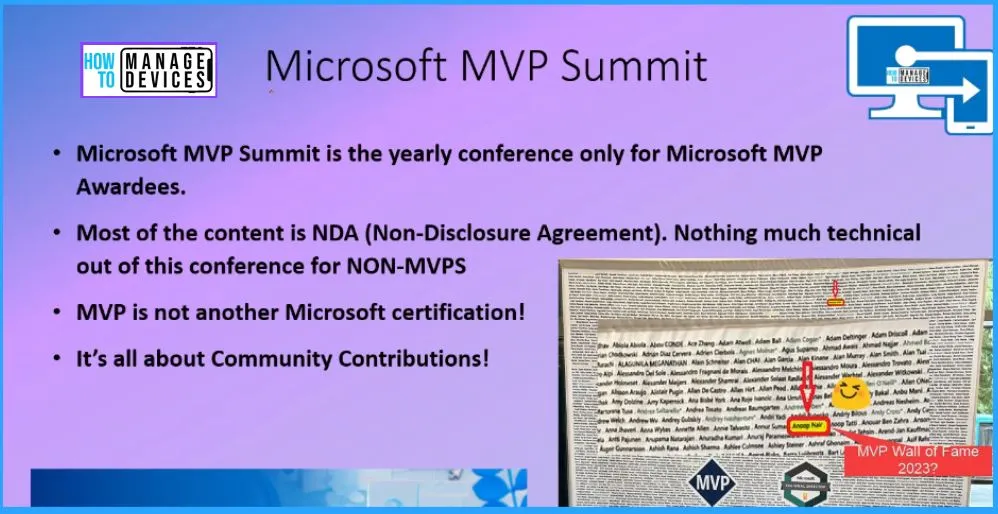 MMS Conferences
There will be 2 conferences per year, the bigger Event will be held at Mall of America in 1st week of May every year, and the smaller Event will be hosted in different locations. This year it is called Miami Beach Edition, and there will be 200 attendees for the smaller Event and 750 attendees for the larger Event.
| Type of Event | The first week of May | Date | Attendees |
| --- | --- | --- | --- |
| Bigger Event | MMS 2023 at MOA (Mall of America) | The first week of May | 750 attendees |
| Smaller Event | Miami Beach Edition | Around 29th October to 1st November | 200 attendees |
MMS Miami Beach Edition 2023 | Why to Attend MMS Conference – Table 1
Details Available on the MMS Website Miami Beach Edition
Let's look into the details available on the MMS Website, Miami Beach Edition, coming in October this year. The MMS Website shows the details such as the Date, Rate, and Days left for the Event. The Website also offers the FAQ of the entire MMS Conference.
1. Dates of Miami Beach Edition
Welcome Reception starts at 5 pm on 29 Oct 2023, and Sessions start at 8 am on 30 Oct and end at 6:30 pm on 1 Nov. Plan to arrive on 29 Oct and depart on 2 Nov; session selection starts July, and you should look similar to MMS 2023 at MOA; probably fewer full Azure sessions than MOA.
2. Rates of Miami Beach Edition
The MMS website also shows the Rates of the Event. The below list shows the Rates of Miami Beach Edition.
$1699 (Event only)
$3099 for the 4-night hotel bundle
$500 discounts

The early Bird discount code is exhausted
Email us for an education discount code
Note! Price now includes Eventzilla ordering fees and the hotel resort fee of $36 daily. Lunches and snacks\drinks during the day are covered.
Technical Conferences for Device Management Admins and MVPs
Check out the following video on MMS Conference Vs MVP Summit | Technical Conferences for Device Management Admins and MVPs.
Author
About Author – Vidya is a computer enthusiast. She is here to share quick tips and tricks with Windows 11 or Windows 10 users. She loves writing on Windows 11 and related technologies. She is also keen to find solutions and write about day-to-day tech problems.