OpsMgr 2012 SP1 RTM has been released and it's general availability announcement here. Evaluation version of SCOM 2012 SP1 RTM is available for free download. More details here. I've already covered OpsMgr 2012 SP1 known issues here. In this post, I just wanted to highlight the SP1 installation guide posted by Kevin Holman. He also outlined some common issues, you may face at the time of SP1 install or upgrade.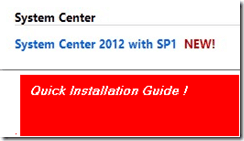 Topics Covered as Part of Installation Guide.
1.  Install the Management Server role on SCOMMS1.
2.  Install the second Management Server on SCOMMS2.
3.  Install OM12 Reporting on the SQL server.
4.  Deploy an agent to the SQL DB server
5. Import management packs.
6.  Create a dashboard view
7.  Manually grow your Database sizes and configure SQL
8.  Continue with optional activities from the Quick Start guide on TechNet.
9.  Enable Agent Proxy
10.  Configure Notifications
11.  Deploy Unix and Linux Agents
12.  Configure Network Monitoring
13.  Connect with VMM 2012
14.  Configure your OpsMgr environment to accept manually installed agents
15.  Configure your management group to support APM monitoring
16.  Deploy Audit Collection Services
17.  Configure SQL MP RunAs Security
Read Full post here.