Android for Work configuration is very straight forward in most of the scenarios. I have configured "Android for Work" for several tenants without any issue. Recently, I faced an issue while configuring this in Intune Silverlight console.  When I click on configure button to "add Android for Work Binding" on "Android for Work Mobile Device Management Setup" page in Intune Silverlight console then, it initiates the process, but the Intune is not able to launch the Android for Work binding wizard (webpage).  We will see how to resolve this issue in this post, and I explained the same in the above video.
I have already posted about Android for Work configuration and setup in a different post here (How to Enroll Android for Work Supported Devices into Intune). This post and video tutorial will provide you step by step process to enable Android for Work management. As I explained in the first paragraph, the Intune console was not able to complete Android for Work binding. When I checked the Intune console then, there was an Intune console page loading error "Microsoft Intune was not able to retrieve all data. REFRESH."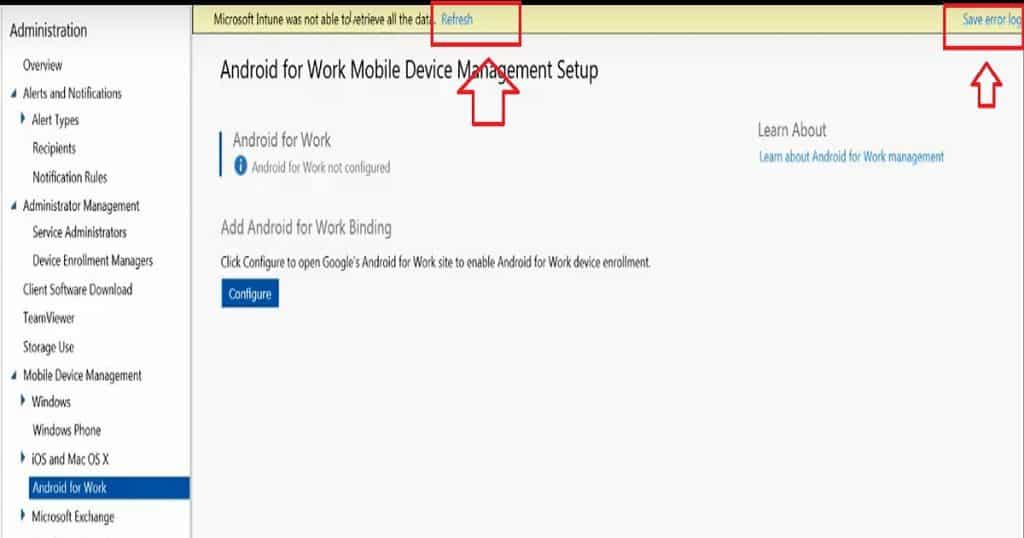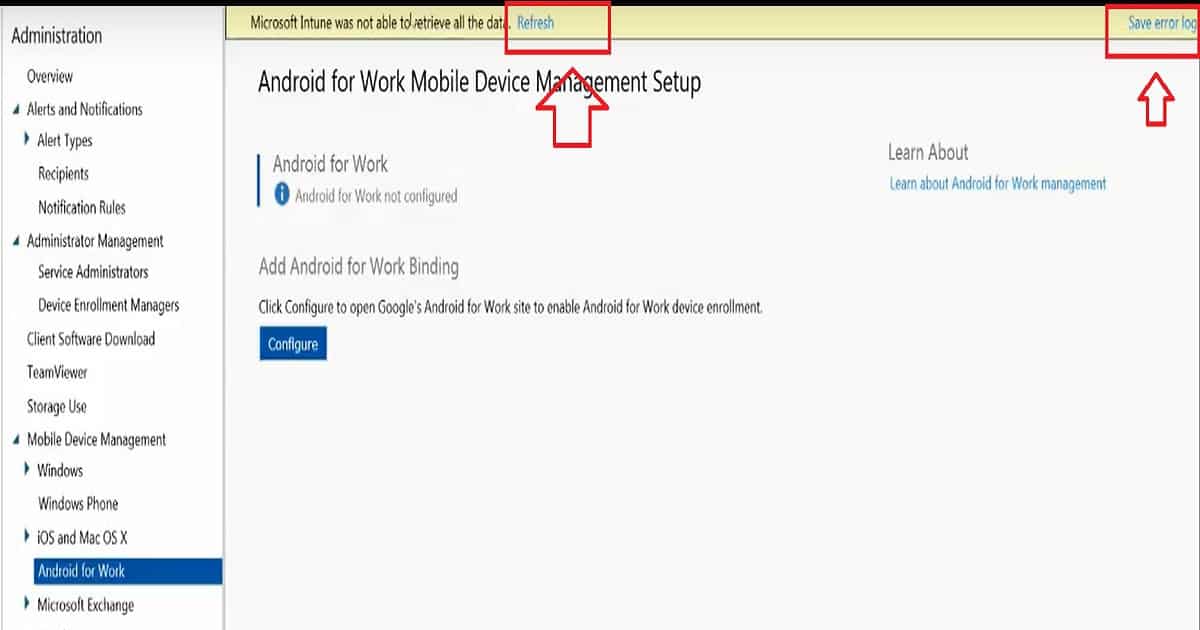 I tried to click on Refresh button couple of time to check my luck, but nothing worked. There was another button on the Intune Silverlight page, and that was Save Error Log. I clicked on the button, and it asked me to save text log file for this unable to retrieve all data error for Intune console. Opened the text file which contains the details about the error and possibly the root cause of this issue as well.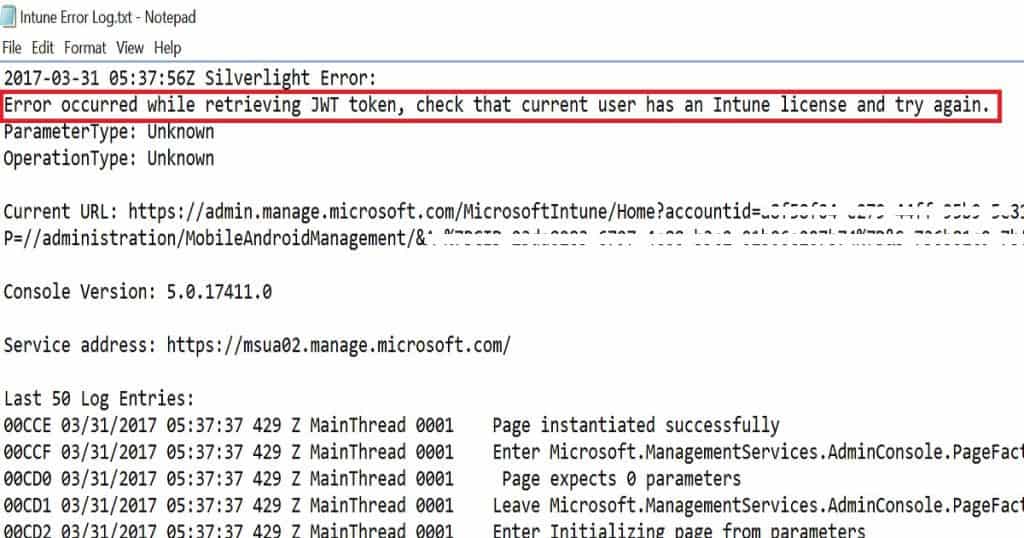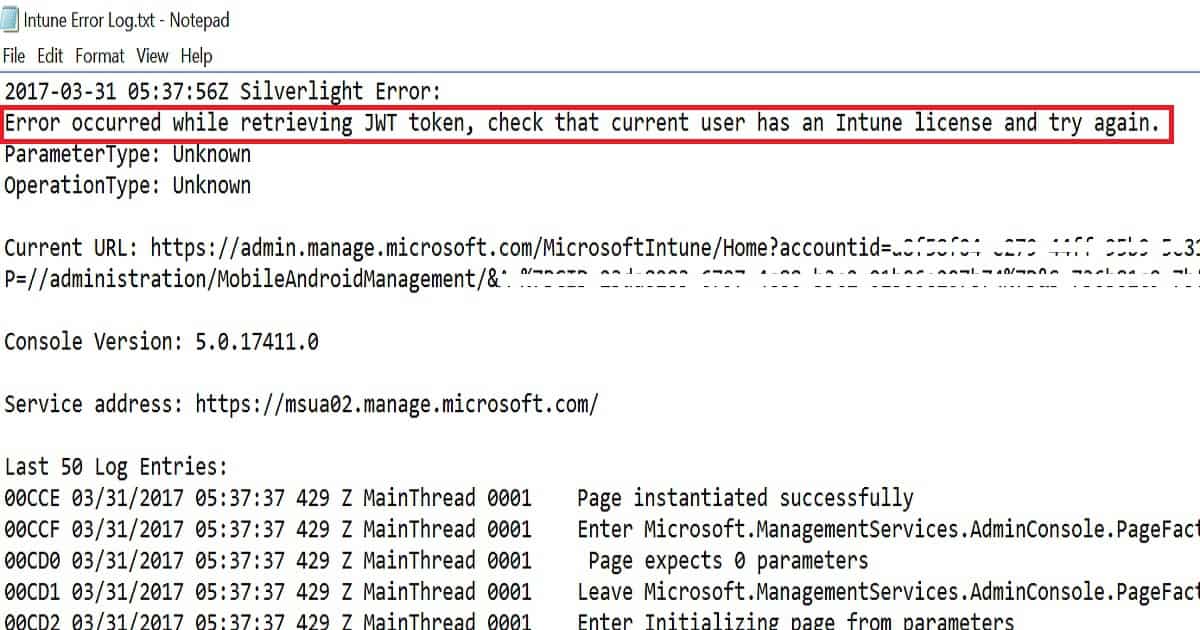 As per the Intune Save Error LOG file, the Intune Silverlight error occurred while retrieving JWT token, and the error log suggests us to check whether the current user has an Intune license and try again. Following is the snippet of the log file :-
2017-03-31 05:37:56Z Silverlight Error:
Error occurred while retrieving JWT token, check that current user has an Intune license and try again.
ParameterType: Unknown
OperationType: Unknown
Current URL: https://admin.manage.microsoft.com/MicrosoftIntune/Home?accountid=a8f58f04-e279-44ff-95b9-5e81532915e6#Workspace/administration/index%23?P=//administration/MobileAndroidManagement/&A=%7BGID=23363773-6797-4c777-b3c2-01b06e207b74%7D&S=7sh74c9-7bf5-45ac-9fbb-67369263b9
Console Version: 5.0.17411.0
Service address: https://msua02.manage.microsoft.com/
Last 50 Log Entries:
00CCE 03/31/2017 05:37:37 429 Z MainThread 0001    Page instantiated successfully
Resolution
I have added Intune/EMS license to the Intune Administrator from new Azure Active Directory portal. It might not work straight away after assigning the license. You may need to wait for 3-4 minutes before trying to configure "Android for Work." I would recommend to logoff and login back to Intune Silverlight console before configuring "Android for Work."