Recently, we received an HTMD Forum question about SCCM 2002 KB4567007 Stuck at Post Installation. I thought of sharing the experience with KB4567007 ConfigMgr 2002 hotfix installation to fix the PXE boot and Task Sequence issues.
There is a known issue with the Configuration Manager (ConfigMgr) 2002 version as I mentioned in the ConfigMgr 2002 known issues.
New Features of Configuration Manager (A.K.A SCCM) 2002 version is explained in the following post – https://www.anoopcnair.com/configmgr-2002-list-of-new-features-enhancements-memcm-sccm/
Problem Statement
As explained in the blog post here, I installed the latest hotfix KB4567007 successfully. All the functionalities of SCCM worked fine after the installation of the hotfix.

I checked the monitoring workspace to check the status of the installation from \Monitoring\Overview\Updates and Servicing Status\Configuration Manager 2002 Hotfix (KB4567007).
The post-installation process got stuck as per the monitoring status in the console.
Installing SMS_Executive Service 👉 not started
Installing SMS_DATABASE_NOTIFICATION_MONITOR Component 👉 not started
Installing SMS_HIERARCHY_MANAGER component 👉 not started
Installing SMS_REPLICATION_CONFIGURATION_MONITOR Component 👉 not started
Monitoring replication initialization 👉 not started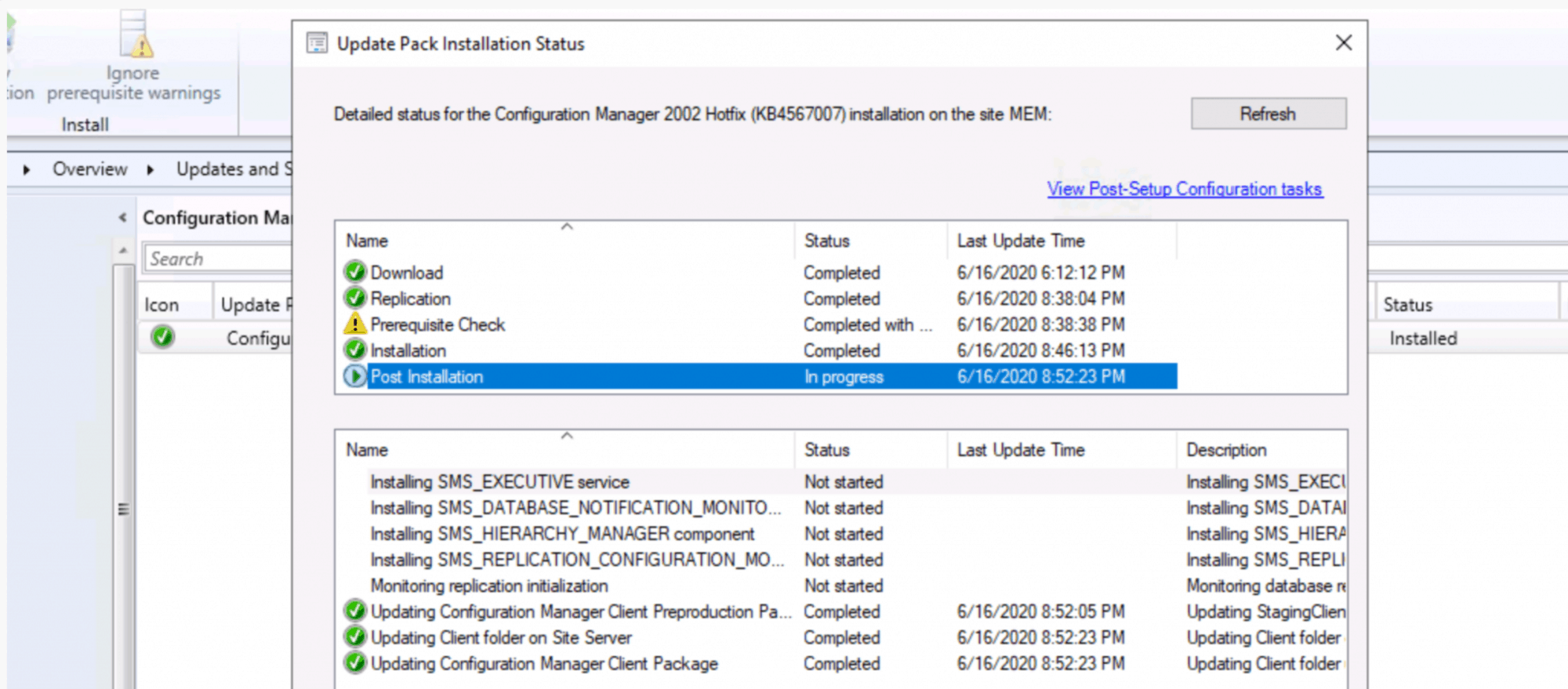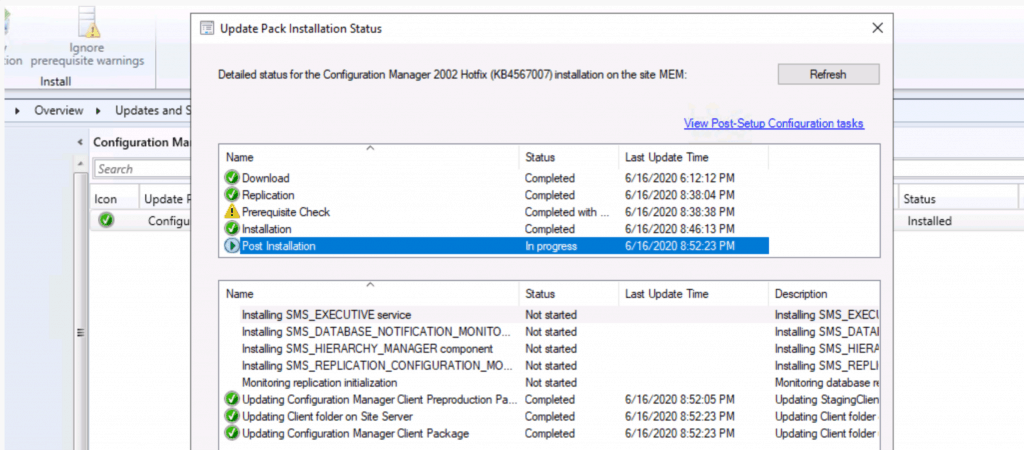 Now, it's confusing for all the SCCM admins and they keep waiting to get this status to turn green ✅ and completed!
Troubleshooting
I tried to check the close of the console and launched the console again.

No luck with that. The status of the KB4567007 installation and it still stays at the same status!

Checked the SMS_Executive and other services running or not?

No luck there! All the services related to ConfigMgr are up and running!


SCCM client is able to communicate with the server and receive the policies etc..
FIX SCCM 2002 KB4567007 Stuck at Post Installation
The issue, KB4567007 Stuck at Post Installation, seems to be the UX issue. Because none of the Configuration Manager functionalities stopped working.

I tried to restart the server to see whether that fixes the status issue highlighted above.
After the restart, the UX issue is FIXED (as you can see in the screenshot below).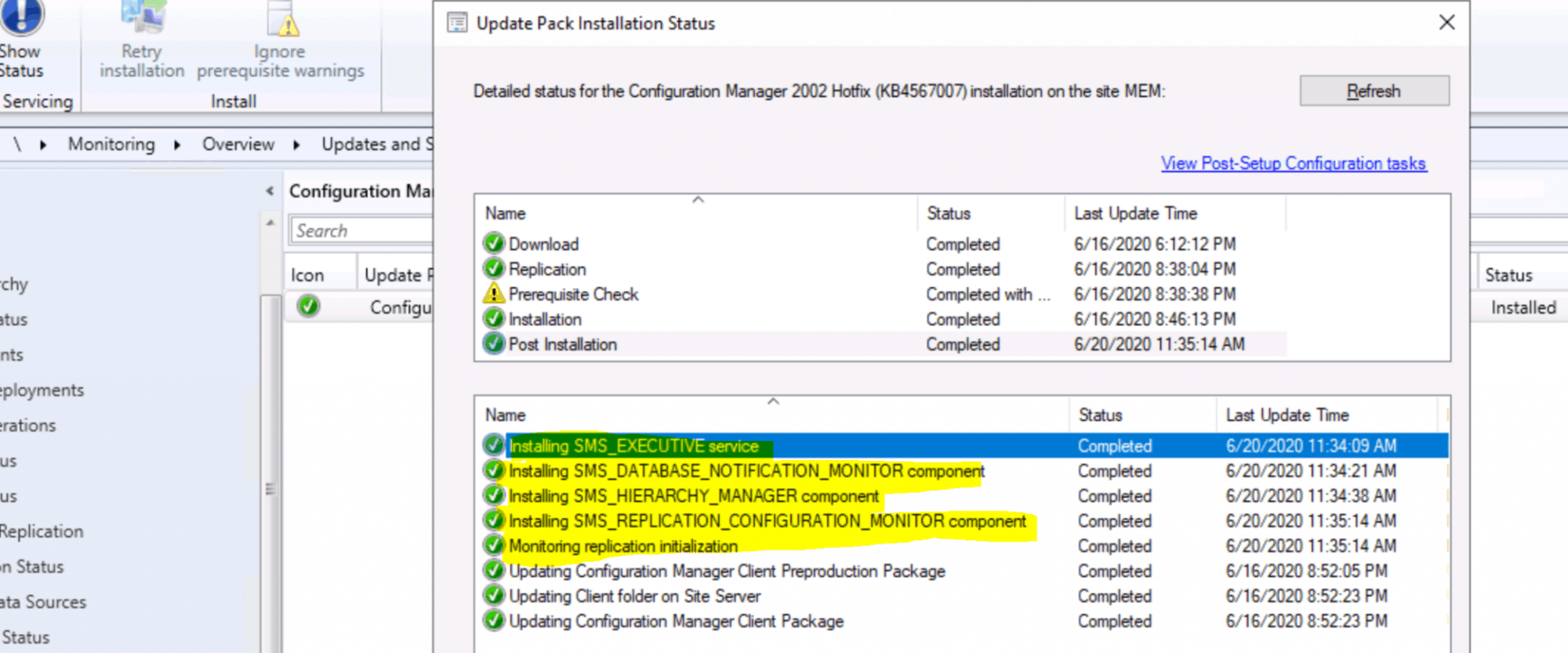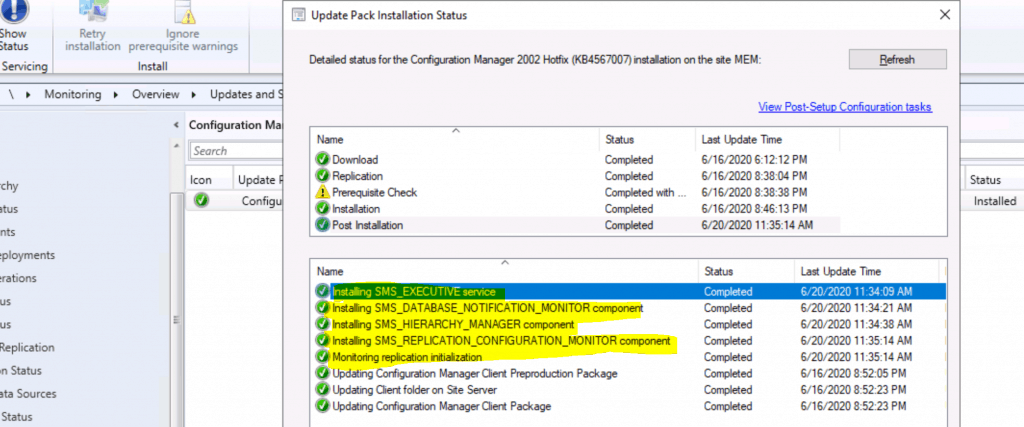 Resource