Let's see how to refine SCCM management with Patch Connect Plus Right Click Tools. SCCM is now part of the Microsoft Intune group of products and is a common Windows endpoint management platform. Still popularly referred to by legacy users as SCCM, it has a user base of almost 21,000 companies and significantly accounts for about 6% of the entire IT management software market share.
Even with such a robust user base, SCCM fails to check all the boxes. While a steep learning curve makes it difficult for IT admins to master the software, SCCM users often find themselves with a limited scope when it comes to client administrative capabilities.
As far-fetched as it might seem, equipping admins with a solution that utilizes both client administrative and troubleshooting tools isn't a Herculean task. The key is ManageEngine's Patch Connect Plus, a comprehensive patch management solution that integrates MECM and Intune, and provides SCCM users with vital new functionality.
To enhance the management of end-user systems using SCCM, Patch Connect Plus adds 25 different client administrative and troubleshooting tools via Right Click Tools. As a result, admins can carry out the most essential system management functionalities, right from the SCCM console.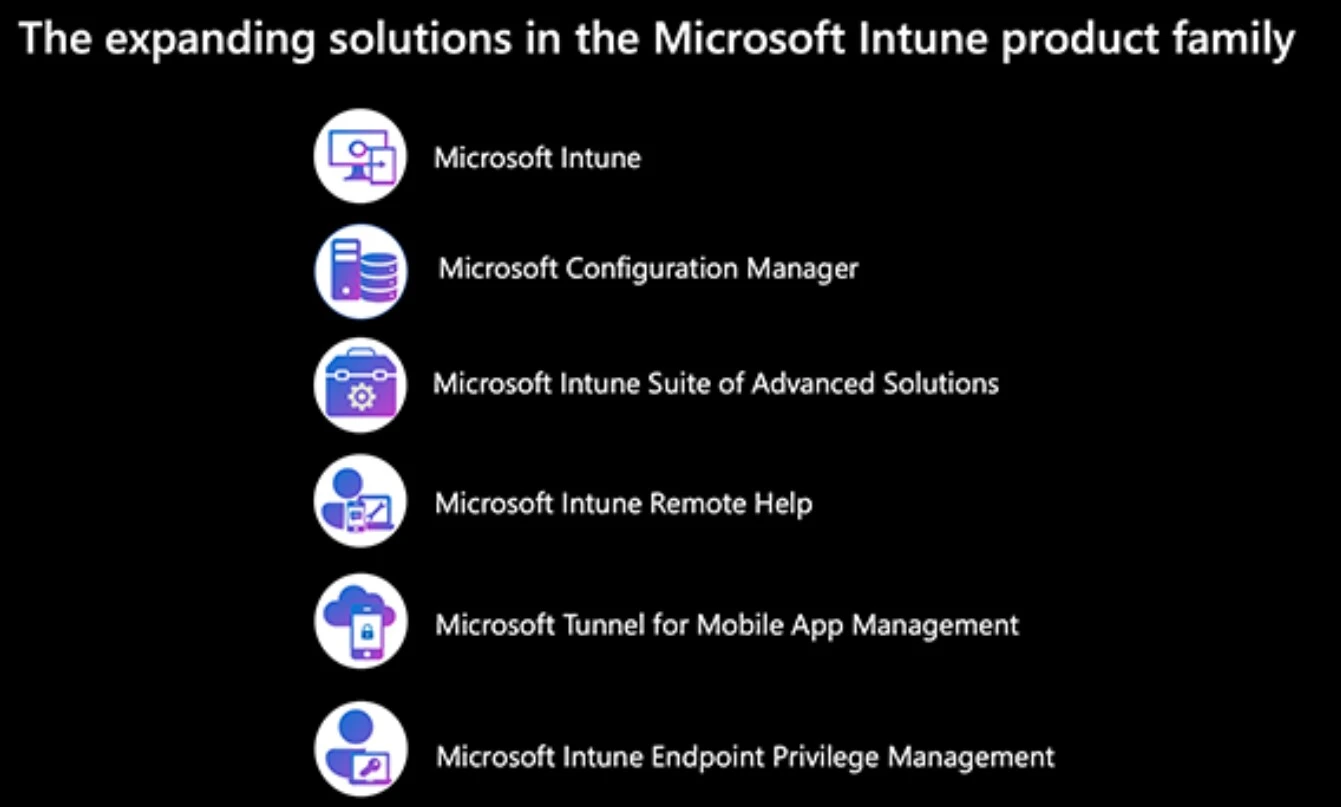 What are SCCM Right Click Tools?
Right Click Tools are a collection of varied tools and functions that let IT admins perform various actions on the endpoints, all via a right-click in the SCCM console. This suite of tools is aimed at increasing the security and compliance of the network as well as automating laborious management tasks and improving overall productivity for the admins.
You can install SCCM Right Click tools using the new admin console extension method with more granular controls for remote console installations etc. The new design with granular controls for right-click tool installation provides more management options.

Benefits of using SCCM Right Click Tools in Patch Connect Plus
Now, let's take a look at how Patch Connect Plus refines the administrative capabilities in the endpoints by leveraging the Right Click Tools. Here's a list of the functions that you'll receive:
On-demand client actions – to enhance administrative capabilities.
Client troubleshooting options to perform remote troubleshooting and client diagnostic options right from the SCCM console.
System management operations to provide IT admins with absolute control over the managed endpoints.
On-demand client actions
When it comes to administrative capabilities from the SCCM console, the scope for admins is often limited. These limitations extend to certain on-demand actions, such as requesting an update scan cycle, or the evaluation cycle from the client machines.
To bridge the gap and provide a seamless experience in managing the client endpoints, Patch Connect Plus provides the following features:
Application deployment evaluation cycle to re-evaluate the required rules for all the deployments and prompt a re-install in MECM.
Machine policy Retrieval and Evaluation Cycle to initiate ad-hoc machine policy retrieval from the client machines outside the scheduled polling interval (60 minutes by default).
File collection cycle to search for a specified file on each client in the site via the SCCM software inventory agent and send it to the site server by attaching it to the inventory file.
Discovery data collection cycle that triggers the generation of a new DDR (Discovery Data Record) which is used to update resource information in the site database.
Hardware inventory cycle to collect information related to the hardware such as disk space, operating system, and processor type for each client machine and log it in inventoryagent.log
Software updates deployment evaluation cycle to initiate a scan for the compliance status of the software updates.
Software inventory cycle to collect inventory data directly from the files by inventorying the file header information.
Software updates scan cycle to initiate a scan post-update completion, verifying that the update is no longer required, modifying the state message and notifying if client machines require a post-installation restart.
Software metering usage report cycle to monitor the software usage in client machines.
Windows installer source list update cycle to set an additional source location for installed applications to prevent them from returning to the original installed location while updating/repairing/installing new components in the application.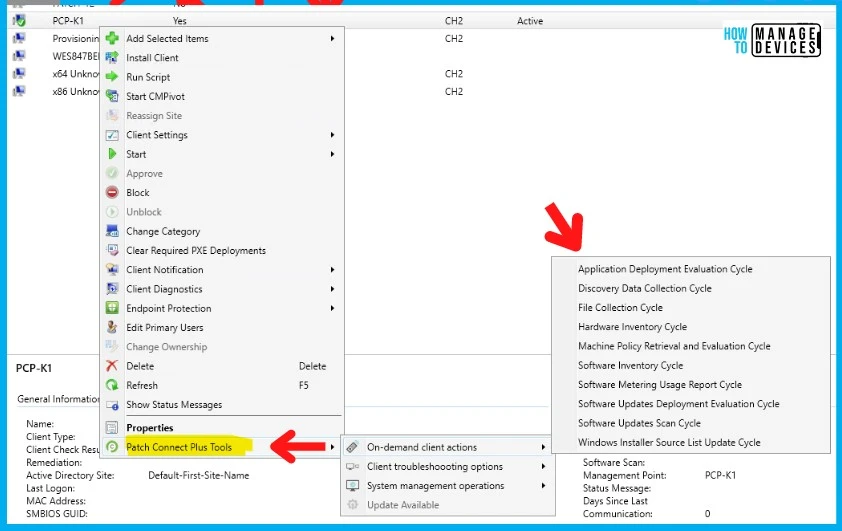 SCCM Client troubleshooting options with SCCM Right Click Tools
Users of IT management software across all domains now prioritize unified endpoint management tools to manage the variety of endpoints in their networks—all from a single console.
Catering to the demands of a unified management solution, Patch Connect Plus adds a list of remote troubleshooting and client diagnostic options that can be performed right from the SCCM console on the entire network as a whole instead of individual endpoints.
Here's a look at the client troubleshooting features:
SCCM Client restart to restart the client machines right from the SCCM console.
Open Client log network folder to locate and access the client logs for troubleshooting by leveraging textual records of the events.
Open Client installed network folder to navigate to the client-installed directory in the network.
System Management Operations with SCCM Right Click Tools
To ensure that IT admins have absolute control over the managed endpoints (mainly Windows devices) in the network, Patch Connect Plus incorporates a list of the basic client management operations as a part of the Right Click Tools suite.
Here's a look at the set of operations that can be performed right from the SCCM console:
Leverage PowerShell to perform actions such as refreshing group policies and executing customized scripts.
Edit Registry files
Open C folder in the client machines.
Access the Command Prompt and Control Panel to perform administrative operations on the managed clients.
Monitor the Bitlocker status such as storage and compliance information from a unified console.
Define and apply security settings to client computers and users with Client group update policy.
Monitor and audit the applications in the client systems via Open running process.
Open the Services management console in the client systems to view/modify the state of the services.
Reboot or shutdown the client machines.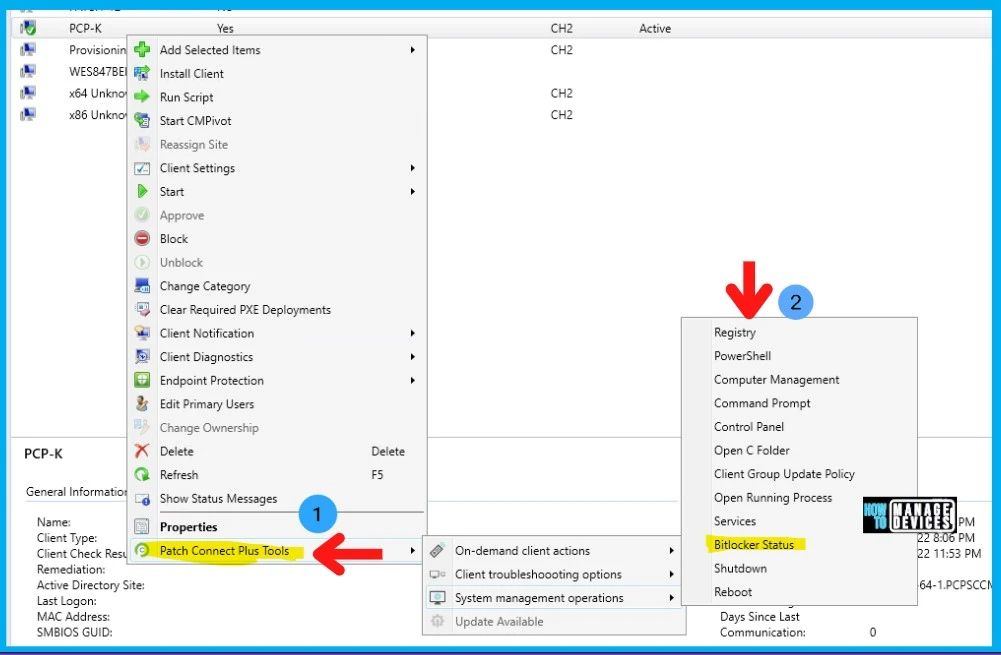 Test drive Patch Connect Plus for free!
ManageEngine's Patch Connect Plus integrates seamlessly with Microsoft Endpoint Configuration Manager (formerly SCCM) and Intune, providing patch management for more than 600 third-party applications. In addition, it amplifies client management capabilities with its versatile suite of Right Click Tools.
Learn more about how Patch Connect Plus can fully automate the distribution of third-party updates across your business IT network and endpoints. Take a free, 30-day test drive to explore on your own. You can also schedule a free demo with one of our product experts to learn insider tips and receive answers to your product questions.
Author
HTMD Admin Account to provide news and latest updates on the known issue from Microsoft world. We cover Windows, Intune, Azure, AVD, and Windows 365 news.