Role Based Administration (RBA) is an excellent feature that is available in CM 2012. For RBA related issues, you need to play around Administrative Users, Security Roles and Security Scopes. I thought of putting together the posts related to RBA implementation gotcha s and troubleshooting in one place so that it would be easily accessible.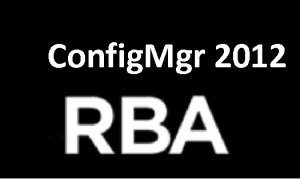 The RBA modeling and auditing (RBA viewer) tool is System Center 2012 Configuration Manager Server Troubleshooting Tool. The RBA viewer is new addition to Configmgr tool kit. In this post, I'm trying to explore "RBA Viewer" in some more details. How it can be used more effectively?
2. Infrastructure Administrator – Default Client Settings Issue !
Infrastructure administrators are not able to view "Default Client Settings" and couldn't create "Custom Client Device Setting" or "Custom Client User Setting". Few tips to resolve some common issues with build-in security role "Infrastructure Administrator" assignments.
3. OSD Manager doesn't have Access to CreateTask Sequence!
I'll provide few tips to resolve some common issues with build-in security role "Operating System Deployment Manager" (OSD Manager) assignments in ConfigMgr 2012. OSD Managers are not able to view "Task Sequence" and unable to create Task Sequence.
4. Clear Required PXE Deployments Option Gotcha
Clear Required PXE Deployments is regularly used option in SCCM / ConfigMgr. What I recently found is that Operating System Deployment Managers (default security role) are not able perform the above mentioned function by right clicking on a device.
5. DP is Not Visible for Infrastructure Administrator
Recently, I've seen another gotcha with RBA. CM 12 administrator has assigned to "Infrastructure Administrator" security role along with correct security scope for his location. However, he or she is not able to view DP that he/she just installed successfully.
6. ConfigMgr 2012 Tip Not Able to Create Requirement for Deployment Type
When "Application Administrator" (Default Security Role comes with CM 2012) tries to "create requirement" for new app model –> deployment type then he could not find any of the default condition drop down list.