Let's have a quick look at the Top 5 new features of ConfigMgr 2103 (a.k.a SCCM). Microsoft released the newest version of Configuration Manager 2103 on 31st March 2021.
The following are my top 5 picks of ConfigMgr 2103 new features. I think these features are beneficial for SCCM admins with day-to-day activities. Many other great features are released as part of version 2103; some are related to tenant attach and other components not included in this post.
I have already published step by step guide for ConfigMgr 2103 production release. You can refer to SCCM Server Upgrade to 2103. The upgrade checklist and prerequisites are also covered in that step-by-step guide.
NOTE! – The remote Control feature through ConfigMgr CMG (a.k.a Cloud Management Gateway) is not released with the 2103 version of SCCM.

Feature Update Task Sequence
Let's see an excellent new feature added to Configuration Manager 2103 (a.k.a SCCM). This is nothing but Feature Update Task Sequence. Onward, you can use Task Sequence to deploy Windows 10 feature updates with all Task Sequence controls.
You can now upgrade a client's Windows OS by using a feature update with a task sequence. The new feature comes with a combination of:
The simplicity of Windows servicing.
The Flexibility of task sequences.
You can edit the task sequence and select the Upgrade Operating System step. And select the Install the Following Feature Updates option.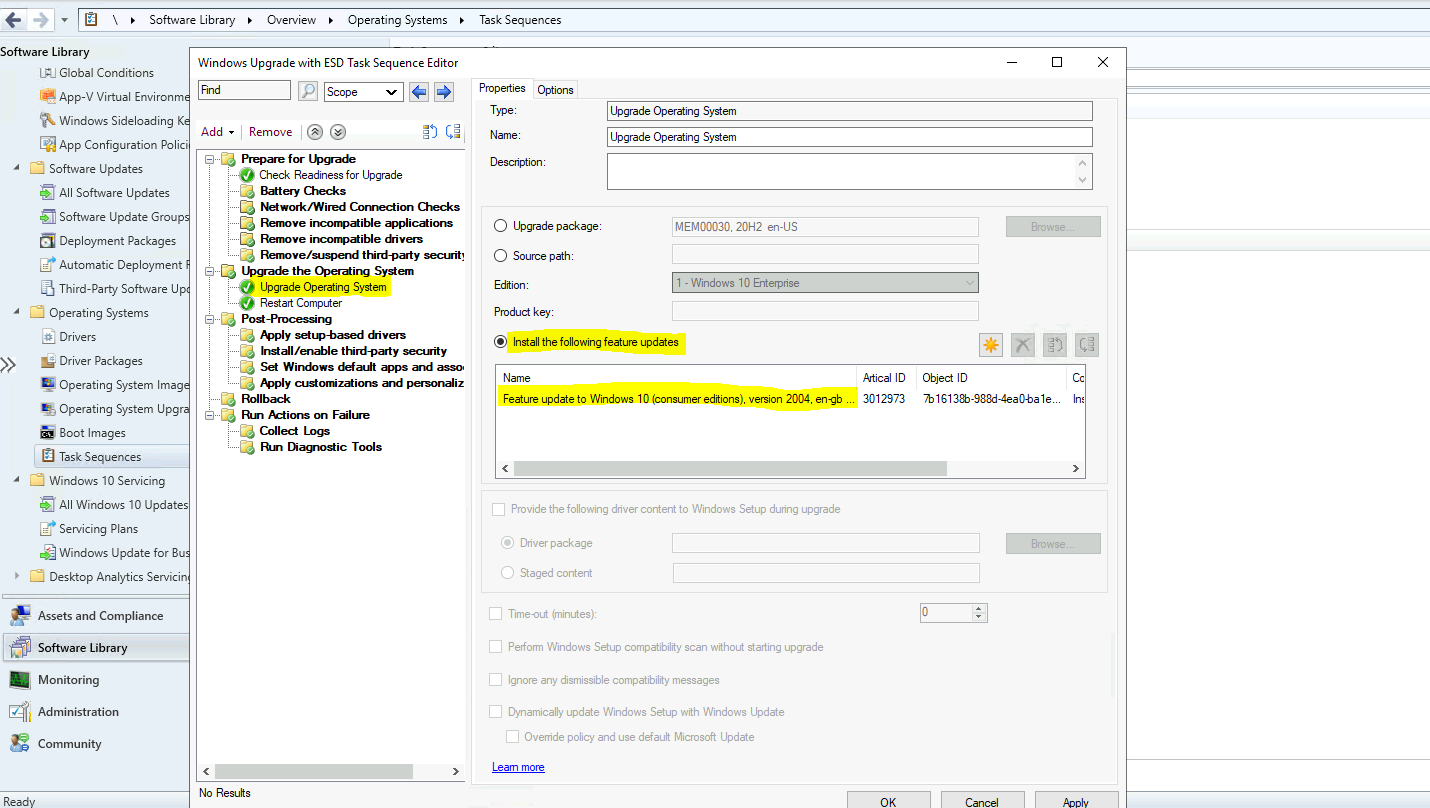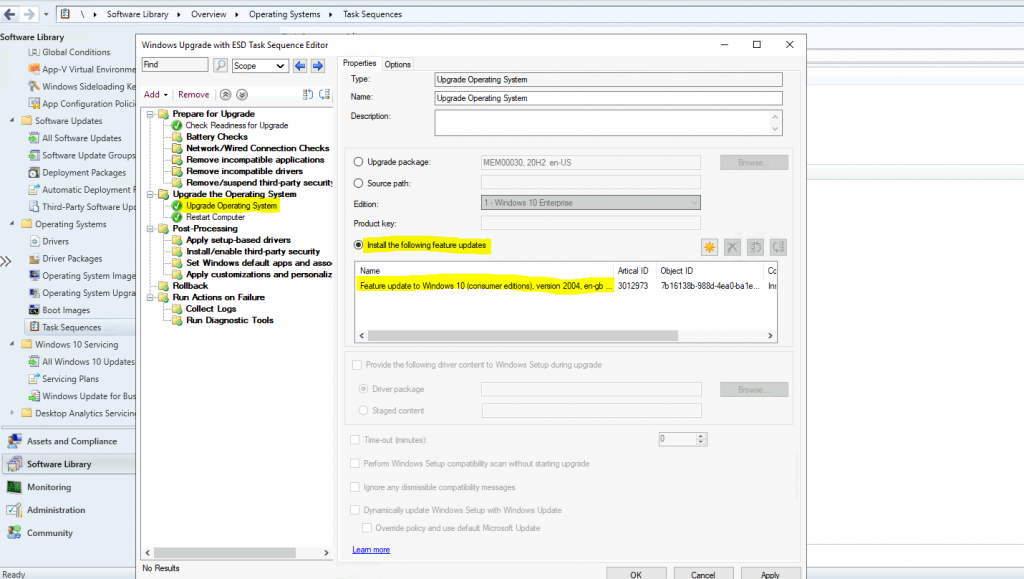 Discovery – Active Directory OU Exclusion
With ConfigMgr 2103 version, you can now exclude OUs from ConfigMgr Active Directory User Discovery. To exclude an OU from AD user discovery, you can go through the following steps.

From the ConfigMgr console, go to Administration > Hierarchy Configuration > Discovery Methods.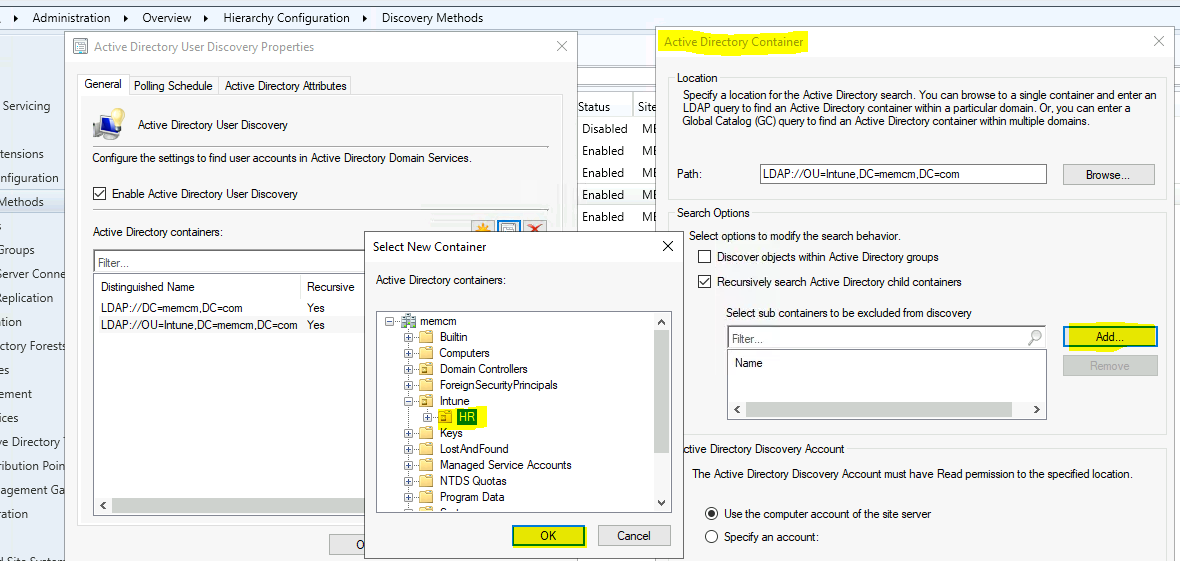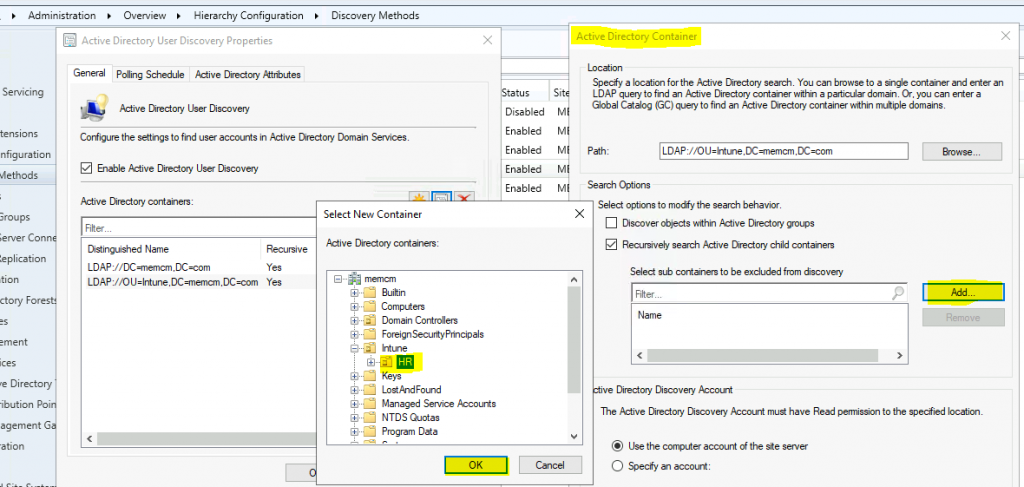 Collection Query Improvements
With ConfigMgr 2103 version, you now have more options when using the collection query preview. The following improvements have been made to previewing collection queries:
Limit the number of rows returned.
Omit duplicate rows from the result set.
Review statistics for the query preview, such as the number of rows returned and elapsed time.


Collection Evaluation Status
Microsoft improved the experience of in console Collection Evaluation tool with the latest version of Configuration Manager 2103. The latest version includes a Full eval and Incremental eval summary.
Collection Evaluation Details are available –> \Monitoring\Overview\Collection Evaluation

\Monitoring\Overview\Collection Evaluation\Full Evaluation Status
\Monitoring\Overview\Collection Evaluation\Incremental Evaluation Status


Software Center Foreground Color Theme
With the 2103 version, you can change the Foreground color for the software center. You might have already been aware of ConfigMgr Software Center customization options for the branding.
You can configure all these branding changes for the Software center from the Client Settings – Software Center tab. Now you can configure a custom color for the foreground font.
NOTE! – Custom Tabs – Starting with the 2103 release of Configuration Manager, Software Center can now use the Microsoft Edge WebView2 browser control. The WebView2 browser control provides improved security and user experience.


Resources
Author
Anoop is Microsoft MVP! He is a Solution Architect in enterprise client management with more than 20 years of experience (calculation done in 2021) in IT. He is a blogger, Speaker, and Local User Group HTMD Community leader. His main focus is on Device Management technologies like SCCM 2012, Current Branch, and Intune. E writes about ConfigMgr, Windows 11, Windows 10, Azure AD, Microsoft Intune, Windows 365, AVD, etc…