Let's check out Windows Telemetry Configuration Guide. New Windows 10 or Windows 11 versions are released multiple times a year.
The biggest challenge is ensuring application and driver compatibility on an ongoing basis. This is key for organizations to decide and adopt new Windows 10 versions when they are released.
The Microsoft tool for this solution is "Upgrade Readiness".  This post will see more details about Windows 10 Upgrade Readiness Architecture with SCCM.
This is a series of posts as listed below.
Importance of Telemetry in Modern World Device Management
Window 10 telemetry is useful to organizations and Microsoft to help each other. How does this work for organizations and Microsoft? Microsoft can improve its products with Telemetry data.

Other organizations can use services like upgrade readiness. Upgrade readiness improves the quality of service to their internal client. It will reduce the development time and also improve the end-user experience.
Upgrade Readiness collects system, application, and driver data for analysis using Telemetry. We can define "Telemetry" as data uploaded by "Connected User Experiences and Telemetry service". Microsoft uses this telemetry data to improve the quality of future Windows releases.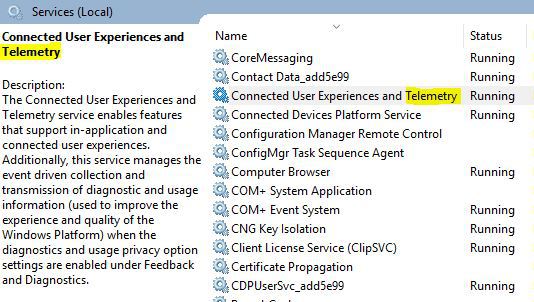 The Upgrade Assessment Tool provides the following functionality:
Retrieves hardware and application compatibility information from computers in your environment.
Allows you to see which computers meet the recommended system requirements for Windows operating systems and to work on the compatibility issues that can block an OS upgrade.

Provides reports which provide an enterprise-wide view of operating system upgrade readiness.
Allows you to create dynamic collections for operating system deployment. The collection query rules can be based on hardware, application compatibility, and device driver status.
Windows Telemetry Workflow
Windows Telemetry workflow is given in the following diagram. Upgrade Readiness workflow is described in 6 stages, as shown below. The following chart explains how Upgrade Readiness Works.
NOTE! – The Windows Analytics service is retired as of January 31, 2020. For more information, see KB 4521815: Windows Analytics retirement on January 31, 2020. Desktop Analytics is the evolution of Windows Analytics. For more information, see What is Desktop Analytics.
However, a similar workflow is used for many scenarios with modern management with Intune and MEM.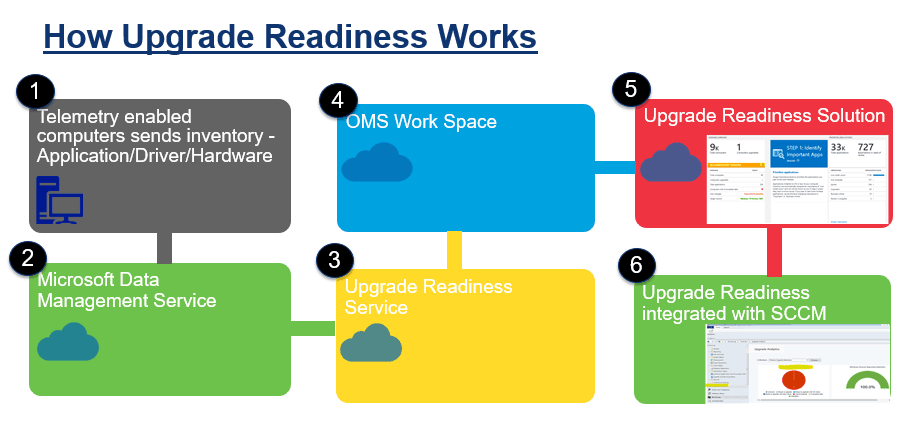 Telemetry enabled computer sent data to Microsoft datacenter.
Microsoft Data Management cloud Service acts as a bridge between Telemetry-enabled computers and Microsoft data centers.
Upgrade Readiness Service analyzes telemetry data and updates the OMS workspace console. Upgrade Readiness is a component of OMS (Log analytics).
OMS workspace console updated with the latest telemetry information. I have seen that new computers take at least 24 hr. to 48 hr. to get reflected in the OMS workspace console.
You can start using the solution. We will discuss more details of the resolution in this post.
After Upgrade Readiness integration with SCCM, you will be able to monitor telemetry information from the SCCM console.
The functionality of Windows 11 or Windows 10 Upgrade Readiness
As shown below, Windows 10 or Windows 11 upgrade readiness gives a detailed view of the applications in your estate for Rationalization.
Latest Information on Windows 11 Upgrade – Cloud PC In-Place Upgrade To Windows 11 HTMD Blog (anoopcnair.com)
Upgrade Readiness Overview
Step 1: Identify important apps
Step 2: Resolve app and Driver issues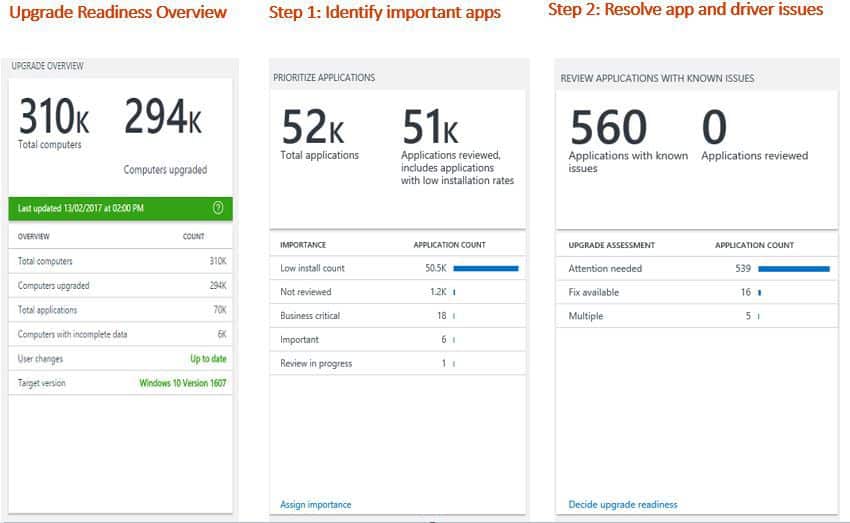 Microsoft Windows 10 or Windows 11 upgrade readiness provides guidance to identify applications and drivers that need attention and suggest known fixes. The following information is useful regarding application known issues.
For example
Guidance: This application has been installed on at least 100,000 commercial Windows 10 devices.
Importance: Not Reviewed
Upgrade Decision: Ready to upgrade
Ready for Windows:- Highly adopted [Link]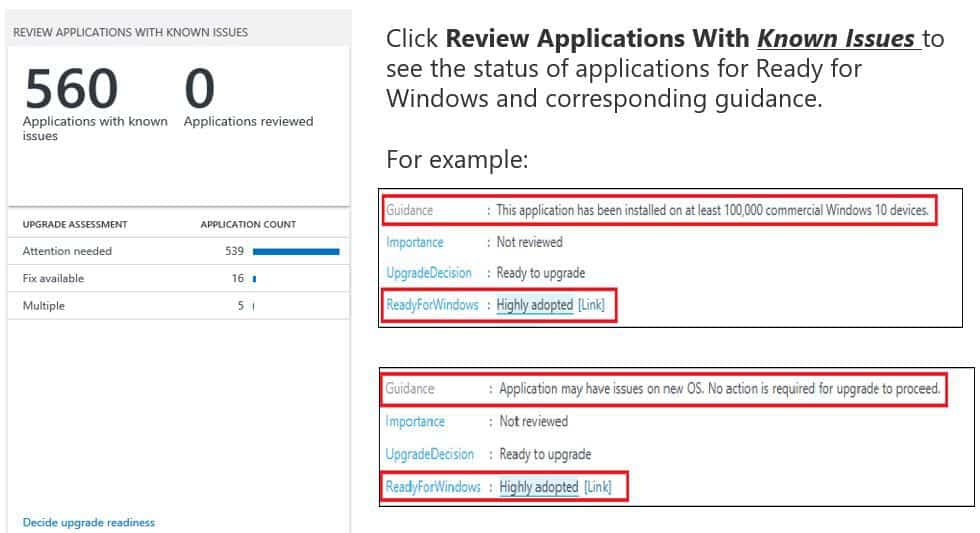 As shown below, Upgrade readiness provides a ranking, which helps you prioritize application/driver issues to be worked upon.
73 apps and Drivers to test to unblock 10% of computers
370 Apps and Drivers to test to unblock 80% of computers
Windows 10 upgrade readiness provides insights into the compatibility issues for Internet explorer and office add-ins.
Site Discovery: An inventory of websites that are accessed by client computers using IE.
Office Add-ins: A list of the Microsoft Office add-ins that are installed on client computers.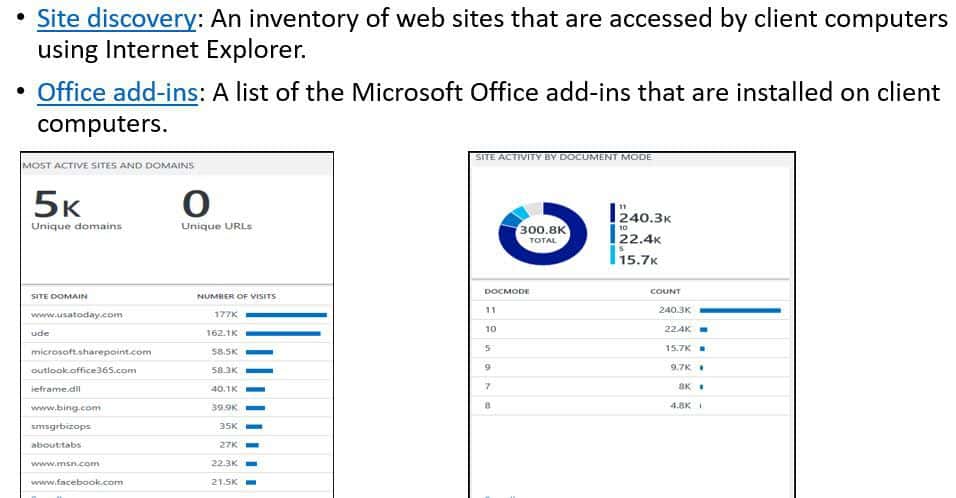 Select the Export computers option to generate a comma-separated value (CSV) list with details including computer name, manufacturer and model, and Windows edition currently running on the computer.
Following are the three categories in the report
Review in progress
Ready to upgrade
Won't upgrade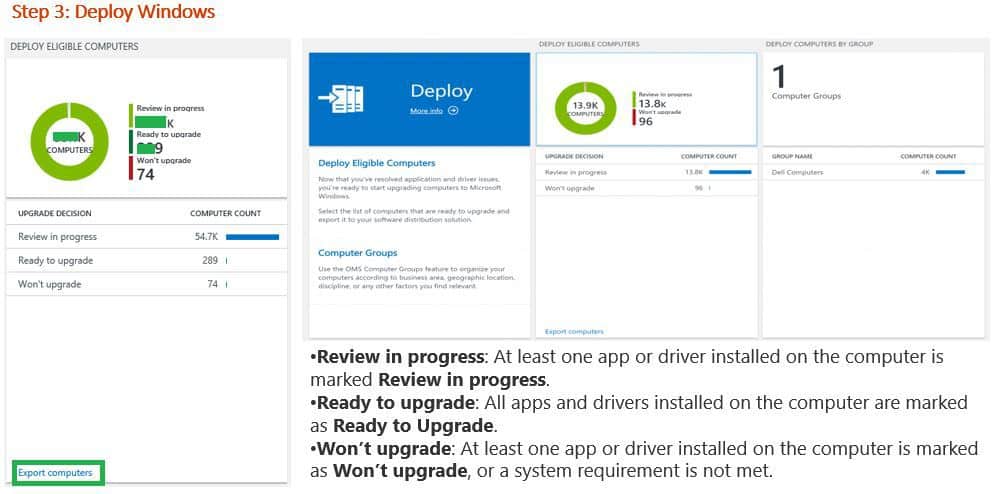 Upgrade Analytics node in SCCM for Upgrade Readiness
We can monitor and create new SCCM collections based on the assessments provided by Upgrade Readiness. This is possible if you integrate with SCCM. Refer to post 2 for more details about the integration.
Following are options that we can view from the SCCM console
Unknown
Ready to upgrade
Ready to upgrade with WU Driver
Ready to upgrade with Inbox Driver
Cannot upgrade
Incomplete data
Upgraded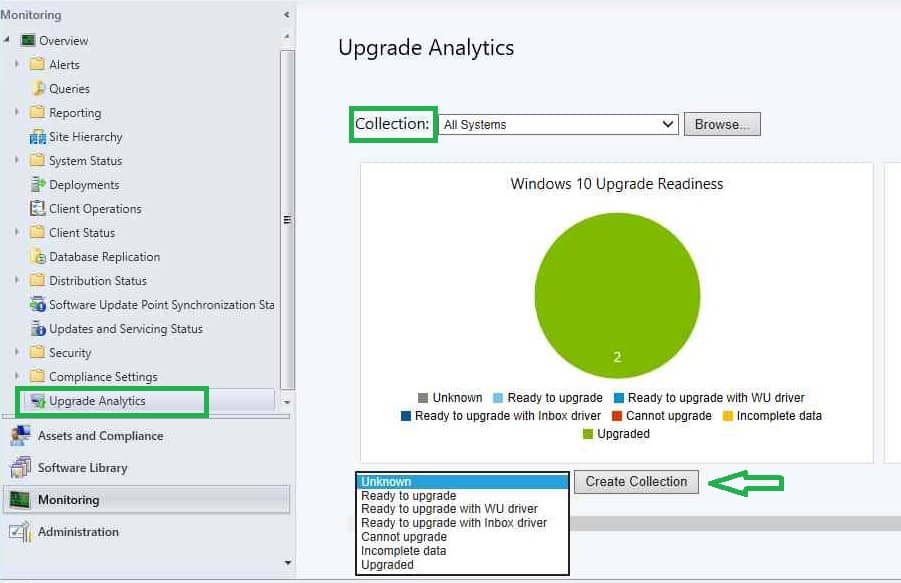 FAQ on Windows 10 or 11 Upgrade Readiness – Windows Telemetry Configuration Guide
How much does this solution cost?                                                                           
The service is free, and data storage/processing does not count toward your Azure subscription or OMS limit.
Do I need an additional agent on my computers?                                                           
No. Inventory collector is an inbuild OS component for Windows 10. However, for other OS like Windows 7 and 8.1, you need to install the latest compatibility update KB.
Can we use the Upgrade readiness solution to plan Windows 7 to Windows 10 migration? 
      Yes. To enable telemetry on Win 7 or Win 8, you need to install compatibility update KB.
Note: Upgrade Readiness cannot evaluate Windows Vista/XP for upgrade eligibility.
How much data size is uploaded from my machine?                                                 
For the first time when you run the Upgrade Analytics deployment script, it will upload approx 2 MB of data per machine. After that, it will be delta.
What is Windows Analytics?
Windows Analytics is a cloud solution built into Microsoft Operations Management Suite. There are 3 solutions.
Upgrade Readiness
Update Compliance
Device Health
Author
Vimal has more than ten years of experience in SCCM device management solutions. His main focus is on Device Management technologies like Microsoft Intune, ConfigMgr (SCCM), OS Deployment, and Patch Management. He writes about the technologies like SCCM, Windows 10, Microsoft Intune, and MDT.