Microsoft has released the Windows 11 KB5022836 and KB5022845 cumulative updates to fix known issues, security vulnerabilities, and performance issues. Windows 10 patches are explained in Windows 10 KB5022834 February 2023 Patch Tuesday post.
The latest Windows 11 KB5022836 and KB5022845 security updates address include improvements, This update makes miscellaneous security improvements to internal OS functionality.
Monthly quality updates for Windows are designed to enhance productivity and security by providing essential security fixes to users and IT administrators. These updates protect devices from potential threats by addressing vulnerabilities and preventing them from exploitation.
To upgrade to Windows 11 22H2, you can use either SCCM or Intune methods. Microsoft releases different KB articles for Windows 11 February 2023 Cumulative Updates (CUs), with KB5022836 and KB5022845 being designated for Windows 11 21H2 and 22H2, respectively.

Windows 11 allows you to choose when and how to receive the latest updates to ensure your device runs efficiently and securely. To manage your update preferences and view available updates, simply select "Check for Windows updates". Alternatively, you can access the update settings by selecting Start > Settings > Windows Update.
Microsoft releases security updates on "Patch Tuesday," the second Tuesday of each month at 10:00 AM PST. IT professionals should plan their deployment schedules according to their time zone(s).
When was the IE11 desktop application permanently disabled?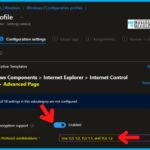 As per Microsoft, The out-of-support Internet Explorer 11 (IE11) desktop application was permanently disabled on certain versions of Windows 10 on February 14, 2023, through a Microsoft Edge update.
This IE 11 Desktop app is NOT disabled with Windows Update. Note, this update will be rolled out over the span of a few days up to a week, as is standard for Microsoft Edge updates.

Video Review of Feb 2023 Windows 11 Patches
This video is there to give an overview of February 2023 Patches | 3 Zero Day Vulnerabilities | Windows 10 & 11 Patches – KB5022834 | KB5019274 | KB5022845 | February.
Known Issues from Windows 11 KB5022836 KB5022845
Here you can check the current status of known issues after the last patch update on February 2023 CU for Windows 11 devices. This table offers a summary of current active issues and those issues that have been resolved in the last 30 days.
Summary
Originating update
Status
Last updated
You might receive an error with apphelp.dll from apps using DirectX
Outdated Intel Graphics drivers might cause issues with certain apps.
OS Build 22621.819
KB5019980
2022-11-08
Mitigated
2023-02-08
16:19 PT
Connections may fail when using Remote Desktop Connection Brokers
Remote Desktop Services collection, RemoteApp, and Desktop Connections are affected
N/A

Resolved
KB5022360
2023-01-26
14:00 PT
Start menu, Windows Search and UWP apps might have issues opening
Affected devices have apps installed which integrate with Windows, Microsoft Office, or Microsoft Outlook.
N/A

Investigating
2023-01-24
09:58 PT
Application shortcuts might not work from the Start menu or other locations
Errors might be observed when trying to run exe files. Changes to Microsoft Defender can help.
N/A

Resolved
2023-01-18
19:28 PT
Conversion of text in certain languages might not work as expected
Impacted languages include Japanese, Korean, and Chinese
N/A

Resolved
KB5022360
2023-01-26
14:00 PT
Table 1 – Windows 11 KB5022836 KB5022845 Patch Tuesday February 2023
New Features of Windows 11
HTMD community covered all the new features of the Windows 11 22H2 release in the following blog post. All these features are included in the latest Cumulative Update released on patch Tuesday, 14th February 2023. Here are the improvements for Windows 11, version 22H2
let's learn some interesting Latest Features of Windows 11 22H2 and its Advanced Features. The 22H2 is a features update for windows 11, Latest Features Of Windows 11 22H2 And Advanced Features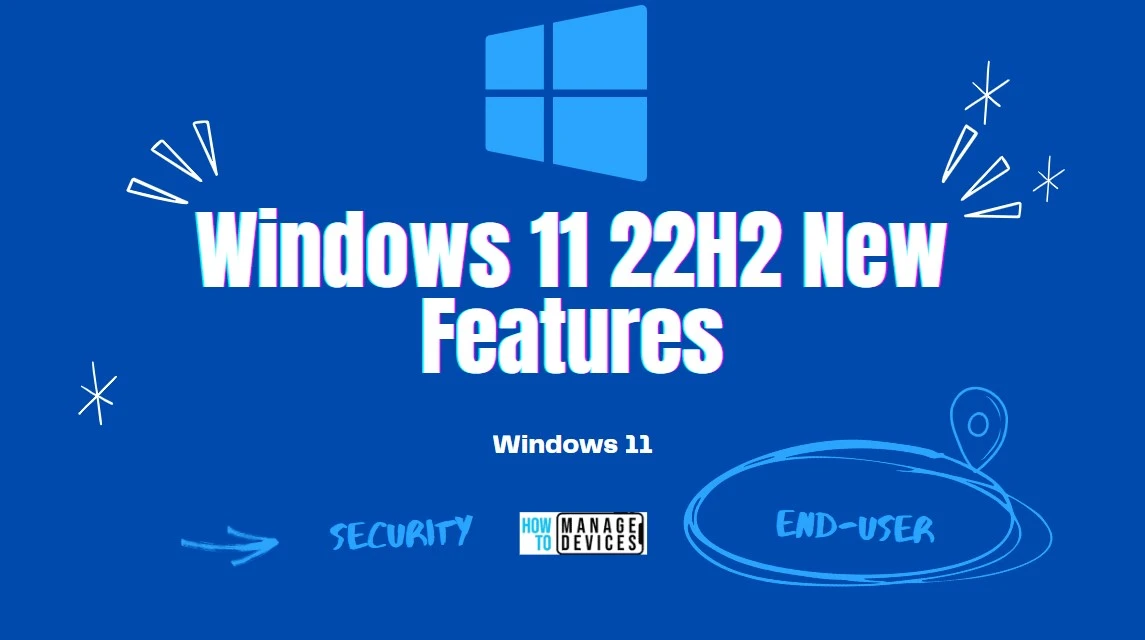 SCCM Windows 11 KB5022836 KB5022845 Deployment
Learn how to Deploy Windows 11 KB5022836 KB5022845 February 2023 Cumulative Updates using SCCM/WSUS. You can deploy Windows 11 February 2023 CU KBs using Intune or SCCM.
Using the following methods, you can create a monthly patch package for February 2023. You can also search with Windows 11 LCU for February 2023 KB. The easiest way is to check from the SCCM admin console.
NOTE! You can verify the Windows 11 versions (OS Builds, 22000.1574, and 22621.1265) by installing February 2023 Latest Cumulative Updates.
In SCCM Console, Navigate to \Software Library\Overview\Software Updates\All Software Updates.
You will need to initiate a WSUS Sync from the All Software Updates node (Right-click on the node and initiate the sync).
Search with the following KB5022836 and KB5022845 Numbers.
Or you can search with 23-02 Cumulative Update for Windows 11, as shown in the below screenshot.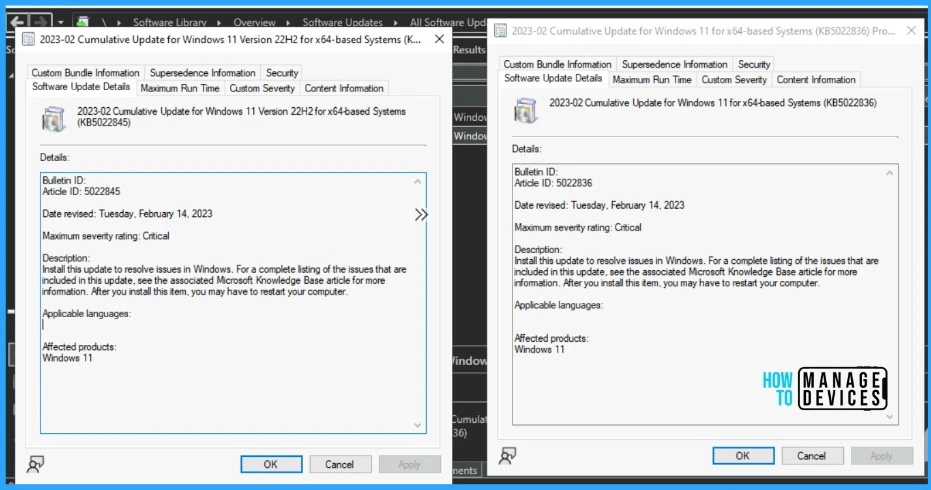 Intune Windows 11 KB5022836 KB5022845 Deployment
Let's check how to deploy the Windows 11 KB February 2023 Patch Tuesday (LCU) Deployment using Intune. You can deploy Windows 11 February CU using Microsoft Intune. The patch deployment process in Microsoft Intune is different from that of SCCM.
I don't think creating a new patch deployment policy to cater to monthly CU deployments for Windows 11 is mandatory, but you can use the following method to expedite. The existing patch deployment policy will deliver the patches using WUfB (Windows Update for Business).
Read More – Software Update Patching Options with Intune Setup Guide
You can expedite the Installation of February 2023 quality updates if the device OS version is less than 2023.02. Create expedited update profiles for Quality updates using the following steps.
Sign in to the Microsoft Intune admin center https://endpoint.microsoft.com/
Navigate Device -> Windows 10 quality Updates.
Click on + Create Profile.
The following are the Settings for Intune quality update profile for the Windows 11 monthly patching process if you want to expedite the deployment of patches. Otherwise, you can use the standard quality updates policy from Intune.
Name – Windows 11 February 2023 LCU
Description— I would recommend adding a detailed description.
Expedite installation of quality updates if the device OS version is less than 14th February 2023 – 2023.02 B Security Updates for Windows 10 and later
Number of days to wait before the restart is enforced – 1 Day
More Details on Zero Day Out Of Band Patch Deployment Using Intune MEM Expedite Best Option and Intune Reporting Issue: Expedite Windows Security Patch Deployment.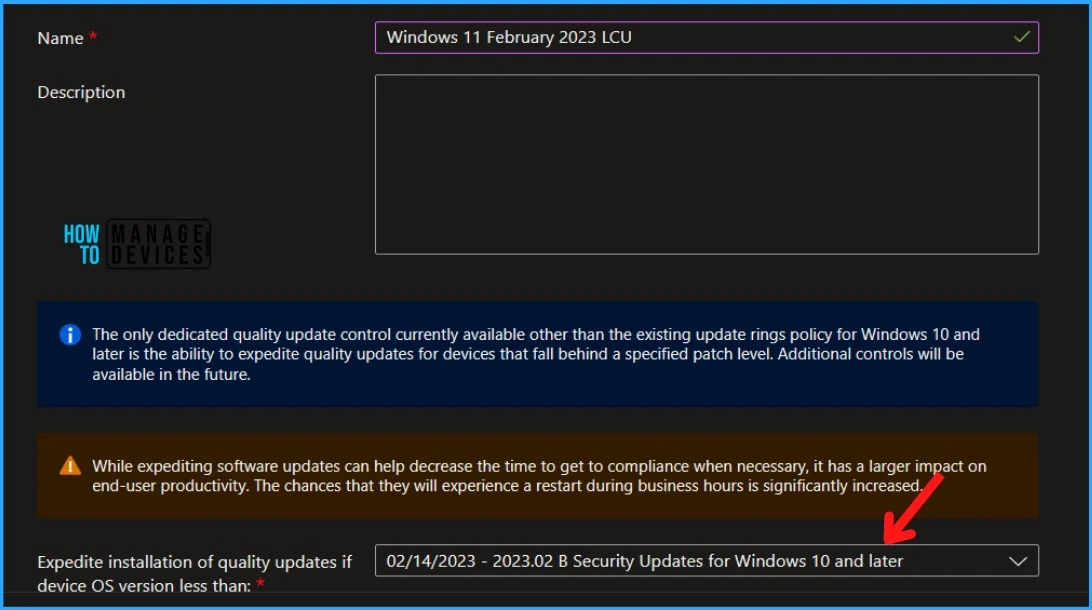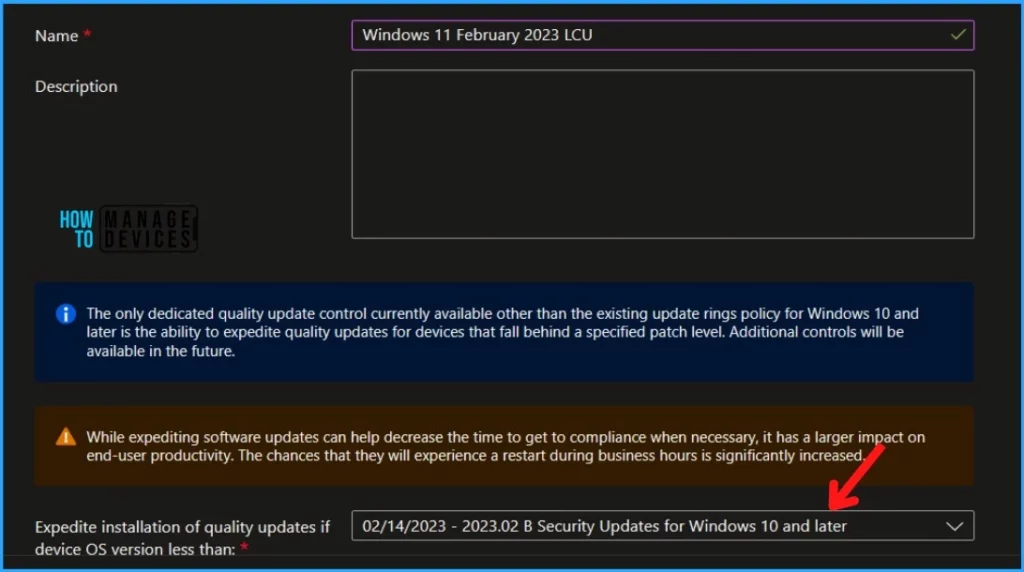 Windows 11 KB5022836 KB5022845 Direct Download Links
Let's manually download the 2023 February Cumulative Update for Windows 11 (KB5022836 & KB5022845) from the Microsoft Update Catalog website. The following tables provide the direct links to download the February 2023 Cumulative Updates for Windows 11.
You can check the Microsoft Update Catalog portal to get the Windows 11 LCUs direct download links to the hotfixes for February 2023 LCU. Check this out Microsoft Update Catalog –https://www.catalog.update.microsoft.com/
Search for updates from the Windows Update Catalog – To download the latest cumulative update (LCU) for your operating system that you want to apply manually. Put the KB article number and click the Search icon.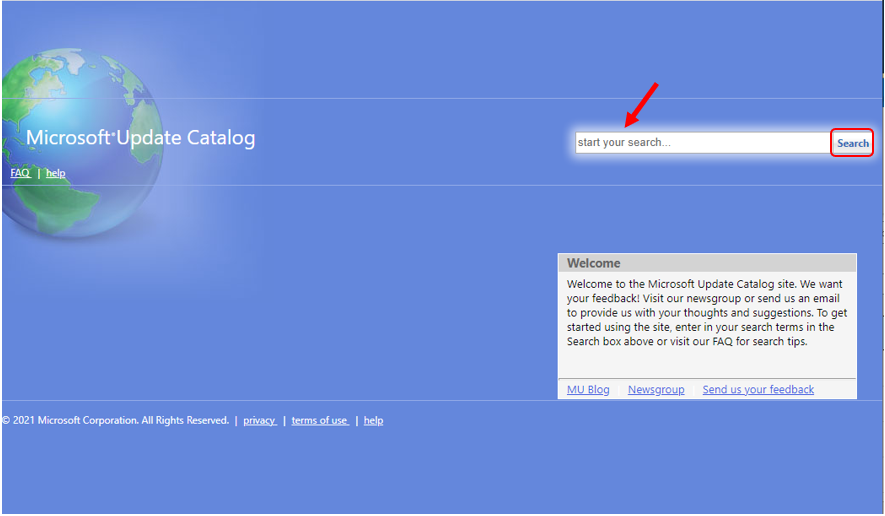 Note! When using search for a specific KB article, make sure to avoid any spaces between the letters and numbers in the KB article number. For example, to search for the KB article number KB5022836, enter it as is without any spaces.
| Title | Products | Size | Direct Download |
| --- | --- | --- | --- |
| 2023-02 Cumulative Update for Windows 11 for x64-based Systems (KB5022836) | Windows 11, version 21H2 | 319.6 MB | Download |
| 2023-02 Cumulative Update for Windows 11 Version 22H2 for x64-based Systems (KB5022845) | Windows 11, version 22H2 | 278.1 MB | Download |
Table 2 – Windows 11 KB5022836 KB5022845 Patch Tuesday February 2023
Author
About Author – Jitesh, Microsoft MVP, has over five years of working experience in the IT Industry. He writes and shares his experiences related to Microsoft device management technologies and IT Infrastructure management. His primary focus is Windows 10/11 Deployment solution with Configuration Manager, Microsoft Deployment Toolkit (MDT), and Microsoft Intune.