How to Install Manage Microsoft Intune Client. Windows Intune the lighter version of ConfigMgr. This is my second post on Intune.
For the last few days, I'm doing several tests with this product and really loving it. Obviously, we don't get all the features of ConfigMgr in Windows Intune.
How to Install and Manage Microsoft Intune Client
Step 1 Prepare for Deployment
The best practice is to go through the prerequisite of Intune client software before trying to install it. The current version (4.0.9377.0) of Intune doesn't support Windows 8.

As Intune is Cloud-based service Internet connectivity is the first point that needs to be taken care of. Some special proxy server configurations are required. Windows Intune supports unauthenticated proxy servers. All the communications of Intune clients will be through 80 and 443 ports.

Step2 Download and Deploy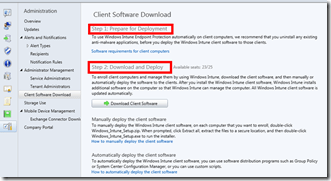 Login to Intune Admin Console from the home page. Navigate through the Administration node and then click on Client Software Download. As mentioned above, the first step is to verify the prerequisites.

To download the client software click on the Download Client Software button from Admin Console. Save the client software Windows_Intune_Setup.zip in zipped format and extract it. The extracted folder should contain two files Windows_Intune_Setup.exe and WindowsIntune.accountcert.

These are the two files required for Intune Client installation. These files can be copied to a USB drive and used in client machines. WindowsIntune.accountcert is the certificate file that will authenticate the client with Intune server. So don't make any changes to this certificate and exe file alone won't work.

In my case, I used manual installation. Just need to double click on the Windows_Intune_Setup.exe file and that is it. Intune client software installation log should be available at %TEMP% folder and the file name in my case was "MSI96de5.log".

MSI (c) (E0:B4) [17:38:58:869]: Windows Installer installed the product. Product Name: Windows Intune. Product Version: 4.0.9377.0. Product Language: 0. Manufacturer: Microsoft Corporation. Installation success or error status: 0.

Step 3 Verify whether the client enrolled successfully
Microsoft recommends checking the status of client enrollment in the Windows Intune admin console after 30 minutes of a successful installation.

My computer "AnoopCNair" showed up in Admin Console under Groups "All Devices" –> "Ungrouped Devices" –> "Devices". Hardware inventory details are also available after some time.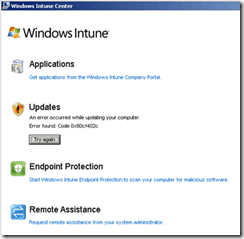 The client console will look like this. Same as CM 2012 application catalog, users can search for available applications in the company portal and install the required applications. You can also see Updates, Endpoint Protection, and Remote assistance options in the Intune client applet. The log files of Windows Intune are located at "C:\Program Files\Microsoft\OnlineManagement\Logs".  Windows Intune client icon will be available at the taskbar. Also, you can find the actual client UI exe (cltui.exe) at "C:\Program Files\Microsoft\OnlineManagement\Client UI".
Hardware and Software inventory details of the Windows Intune client are available at "C:\Program Files\Microsoft\OnlineManagement\PolicyAgent\ReportCache" folder.
Resources
What's New In SCCM Windows 10 Servicing Dashboard | ConfigMgr HTMD Blog (anoopcnair.com)
Author
Anoop is Microsoft MVP! He is a Solution Architect in enterprise client management with more than 20 years of experience (calculation done in 2021) in IT. He is a blogger, Speaker, and Local User Group HTMD Community leader. His main focus is on Device Management technologies like SCCM 2012, Current Branch, and Intune. E writes about ConfigMgr, Windows 11, Windows 10, Azure AD, Microsoft Intune, Windows 365, AVD, etc…