There is a welcome change coming to the Microsoft Intune Tunnel Gateway server. Soon, Microsoft will increase the number of supported clients per Microsoft Intune Tunnel Gateway server. Currently, only 5000 clients are supported by the Intune Tunnel Gateway server.
20000 (Twenty Thousand) clients will be supported by the Tunnel Gateway server as per Microsoft 365 roadmap item 178921. Microsoft Tunnel is a VPN gateway solution for Microsoft Intune.
This VPN solution is unrelated to Entra solutions such as Global Secure Access and Entra App Proxy. Tunnel Gateway service mainly allows iOS/iPad OS and Android devices to access on-premises resources.
With this enhancement in the server's capacity (20000 clients per server), you can have less server infrastructure in place to support many mobile devices.

Microsoft Tunnel for Microsoft Intune
It runs in a container on Linux and allows access to on-premises resources from iOS/iPadOS and Android Enterprise devices. These Linux servers with Docker installed can run either on-premises or in the cloud.
Microsoft Tunnel Gateway for Intune installs onto a container that runs on a Linux server, and the management of the Linux server with Docker is Microsoft's responsibility.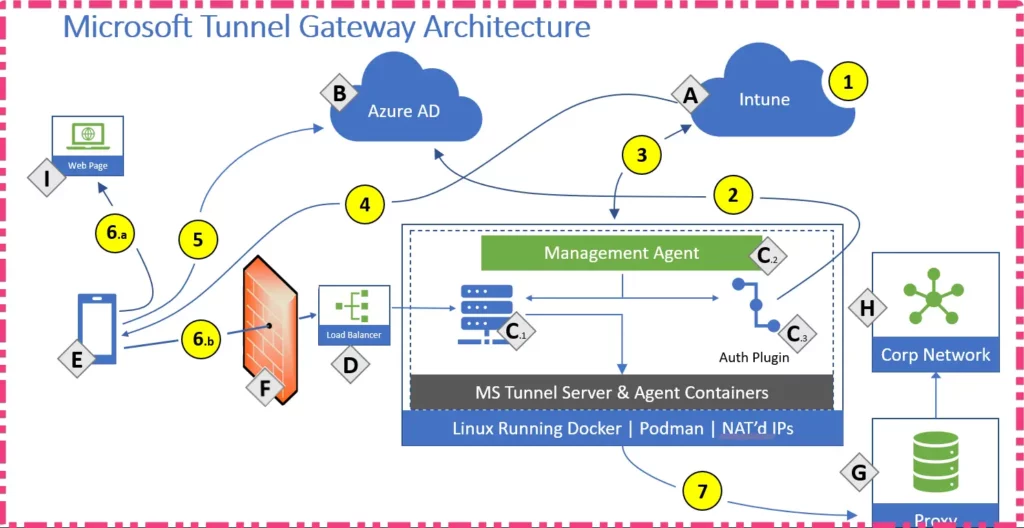 What is the Challenge with 5000 Clients Support?
The challenge is that you need more server infra to manage if you have more mobile devices using Microsoft Tunnel for Microsoft Intune VPN gateway service.
For example, if you have 20000 mobile devices in this scenario, then you would need 4 Intune Tunnel Gateway servers.

Microsoft Intune Tunnel Gateway server Scaling Changes: Number of supported clients
On 10/20/2023, Microsoft added a new roadmap item for Microsoft Intune: Microsoft Tunnel – Gateway Scaling. Microsoft is planning to increase the number of clients supported per Tunnel gateway server from 5,000 to over 20,000 per server.
Rollout Start: January 2024
Feature ID: 178921
Added to roadmap: 10/20/2023
Last modified: 10/20/2023
Product(s): Microsoft Intune
Cloud instance(s): GCC, GCC High, Worldwide (Standard Multi-Tenant)
Platform(s): Android, iOS
Release phase(s): General Availability

Author
Gopika S Nair is a computer enthusiast. She loves writing on Windows 11 and related technologies. She is here to share quick tips and tricks with Windows 11 or Windows 10 users. She is Post Graduate Diploma Holder in Computers Science.