Let's discuss Advanced Insights of SCCM Data from Patch My PC. This post provides insights into an innovative product that can effectively visualize and uncover data within SCCM (aka ConfigMgr).
This empowers the SCCM admins and other IT Teams to get access to crucial data points from Configuration Manager data that were previously challenging to obtain, making them easily accessible for enhanced decision-making and analysis.
Patch My PC's advanced insights into SCCM data provide attractive, intuitive dashboards and details of existing and new properties. This also provides details of the warranty information and CVE targeting from 3rd parties.
On July 26, 2023, Justin, the founder and CEO of Patch My PC, hosted an insightful webinar. During this session, he introduced a groundbreaking product to provide a comprehensive view of ConfigMgr data. This product empowers your team to access and unveil critical data points previously challenging to obtain.

What is Advanced Insights?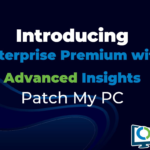 Advanced Insights is an HTML5 dashboard portal for reporting on the Patch My PC's Configuration Manager data set. It gathers information from the entirety of the SCCM environment, with a particular emphasis on generating reports related to software update compliance and the configuration status of inventory.
Will Advanced Insights be for Both ConfigMgr and Intune?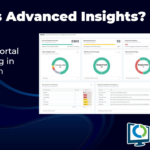 Advanced Insights is exclusively customized for ConfigMgr, offering powerful capabilities. Implementation of Intune reporting is currently on Patch My PC's roadmap.
Advanced Insights of SCCM Data | Enterprise Premium with Advanced Insights
Enterprise premium with advanced insights Patch My PC is the enhanced offering that brings a new level of functionality and intelligence to your enterprise software management. The Advanced Insights being built on 3 pillars are as follows.
Improve the visibility Patch My PC provides of the ConfigMgr database
Extend inventory to bring in modern OS properties (battery health, disk health, monitor config, user apps, etc.)
Build on the dataset with 1st and 3rd party APIs to provide additional useful data.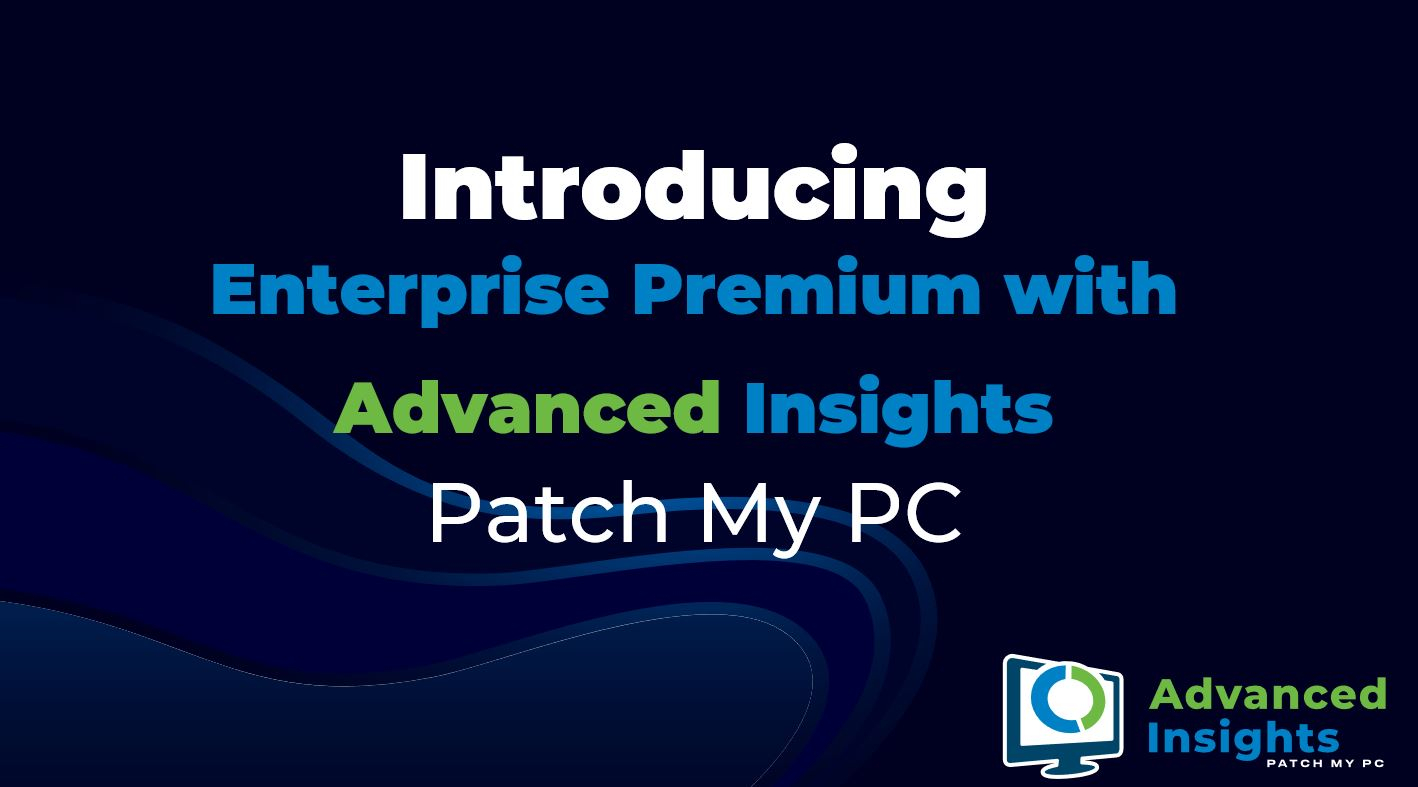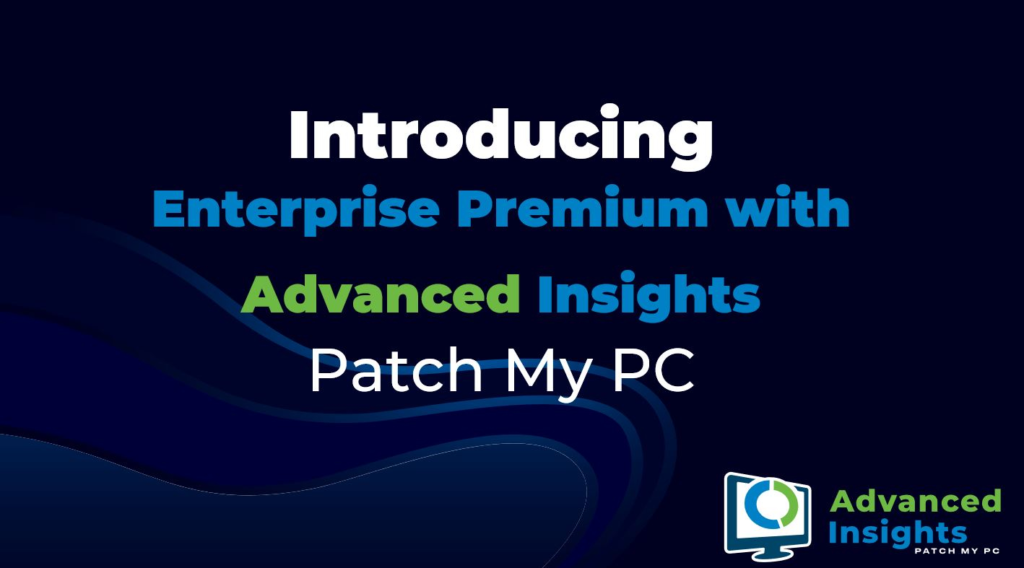 An HTML 5 Dashboard portal for everything in Configuration Manager. This dynamic platform offers a user-friendly interface, seamlessly consolidating and presenting a comprehensive collection of Configuration Manager features and data at your fingertips.
It simplifies management, monitoring, and reporting, enhancing control and efficiency across your entire Configuration Manager environment.
Patch My PC developed this tool primarily because while Configuration Manager possesses good functionality and collects valuable data, it fails to present that data in a user-friendly and modern format that meets current usability standards.
An HTML 5 Dashboard portal for everything in the configuration manager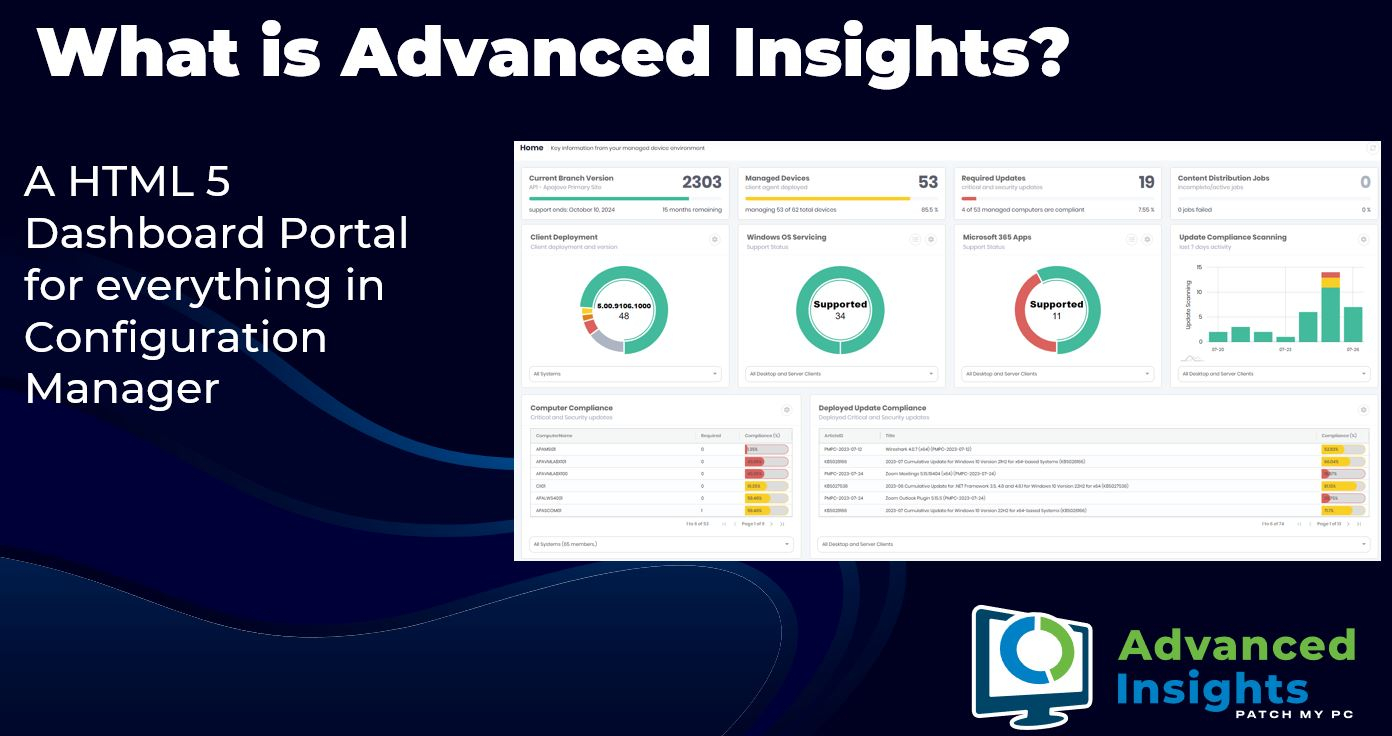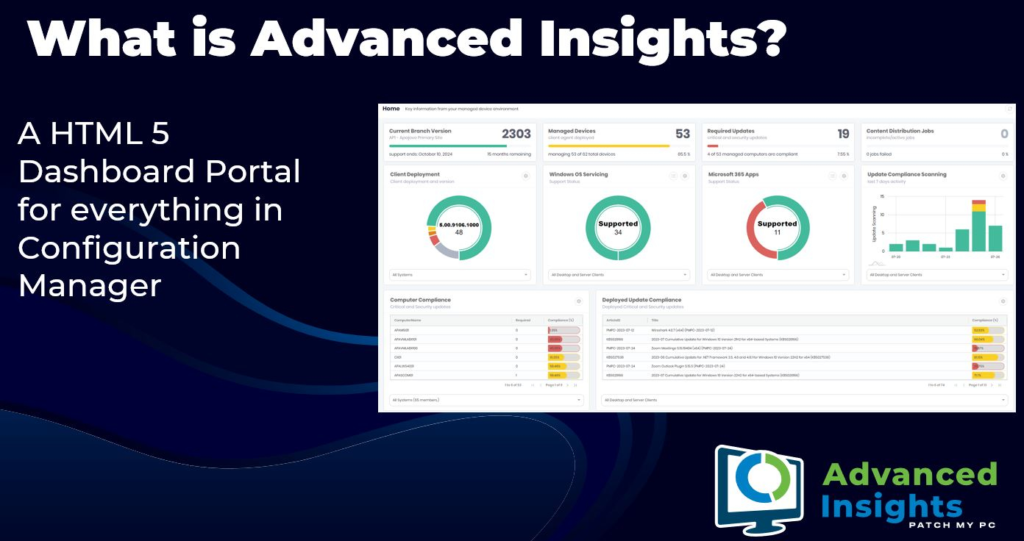 While ConfigMgr provides valuable data, its presentation has long been criticized for being unattractive, unintuitive, and limited to text-only reports that often don't cater to non-technical audiences. In response to customer demands, Patch My PC has committed to providing improved reporting focused on updates.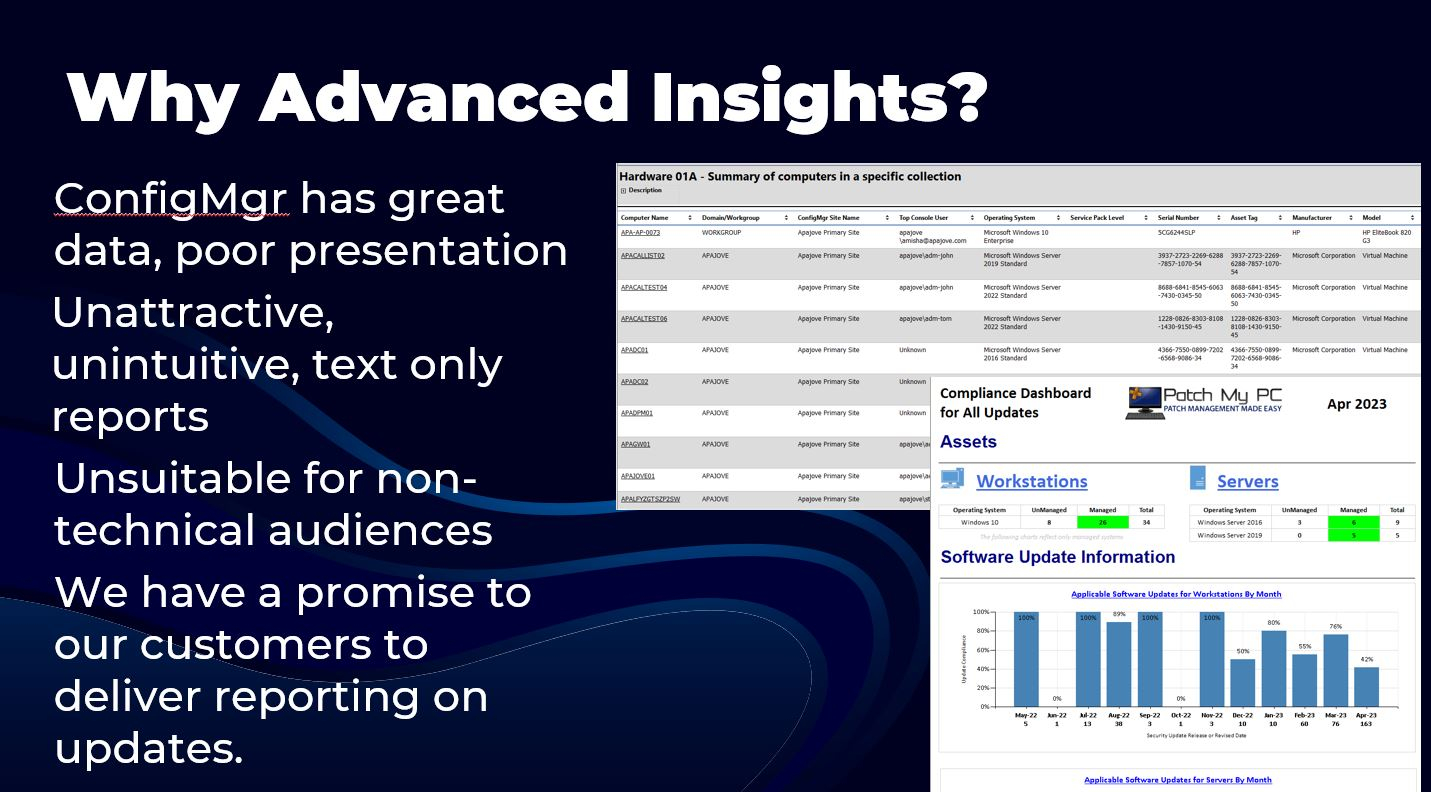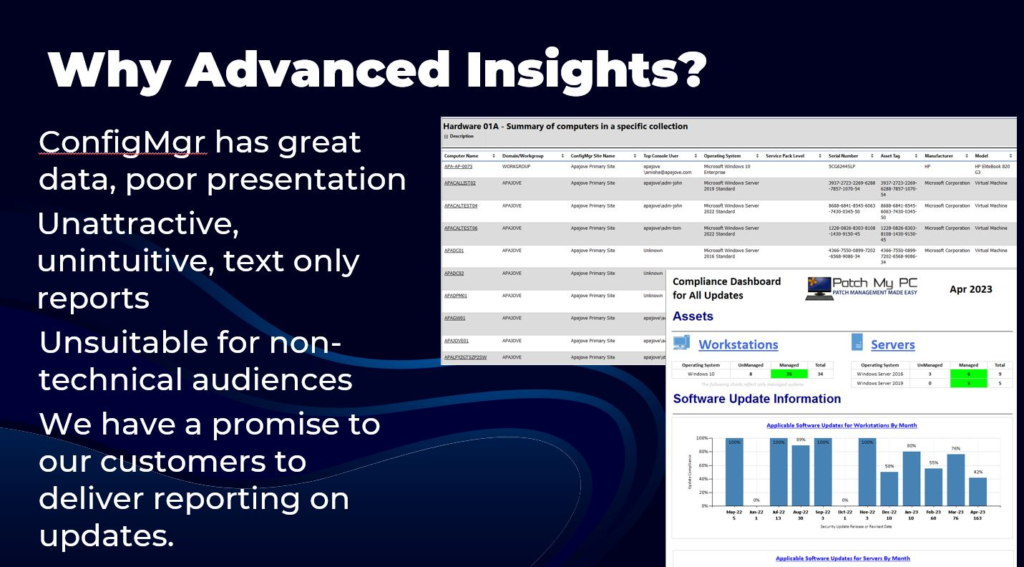 SCCM Client Content Source Dashboard
The content Sources dashboard shows an overview and drill-through data to list where clients obtain content, which is significantly better than the in-console dashboard. It substantially improves the in-console dashboard, offering more detailed and insightful information.
Navigate to the left side of Patch My PC Advanced Insights and choose the "Select Content Sources" option.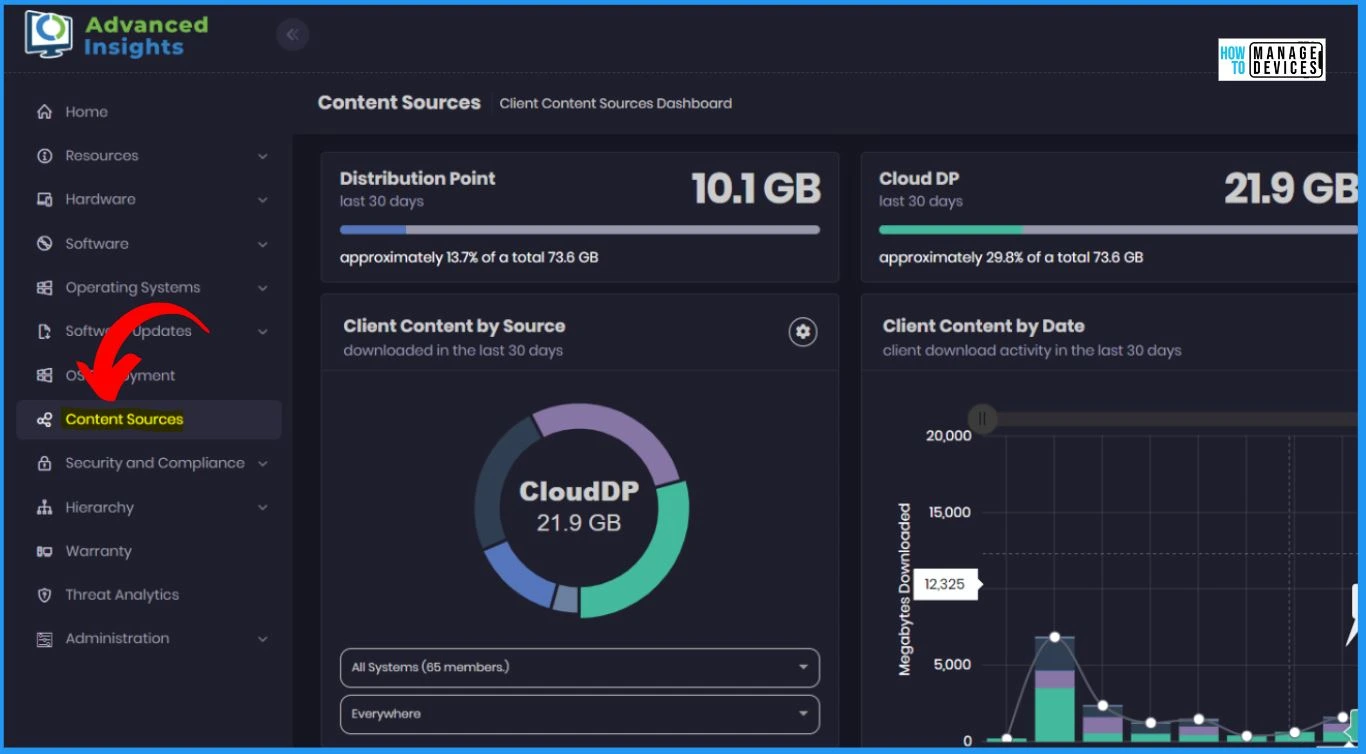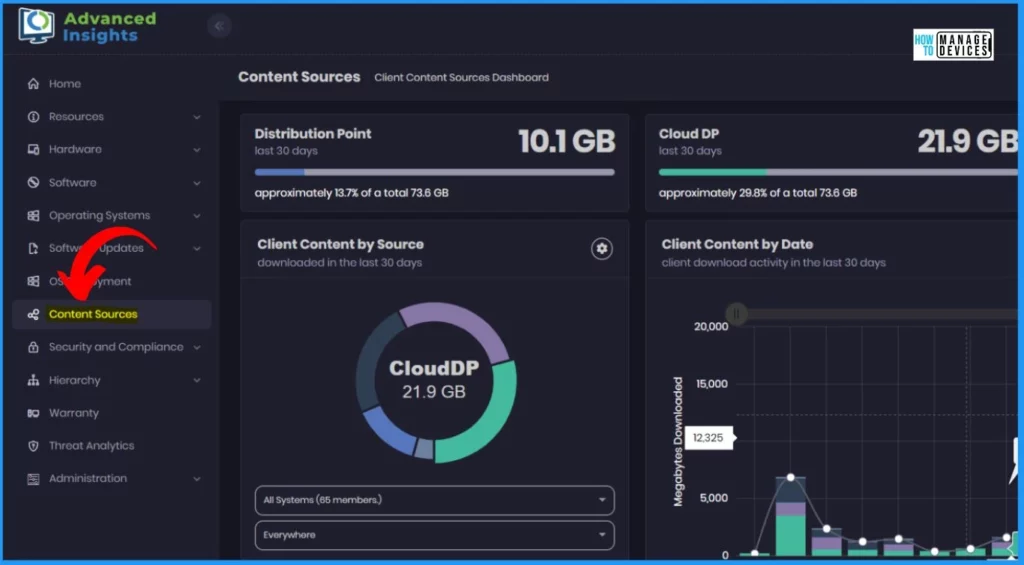 Display Data Collected by Advanced Insights in your Environment
The Custom Inventory shows a comprehensive dashboard view of custom inventory tailored to display devices and monitors. This view allows users to efficiently manage and monitor their display assets, making overseeing and optimising their performance and configurations easier.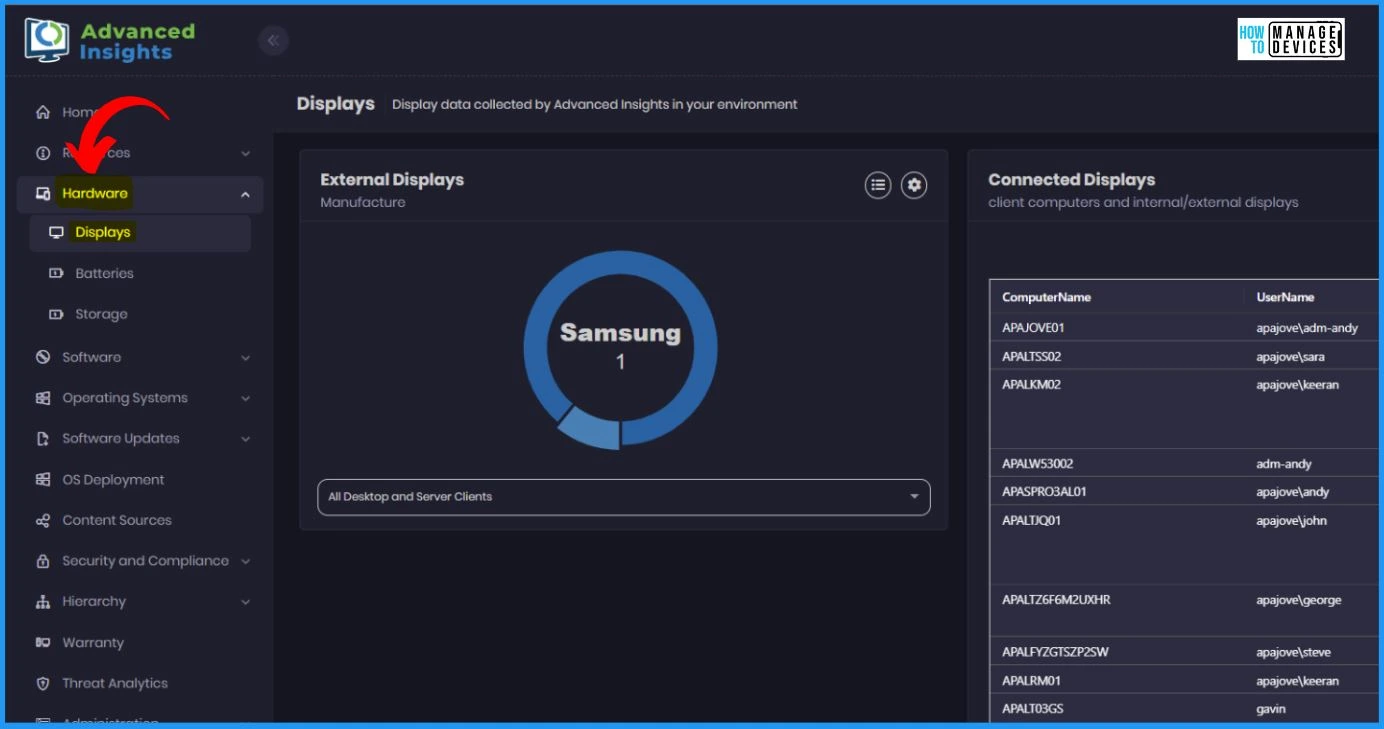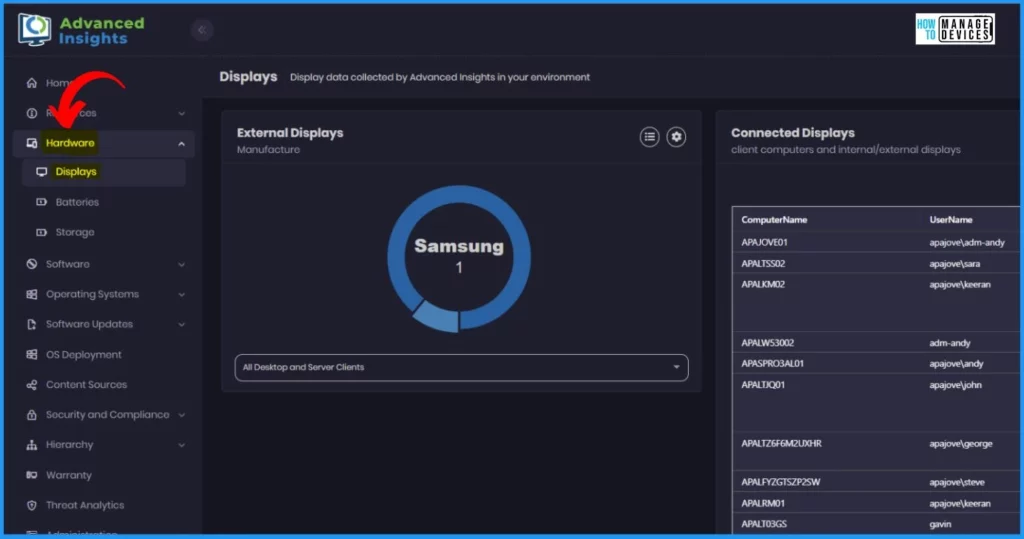 SCCM Custom Inventory Reports and Dashboard
The Custom Inventory Displays provide a device-centric view that details display configurations. It lists all monitors, presenting their information in a user-friendly orientation that reflects how the user perceives them. Notably, the monitor featuring the Windows logo is identified as the user's current primary monitor, enhancing clarity in the display setup.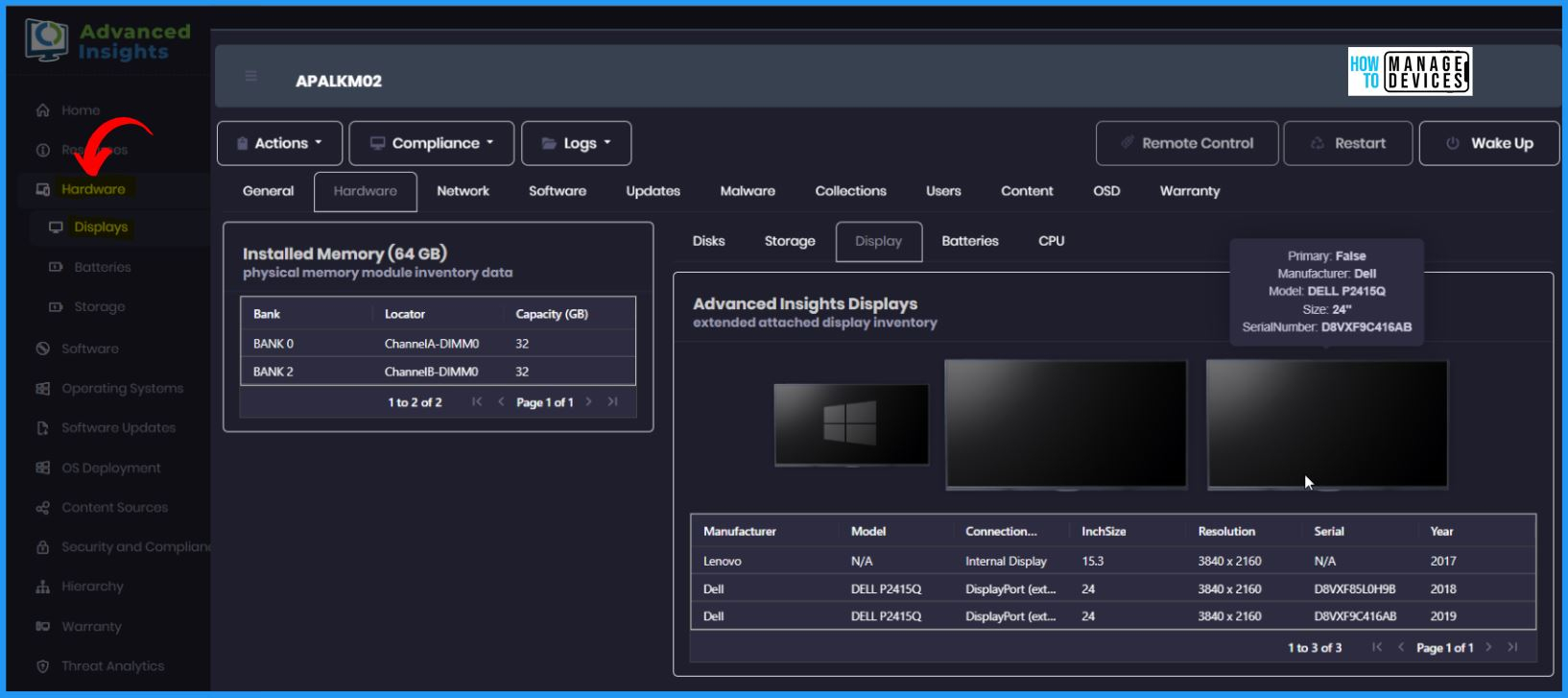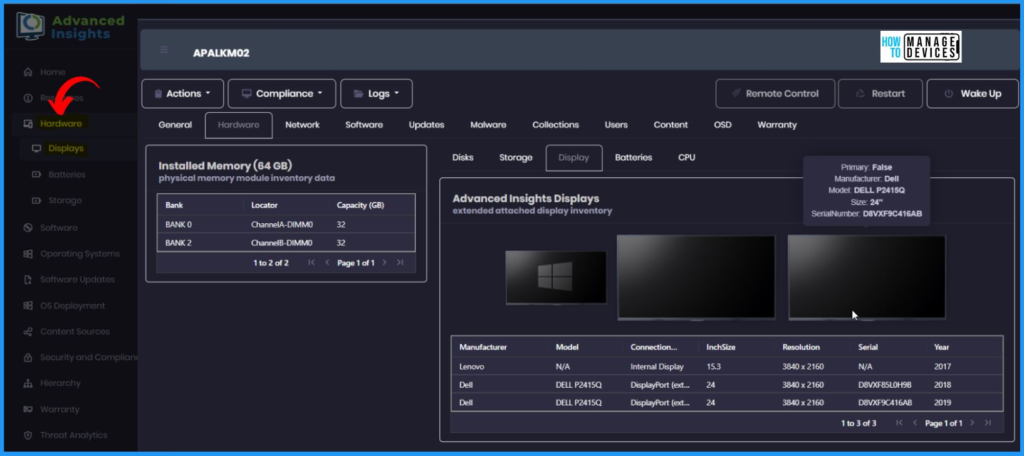 In the window below, you will find the Advanced Insights Login screen. You can enter your email ID and password to access the platform. If you forget your password, there is a convenient "Forgot Password" option here. And if you are not yet a member, you can easily create an account or Email activation.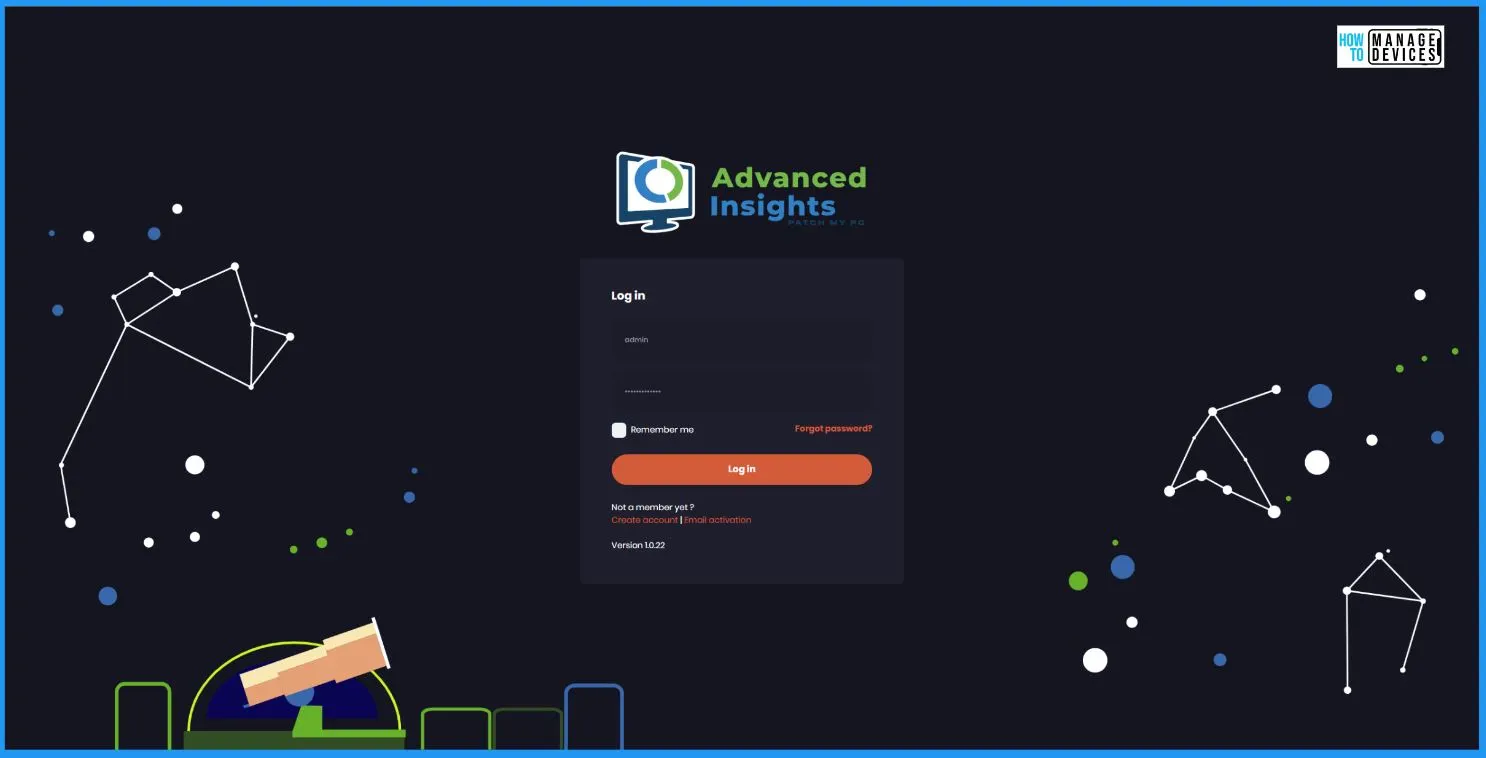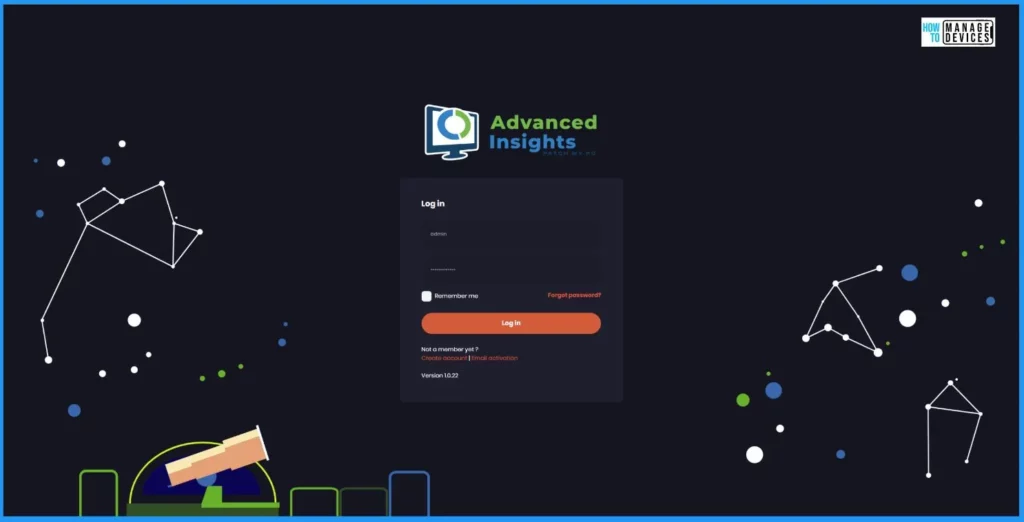 Quick View Monthly Updates Compliance
Quick View Monthly Updates Compliance lists updates deployed during a particular month. It provides insights into the compliance level for each update across the entire environment. The below window shows the June 2023 Updates.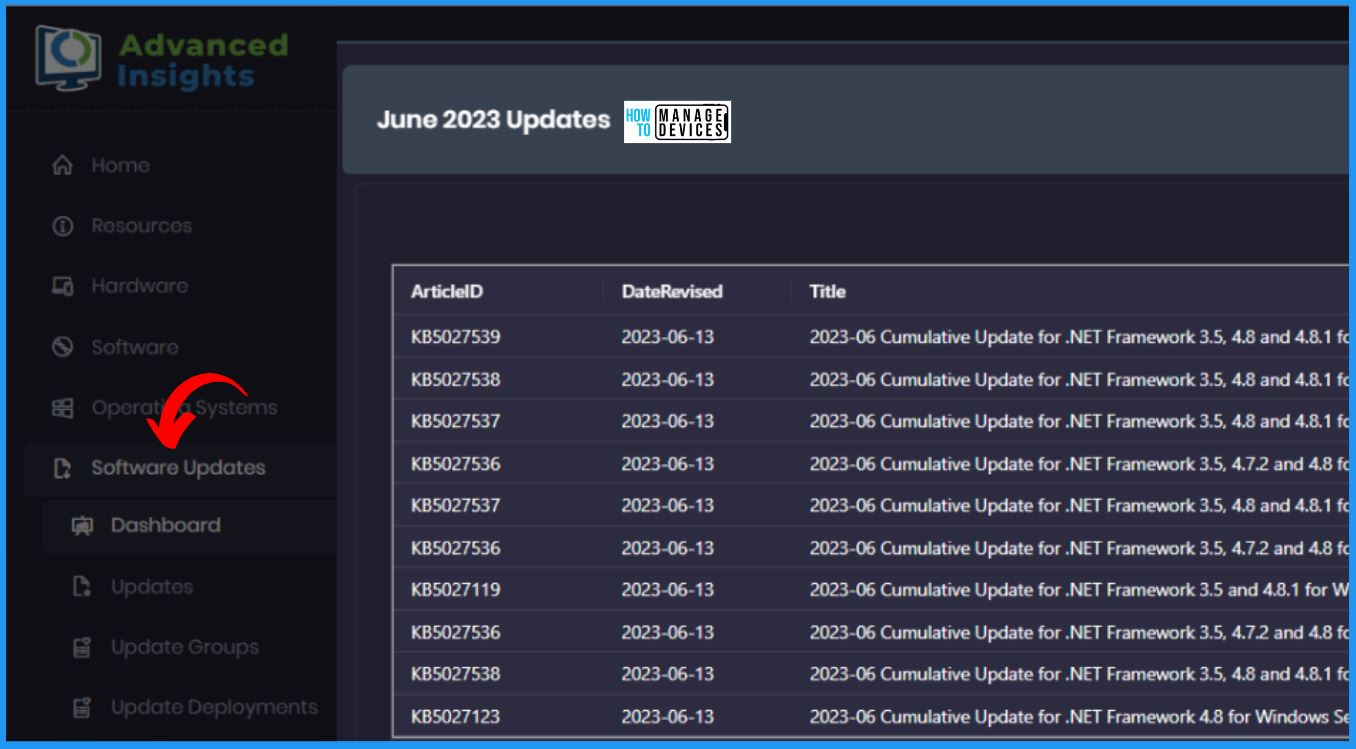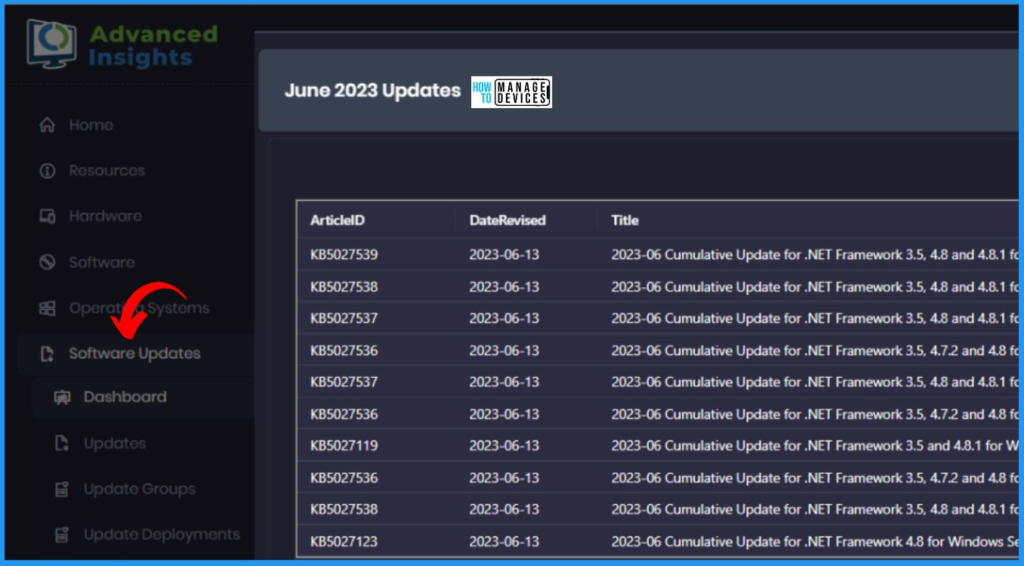 Software Update Dashboard
The Software Update Dashboard provides a comprehensive top-level perspective of the software updates landscape. It serves as a gateway to delve deeper into critical aspects such as device compliance, update compliance, deployment compliance, and scan health. It offers a holistic view of your software update environment with options for in-depth exploration.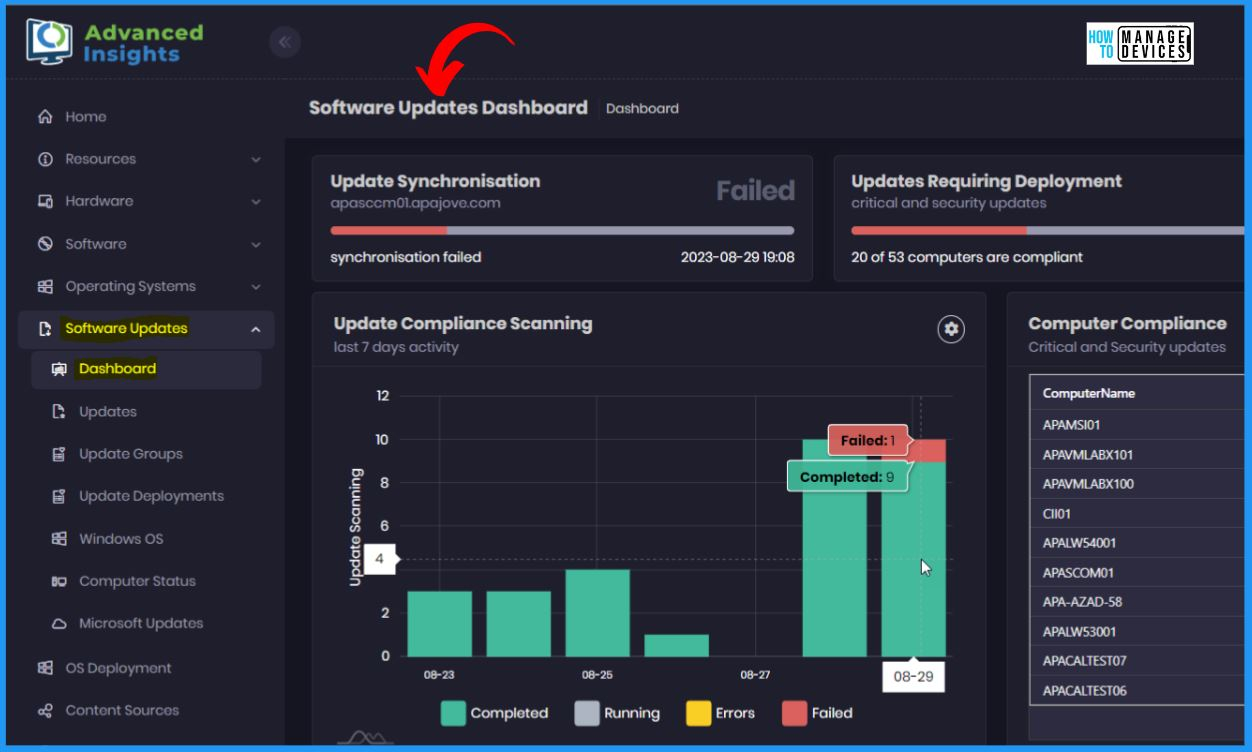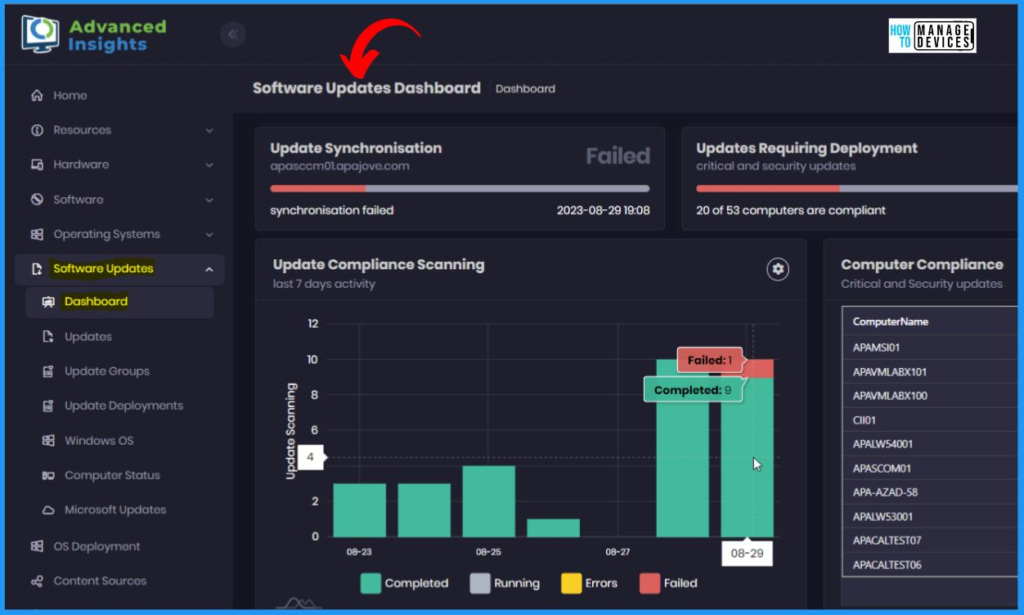 Threat Analytics Dashboard
The Threat Analytics Dashboard provides the integration with the Patch My PC Security Response Center (MSRC) and National Institute of Standards and Technology (NIST) APIs to dynamically fetch critical CVE (Common Vulnerabilities and Exposures) data, along with real-time updates from the Patch My PC Catalog. This synergy provides a comprehensive view of threat exposure and actionable insights for effective remediation strategies.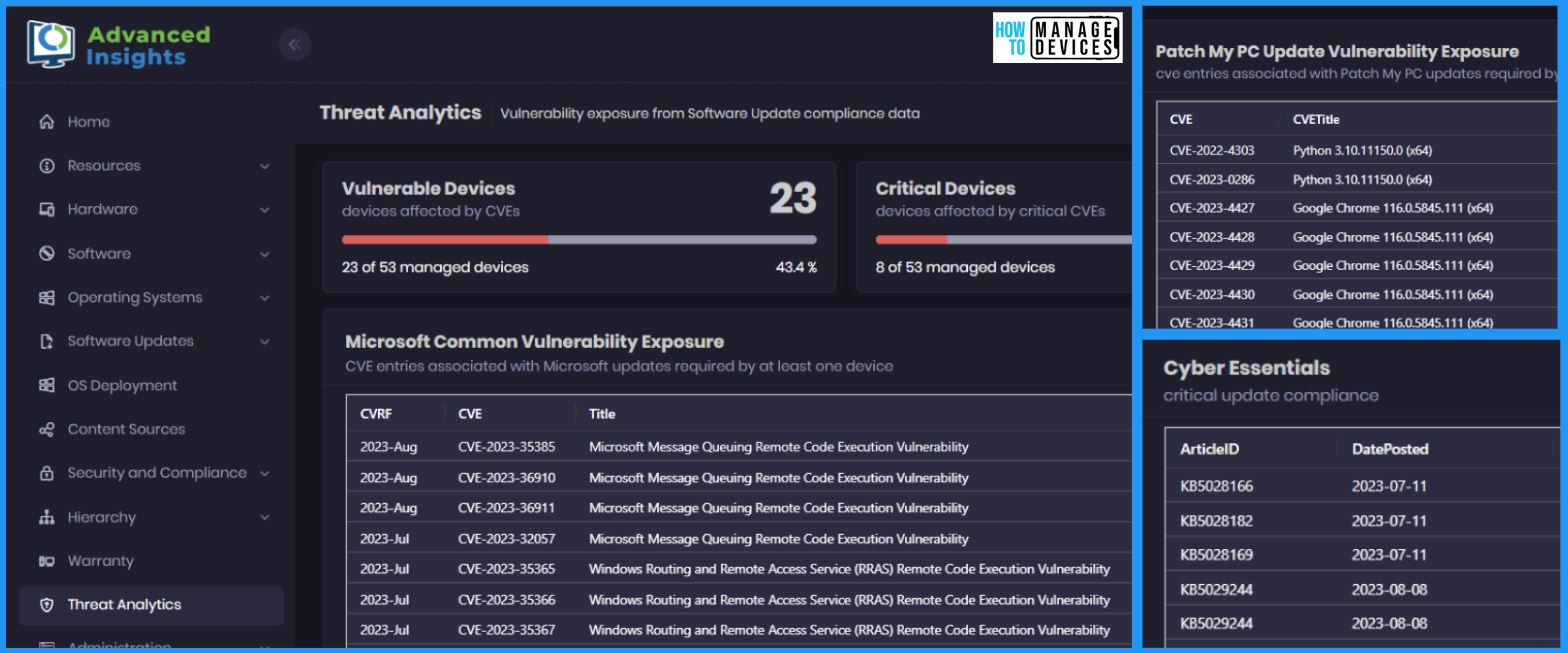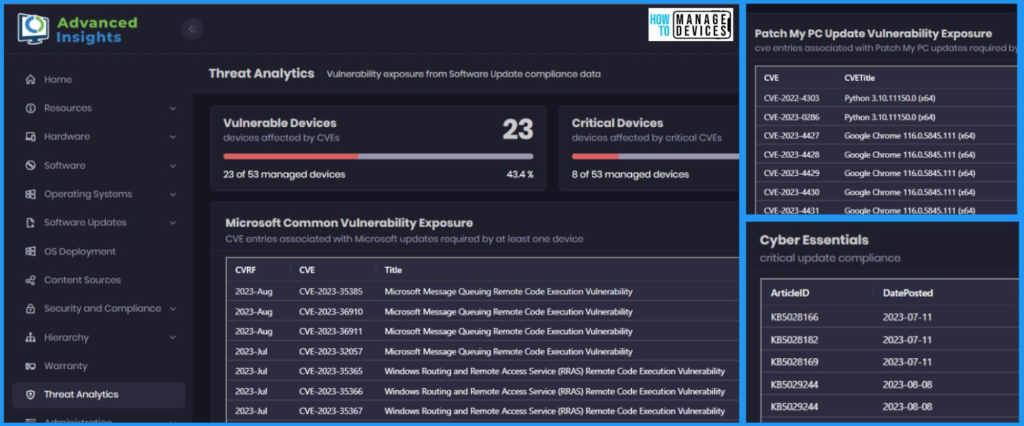 Exposure – CVE Details Report
Exposed devices are required for this CVE. Required Patch My PC security updates focus on required updates for this CVE.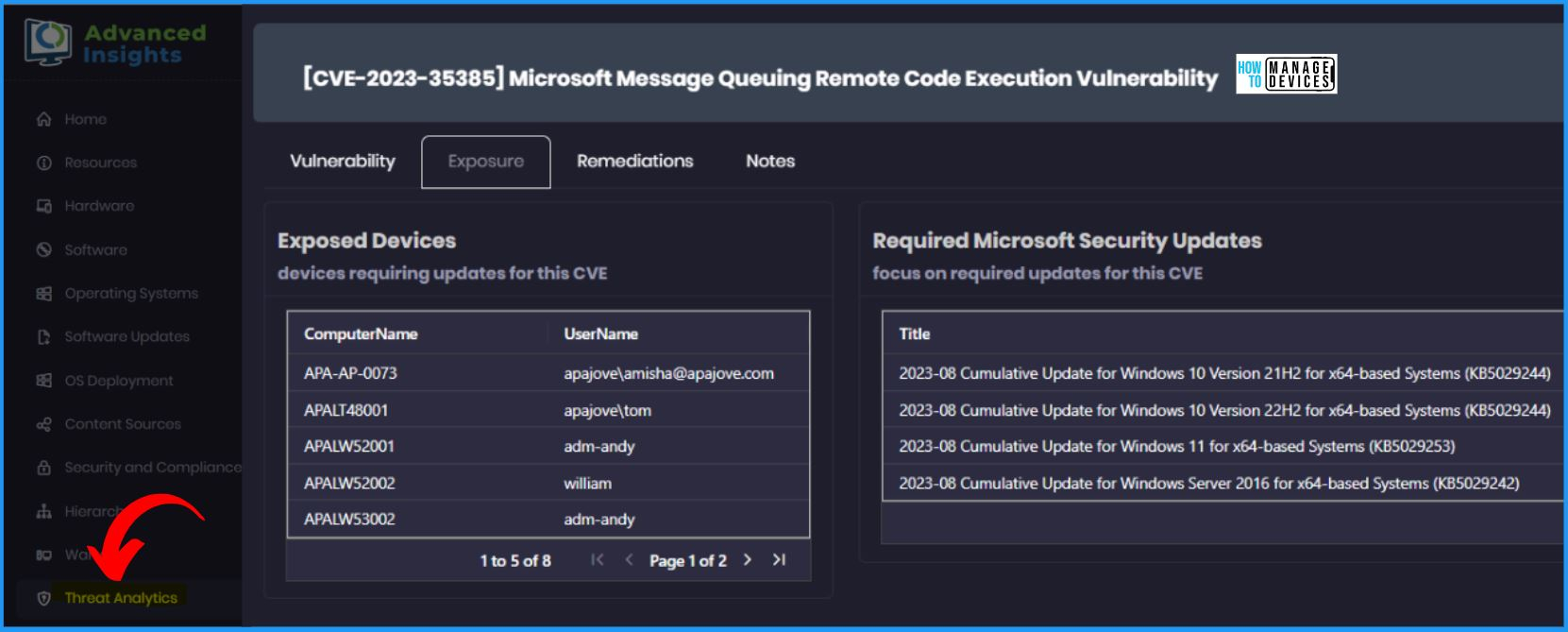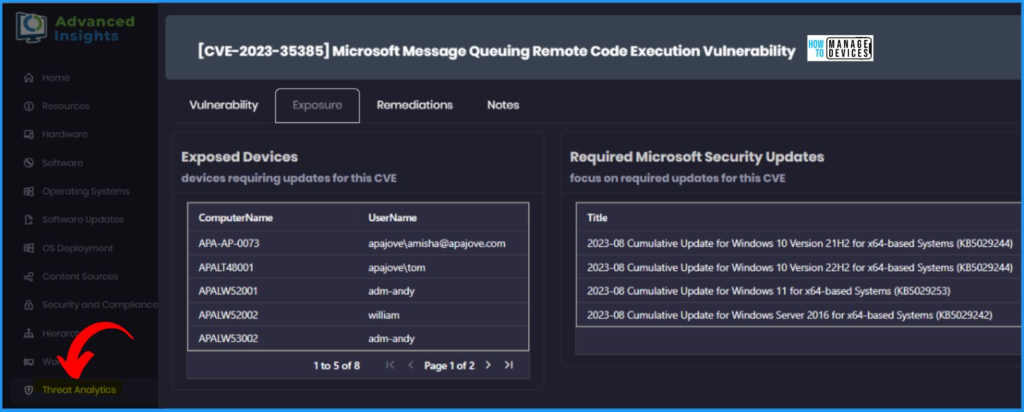 Top-Level Dashboard
The below window helps you to show the Top-level dashboard. It is referred to as the main landing page for Advanced Insights. This is the central hub of Advanced Insights, your gateway to comprehensive data and analytics. Explore our top-level dashboard, your starting point for deep insights and informed decision-making.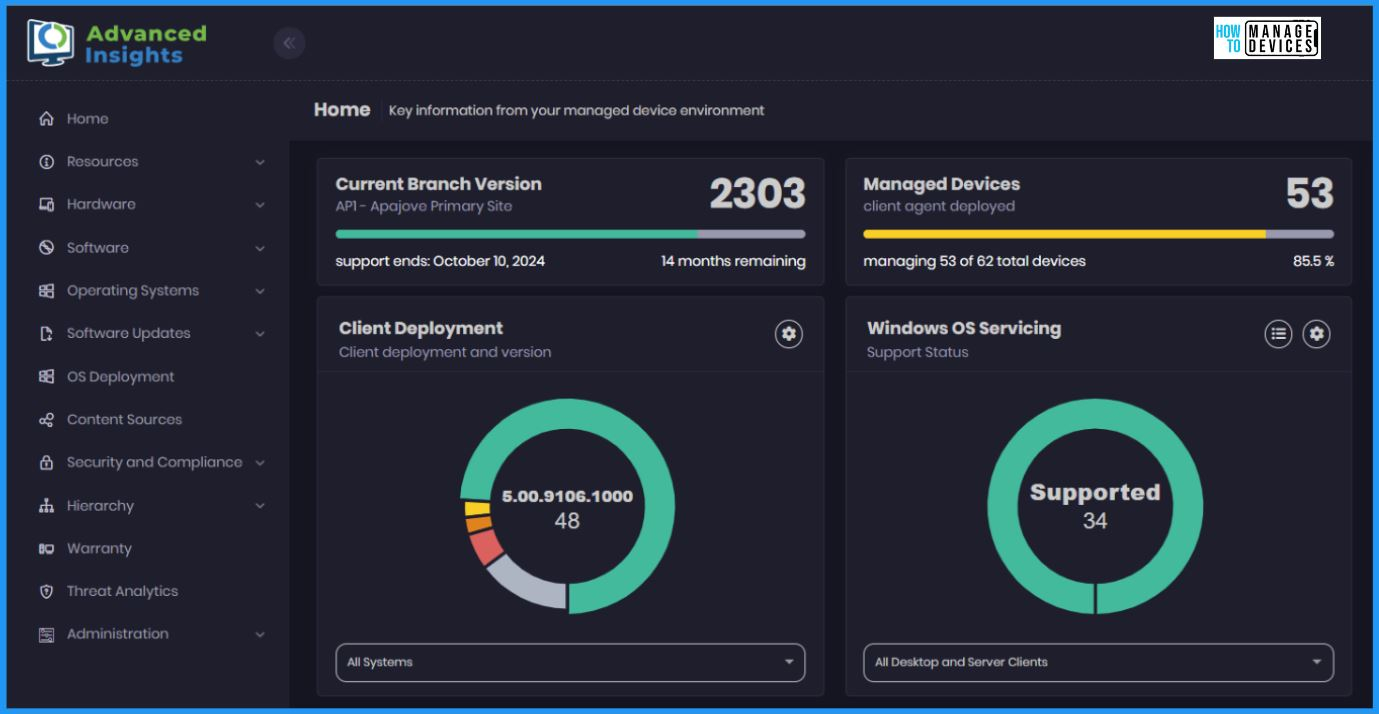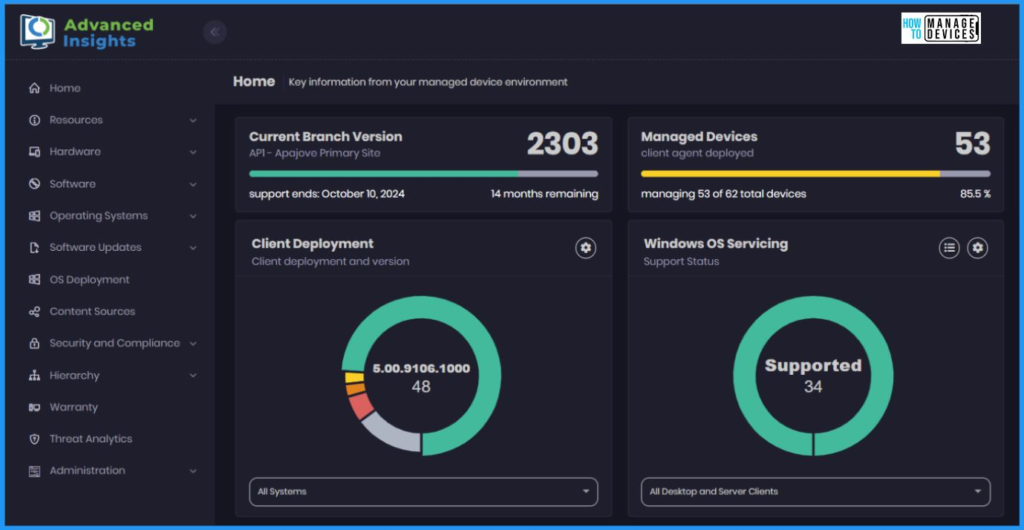 Patch My PC Warranty Dashboard
Let's check the Warranty Dashboard. The warranty service connects with vendor APIs to import warranty information for compatible devices, providing you with real-time warranty status updates.


A Better Experience
Patch My PC aims to enhance the user experience with the valuable data already available within Configuration Manager. With Advanced Insights, their goal is to create a cross-platform interface that is compatible with iPads, phones, and various devices, eliminating the need for the Configuration Manager console to access and interact with this data.
Unlike SQL Reporting Service, which is primarily Windows-centric, Advanced Insights offers a more versatile and accessible approach to working with your data.
Better Experience
Accessible, Attractive, Intuitive
Usable by technical and non-technical audiences
Dashboard summary views
Drill-through to deeper data
Global search
RBAC compliance
Advanced Insights of SCCM Data – Table 1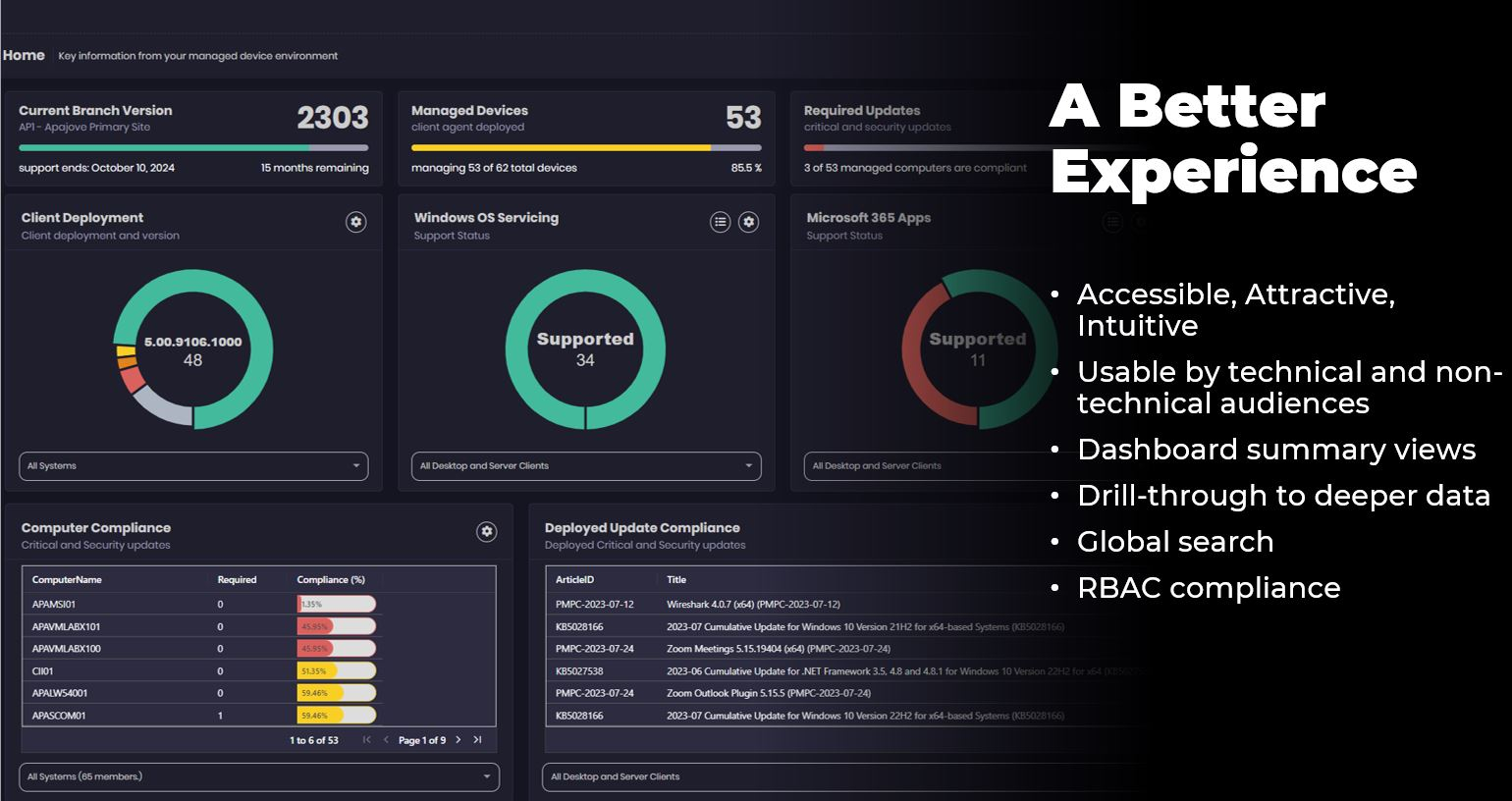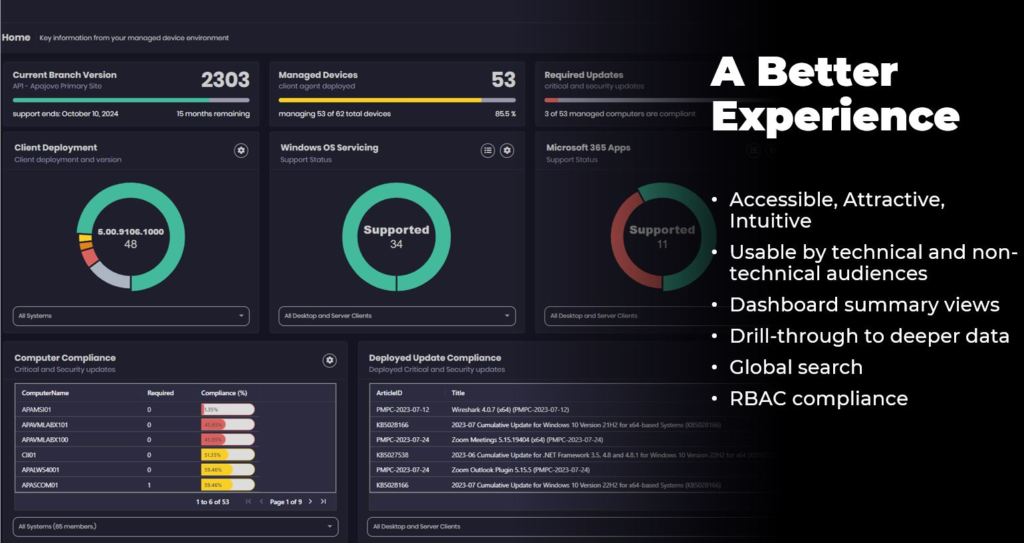 Software Updates Dashboard
In the window displayed below, you will find the Software Updates Dashboard. This dashboard provides a range of actionable options, including updates synchronization, updates requiring deployment, update compliance scanning, computer compliance, and update compliance status.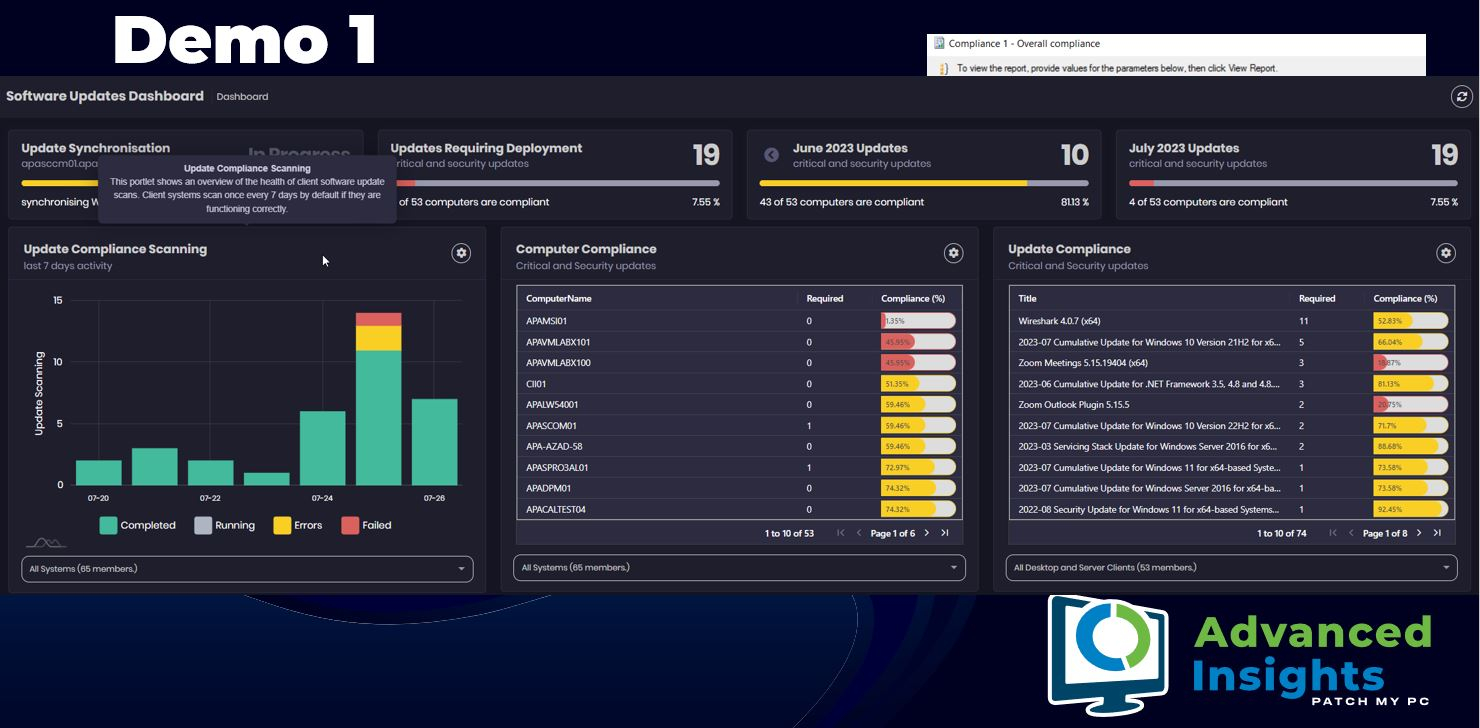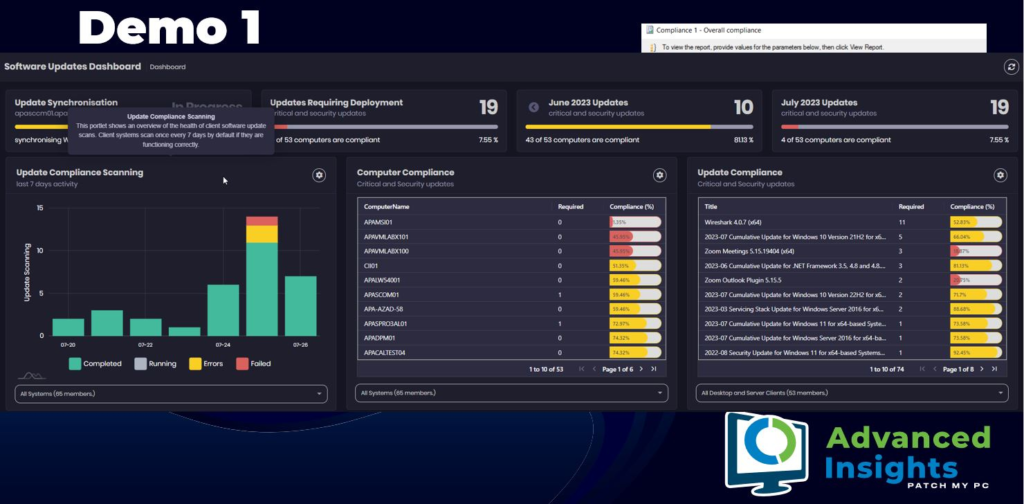 The current ConfigMgr inventory schema is old. It still includes CD ROM and Parallel Port reporting (it has a PCMCIA class). The modern OS has dozens of important, useful classes, but we can't easily access them in ConfigMgr.
ConfigMgr doesn't even report on user-based applications.
By extending inventory, Patch My PC can add lots of useful info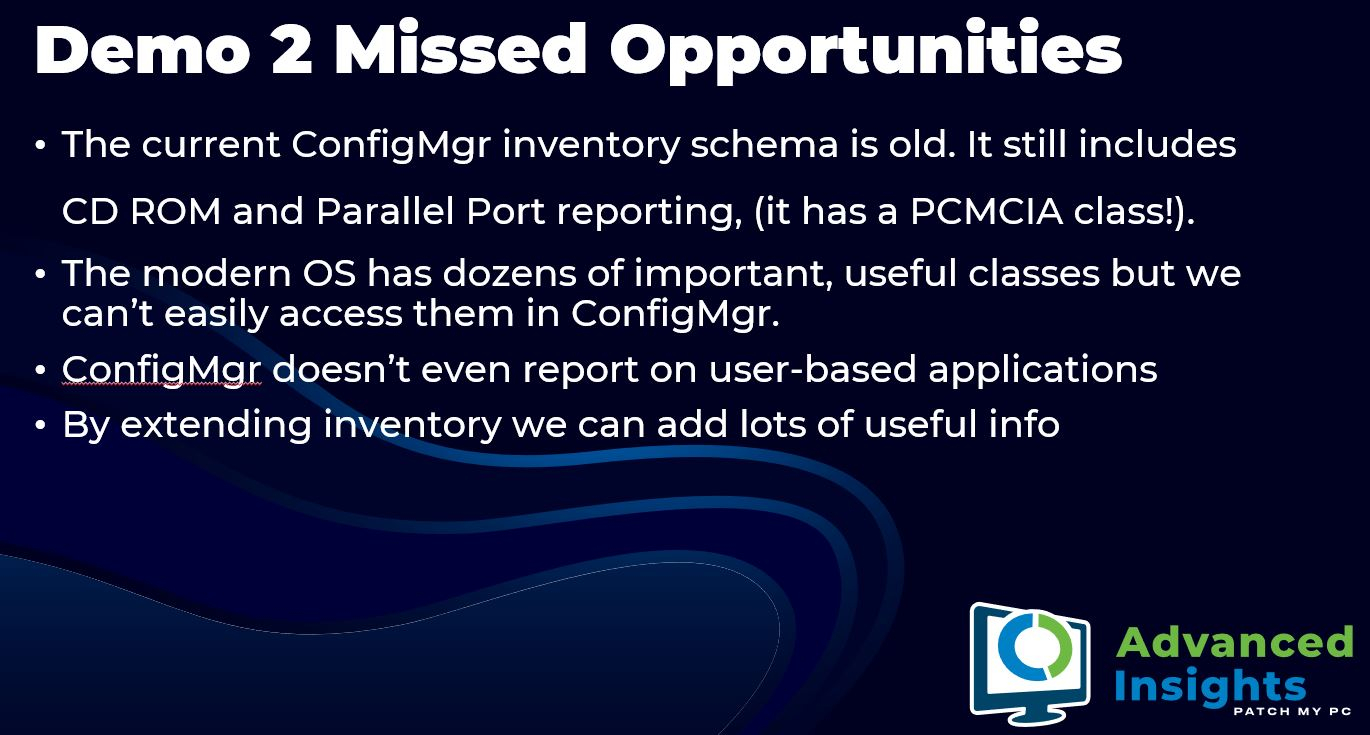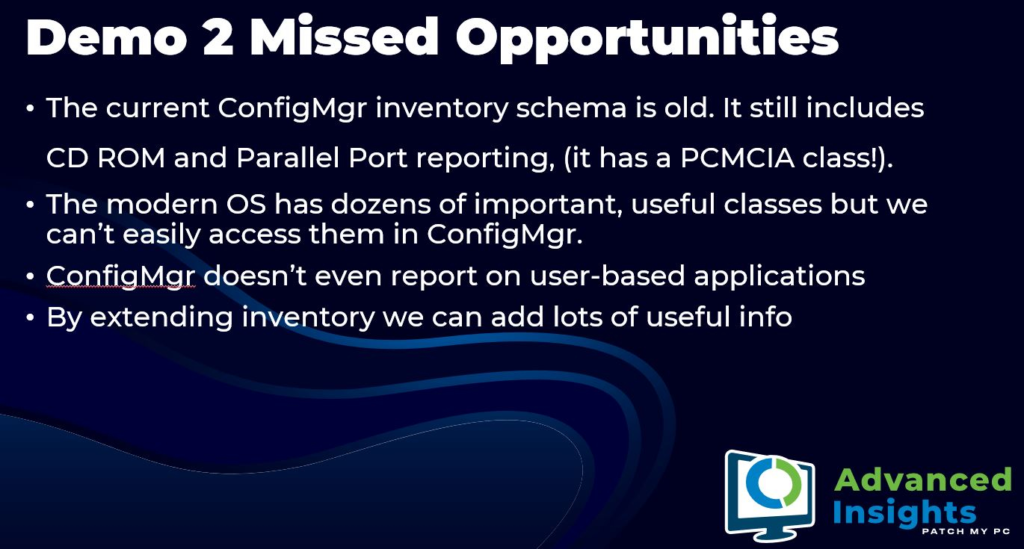 Client Inventory
Client inventory – software registered in Add/Remove programs. Client software via add/remove programs inventory. Extend native ConfigMgr functionality to include new and useful inventory properties.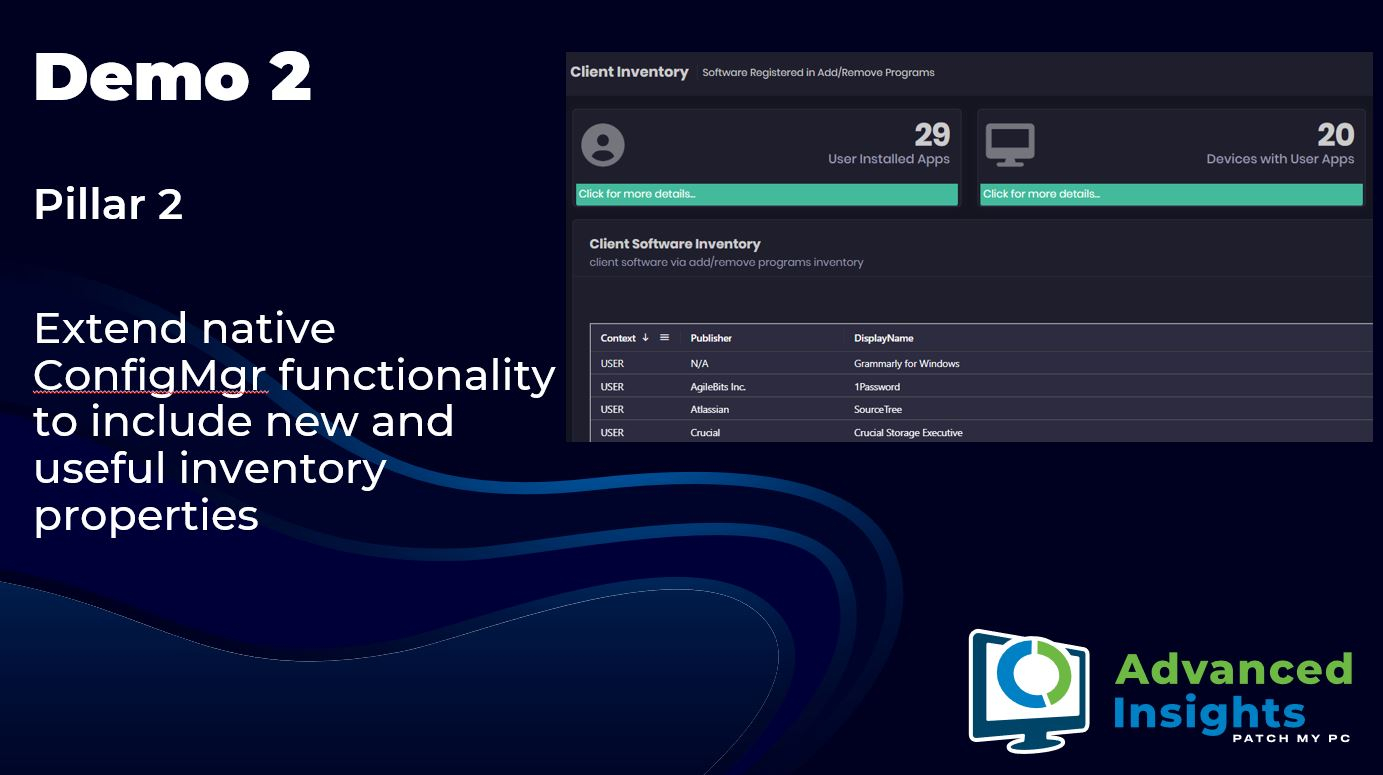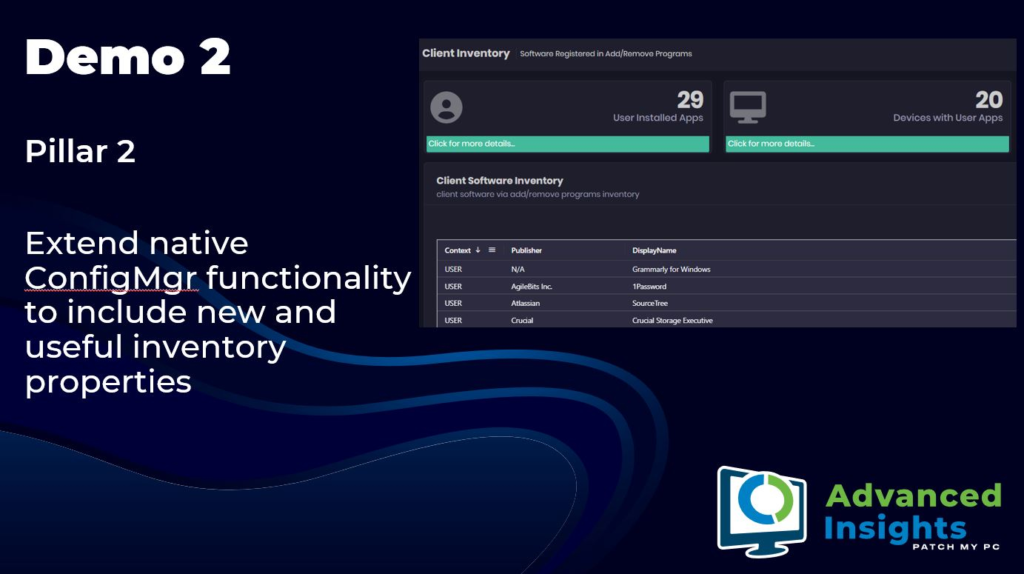 Warranty
Warranty shows the warranty status of your devices. Within Pillar 3, Patch My PC is taking steps to expand the Configuration Manager dataset by integrating APIs. This integration will include important information such as support details, warranty status, critical security information, etc.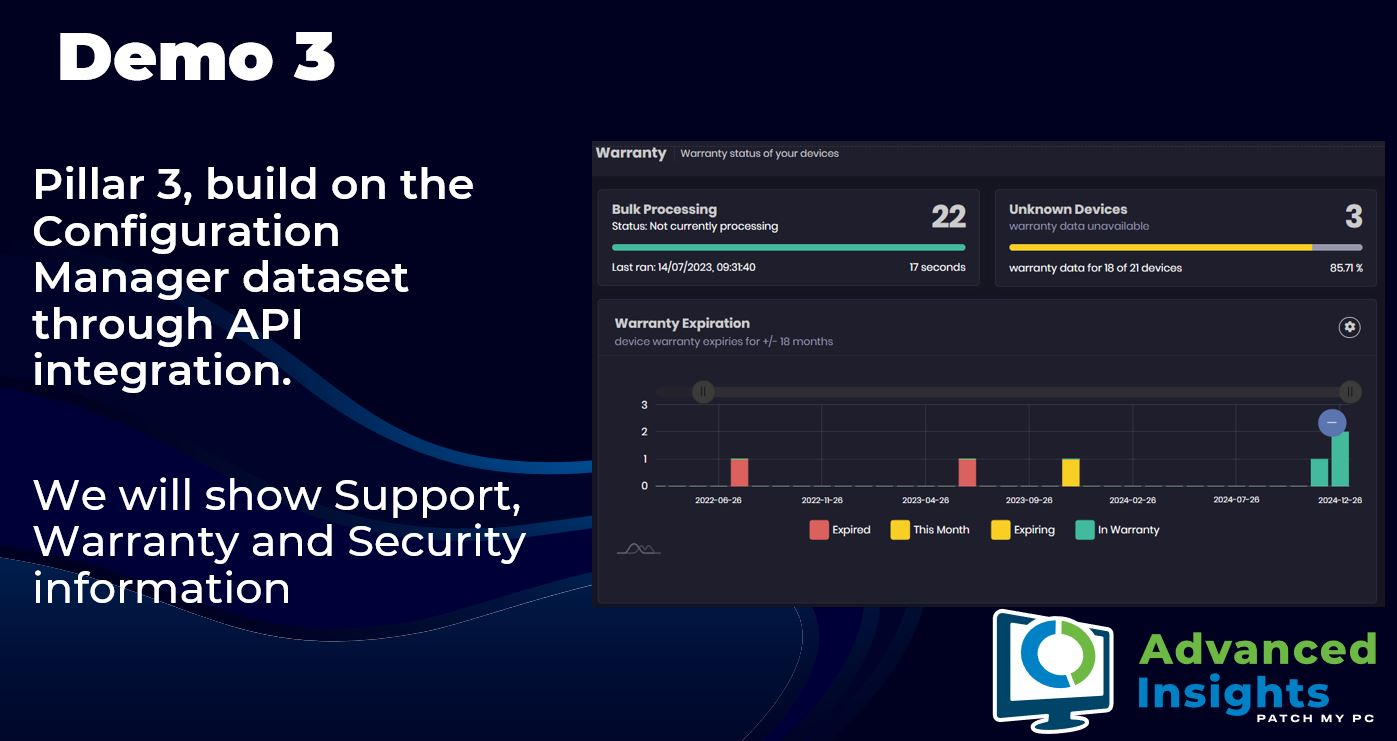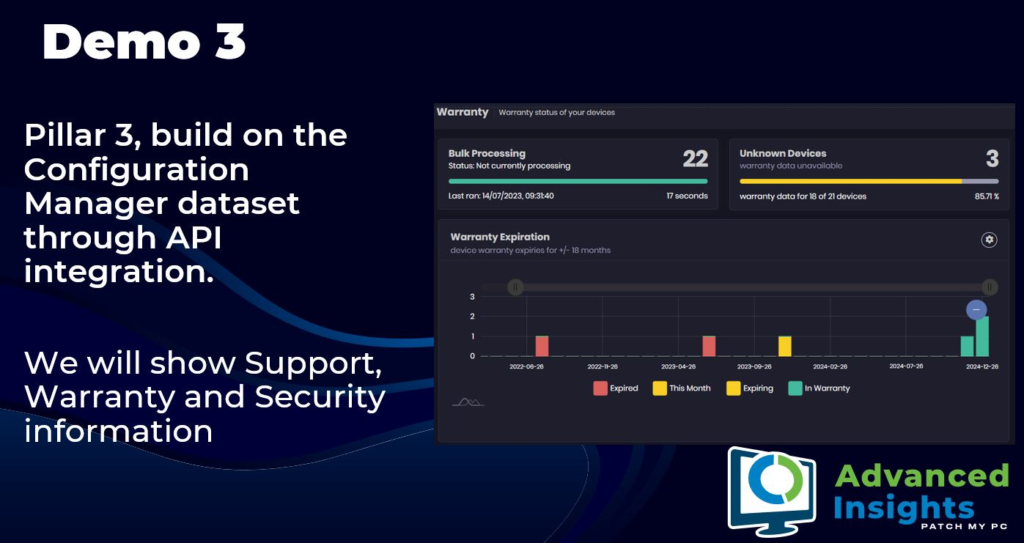 Licensing
Patch My PC has announced Enterprise Premium SKU, a recent launch that has taken place this week. Enterprise Premium encompasses the complete Enterprise Plus subscription package, granting customers access to extensive features and capabilities.
Customers who purchase Enterprise Premium will get access to everything. For existing customers who are currently subscribed to the Enterprise Plus SKU, you either have already received or will soon receive an invitation to participate in an exclusive showcase of the Advanced Insights project.
Within this showcase, you will have the opportunity to try all the functionalities.
One of the things that you can do with Advanced Insights under the showcases is try out all the functionalities that Patch My PC's advanced insights for Configuration Manager for no additional charge for 6 months.
At the end of those 6 months, you can upgrade to the Enterprise premium SKU to continue having all that functionality.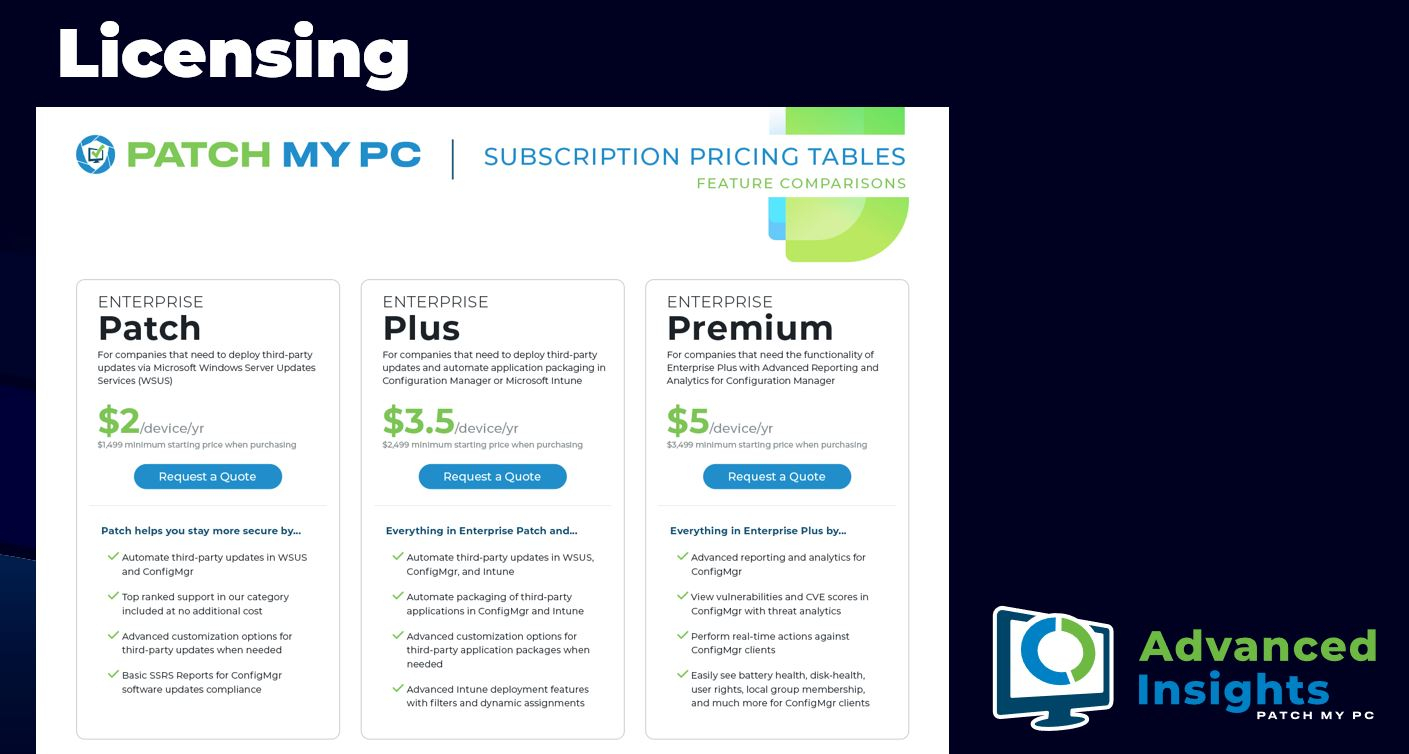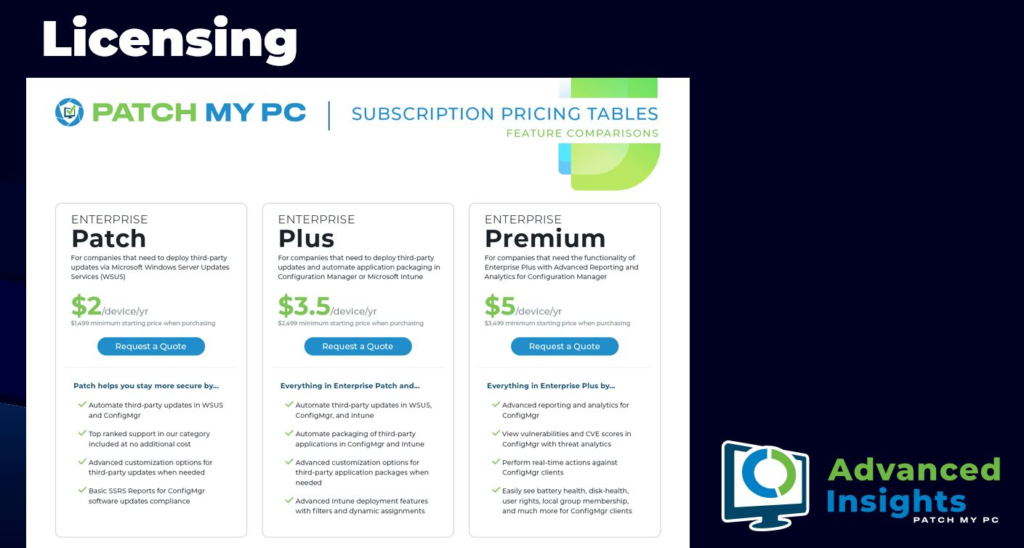 If you are an existing customer, you can register for the advanced insights showcase, a six-month trial of the full product. You can sign up via this https://patchmypc.com/advanced-insights link or use the QR code. If you are not a Patch My PC customer or a new customer, register for a trial using the https://patchmypc.com/free-trial link or the QR code.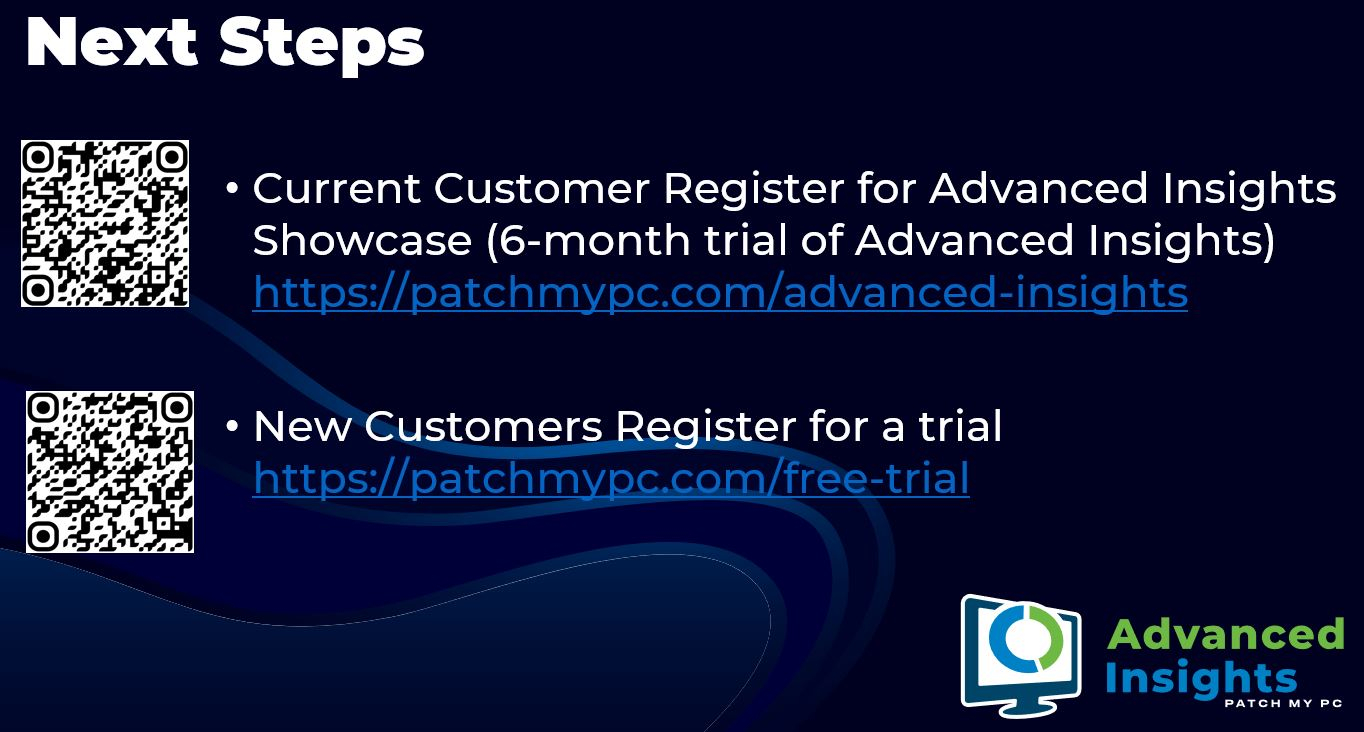 Advanced Insights Patch My PC Webinar – July 26, 2023 – YouTube
Author
About the Author – Vidya is a computer enthusiast. She is here to share quick tips and tricks with Windows 11 or Windows 10 users. She loves writing on Windows 11 and related technologies. She is also keen to find solutions and write about day-to-day tech problems.