Let's have a quick look at AVD Vs. Cloud PC Technical Comparison. Well, this is not a choice comparison between the products. I'm not a management and decision blog post between Windows 365 Cloud PC.
I'm trying to compare the technical components of Azure Virtual Desktop (a.k.a AVD) Vs. Cloud PC. AVD Vs. Cloud PCs comparison. From the AVD side, I'm going to Azure AD Join Scenario and Comparison this with Cloud PC.
The quick analysis between Azure Virtual Desktop and Windows 365 that I presented at the PDC conference on 16th Sep 2021. Why do you need to use Cloud PC instead of Azure Virtual Desktop?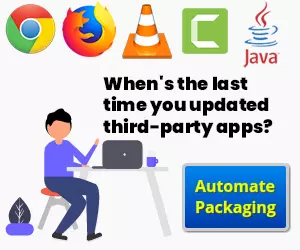 AVD Vs. Cloud PC
Below is a video where you can have more data points on the comparison. AVD Vs. Cloud PCs – Comparison | Quick Analysis between Azure Virtual Desktop and Windows 365.
Why AVD Azure AD Joined Session Hosts are useful?
Simplify deployment
Improve user experience
Increase security
Seamless integration with Modern Management solutions
AVD Azure AD Join RBAC Permissions & RDP Properties
Resource Group – Assign Role "Virtual Machine User Login".
RDP Properties – targetisaadjoined:i:1
Local PC – Same Azure AD Tenant AAD joined/ Hybrid AAD Joined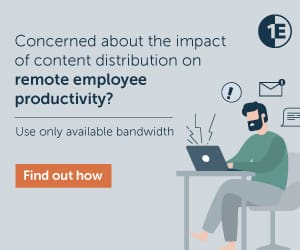 AVD and Cloud PC End-user Experience – Hybrid Joined Cloud PCs and Azure AD Join Session host
Azure AD joined session hosts connectivity issues
Error code: 0x9735
Error code: 0x3
Session Host unhealthy Status
Cloud PC – Provisioning (Enterprise) Experience and AVD provisioning comparison
Cloud PC Simplified provisioning experience from MEM portal if you compare it with Azure Virtual Desktop
Windows 365 provides more Automation & Monitoring with watchdog service as out of the box if you compare it with AVD
Cloud PC provides Fixed costs in comparison with AVD consumption fees
Cloud PC Hybrid Azure AD join is the supported scenario. However, Microsoft is working on Azure AD join scenario for Cloud PC
Tightly integrated management framework (Resize & Reprovisioning)
Cloud PC Vs. AVD comparison in terms of Azure Subscription and resource groups
AVD VMs, NICs, Disk, Host Pool, Application Group objects, etc are created in customers Azure subscription.
Cloud PC VMs, Disk, etc are created in Microsoft subscription.
Cloud PC NIC and NSGs have been created in customers Azure Subscription.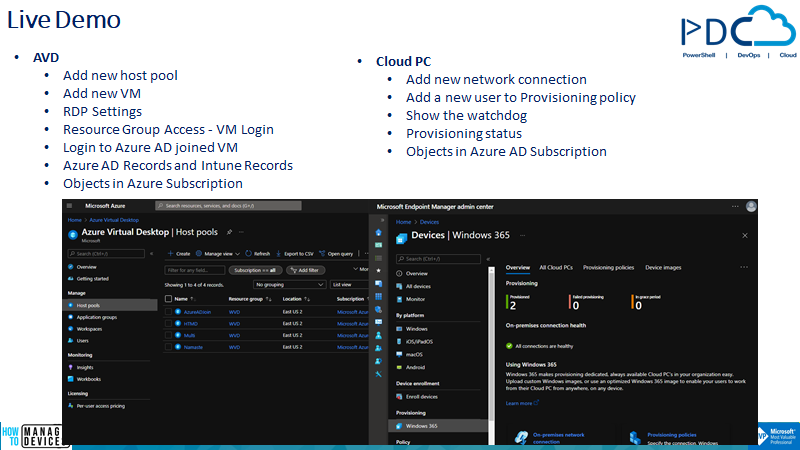 AVD Comparison – with the following
Add new host pool
Add new VM
RDP Settings
Resource Group Access – VM Login
Login to Azure AD joined VM
Azure AD Records and Intune Records
Objects in Azure Subscription
Cloud PC Comparison demo with the following activities
Add a new network connection
Add a new user to the Provisioning policy
Show the watchdog
Provisioning status
Objects in Azure AD Subscription
Resource
Author
About Author -> Anoop is Microsoft's Most Valuable Professional Award winner from 2015 on the technologies! He is a Solution Architect on enterprise device management solutions with more than 20 years of experience (calculation done in 2021) in IT. He is Blogger, Speaker, and Local User Group Community leader. His main focus is on Device Management technologies like Configuration Manager, Windows 365 Cloud PC, Intune, Azure Virtual Desktop, Windows 10, and Windows 11.