In this informative post, I will showcase the advantages of Azure Reservation Capacity for your Azure environments. It enables you to help with free-up from higher costs on Azure instances and services without needing a long-term commitment like the 1-year or three-year Azure Reserved Instances contract.
Azure Capacity Reservation is available for various resource types, such as virtual machines (VMs) and virtual machine scale sets (VMSS). By reserving capacity for VMs or VMSS, you can guarantee the availability of the desired number of instances in a specific Azure region.
Once an Azure Capacity Reservation is created, the resources are immediately available for use, and they remain reserved until you delete the reservation.
I will guide you through creating reservation capacity in your Azure subscription, empowering you to maximize this beneficial feature.

What is Azure Reservation Capacity?
Capacity Reservation allows you to reserve Compute capacity in Azure regions or Availability Zones without long-term commitments. You can create and delete reservations as needed, giving you full control over managing your reservations.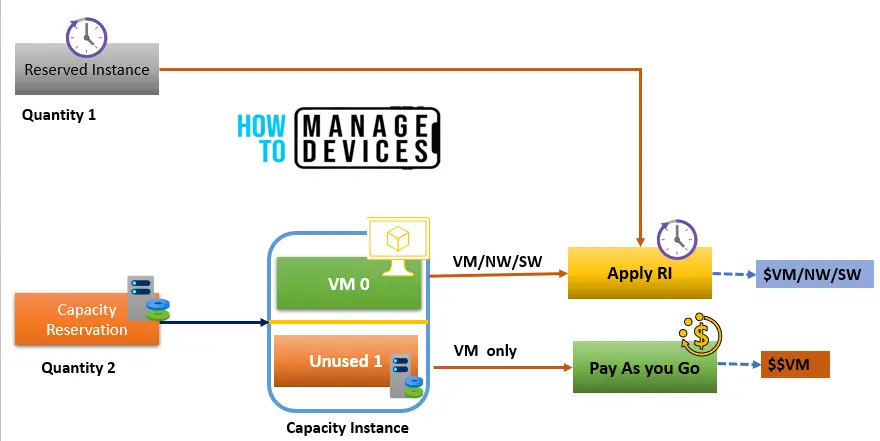 When creating a Capacity Reservation, you define certain properties such as the VM size, location (region), and quantity of instances to be reseThe deployment may fail. Do the availability or subscription quota limits fall if Azure cannot fulfill your capacity request? In such cases, you can request a higher quota or consider different VM sizes, locations, or zone combinations.
Once your reservation request is accepted by Azure, VMs with matching configurations can utilize the Capacity Reservation by specifying it in their properties. This allows you to target critical workloads to reservations while non-critical workloads can run without reserved capacity, offering flexibility in resource allocation.
Azure Capacity Reservation is a useful feature that offers several benefits for organizations:

Enhanced Availability: By reserving capacity in advance, organizations can ensure that their critical workloads have guaranteed resources available when needed. This helps prevent resource contention and ensures the high availability of applications and services.
Cost Optimization: Capacity Reservation allows organizations to optimize their costs by reserving and paying for only the needed resources. It provides cost predictability and eliminates the risk of unexpected spikes in resource usage.
Improved Performance: With Capacity Reservation, organizations can secure dedicated resources, leading to improved performance and lower application latency. It ensures consistent and reliable performance by eliminating the impact of resource sharing with other workloads.
Compliance and Governance: Capacity Reservation helps organizations meet their compliance and governance requirements by allowing them to allocate resources in specific regions and availability zones. It controls the physical location of resources and enables organizations to adhere to data residency regulations.
Difference between On-demand Capacity Reservation and Reserved Instances
Let's check the what are main differences between On-demand Capacity Reservation and Reserved Instances in detail.
| Differences | On-demand Capacity Reservation | Reserved Instances |
| --- | --- | --- |
| Term Capacity | No term commitment is required. Can be created and deleted as per the customer's requirement | The fixed-term commitment of either one year or three-years |
| Billing discount | Charged at pay-as-you-go rates for the underlying VM size* | Significant cost savings over pay-as-you-go rates |
| Capacity SLA | Provides capacity guarantee in the specified location (region or availability zone) | No term commitment is required. Can be created and deleted as per the customer's requirement |
| SLA Region vs Availability Zones | Can be deployed per region or per availability zone | Only available at the regional level |
Best way to use Azure Capacity Reservation to Reduce the Azure Cost Table. 1
Pre-requisite of Capacity Reservation
We will discuss what are the pre-requisite required to set up the Azure Capacity Reservation. The Capacity Reservation must adhere to the following guidelines:
The location parameter should match the location property of the parent Capacity Reservation group. Any mismatch will result in an error.
The VM size selected must be available in the target region. Otherwise, the reservation creation process will fail.
The subscription must have a sufficient quota available, equal to or greater than the number of VMs reserved for the specific VM series and the overall region. If necessary, you can request an additional quota.
When required to meet existing quota limits, reservations for individual VMs can be made in stages. Start by creating a capacity reservation with a smaller quantity, then reallocate the corresponding number of virtual machines. This frees up the quota, allowing for an increase in the reserved quantity and the addition of more virtual machines. Alternatively, if the subscription uses different VM sizes within the same series, reserve and redeploy the VMs for one size first, then add a reservation to the group for another size and redeploy the VMs for the new size into the reservation group. Repeat this process until complete.
The available quota is necessary for Scale Sets unless the Scale Set or its VM instances are deleted, capacity is reserved, and the Scale Set instances are added using the reserved capacity. If the Scale Set is updated using blue-green deployment, reserve the capacity and deploy the new Scale Set to the reserved capacity during the next update.
Each Capacity Reservation group can have only one reservation per VM size. For example, only a single Capacity Reservation can be created for the VM size Standard_D2s_v3. Any attempt to create a second reservation for Standard_D2s_v3 within the same Capacity Reservation group will result in an error. However, additional reservations can be created within the same group for other VM sizes, such as Standard_D4s_v3, Standard_D8s_v3, and so on.
For a Capacity Reservation group that supports zones, each reservation type is defined by the combination of VM size and zone. For instance, it is possible to have one Capacity Reservation for Standard_D2s_v3 in Zone 1, another Capacity Reservation for Standard_D2s_v3 in Zone 2, and a third Capacity Reservation for Standard_D2s_v3 in Zone 3.
Creating the Capacity Reservation Groups?
Let's create the Capacity reservation group, which will help you to make a reservation for your Azure environments. Let us discuss the process in detail. I will quickly guide you with the detailed step-by-step process. Below are the steps has to be followed.
Go to the Azure Subscription and Then select the Azure reservation group.
Click on the Capacity reservation group.

Once you are in the Capacity reservation group, click on Create. It will route you to the next window.

Add the required details. Select the Subscription you want to create the reservation. In the Resource Group section, Create or use the existing resources group.
Then add the Name, Region, and Availability zone group per your organization's policy.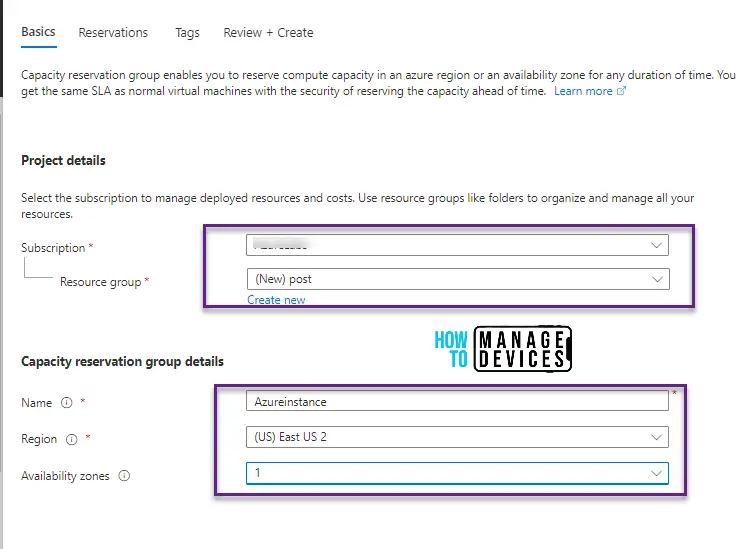 Once you click on Next, you will be routed to the Reservation Windows > Provide the Name of the Reservation > Select the instance you want to create a Capacity Group > Select the Virtual Machine Size.
Note! There will be a few imitations based on the region.

Use the appropriate Tags shown in the below screenshot.


Once you are done with the configuration, you can Review and click Create. It will take a few minutes to create the Capacity Groups.
After some time, you will be able to create the reservation capacity group, which will help many organizations cut down their Azure subscription costs.
Capacity Reservation SLA
The Service Level Agreement (SLA) for Capacity Reservation provides guarantees and commitments related to the availability and performance of the reserved capacity in Azure. Here are some key points about the SLA for Capacity Reservation:
Azure provides a 99.99% uptime guarantee for Capacity Reservations. This means that the reserved capacity should be available and accessible for use at least 99.99% of the time.
If Azure fails to meet the SLA, customers may be eligible for Service Credits, which can be used to offset future charges or invoices. The Service Credits are based on the percentage of downtime experienced by the Capacity Reservation.
To qualify for Service Credits, customers must report the issue within the specified time frame and provide the necessary information to support their claim.
The SLA for Capacity Reservation applies specifically to the reserved capacity itself and does not cover any associated services or components used within the reserved capacity.
It's important to note that the SLA for Capacity Reservation may vary based on the Azure region or specific service offering. It is recommended to review the SLA documentation for the particular Azure service or region you are utilizing.
Azure periodically reviews and updates its SLA terms, so it is advisable to stay updated with the latest SLA information to understand the specific guarantees and commitments for Capacity Reservation.
Limitation of Capacity Reservation
Capacity Reservation in Azure offers several benefits, it also has certain limitations and restrictions to be aware of. Here are some key limitations and restrictions associated with Capacity Reservation:
Limited Availability: Capacity Reservation may not be available in all Azure regions or for all Azure services. It is important to check the availability of Capacity Reservations for the specific region and service you intend to use.
Resource Binding: Once a Capacity Reservation is created, the reserved capacity is bound to the specific region or availability zone. It cannot be transferred or moved to a different region or zone.
Allocation Flexibility: While Capacity Reservation provides reserved capacity, it does not guarantee that the resources within the reservation will be allocated immediately. Resource allocation is still subject to availability within the reserved capacity.
Reservation Scope: Capacity Reservation is scoped to specific Azure services, such as virtual machines or SQL databases. It may not be available or applicable for all types of Azure resources.
Limited Modification Options: After creating a Capacity Reservation, certain attributes, such as the VM size or location, may not be modified. It is important to carefully plan and configure the reservation according to your anticipated requirements.
Usage Constraints: Capacity Reservation applies to specific instances or services within the reserved capacity. It does not restrict the usage of other non-reserved instances or services within the same Azure subscription.
Pricing Commitment: While Capacity Reservation offers cost savings, it requires committing to a specific capacity and paying upfront or through a subscription. Adjusting or canceling the reservation may have financial implications.
SLA and Service Credit: While Azure provides an SLA for Capacity Reservation, it is important to review the specific terms and conditions for eligibility and the process of claiming service credits in case of SLA violations.
What will happen when you exceed capacity reservation limits:
Azure provides the flexibility to associate extra virtual machines (VMs) beyond the allocated Capacity Reservations. These additional VMs can be used to accommodate burst and scale-out scenarios without being limited by capacity reservations. It's important to note that these additional VMs do not receive the benefit of the capacity availability service level agreement (SLA). However, as long as Azure has enough available capacity to meet the requirements of these VMs, the allocation of the extra VMs will be successful.
To track and monitor the utilization of each individual Capacity Reservation within a group, you can leverage the Instance View. The Instance View provides a snapshot of usage, allowing you to observe how the overallocation of resources is functioning in practice.
In this blog, we have explained capacity planning and how you can create a group, and in the coming blogs will coverup the reservation part in more detail keep a subscription. Check out the blog Top 31 Azure Interview Questions and Answers 2023 for System Admins.
Author
Lalit, is an Azure MVP, MCT, and author of the "Azure Administrator Exam Prep(Az-104)" & "Azure Interview Q & A" books. He shares his knowledge through his blog and actively engages with the Azure Community around the world. With over 5k training sessions worldwide, Lalit has changed lives through his articles, training programs, and workshops. His technical prowess and personal approach make him a valuable resource for realizing dreams and goals in the field of technology.