Let's discuss the best way to find package size from ConfigMgr console without using SQL query/custom report. You can have a quick look at the size of the package and plan the distribution/redistribution of packages. Well, you can refer to the following post to get the details of the SQL query to find the package size details – ConfigMgr SQL Query to Find Package Size Details.
Related post – Best Place to Find ConfigMgr Package IDs in Admin Console.
Application – Size?
Where can I find the size for applications? I have also checked the addition column details available for applications. But I couldn't find the size entry there as well. I don't know the reason why the size column is not an option in the ConfigMgr Admin console for the applications node.
If you want to know the place where you can find the size for all those workloads in Configuration Manager, read on the following sections.



Distribution Point
I know you can get the size details of applications, packages, Boot Images, software updates, etc… from distribution point properties. But I don't recommend using this method to find the size details. It's difficult to find the correct DP to where this particular application is distributed to.
NOTE! – There is an easier way to find the size for applications (discussed in the below section).
Navigate to: \Administration\Overview\Distribution Points
Select the Distribution Point from the list
Right-click and go to properties of Distribution Point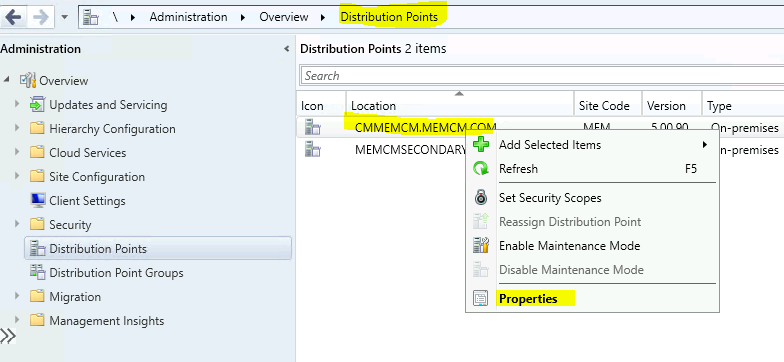 Click on the Content tab
Check the size of the applications from Size the column

Search/Filter option
Type of the Deployment package


Find Package Size from ConfigMgr Console
Here you go! As per my experience, the following is the best method to find out the Size for different workloads or deployment packages in SCCM.
Navigate to \Monitoring\Overview\Distribution Status\Content Status
Use the search bar to find the size of any deployment packages like Application, Task Sequence, Boot Image, or Software Update.

Check the Size column to get the size details of applications or any other workload.

Resources
Author
Anoop is Microsoft MVP! He is a Solution Architect in enterprise client management with more than 20 years of experience (calculation done in 2021) in IT. He is a blogger, Speaker, and Local User Group HTMD Community leader. His main focus is on Device Management technologies like SCCM 2012, Current Branch, and Intune. E writes about ConfigMgr, Windows 11, Windows 10, Azure AD, Microsoft Intune, Windows 365, AVD, etc…