ConfigMgr SCCM Performance Counter Template Endpoint Manager. Templates are always helpful 🙂 This post is a continuation of the previous post, How to Find Out DDRs Processing Rate.
When you want to perform a deep-level analysis on the performance of the SCCM server, then you need to include more performance counters and run the capture for at least an hour.
I've created a template and uploaded it to the TechNet Gallery.  You can download the template from here.
ConfigMgr SCCM Performance Counter Template Endpoint Manager
I've selected the following counters in this template as I've DDR backlog issues. When you want to analyze the performance of some other SCCM ConfigMgr or SQL components, you can add and remove them from the Data Collector file. I've explained this as the 6th point below.

Memory, Network Interface, Paging File, Physical Disk, Process, Processor, SMS Discovery Data Loader, SQLServer: Databases, SQLServer: General, Statistics, SQLServer: Locks, SQLServer: Memory Manager and System. ConfigMgr SCCM Performance Counter Template Endpoint Manager?
1. Launch Administrative Tools – Performance Monitor.
Navigate through Data Collector Sets – User Defined – New – Data Collector Set. As shown in the following picture.

2. Create New Data Collector Set
Enter the name of the capture you want to perform. Select the "Create from a template (Recommended)" option and click on Next. Download the template from the above-mentioned link.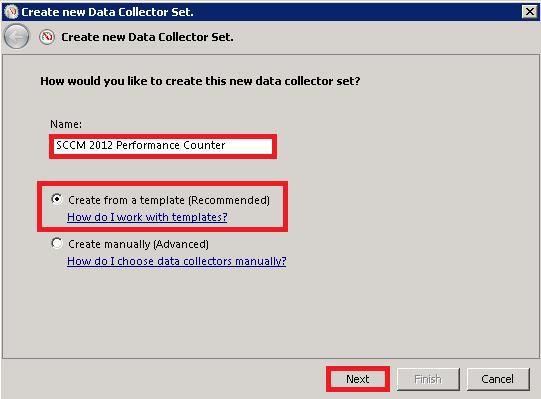 3. Which Template would you like to use.
Click on the Browse button and select the already downloaded template. Then Next :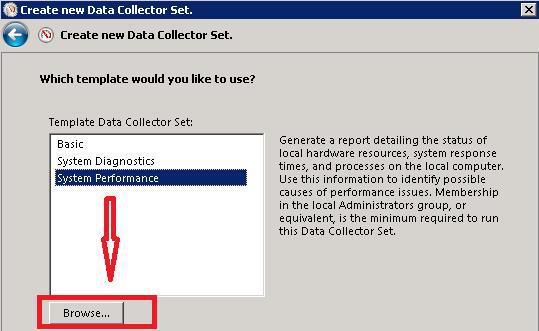 4. Where would you like the data to be saved
Browse and select the patch where you want to save the performance capture file. The file's extension is .blg
Default location for my scenario was %systemdrive%\PerfLogs\Admin\SCCM 2012 Performance Counter.
Ensure there is enough space on that drive to store the capture file.
5. Save and Close is the default option.
Always verify the performance counters selected in the template and check whether each counter is required in your scenario or not. In my case, I wanted to create a performance counter for DDR process issues.
6. When you wanted to analyse the performance of Inventory instead of DDR :
Open the properties of the .blg file as shown in the picture below, remove SMS Discovery Data Manager, and add SMS Inventory Data Loader.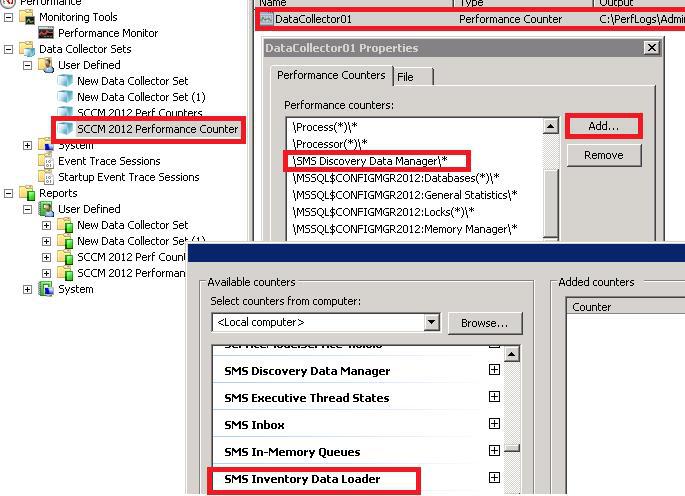 Resources
Free SCCM Training Part 1 | 17 Hours Of Latest Technical Content | ConfigMgr Lab HTMD Blog (anoopcnair.com)
Author
Anoop is Microsoft MVP! He is a Solution Architect in enterprise client management with more than 20 years of experience (calculation done in 2021) in IT. He is a blogger, Speaker, and Local User Group HTMD Community leader. His main focus is on Device Management technologies like SCCM 2012, Current Branch, and Intune. E writes about ConfigMgr, Windows 11, Windows 10, Azure AD, Microsoft Intune, Windows 365, AVD, etc…