You may need to re-download Configuration Manager 2012 and Endpoint Protection 2012 SP1 Binaries! says
Steve TH – MSFT
! It seems Microsoft has released updated version of binaries for CM 2012 SP1 to correct some minor issues. Find the extracts from his site below.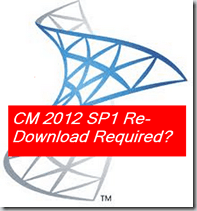 The binaries for System Center Configuration Manager 2012 and System Center Endpoint Protection 2012 have been updated to correct some minor issues. The binaries have been updated at the Download Center, and also on the TechNet and MSDN download sites. For Configuration Manager 2012 SP1, the updated download release of SP1 includes the following hotfix:
Installation error 0x800b0101: System Center 2012 Configuration Manager Service Pack 1 client

http://support.microsoft.com/kb/2801987
For Endpoint Protection, the new binaries include fixed files (Linux/iOS) that were corrupt in the initial release.
Read Full post Here