Microsoft released the latest update rollup hotfix for ConfigMgr 2010. Let's have a look at the details of 28 Issues Fixed with ConfigMgr 2010 Update Rollup Hotfix KB4600089. There are 28 (twenty-eight) fixes available in the rollup update version of SCCM 2010.
I have a post about the known issues of Configuration Manager 2010. More details available – SCCM 2010 Known Issues Bugs & Fixes. With the release of the 2010 rollup update KB4600089, most of those known issues are fixed.


Fixed Issues with ConfigMgr 2010 Update Rollup
The following table gives you an easy understanding of the known issues that are fixed with the release of ConfigMgr 2010 Update Rollup. Make sure you install this update rollup hotfix at the earliest if you are already struggling with some of the following issues.
| Category | ConfigMgr 2020 Known Issues |
| --- | --- |
| ConfigMgr console | The console terminates or generates an exception under any of the following conditions. |
| | Update boot images on distribution points |
| | Tenant On-boarding – cannot modify the limiting collection as the console terminates |
| | When editing an application deployment type that did not previously contain a content path |
| SMS_Executive (smsexec.exe) service | The SMS_Executive service terminates under any of the following conditions |
| | On Windows Server 2012 R2 site servers after updating to ConfigMgr version 2010. This occurs IIS) was never previously installed on the server |
| | If the client installation lock file has an invalid file date. |
| | If the software update point has the "Use a proxy server when downloading content by using automatic deployment rules" setting enabled. |
| Task Sequence | The Run PowerShell Script task sequence step does not honor the SMSTSDisableStatusRetry variable. |
| | Temporary content is not always deleted after a task sequence runs. |
| | The CCMDEBUGLOGGING client installation property does not work when passed in during the Setup Windows and ConfigMgr task sequence step. |
| | Software updates deployed via task sequence during a maintenance window may not restart the computer as expected. |
| Firewall Policies | Firewall policies assigned through the MEM Admin Center do not apply on Windows 10, version 20H1, and later clients. |
| ConfigMgr console | SCCM clients that update their BIOS may be listed twice in multiple locations in the Configuration Manager console. |
| | Hybrid AAD joined clients may appear duplicated in the SCCM console, but with different GUID's (SMSID). This occurs during an operating system deployment to the client where the MP is configured for HTTPS communication. |
| Log Error (0x00000000) | Multiple client log files, such as CoManagementHandler.log and execmgr.log, contain the following false-negative log entry. This results in potentially valuable troubleshooting information being overwritten. |
| Community Hub | If you delete downloaded content from the Community Hub, the content isn't deleted from the Community hub > Your downloads page and you're unable to download the content again. |
| | The Push Update button is not enabled for revised Community Hub content. |
| Third-Party Software Updates/Patching | The Set custom schedule checkbox is cleared and any custom schedule settings removed when the list of partner software update catalogs is refreshed. |
| Office 365 Client Management | The Office 365 Client Management Dashboard displays all client channels as Other. |
| Hardware Inventory Replication Issue | Client hardware inventory data is not replicated from a primary site to the SCCM CAS server when reporting is enabled for the CCM_SoftwareDistributionClientConfig class in the ROOT\ccm\Policy\Machine\ActualConfig namespace. |
| Run Script | A user with read-only access to applications is unable to copy or scroll down through script content in the Script Editor window. |
| ADR Processing Issue | Processing of Automatic Deployment Rules (ADR) fails after updating to ConfigMgr version 2010. The Last Error Description reads "Auto Deployment Rule download failed". This occurs due to zero-byte temporary files left in the Windows\Temp folder during the download process. |
| Software Center | Software Center fails to open on some ConfigMgr current branch, version 2010 clients. The SCClient_<domain>@<username>_1.log contains errors resembling the following. |
| Software Updates/Patching | Client computers may unexpectedly receive a software update deployment if the target collection is changed from "All Systems" to another collection. |
| | Surface driver synchronization fails if the Software Update Point (SUP) is in a separate untrusted domain from the site server. |
| Client Caching Issue | Package content beyond the first package is not cached locally on the client when the Save path as a variable setting is enabled for the Download Package Content task sequence step. |
| BitLocker incorrect Reporting Issue | Computers incorrectly report non-compliance with a BitLocker fixed data drive encryption policy. This occurs for computers with only a single drive and partition, even when encrypted with BitLocker. |
| Application Deployment Issue | The Deployment Options and Allow clients to use distribution points from the default site boundary group settings on the Content tab of deployment properties may unexpectedly revert to default after saving changes. |
| WVD + Co-Management Issue | Existing co-management policies do not apply to Windows Virtual Desktop. |
Video
SCCM 2010 Rollup Update KB4600089 | 28 Fixes ConfigMgr 2010 Hotfix Installation Known Issues

Install KB4600089 on SCCM Primary Server/CAS
Let's understand how to update ConfigMgr 2010 update rollup KB4600089 on a standalone primary server or CAS server. The child primary servers shall get automatically updated.
Launch the Configuration Manager Console.
Select the Administration tab.
Expand Overview -> Select Updates and Services.
The update Configuration Manager 2010 Hotfix Rollup KB4600089 is Ready to install stage.
Click on Install Update Pack.
NOTE! – If there is any download issue with KB4600089, refer to the following article that might help to fix the issue with download ➡ CM Update Reset Tool Fixes SCCM CB Update Download Issue.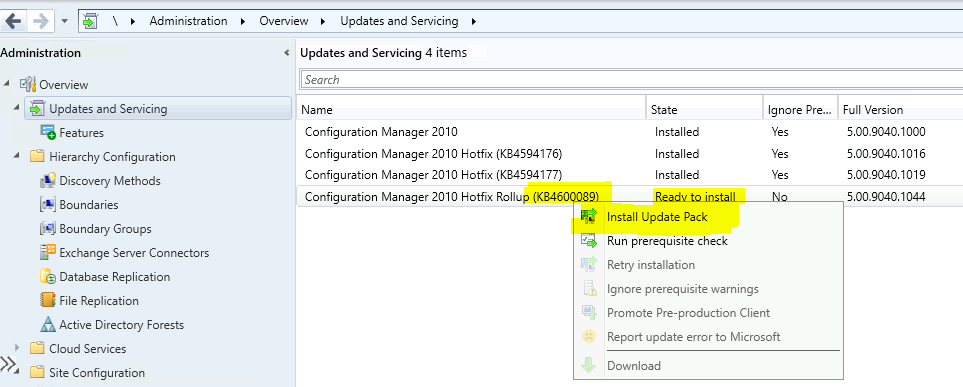 Click Next.
Select Client Update Settings. More details about the pre-prod client testing option are given in the following post – SCCM Client Upgrade – Promote Pre-Production Client To Production (anoopcnair.com)

I selected this option for LAB Upgrade without validating
Validate in pre-production collection

Click on Next.
Accept the license and click on Next to continue.
Check the Summary of the updated package installation
Click on Close to complete Configuration Manager Updates Wizard.


Install KB4600089 Hotfix on Secondary Server
I normally follow the below steps to install the rollup update on ConfigMgr (a.k.a SCCM) secondary servers. More details about the secondary server installation, troubleshooting, and update installation are available in the following blog posts.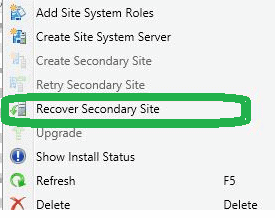 To update a secondary site in the ConfigMgr console.
Click Administration, click Site Configuration, click Sites, click Recover Secondary Site
Then select the secondary site you want to upgrade.
The primary site then reinstalls that secondary site by using the updated files.
NOTE! – Configurations and settings for the secondary site are not affected by this reinstallation.

Verification of Successful Installation of KB4600089
Following are the verification steps for SCCM 2010 Hotfix Rollup KB4600089 Rollup Update.
Check the monitoring workspace
\Monitoring\Overview\Updates and Servicing Status\Configuration Manager 2010 Hotfix Rollup (KB4600089)


ConfigMgr Version Numbers after Installing KB4600089
Let's check the latest version of the Configuration Manager site, client, and other details.
Full Version = 5.00.9040.1044
Client Version = 5.00.9040.1044
Console – 5.2010.1093.3100
Site Version 5.00.9040.1000
Build Number = 9040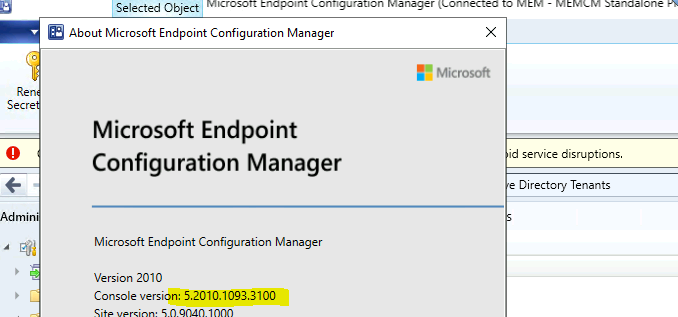 Resources
Author
Anoop is Microsoft MVP! He is a Solution Architect in enterprise client management with more than 20 years of experience (calculation done in 2021) in IT. He is a blogger, Speaker, and Local User Group HTMD Community leader. His main focus is on Device Management technologies like SCCM 2012, Current Branch, and Intune. E writes about ConfigMgr, Windows 11, Windows 10, Azure AD, Microsoft Intune, Windows 365, AVD, etc…